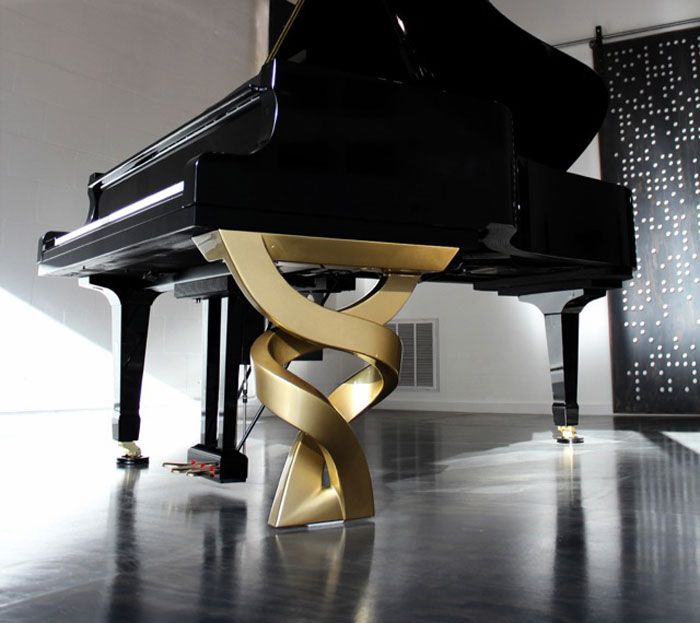 Photo Courtesy of ResInno
If you've been longing for the good old days when crowding around the piano singing showtunes was a post dinner party staple, then ResInno may have exactly what you are looking for. Known for their renowned one-of-a-kind piano modifications, ResInno creates stunning
luxury pianos
that are more than just works of art, as they are also specifically designed to enhance the instruments' sound.
With some of the most unique piano details and alterations including legs, musician benches, music racks and pedal lyres, all pianos are constructed by craftsman Justin Elliot with a custom blend of quality and exotic woods. The concept behind its founding in 2011 was the desire to develop an elegant and quality tone while enhancing the look of the piano – something that, according to the company, hasn't been done in over 100 years.
The Royal Ebony is ResInno's original design and is constructed with graceful lines along the natural curves of the body. With gold embellishments and a sleek look, this particular piece adds grandeur to any home.
It was the Royal Ebony that first coined the term the "ResInno Effect." According to ResInno, this is an effect unique to their pianos that gives greater clarity, an overall improved sound quality and reduces unpleasant frequencies that are normally part of all piano tone. This effect is said to come from increasing the acoustic isolation, using a particular mix of materials and design.
For a more contemporary option, ResInno designed the Grand Rossa, named after Ferrari's 1957 Testa Rossa race car. With a combination of shinny midnight black and bold red, this racy design features sleek curved legs and a musician bench complete with a hand stitched diamond pattern that matches that of Ferrari.
Even if you're no Mozart, these beautiful designs by ResInno are sure to add style and flare to your home. With all designs handcrafted in the United States, piano modifications range in price from $33,000 to $77,000.