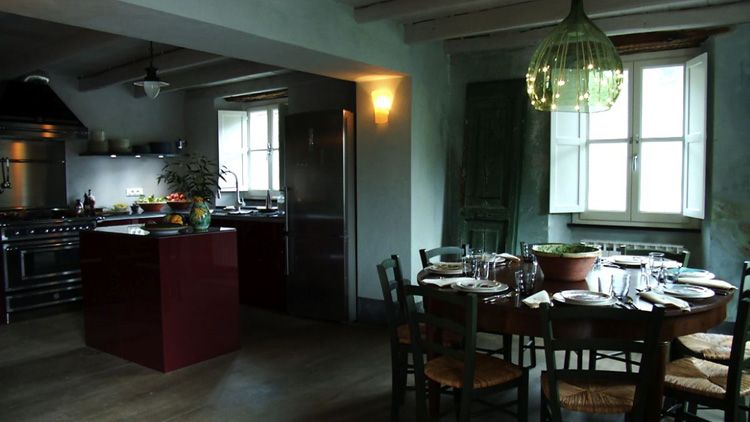 Photo Credit Pamela Peterson
Home décor
inspiration can come from anywhere, from a flea market in Milan to a table setting at your local café. Interior designer Pamela Peterson travels the world, gaining inspiration from the smallest of details. With a biography that includes working costume design for three seasons of
Saturday Night Live
to working as the Art Director of
Martha Stewart Living TV
, Peterson knows exactly what she's doing when it comes to designing your home.
Check out this exciting interview with Peterson and find out her best design secrets, from choosing flea markets over high-end department stores to which colors are her new favorites and how to find the right interior designer for your space! For a detailed account of her travel experiences, including photos, check out her neat blog,
ObjectsBlog.com
.
Mila Pantovich: How does your personal aesthetic come through in your designs?
Pamela Peterson:
When people ask me what I do, I usually say, "I just make things look good." What that means to me is an inviting environment that is uncluttered, tranquil, and balanced. If a room has too many colors and is a hodgepodge of style, I neutralize. Clear the clutter and then carefully add back what's beautiful and necessary. As the Shakers so wisely said in the 18th century, "If it is both necessary and useful, don't hesitate to make it beautiful." I also love juxtapositions...an antique chandelier above a mid-century modern Saarinen table, a contemporary fabric on a Louis VI chair. Probably the best way to describe my aesthetic is this: Simplicity with a twist.
MP: Do you have a signature piece or color that you always incorporate?
PP:
I like to create an environment of subtle shades of gray and putty as a backdrop for a splash of color, a quirky object, a striking work of art, an interesting texture. That way you can easily change it up for a new look. My favorite "backdrop" paint colors of the moment are Benjamin Moore "Gray Owl," a warm gray, and Farrow & Ball "Elephant's Breath," a soft stone color.
MP: What's your first step in taking on a new design project?
PP:
The first step is to meet the clients and examine the space, getting an idea of how they live, what they like (and dislike), and what is important to them in their home. For example, in the house I just designed in Italy, it was crucial to make the house comfortable for a lot of guests, as it was to be a place for large family gatherings. I'm pretty intuitive and, probably because of my television experience, I can come up with a quick and confident vision, which helps clients trust me.
MP: How does traveling and experiencing new cultures influence your design aesthetic?
PP:
Traveling means that I am constantly inspired. Whether it's a large European city, or a tiny hamlet in Uruguay, I will invariably see a color combination, an element of nature, an artisan's creation, or an architectural detail that I can incorporate into my work. I am never happier than when I'm in a new place in the world...my eyes can't take it all in fast enough!
MP: Do you have a favorite destination for inspiration?
PP:
I love it all...cutting-edge design to ancient architecture, so I don't have a particular destination that's my favorite. I will say though, I always try to stay in places that have an intriguing design aesthetic or interesting story (sometimes I even stay in more than one place in a location). Some of my favorites are a gaucho's estancia in Argentina, a 200-year-old restored harbor master's house on the coast of Ireland, a former opera singer's estate on the shores of Lake Como, a maharaja's hunting lodge outside a tiny village in India, a 12th century fort on an island in Brittany, and a contemporary design hotel with a hammock in the room in Barcelona.
MP: Do you have any favorite places to shop?
PP:
I love shopping in stores filled with unique items from independent designers...they're usually found in the hip neighborhoods of large cities around the world. That said, my absolute favorite place to shop will forever be flea markets. I've been to the Marché aux Puces St-Ouen (Paris flea market) so often that I am friends with many of the vendors. I try to time my trips to cities in Europe so I can be there during monthly flea markets. I love the Navigli Antiques Market on the last Sunday of every month in Milan, and the flea markets held on various weekend days in the smaller towns of Italy. Brocantes and vide-greniers throughout France are full of treasures, and the Portobello Road and Spitalfields markets in London are not to be missed. The craziest flea markets I've been to would have to be in Budapest and Barcelona. You have to see them to believe them.
MP: With so much inspiration garnered from your travels, do you ever have a hard time sticking to the outlined limitations of a specific project?
PP:
Regardless of any ideas my travels may have sparked, I never let them influence design decisions for a project, unless they are relevant. I started out designing for theater, where the parameters included a script written for a particular place and time, a director's vision, and the movement requirements of actors. It was always a collaboration, and because of that training, I respect the framework of each individual project. Frankly, it's what keeps the work interesting!
MP: You take very striking photos of your travels; did you ever consider a career in photography?
PP:
My photography comes out of a desire to record all of the amazing things I see...I still don't consider myself good enough to make it a career. I think that, in my case, it's how I frame the photo that's compelling, because sometimes I see things through my lens that others wouldn't notice.
MP: You've worked in a variety of fields, from doing costume design for Saturday Night Live to being the art director for Martha Stewart Living; what do you find to be the most challenging in each field?
PP:
Off the top, the most challenging aspect of working in television is the schedule. For
Saturday Night Live
I would get scripts late Wednesday night (which would change constantly for the next three days) requiring 100+ costumes to be ready for live TV on Saturday. Working on
Martha Stewart Living
, we would often have to change a set over from Thanksgiving to Christmas in a matter of days.
Another challenge of working for Martha was coming up with a new Thanksgiving table setting, Christmas tree, Fourth of July party idea (you get the picture) year after year after year. Sometimes I thought I'd never again be able to think of something original. (We always did.)
MP: What design trends do you see sticking around and which do you see disappearing?
PP:
I actually avoid design trends and prefer to create a timeless environment that comes from mixing old and new. As much as I loathe the word "transitional," I suppose that it's born out of a desire to incorporate contemporary design into traditional homes. I think that this trend will probably stick around, because it allows people to update their homes without starting over completely.
MP: What's your advice to homeowners looking to find the right designer?
PP:
You will know pretty quickly if a designer "gets" you. If they are suggesting ideas that are not even close to what you want for your home, then move on. A designer needs to be able to alter their own vision for what's best for the client.
MP: What's next for you?
PP:
I'll be going to Iceland for Christmas, which I am very excited about. There's a lot of great design in Reykjavik, not to mention the extraordinary landscape of the country. In the next year I hope to go to Madrid, Istanbul, Edinburgh, and Berlin...and who knows where else I'll end up. I have a whole new set of pages sewn into my passport, so I've got to fill them up! As always, you'll be able to see and read about all my travels on my blog,
ObjectsBlog.com
.