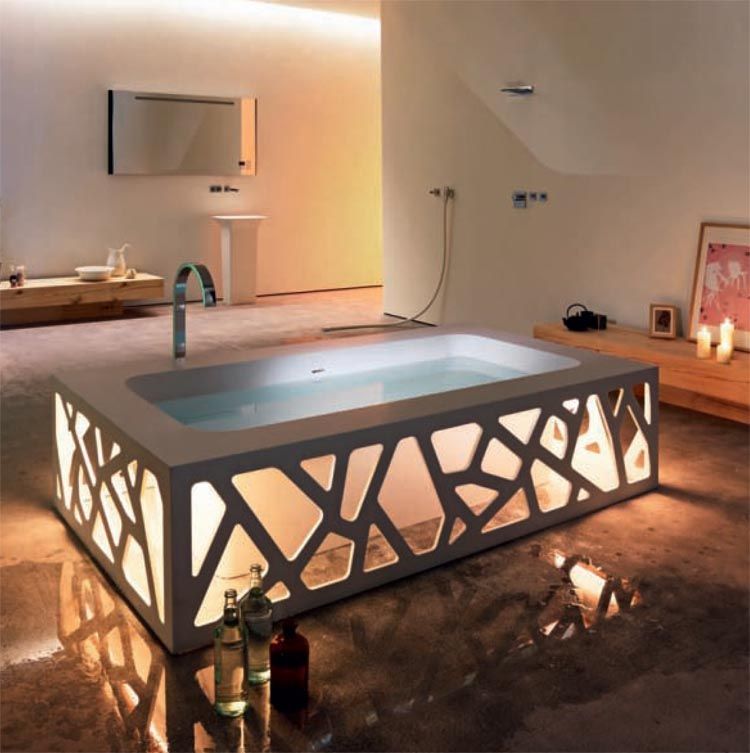 Photo Courtesy of Stocco
A bathroom, if designed and organized correctly, can be anyone's refuge from the outside world and at the center of that is the bathtub. Showers are nice, sure, but you can't relax amidst candlelight and enjoy a good book while in the shower; that's just a recipe for disappointment. Italian company Stocco takes
luxury bathroom fixtures
seriously and with their Origami collection, they're offering a unique line of stylish tubs and sinks.
Established in 1969 in Padua, Italy, Stocco strives to made functional, well-crafted, stylish, and essential bathroom furniture. Their Origami line features many different bathtub styles, as well as sink fixtures, each design showcasing modern shapes and lines that set them apart from other designs. The entire collection can also be altered to your specific tastes, from lighting accents to colors.
One of the tub standouts is definitely the Vasca Traforata, which places a freestanding tub within a frame of geometric cutouts. Light filters through the holes, which resembles that of sea coral, to create an illuminated piece of art. The best part? You can customize this tub however you like by giving the company the exact designs you want cut out of the side.
The Vasca Selfstanding is a sleek and modern design that would seamlessly blend with many different bathroom décors. Unlike many other tubs, this one features a completely freestanding faucet, which bends over the tub without touching it. We especially like the curved rim of the tub.
The Vasca Libreria is perfect for anyone who needs a little extra space around their tub for necessary bottles and candles, featuring small shelves set within the side of the design. Stocco's Vasca Extension is a neat design that elongates one side of the tub to create a platform, giving room whatever soaking agents you need, be it bath salts or red wine.