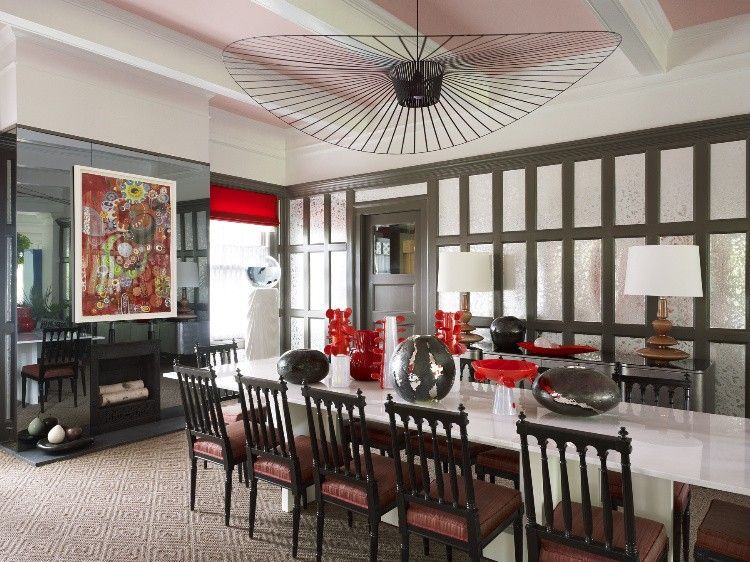 Photo Credit Morris Gindi
Interior designer Jamie Drake is renowned for his exuberant color sense, his eye for the unique and telling detail, his practical approach to planning, and his equal facility in traditional and modern styles. Drake creates inviting, delightful and livable environments.
Drake has completed countless interiors for an impressive roster of clients.  Notable residences include a Los Angeles show place for Madonna, apartments in The Dakota and other historic New York landmark buildings, as well as multiple projects for his long-time client, New York City Mayor Michael Bloomberg.
Drake is a prolific designer for some of the leading manufacturers of home furnishings. He has designed rooms for numerous show houses, including Kips Bay and the Hampton Designer Show House at Villa Maria, among others.
Drake has also been widely published in Architectural Digest, Elle Décor, French Architectural Digest, House Beautiful, as well as New York Times and British House & Garden.
Art Gray
Gail Doby:  When did you know that you had a real passion for interior design?
Jamie Drake:  I always loved interior design.  My first projects were done in childhood.  I had a fort with my best friend who lived around the corner.  I was six or seven years old, and my friend was in charge of creating a big pit surrounded by boulders.  That was the structure of the fort before we actually moved in some packing crates as furniture. 
Design was something that I always had an interest in and I guess I was predestined to do.
(Photo Credit Art Gray)
Marco Ricca
Gail:  How would you describe your style when you started in the profession, and where is it today versus when you started?
Jamie:  When I started in the profession when I was seven, my style was pretty junky. When I first graduated from Parsons and started my own firm, which was in 1978, my style was defined by my clients, as well as by me.
I was overly anxious to try to make everybody happy.  There wasn't clarity to it.  I did not purposely develop a style, it just happened. 
I approach an interior from a painterly point of view.  I think that I'm an artist after a fashion, and that isn't surprising to me because in childhood and adolescence I did collages, I painted, I did watercolors and silk screens.     
Now when I look at a piece of paper, a floor plan or when I step into a space that's waiting to be designed and transformed, I see it in vignettes, in the way I would envision a painting. I see how the color moves around the room, the scale of things, how to create wonderful balance.  My style, I think, developed as I continued to work and continued to explore my passions and have clients who then embraced my vision.    
(Photo Credit Marco Ricca)
Philip Vile
Gail: Are there particular experiences that are more helpful to you in achieving these visions?
Jamie: Yes, I would say that having clients who were very supportive and were less meddlesome—to be perfectly honest.  To this day, I can honestly say that the clients who get the best results are the ones who embrace your vision and let you get on with it. 
Gail: When did you receive "real recognition" in the industry? 
Jamie: My first big project was featured in Interior Design Magazine, but it was really in 2002 when House Beautiful featured my own house in the country in East Hampton.  Then, in the Fall of 2002, my New York apartment was featured in Elle Décor.  So I sort of went from being unknown to being quite well-known. 
(Photo Credit Philip Vile)
Peter Murdock
Gail:  Tell us about one of your show house experiences.
Jamie:  Out in the Hamptons, I went to select my room, and the organizers said, "All these are taken; this is what's still available.  Let us know what you want." 
I chose one and they said, "Oh, no, that's actually not available."  I chose another, "Oh, no, that one's not available." So I said, "You should tell me what's available," and it was not in the main house, it was about…I don't know…a quarter of a mile away in the garage in a carriage house, old maid's room at the top, and I got the last room at the end of the hall. 
I thought to myself, "What am I going to do with this room?  If I just create another guest bedroom, by the time they get here, the viewers were going to have seen twelve guest bedrooms.  If I create a little sitting room or dining room, I think it's going to feel awfully pretentious in this old maid's room with low ceilings at the end of the garage."   
So I decided to create a nursery and it turned out to be a smash. It was the big picture in The New York Times feature.  A few months later, I got a call from Madonna's office, some assistant asking for my portfolio.  Madonna was pregnant with her first child and the nursery opened my book; that was when she hired me to do her own home.
(Photo Credit Peter Murdock)
Gail: What is the most exciting project that you've done today and why would you say so?
Jamie:  I've worked on so many exciting projects; I've been very fortunate. I would say that certainly, one of the top ones was overseeing that renovation/restoration and redecoration of Gracie Mansion, New York City's official mayoral residence.  It was obviously a fabulous opportunity because it's a historic structure. It's important.  I felt like I was adding to history. 
Gail: What is the biggest dream project that you have not done yet?
Jamie: I would love to do a hotel.  I've never done a hospitality project. I did one small restaurant in the Hamptons on a shoestring budget, hoping it will lead to more.  It hasn't yet.  But I absolutely think that with my sense of fantasy, drama and optimism, I would be perfectly suited to do a hotel; and I would love, love, love to do that.  So take note developers.
(Photo Credit Mark Seliger)