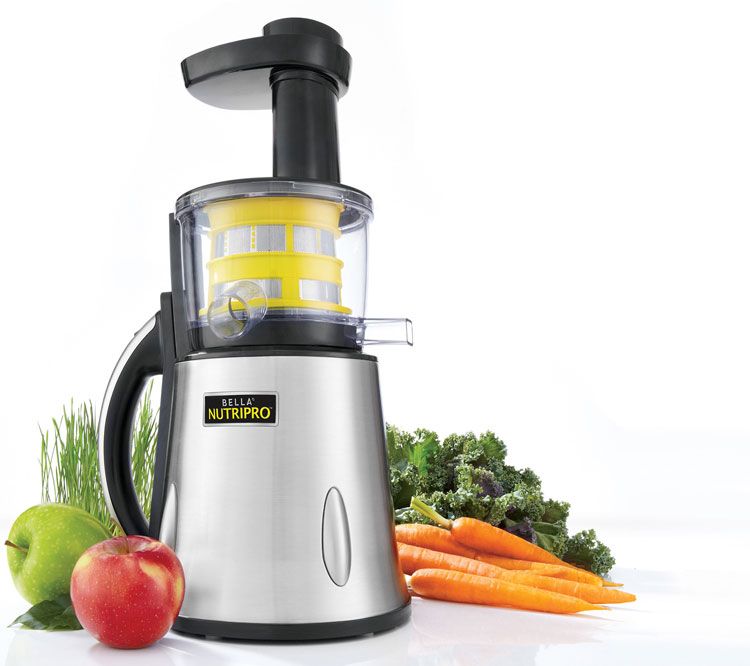 Photos Courtesy of BELLA
Last summer, while visiting a popular juice bar in
NYC
, I noticed a selection of cold-pressed juices. Fairly up-to-date with juicing and raw food trends, the term 'cold-pressed' was something new to me. Believing it to mean either a simple, but hyped-up city fad, like moving the juicing station to the walk-in refrigerator, or requiring a ridiculously expensive piece of machinery, I chalked it up to an only-in-NY moment. Now however, the new NutriPro Cold Press Juicer is being released, and if the maker's claims are accurate, this appliance would be a healthy addition to any
luxury home's
kitchen.
The benefits of juicing are pretty widespread, especially with the excitable, late-night infomercials by Jack LaLanne. Juicing is a great way to supplant vegetables, because I doubt many get their recommended daily serving, unless it's hidden somewhere in a Starbucks pastry. The times I've tried, it's been a pretty messy affair with pulp on the ceiling and not much to show for grocery bags full of vegetables. According to BELLA, makers of the NutriPro and an industry leader in specialty kitchen appliances, "Juicing is one of the fastest and most efficient ways to get the nutrients your body needs [and] can help you feel better, look better, and have more energy."
The traditional juicer uses fast spinning blades to remove the juice from the fibers of fruits and vegetables. This process leaves behind a lot of pulp, and the blade can be messy to clean. BELLA claims it also causes oxidation, damaging some of the nutrients at the cellular level. It is hard to believe that a fresh juice could be damaged or unhealthy in any way, but BELLA thinks they have improved the juicing method in order to create an even higher-quality drink.
The NutriPro Cold Press
is different because it uses a special auger — or screw — to 'chew' the juice, wasting less of the pulp and creating more juice with more nutrients. It has a jam resistant feature, which is nice so you don't have to standby and press down the vegetables. The NutriPro also has stainless steel casing, a durable side-handle, and dishwasher-safe detachable parts.
When you go to the trouble of squeezing your own juice, it shows dedication and a noisy motor probably wouldn't be a significant distraction, but those still asleep in the morning might disagree. NutriPro has a quiet 150-watt induction motor, not just for noise, as it reduces friction and unnecessary heat, keeping oxidation at a minimum.
BELLA is owned by Sensio Inc., who from 2003 has been offering a wide range of appliances from coffee makers and juicers, to cake pop and personal pie makers. The NutriPro is available at Macy's and JCP stores nationwide for the suggested retail price of $249.99.