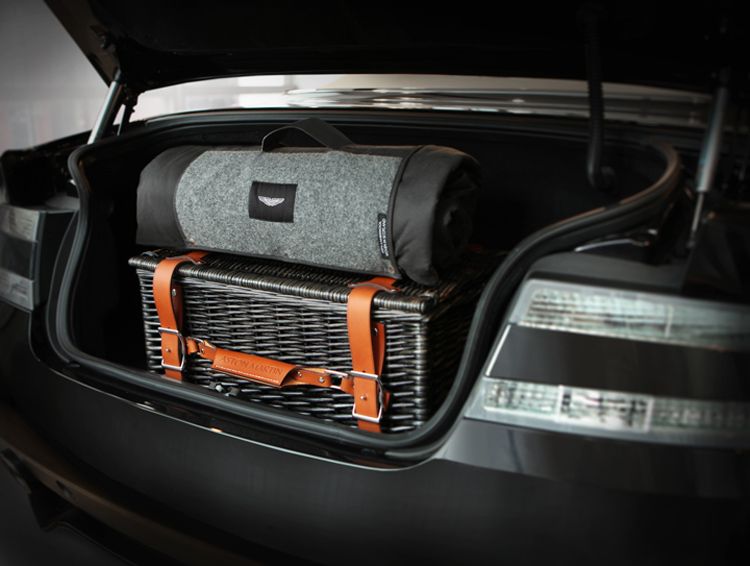 Photo Courtesy of Silver By Aston Martin
Luxury automobile brand
Aston Martin
, responsible for generations of Bond cars and timelessly beautiful design, has taken their signature craftsmanship into the realm of home goods. Aston Martin recruited Grant MacDonald, one of London's most accomplished silversmiths to design the line, "Silver by Aston Martin." Aston Martin collaborated with MacDonald, who has been working with international clients for the past forty years to develop his beautiful wares, to incorporate the stylistic signature of Aston Martin into the line.
"Silver by Aston Martin" includes a variety of gorgeous silverware for the home including luxury picnic hampers, champagne flutes, decanters, candlesticks, china, centerpiece bowls and more. Stylistically, the line is modern but possesses classic craftsmanship that speaks to the time-honored tradition of the Aston Martin brand. The line is broken up into five categories — Eating, Drinking, Gifts, Models, Travel & Picnic, and Bespoke. "Silver by Aston Martin" provides a place to purchase special occasion or corporate gifts, such as the sterling silver and 24 carat gold paper knife ( $1,576) or the Aston Martin Picnic Hamper ($4,356), made from 100 percent Scottish lambswool, English fine bone china, Irish Damask linen, and platinum detailing.
The line also features complete cutlery sets, such as the Quantum Dining collection — a twelve piece set plated in sterling silver and black ruthenium ($14,890) and Quantum China ($227 per plate). However, if you'd like to bring home an Aston Martin commemorative piece of décor to add a touch of elegance to a home office, the ONE-77 Car Model ($80,000) offered by the line is a "stunning model of the machine in sterling silver" mounted on a beautiful plane of Rosewood. The new collection is being revealed at the Maison & Objet Paris trade show. Of the newly minted designs, Macdonald said, "This collection is inspired by the power, beauty and soul of the Aston Martin brand. Through the artistry of our craft, we have retained the integrity of the brand whilst pushing the boundaries of contemporary design."
Macdonald's company was the first in silversmithing to be awarded the Queen's Award for Export and operates one of the largest workshops in London. In addition to the Maison & Objet Paris show, "Silver by Aston Martin" will launch a luxury hamper at the Geneva Motor Show in March.