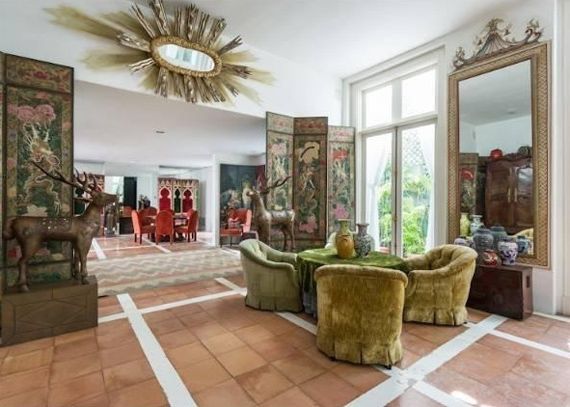 Photo Courtesy of Realtor.com
Everyone is slightly Marilyn obsessed these days, from the television show
Smash
to
My Week with Marilyn
which came out in 2011, starring Michelle Williams. But who isn't slightly intrigued by the volatile star who cheekily sang a song to her rumored lover and former President, John F. Kennedy? The blonde bombshell became the embodiment of 1950's female sexuality.
Miss Norma Jean Mortenson, as troubled as she was, has become a cultural icon, and now one of the most ultimate Monroe collective items is now for sale. For $4.75 million any fan of the actress with enough pocket cash can own the four bedroom six bathroom
luxury home
in which both Monroe as well as Frank Sinatra once lived. Located in West Hollywood, Sinatra and Monroe both overlapped their time there during the year of 1961, according to the
Los Angeles Times
.
With 5,637 square feet of space the main home features floor-to-ceiling glass doors and an impressive, 100 foot long living room. The residence is comprised of three units and was remodeled by Turkish-born interior designer Kalef Alaton who owned and worked on the home in the 80's. Alaton is known for his extensive design work on the interiors of both the Hotel Bel-Air as well as other high-class residences in the Beverly Hills area.
The studio above the garage is complete with fireplace, kitchenette, and a library while the third unit is comprised of one bedroom and one bathroom. Overlooking the garden, the main home as well as the second and third units have access to a beautiful patio and private terraces. Other interior features in the home include a gracefully curving spiral staircase, terracotta colored tiles, and an airy, open flow between rooms.
One of the exterior entrances is partially covered in kept ivy and surrounded by palm leaves, while a side terrace is protected by a trellised roof and hanging foliage. The residence is both pretty as well as an interesting part of celebrity history—a fun acquisition for those interested in walking the halls that two film legends once inhabited.