Carrie Coolidge View Profile

Luxury Lifestyle & Travel Writer | JustLuxe
What's Next in Home Decor: Our Favorites From Ambiente at Messe Frankfurt
Feb. 18th, 2013 | Comments 0 | Make a Comment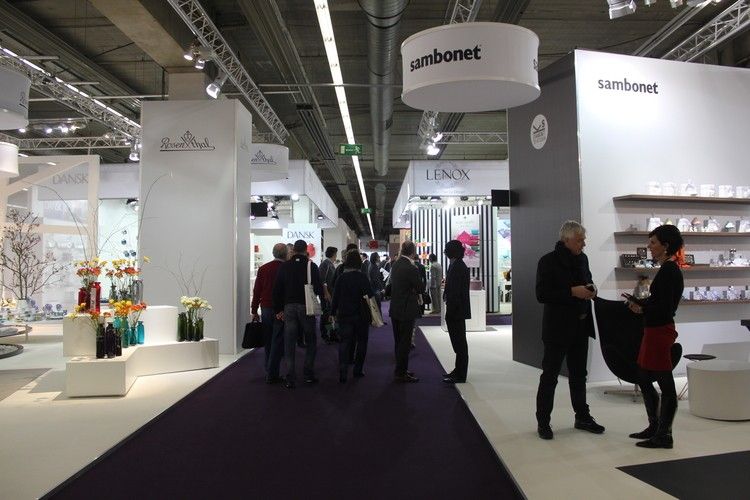 Photo Credit Carrie Coolidge
More than 4,600 exhibitors from 81 countries filled 27 exhibition halls with new products, trends and collections at Ambiente at Messe Frankfurt, the annual design fair that is the largest of its kind in the world in the consumer goods sector. With 332,000 square meters of design space, the trade fair is a well-known launching pad for new and innovative designs by both up-and-coming designers, as well as established manufacturers. According to Nicolette Naumann, vice president of Ambiente, the fair — which is the only European trade show organizer to have its own sourcing area — is where buyers from all over the world come to order products for their retail store. "Some companies, such as Villeroy & Boch are not even exhibiting in France anymore," says Naumann. "They do their French business here amongst their international business. The French buyers come to Frankfurt to buy from French companies." 
JustLuxe visited the fair that took place February 15-19 in search of its favorite products that will hit store shelves during 2013.
Garden Glory
Fashionable Garden Hoses 
Linda Brattlof founded Garden Glory when she realized there was a need for an attractive garden hose after she couldn't find anything but a green one. More closely resembling a designer handbag, this 20-meter long hose, which comes in such colors as pink, gold, white, black and gray, is about as sexy and glamorous as a garden hose can possibly be. A complete set, which includes a hose, brass nozzle set and wall mount, costs &euro180 (around $240) and can be purchased through her website. There's also an aluminum wall mount that resembles reindeer antlers available for &euro275 (around $368). All of Brattlof's products are made in Scandanavia. (Photo Courtesy of Garden Glory)
Carrie Coolidge
Riedel's Snake Wine Decanters 
In April, Riedel, the Austrian glassmaker known for its wine glasses, will introduce a new line of wine decanters that will double as artful décor when not in use. The Boa, which pays homage to the Year of the Snake, will retail for $525 while the Curly will retail for $265. No mold was involved in the manufacturing of the decanters, which are free-formed in Austria. "The idea is that in this beautiful object the wine travels," says Max Riedel, who overseas the Austrian-based company's U.S. operations. "The decanter aerates the wine, so form follows function." Colored versions of the decanters will be released in limited editions of 100 pieces in the fall. Riedel is available at department stores across the U.S. (Photo Credit Carrie Coolidge)
Carrie Coolidge
White Cloud Chair
Margarida Valente is a Lisbon, Portugese designer who makes furniture and lighting out of nylon hair ties. Called the "White Cloud", this chair was launched at the Ambiente fair and retails for &euro900 (around $1,204). The chair, which ships internationally, not only looks like a cloud, but you will feel like you are floating on one when you sit on it. (Photo Credit Carrie Coolidge)
Carrie Coolidge
Sculptural Furniture
Museums around Europe have bought this Strasbourg-based designer's line for visitors to recline on while gazing at art. It seems fitting then that Geraldine Husson considers her furniture to be "art you can live on". Made out Lycra, each cushion is made by hand and sold through Husson's website. These three pieces seen here are sold individually and are priced at &euro900 (around $1,204) in total. (Photo Credit Carrie Coolidge)
Carrie Coolidge
Read the Time
With Biegert & Funk's Qlocktwo wall clocks, you read the time in one of 12 different languages offered, including English, French and German. If it says "quarter past one" with one corner lit, the time is 1:16; if two corners are lit, it is 1:17, etc. Biegert & Funk is a 14-year-old advertising and marketing agency that delved into design four years ago with its first wall clock. At the fair, the company unveiled two new versions, including one that is gold-plated ($3,590) and one made out of Corton steel ($2,390). These 110-volt clocks, which are equipped with LED lighting that lasts for 25 years, can be purchased at Suite and DTC, both of which are located in New York, N.Y. (Photo Credit Carrie Coolidge)
Carrie Coolidge
Lenox Partners with Scalamandre
At Ambiente, Lenox featured its new partnership with Scalamandre with four different tabletop patterns based on fabrics designed by the company famous for its textiles and wallpapers. Place settings are available in the Bouvier, Stravagante and Love Birds patterns while Scalamandre's iconic Zebra pattern in red is also featured in a line of matching flatware, barware, stemware and gift items, including a wine stopper, vases and lacquer trays. A five-piece place setting of the Zebra pattern retails for $165. The line is available for purchase at major department stores including Bloomingdales and Macy's. (Photo Credit Carrie Coolidge)
Vita
Eos Feather Chandelier
This gorgeous lighting fixture, known as the Eos, was introduced at Ambiente by Vita, a Copenhagen-based lighting company. Made with more than 4,000 goose feathers that are carefully positioned on a paper core by hand, the Eos measures 45cm in its diameter and 30cm in height, and is priced at &euro400 (around $535). Two smaller versions are also available for &euro60 (around $80) and &euro90 (around $120). If you're looking for a striking look, multiple units can be hung together. If purchased online, the Eos folds into a tube for easy shipping and storage. Vita's lamps are sold in home improvement chains and furniture stores in more than 20 countries around the world. (Photo Courtesy of Vita)
Carrie Coolidge
Versace Vanitas
Rosenthal and Versace, both brands synonymous with excellence and high quality, have developed this elegant collection of porcelain vases and bowls based on the iconic pattern of the Italian designer's line of Vanitas bags. This complex decoration is strictly handmade and takes up to one month to complete. At Ambiente, Rosenthal featured its Versace collection, including this 31cm tall black Vase that is also available in white. It retails for $1,295 and can be purchased at Rosenthal USA's online store. (Photo Credit Carrie Coolidge)
You might like :
Home Decor
Finding the best in luxury can be a daunting task, which is why we've taken it on for you.
LET'S CONNECT LUXURY NEWS & MORE