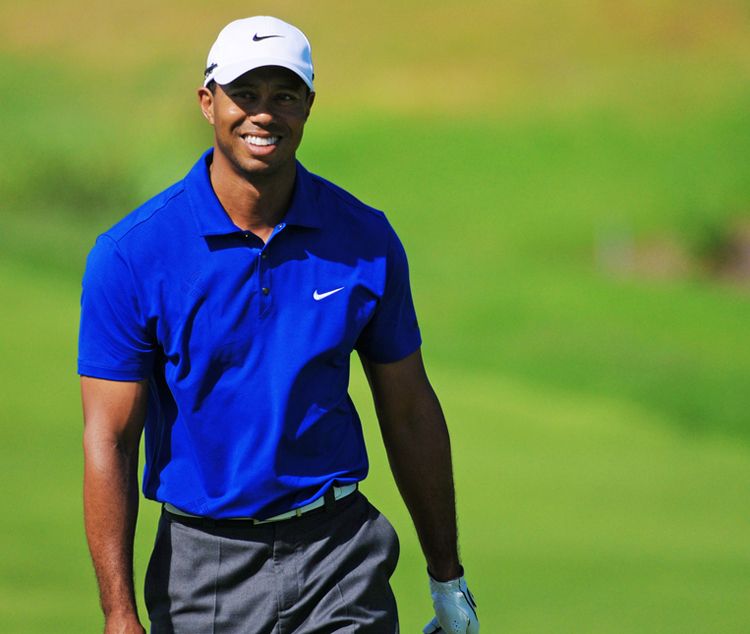 Photo Courtesy of New England Patriots Official
Tom Brady
Quarterback for New England Patriots
Where:
Los Angeles, California
Size:
22,000 square feet
Cost:
$20 million
Why It's Cool:
Tom Brady and his supermodel wife Gisele Bundchen have been perfecting their dream home for the past three years and it finally appears finished. According to
Huffington Post
, not only does the two-wing mansion have a miniature moat in the front (complete with a bridge over it), it also has a huge pool in the back yard, eight bedrooms, elevator, weight room, wine cellar, and plenty of eco-conscious additions (solar energy panels can be seen on the roof).
Photo Courtesy of Jeff Realty
Tiger Woods
Professional Golfer
Where:
Jupiter Island, Florida
Size:
10,000 square feet
Cost:
$54.5 million
Why It's Cool:
Woods certainly built his new home with golf practice in mind, including a private 3.5-acre golf course on the land, and according to
Forbes
he had the entire home remade during his divorce. Included in the course are four greens, a wedge range, and many different turfs so he can practice in different conditions. Aside from golf, Woods installed tennis courts, a full gym, an oxygen tank, four pools, and two boat docks.
Photo Courtesy of Curbed
Derek Jeter
Shortstop for New York Yankees
Where:
Tampa, Florida
Size:
30,000 square feet
Cost:
$12 million
Why It's Cool:
According to
NY Daily News
, Jeter's massive waterfront bachelor pad reportedly has a pool that looks out onto Tampa Bay, as well as several docks for yachts and two boat lifts. Within the house there are seven bedrooms, nine bathrooms, an entertainment room, a billiard room, and a spa.
Photo Courtesy of Baird Warner Real Estate
Michael Jordan
Retired Guard for Chicago Bulls
Where:
Highland Park, Illinois
Size:
32,683 square feet
Cost:
On market for $21 million
Why It's Cool:
Jordan originally put his
Highland Park pad
on the market for $29 million last year but has since dropped the price by $8 million (which is a
huge
difference). Sitting on seven acres, the two-story house includes nine bedrooms, 15 full bathrooms and four half baths, a study, a library, and wet and dry bars. Granted the house looks more like office buildings than a private home, it's still pretty cool with its tennis courts, private pond, pool and outdoor fireplace. Plus, it's Michael Jordan's house.
Photo Courtesy of Campins Real Estate
Dwayne "The Rock" Johnson
Semi-Retired Professional Wrestler
Where:
Southwest Ranches, Florida
Size:
13,353 square feet
Cost:
$3.4 million
Why It's Cool:
According to
Huffington Post
, Johnson bought this gated estate — which sits on a 96,439-square-foot lot — from Miami Dolphins tackle Vernon Carey. The home has six bedrooms, 6.5 bathrooms, a pool, home theater that can seat 14, a chef's kitchen and butler's pantry, and a gym.
Photo Courtesy of Make Architects
Gary Neville
Former Captain of Manchester United
Where:
Bolton, UK
Size:
8,000 square feet
Cost:
Bought property for $12 million
Why It's Cool:
Granted, this science fiction-inspired home hasn't actually been built yet due to
various complications
but we're hoping Neville's strange eco-home dream comes true because it looks amazing. The planned five-bedroom house is mostly underground, with the visible portions resembling a flower, and would be mainly roofed with grass. The idea was to minimize damage to the Pennines moorland as much as possible by submerging the home. Neville also wants his house to use as little energy as possible and with the help of
Make Architects
. They're planning on integrating a ground source heat pump, a wind turbine to bring renewable energy, and solar panels.
Photo Courtesy of Long & Foster Real Estate
Gilbert Arenas
Guard for Shanghai Sharks
Where:
Great Falls, Virginia
Size:
9,042 square feet
Cost:
On market for $3.5 million
Why It's Cool:
Befitting of his team name, Arenas' house in Great Falls is filled with shark tanks. According to
Realtor.com
, the seven bedroom, ten bath home sits on 1.19 acres and has a gym, two kitchenettes, both indoor and outdoor kitchens, a fire pit, fish and shark tanks, pool and grotto (complete with a wet bar, hot tub, water slide, and entertainment system). Oh yeah, there's also a movie theater and a water massage chamber.
Photo Courtesy of Obeo
LeBron James
Forward for Miami Heat
Where:
Miami, Florida
Size:
10,000 square feet
Cost:
$9 million
Why It's Cool:
LeBron James' three-story home sits on Biscayne Bay in Coconut Grove and comes with six bedrooms, 8.5 bathrooms, a home theater, wine cellar, library, three car garage, and a guest house. The infinity pool overlooks the bay, which includes a pretty big dock that has enough room for two 60-foot yachts, reports
Curbed
.