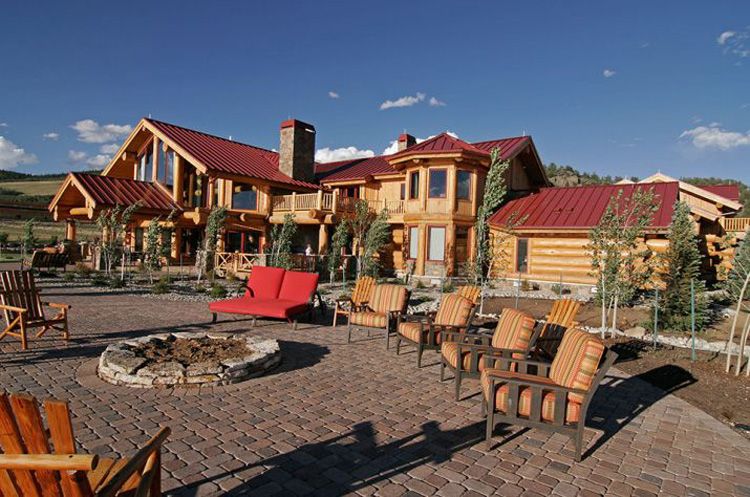 Photos Courtesy of Concierge Auctions
As much fun as city life can be, with bars open late and parties lasting to the wee hours of the morning, sometimes we just want to escape to a horse ranch in the middle of nowhere. For those who want to act on those dreams, Concierge Auctions has the property for you. This sprawling mountain estate can be found in the historic South Park basin in Colorado. Bordering over one million acres of Pike National Forest to feast your eyes on and only an hour away from Denver,
Flying Horse Ranch
just might be your ticket to paradise — assuming your idea of paradise involves horses and cattle.
The ranch was originally listed on the market for $22.9M, sits on 3,688-acres, and is available to be bought as two separate parcels or as a unit on October 11 at the live auction — which is being put on with the help of Roger Hukle and Creed Spillane of Flying Horse Realty, and Billy Long and Ron Morris of Ranch Marketing Associates. On the property can be found a 10,711-square-foot lodge, two lakeside cabins, a ranch house, a 7,492-square-foot log barn, two 20-acre lakes, and a fish camp with two canvas tents.
"This exceptional retreat and working ranch is like a scene from a John Wayne movie. Thousands of acres of grassland are highlighted by adjacent mountains, and the property's two well-stocked lakes and trophy fishing stream — when added to the areas skiing, hiking and biking opportunities — set the stage for just about any form of outdoor recreation desired," stated Hukle. "Ranches of this size, with water rights and modern amenities, are becoming increasingly difficult to find in Colorado. It deserves special attention, which is why the owner has decided to open the property for auction, so that it receives the widest exposure possible."
The main lodge was built in British Columbia using white cedar logs, later reassembled on Horseshoe Lake. The structure features onyx chandeliers, Persian carpets, vaulted ceilings, fireplaces and restored hardwood floors. Instead of having just one master bedroom, this home has two. One has a 10-foot-high fireplace and a bathroom with a copper soaking tub and an eight-foot double shower. The second master is its own apartment on the second floor, with great views from the deck.
"Flying Horse is a one-of-a-kind estate and working cattle ranch that is surrounded by public lands and offers virtually endless recreational opportunities — all in a premier location close to Denver," stated Long. "With approximately $800 per finished square foot invested in the magnificent log home, this is an excellent opportunity to purchase a gorgeous property with exceptional value."
The land, including the National Forest, thrives with wildlife and gives ample opportunity to spot elk, mule deer, bears, antelopes, and mountain lions. In fact, the ranch actually sits directly in the migratory path of elk.