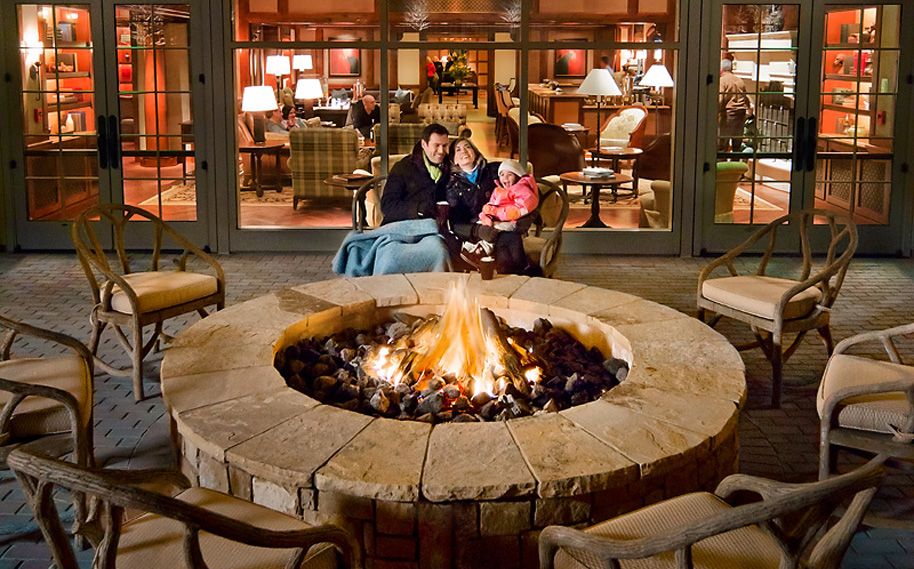 Photos Courtesy of Ritz-Carlton
Vail, Colorado is home to many luxurious accommodations, from Swiss-style chalets and contemporary designed homes to mountain-themed lodges and chic urban spaces. The Ritz-Carlton Residences, Vail embodies several of these themes, tastefully done without abandoning the surrounding landscape and history.
With two-thirds of the structure privately owned and 45 units on the Club side of the property, the Vail residences are truly unique in the mountain town. Home to 70 units that are available for whole ownership, each comes fully furnished with flatware, dishes, and modern home amenities. Particularly popular with buyers from Latin and South America, Australia, and New Zealand, the residences' owners come from all over the world. Closer to home, owners from states like Texas or New York can easily go for a quick trip to partake in nearby mountain activities.
The residence's outdoor fire pits, a staple of all Ritz-Carlton mountain properties, are arranged in cozy lounge spaces overlooking the pool. Unlike other properties in Vail, the Ritz pool is elevated and extremely private. Views of the scenery can be enjoyed year-round with the outdoor pool and two hot tubs, one with a cascading water feature perfect after a day of skiing or hiking in the mountains. Owners and guests also receive a social membership at the Arrabelle Club, a ski-in-ski-out club complete with a gym, spa, and daily continental breakfast in the Great Room.
The Arrabelle Club is located at the base of the mountain in Lionshead. Lockers with boot driers, a transition room with hot coffee, hand warmers, and end-of-day cookies and milk all but make guests want to stay in the cozy surroundings. I had to stop and pay homage to the locker of skier Lindsey Vonn, which was colorfully adorned with cards and well-wishes from fellow Arrabelle Club members' kids during the Olympics. Family activities abound in both warm and cool months, including hikes, bike riding, wine and cheese events, full-moon snowshoe expeditions, private parties, and member dinners. The popular "First Tracks" program is available to members, which allows one to carve the first tracks on pristine slopes before they are opened daily to the public during ski season.
Back at the residences, the homey atmosphere is unique to each unit. Both valley and mountain views are available, with exclusive décor to each. My unit was decorated in sleek silver and gray décor with modern touches throughout in an open floor plan, featuring a marbled steam shower, silver-gilded mirror, and heated floors in the five-piece bath. Another unit boasts bold reds, animal print rugs and western-themed décor, from bison horn accents to leather mirrors. Each residence is a wonderful match to the diverse character of Vail and can easily be a second home for many.
With no public restaurant, common areas or tourist destination shops, the residences feel private and exclusive. An owner's lounge and library are comfortable and often quiet, while the Bar and Lounge a bit more social. Seeking five-star dining? A plethora of options are available just steps from the hotel, and the car service is on-hand to whisk owners and guests away to favorite locales, such as Kelly Liken and ELWAY'S in Vail Village.
The 24-hour fitness center is akin to having your own private gym with state-of-the-art equipment; you may bump into world-class athletes getting in a workout before strapping on their skis. Individual classes are available in the yoga and fitness studio, and a locker room complete with steam and two treatment spa rooms round out the comfortable facility.
As of publication, 50 of the 70 units have sold. For fans of E! stars Giuliana and Bill Rancic, you may recognize the penthouse from the baby special on their show, which is available at $9.4M. With vaulted ceilings, a second floor, and stunning views of the resort and surrounding mountain from the balcony, the penthouse has been the set for many photo shoots and celebrity stays.
Whether considering purchasing a residence or renting one of the many in the rental pool managed by Vail Resort, The Ritz-Carlton Residences,Vail are a luxurious and unique stay unlike any other property in the area. From the friendly and attentive valet to welcoming staff, centralized location and lavishness of the residences, it is well worth a stay in the Vail Valley. To make reservations or inquire about unit availability, visit Reservations.Snow or call (877) 525-9631.