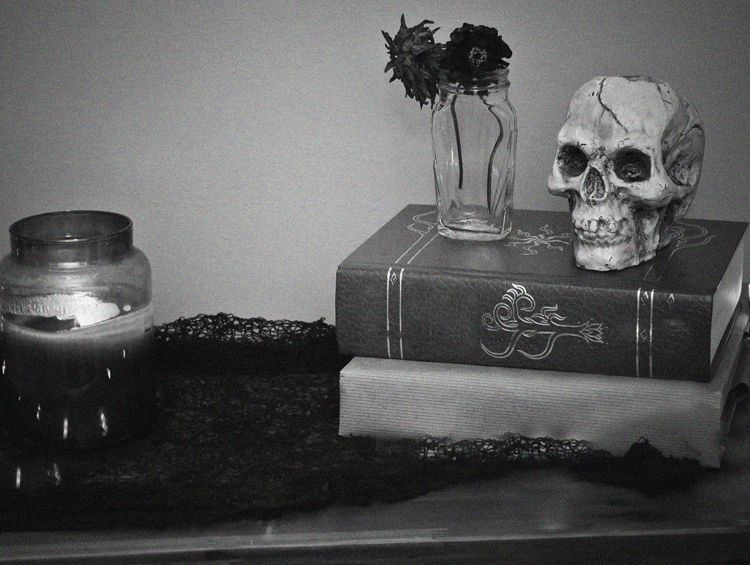 Halloween doesn't have to be a cheesy holiday full of cheap decorations in gaudy shades of orange. It may take a little more work to class up the spooky occasion — because you certainly won't find what you need in Target — but it's not as difficult as one might think, especially if you pepper in some stark white accents. Sure, there are certainly some DIY things you can do (like paint a pumpkin with black chalkboard paint), but if you want to take it a step farther without risking a DIY disaster, you may want to check out this list.
Photo Courtesy of White Faux Taxidermy
The Ignatius - Stag Deer Head
For those of us who aren't into hunting, but still love the creepiness of a deer head being mounted on the wall, the Ignatius black resin stag deer head from White Faux Taxidermy is our ticket. Costing $89.99, the head weighs about six pounds and is cast out of a polyresin material. The antlers are removable so they won't get damaged during shipping, meaning you could even remove one to give it a slightly eerie vibe.
Photo Courtesy of Restoration Hardware
Salvaged Trumeau Chalkboard
You can always look to Restoration Hardware for retro-inspired furnishings, and here we have a chalkboard hearkening back to classic late 19th century architectural windows. Designer David Thompson created this to stand out in a home and with their Sweeney Todd look, they would certainly be a great addition to a Halloween party. You could write down all the creepy cocktails on offer or let your artistic side loose and draw a grave scene. The price ranges from $259 to $439, depending on the size you choose.
Glossy White Skulls
It wouldn't be a proper Halloween scheme without some white skulls. These three glossy skulls from Skull House are not only adorable, they're spooky in a simple and elegant way. The block on which they sit is handmade stoneware that gives the $110 piece a metallic and edgy look. Maybe put some vintage hardbound books nearby with some black candles, and you're all set!
Wrought Iron Chandelier Candelabra
Sold through Etsy by The Vintage Porch, this heavy black wrought iron candelabra is the only one available so if you want it, you better buy it now! A steal at only $58, it holds four candles and would look amazing hanging over a table or even in the corner of a bedroom. Since it doesn't need electric power, the possibilities are endless with this vintage piece — you can even hang it from a tree outside.
Photo Courtesy of Restoration Hardware
Zinc Candlesticks
You can't set a scary mood without some black candlesticks and luckily Restoration Hardware has a great set on offer. This particular $79.99 collection is handmade by artisans in a family-owned workshop in Bulgaria and if used outdoors, will weather to a soft gray. However, keep them inside for some much-needed drama.
Photo Courtesy of Horchow
Jeweled Ivory Pumpkins
Halloween doesn't have to be full of bleak cobwebs and skeleton figures. Instead, you can add some sparkly glamour to your home with this $280 set of three jeweled ivory pumpkins from Horchow. Each white pumpkin is accented with swirled jewel designs, making it a great centerpiece. Crafted and painted by hand, the three sizes are six, nine, and 12 inches tall.
Photo Courtesy of Horchow
Faux Crow's Nest
When picking out the perfect Halloween accent pieces, you may want to get things that you could potentially use all year round. You can use these faux crow's nests in creepy ways (maybe put little skulls or pumpkins inside), but you can also use them in a rustic design scheme for the rest of the year. Personally, I'd place a fake raven nearby for the perfect Edgar Allan Poe-inspired centerpiece for fall. Sold through Horchow, the 18" nest is $60 and the 22" is $90.
Photo Courtesy of Restoration Hardware
Vaille Crystal Table Lamp
Lighting is a quick way to set a mood and while candlelight definitely gives the desired ambience for a spooky party, sometimes a table lamp can give an even better effect. This $1,150 Victorian design from Restoration Hardware brings in a veil of ball chain, adding an industrial touch to an otherwise sophisticated crystal lamp. Though it comes with eight candelabra light bulbs, you may want to get some flickering ones instead to really take advantage of the light-catching crystals hanging behind the veil.
Photo Courtesy of Modern Fifty
1893 Oak Tambour Door Apothecary Cabinet
There are so many horror flicks out there that center around twisted doctors, and this rare apothecary cabinet from 1893 really gives off an eerie quality. You can store whatever you want in there, but it would certainly be cool if you left some drawers open so guests can check out all your questionable elixirs. Costing $7,500, Modern Fifty promises that the unit is original and fully functional. featuring the original labels and interior drawer paper brackets, the cabinet is even stamped with a patent and manufacturing date.
Photo Courtesy of Restoration Hardware
Hammered Steel Rivet Bartools
Crafted by San Francisco metalsmith Jefferson Mack, these bartools resemble something Sweeney Todd would have in his parlor - which is perfect for this time of year. Hand-forged from stainless steel with brass rivets, the blackened finish gives the set a vintage ironwork look. The $79 set of seven can be found at Restoration Hardware and includes a jigger, corkscrew, bar knife, fork and spoon, bottle opener and ice scoop.