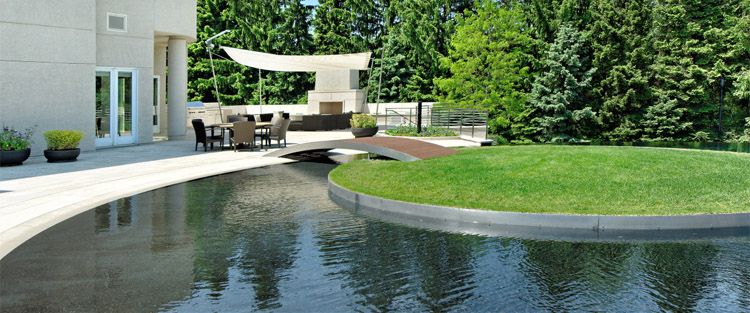 Photos Courtesy of Concierge Auctions
Back in May we told you about Michael Jordan's listed Highland Park, Illinois home getting a pretty significant price drop from $29M to $21M. Well, apparently that was still too pricey because the luxury pad hasn't sold. To figure out how much someone is actually willing to pay, the property is going to be offered up to the highest bidder in a live auction through Concierge Auctions on November 22.
"I have so many amazing, happy memories of my life in the house over the years," Jordan says. "It's where my kids grew up. It's where I lived during my championship years. I still have business interests in Chicago, including my restaurants, and Chicago will always have a piece of my heart. It's a special place with incredible people, who embraced me from the day I arrived. But my kids are grown now and I don't need a large house there anymore."
Jordan lived in the 56,000-square-foot home (known as Legend Point) for nearly 20 years, which makes it a great choice for any sports fan. Sitting on 7.3 acres, the estate comes complete with a regulation-size NBA-quality basketball court (which Jordan had custom built in 2001) with specially cushioned hardwood floors, locker rooms and a lounge. There's also a pool pavilion that links the main house to the guest wing, a tennis court, and putting green.
"Many of the world's most desirable items are sold at auction, and Concierge Auctions is the hands down leader when it comes to auctioning one-of-a-kind real estate," says Jordan. "By working with them, I know that on November 22, the day of the auction, my house will have been seen by a worldwide audience, and I'll have a sale with a closing in 30 days."
Within the main residence you will find six bedrooms (three additional ones are in the guest wing), a large family area with floor-to-ceiling windows and a built-in aquarium, and a two-story living room. The main kitchen has a ventilated island food prep area with a gas Gaggenau cooktop, double convection ovens, two dishwashers, and a combination steam oven. There's even a card/cigar room with a custom-built walk-in humidor, 500+ wine cellar and tasting room, and a beauty salon.
"Mr. Jordan hired us because he understands the benefits of the auction process for selling incomparable assets. The value of Legend Point not only lies in its history as his long-time residence but also in every unique facet of the property — the quality of design, extensive amenities and sheer size of the estate," says Laura Brady, President of Concierge Auctions. "While there is no pre-set minimum or reserve, buyers will have the ability to submit opening bids with their registrations. The ultimate selling price will simply be determined by the bidders on auction day."
Jordan's estate is being auctioned in cooperation with Baird & Warner Real Estate — the agency that has held the listing for quite a while now — and will be open for viewings by appointment only.