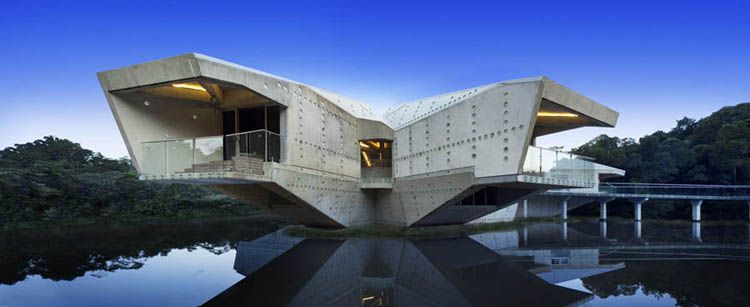 Photos Courtesy of Charles Wright Architects
When Australia-based Charles Wright Architects were approached by a new client to design a carbon neutral home in an "environmentally sensitive site off-grid on the edge of the Far North Queensland (FNQ) beachfront rainforest," the firm embraced the challenge with excitement and the Stamp House is the impressive result. Not satisfied with producing a simple building, CWA created a fortress that makes use of the site's native wetland environment and is literally reflected in the waters.
"The aim was not to simply produce an engineered outcome," says CWA. "But to produce a building which made the most of the site's natural amenity and reintroduced the surrounding native wetland environment."
The home is accessed using a long bridge over the water, which leads to a large living room that looks to be completely open. Apparently, one will find a kitchen, dining room, and gym in there as well. All of the bedrooms can be found in the wings.
The engineered water ecosystem was the result of liaison between the Department of Environment and Natural Resource Management, Queensland Parks and Wildlife Service and all levels of the government - meaning that CWA had a lot riding on their design. The two-story residence was made using a mix of in-situ and precast concrete that has been engineered and insulated, which combined with the solar paneled roof, means the home is able to keep a comfortable ambient temperature all year.
Considering it sits on a body of water, the team uses a cantilever design to "mitigate impact from potential flooding and king tide inundation associated with cyclonic activity." It's even classified as an actual cyclone shelter because it category five cyclone proof, which is the highest intensity number with winds reaching over 130mph and gusts above 175mph.
Let's talk sustainability. The Stamp House (which must have gotten its name from the circular indents spread out across the exterior walls and roof) was designed to be completely self-sufficient and truly off the grid. Aside from the solar panels that generate electricity, there's a 250,000-liter water system that uses rainwater harvesting and grey-water recycling.
We've been seeing a lot of concrete-type doomsday shelters and disaster bunkers trying to double as homes, but none have been quite as interesting as the Stamp House. Sure, it looks like a Bond villain's vacation home, but it's also an incredible feat of clever eco-conscious architecture.