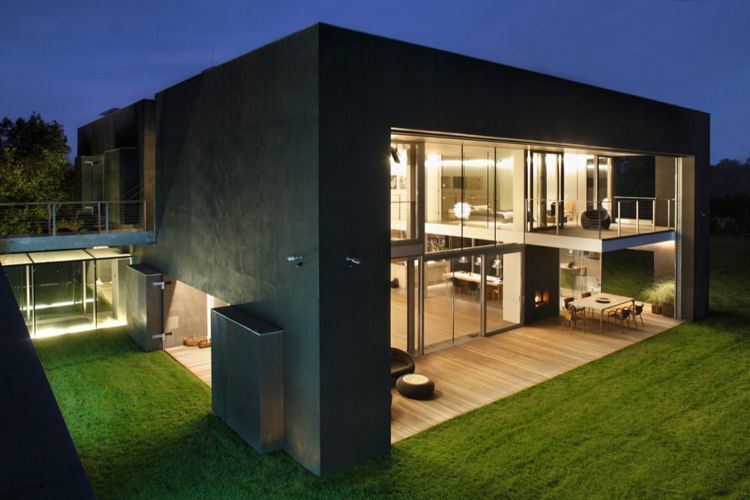 Photos Courtesy of KWK Promes
Is this the ultimate in home security or what? From the exterior it is as imposing as Fort Knox and sports the ambiance of Alcatraz, but this concrete monolith is actually a cleverly disguised luxury residence. The two-story "Safe House," which is located outside of Warsaw, Poland, was built in 2009. Polish architectural firm KWK Promes designed it per the instruction of the owner to provide maximum security while maintaining all of the comforts of a high-end home. The single-family residence is a rectangular prism, situated behind an impenetrable, 15-foot security wall with movable parts.
Like the security structure, the exterior walls of the home itself shift to create hinged concrete "shutters," mechanically operated by built-in engines. This is the Safe House's secret: when completely sealed up, the house is closed off to its rural environment, looming ominously over the gentle countryside. But when opened, the house transforms into a light and airy home, completely integrated with its surroundings using open floor plans and glass panels.
Hidden behind the concrete wall and shutters is 6,100 square feet of living space, complete with floor-to-ceiling windows, panoramic views, and an indoor swimming pool — which is connected to the main house with a drawbridge. All of this becomes visible by depressing a button, sliding all of the house's movable components into their "open" positions; push the button again and the home seals back up.
The Safe House is built to withstand any attack. Penetrating it in its closed state requires matching a number of security-entrance codes, and even once past this obstacle, the entrant is confined to a "safety zone" bordered by concrete walls, where they wait for the "live-ins" to authorize entrance.
While words alone cannot do this unique residential fortress justice, the photographs that accompany it convey the full picture. Let's see zombie hordes try and break into this home.