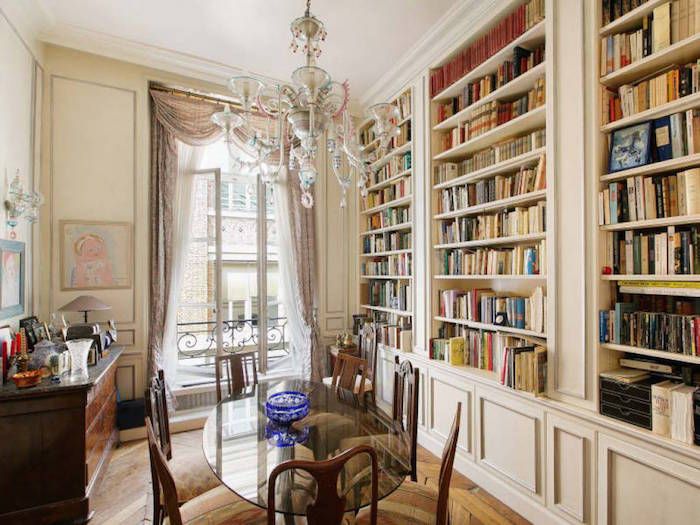 Photo Credit: Christie's International Real Estate
To better understand this historical Parisian home for sale, we need to give you some background on its impressive former owner. Marie-Joseph Paul Yves Roch Gilbert du Motier de Lafayette, the Marquis de Lafayette, is often known simply—and thankfully—as Lafayette. Born in 1757, he was a French aristocrat and military officer who fought for the US in the American Revolutionary War. After helping to secure French aid in the form of 6,000 troops, money and ships for the US, George Washington credited Lafayette as one of the major players in America's overall victor—he was even posthumously made an honorary citizen of the USA in 2002.
Photo Credit: Library of Congress
Lafayette returned to Paris in 1825 and, after extensive renovations, rented the first floor of an elegant townhouse in the fashionable Faubourg Saint-Honoré district—which is still one of the city's most exclusive neighborhoods. Built in 1728 by Jean Antoine Mazin (Louis XV's military engineer and architect), the building was Lafayette's last home, as he passed away on May 20, 1834—an event commemorated with a plaque on the building's facade. Now, you can live in this historical figure's last residence, which is being sold for €1.9 million (around USD $2.1M) by Christie's International Real Estate and its Paris affiliate, Daniel Féau.
Photo Credit: Christie's International Real Estate
Over the last years there have been many structural changes to the apartment, including alterations to the staircases and the division of Lafayette's former rooms into two apartments—one of which overlooks the street and can be joined to the sale if requested. The one-bedroom, 1,539-square-foot apartment features the original oak parquet floors throughout and 13-foot ceilings in the living room, along with a Louis XV-style white marble fireplace with a framed mantel mirror and an oil portrait hanging above.
Photo Credit: Christie's International Real Estate
The dining room has a full wall of built-in bookshelves and is connected to the fully-equipped eat-in kitchen with stone floors and walls of blue and white tiles. The master bedroom has a Trompe l'oeil sky on the ceiling and a mirrored vanity area with a basin, built-in storage and a paneled bathtub. There is also a separate cabinet de toilette, walk-in closet, built-in cupboards and bookshelves.
Photo Credit: Christie's International Real Estate
Needless to say, it is rare that such a dwelling even still exists, let alone pop up on the real estate market. This property's provenance depicts a living memory of Lafayette's historic French and American identity in ways that are unique and certainly memorable.
Photo Credit: Library of Congress