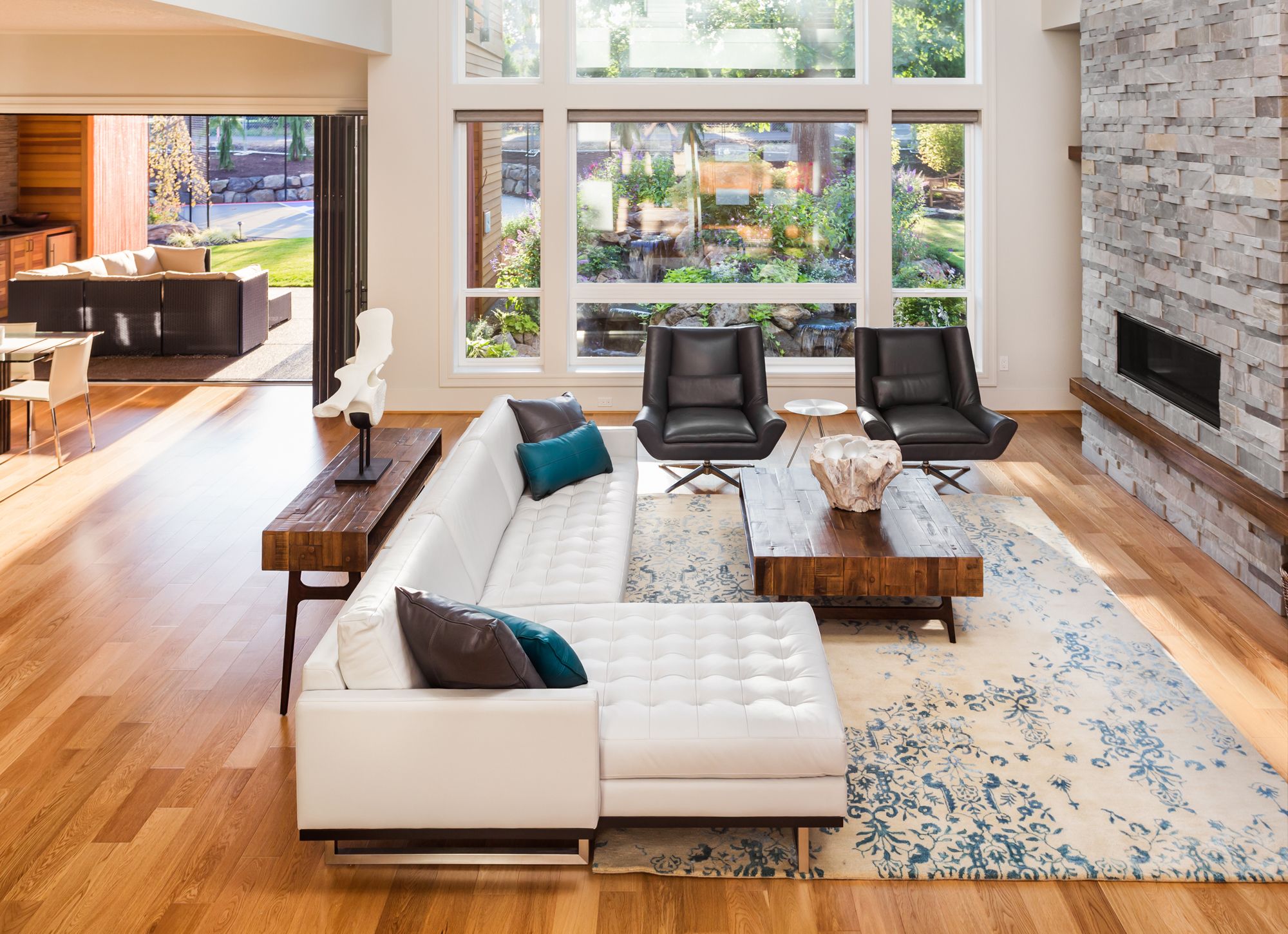 Photo Credit: Breadmaker/Shutterstock.com
Gone are the days of mountain rustic grandeur with dark rooms, heavy beams and taxidermy galore. The new world of log cabin-esque contemporary architecture embraces natural materials and boasts lots of light with plenty of indoor-outdoor living. Technology advancements, energy performance and building make it possible (and even easy) to utilize bigger windows and large, open floorplans. Whether you're planning on building a new cliff-top residence from the ground up, you want to give your existing ski chalet a major makeover or you don't actually even live anywhere near the mountains, here are four key aspects of modern mountain architecture that you can bring home.
Photo Credit: karamysh/Shutterstock.com
Natural Materials
Organic, sustainable materials—such as rock, stone, glass and wood—all help to create a sense of being out in the mountains, while also creating less impact on the environment. Oftentimes these raw materials are kept in their natural form, which definitely helps to bring the outside in (even better if they're locally-sourced). Compliment natural components with a neutral color palette, which makes a space seem brighter and larger.
Photo Credit: Vadim Ovchinnikov/Shutterstock.com
Oversized Windows and Doors
Bright light and big views capture the beauty of the surrounding scenery of most mountain homes, which is why the trend of floor-to-ceiling windows and doors have steadily been on the rise for years. The large windows connect the outside geography with the interior materials, thus offering support to that element of bringing nature within the home—plus it eliminates the sense of confinement. Trust us, when winter rolls around and the days get shorter, you'll appreciate all the light you can get.
Photo Credit: Santiago Cornejo/Shutterstock.com
Indoor-Outdoor Living
Living spaces where a family can gather and entertain has always been essential to a home's design, and now that space includes the outdoors more than ever. There are now tons of outdoor entertaining features being designed by architects and developers, like outdoor fireplaces and fire pits, full kitchens with built-in grills or pizza ovens, unique water features, and radiant and infrared heating (both of which heat the body, not the air). To take advantage of all this, your home definitely needs sliding glass walls.
Photo Credit: yampi/Shutterstock.com
Industrially-Refined Elements
In order for these luxury homes to stand up to the elements, their steel beam work has to be perfect, but they don't have to be hidden within the design anymore. When juxtaposed with more natural-looking elements, the industrial look of the beams bring in clean contemporary lines, coming together to create the look that is so popular in places like Park City, Utah and Aspen, Colorado.