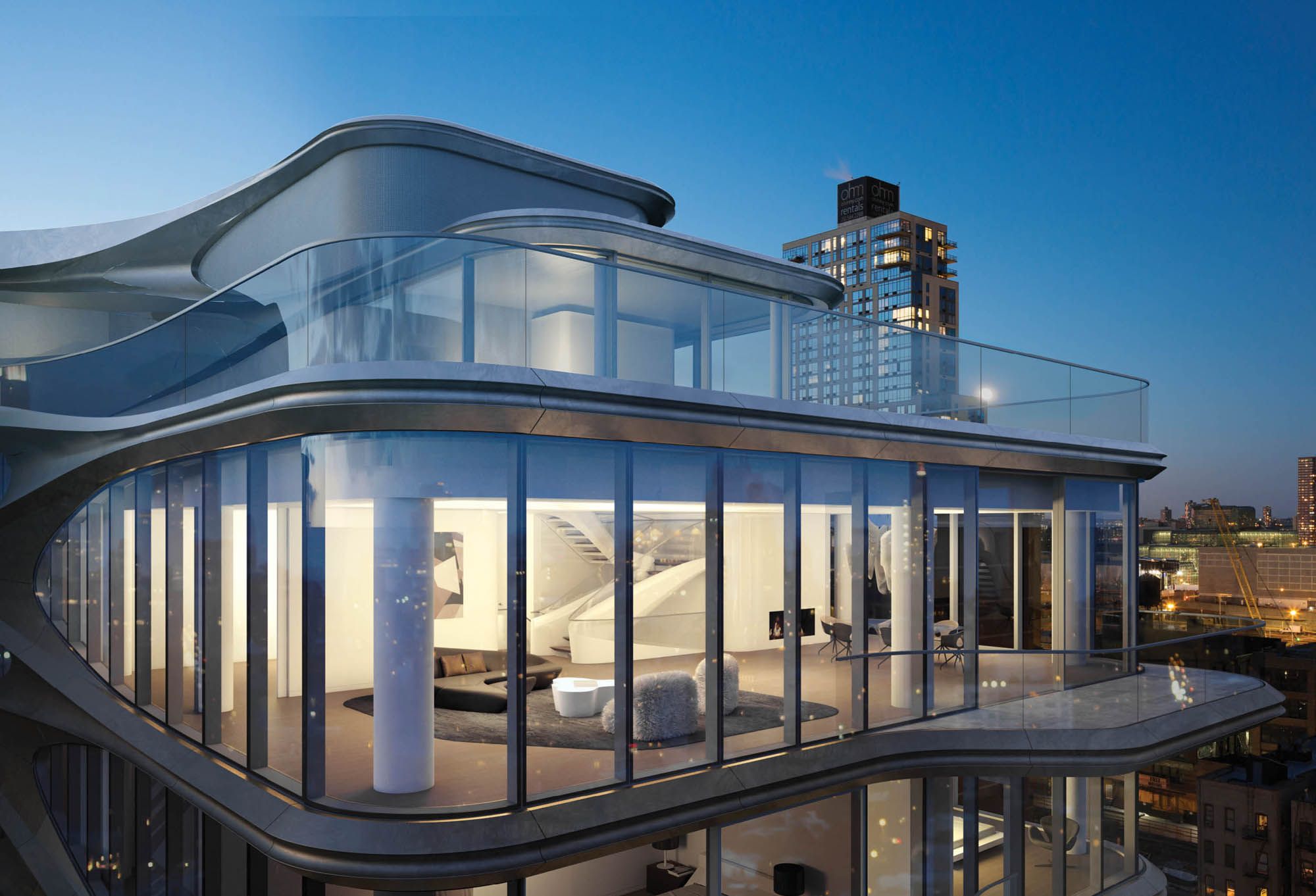 Photos Credit: Related Companies
Zaha Hadid's architectural portfolio is vast and incredibly varied, from designing opera houses to museums to bridges. Her work is at once organic and futuristic, always boasting graceful curves and continuous lines. With 520 West 28th though, she has really outdone herself.
As Hadid's first high-rise apartment building in New York City, the 11-story dramatic structure boasts a façade with 39 interlocking units that give a subtle chevron pattern. "As the chevron weaves up from the ground, its folds create a multi-level design that links residence exteriors and interiors together in one sweeping movement," explains the company.
With four elevators, residents are taken straight to their apartments and the doors open right into each one. Anyone who lives here also won't have to worry about air purifiers, since the building has a filtration system that will pump in clean air. According to Tech Insider, the air in your apartment will actually be filtered four times right before you move in, ensuring the best while you organize your walk-in closet.
The apartments are individually designed, meaning that no two are exactly the same, and the living spaces are meant to be at one with the exterior to create a single piece of art. Each residence has a "custom sculptural element" that integrates with the space's functionality, terrace and balcony doors that slide open at the press of a button and wide-plank white oak flooring that brings warmth and texture. The bathrooms feature white marble contrasted with black crosscut Nero Marquinia marble, and Innovative Glass smart walls that frost over with the flip of a switch. In the kitchens you will find Gaggenau appliances and an exclusive Boffi island counter sculpted from marble and "high-glass formed millwork."
Of course, a building boasting prices upwards of $50 million has got to have a pretty epic penthouse. This one is three levels, offers Manhattan views in three directions and has a 2,000-square-foot rooftop terrace. It also has a pretty great sculptural three-way staircase. There also needs to be a great parking option, which is why Hadid included an automated garage. When you arrive, your key fob allows you to enter the garage platform where you are then asked questions before it takes your car away (the questions include, "Do you have your kids?").
Other amenities include a 75-foot indoor saline-system pool that gets natural light from large skylights and a group of water elements inspired by a Turkish hammam that you can reserve for private use on the wellness level. There is also a private IMAX theater, a fitness center by The Wright Fit, a reservable lounge and entertainment suite with a chef's kitchen, and a private automated storage area that was inspired by a Swiss bank vaults.