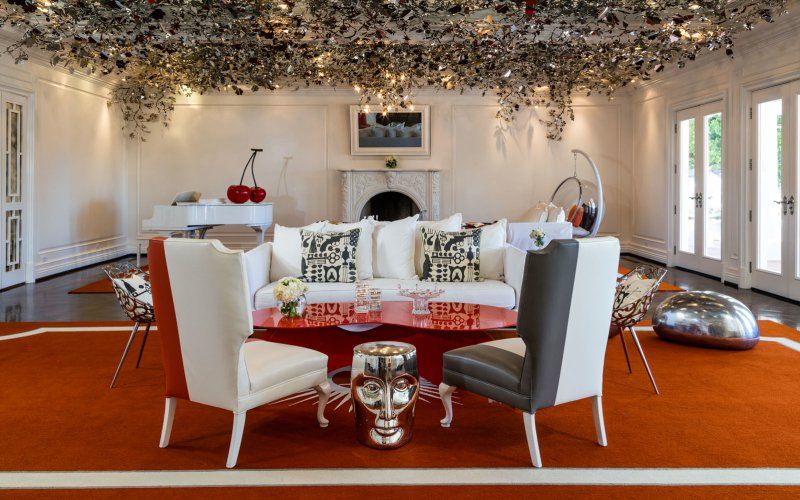 Photos Credit: Hilton & Hyland
Fashion designer Max Azria is selling his mansion in Los Angeles for $88 million and not only does it boast 60 rooms (including 17 bedrooms), it has enough art pieces in it to make it look like a livable installation.
Listed with Hilton & Hyland, the two-story home is called Maison du Soleil and was built in the 1930s by architect Paul Revere Williams. Found in Holmby Hills on Sunset Boulevard (a five minute walk from the Playboy Mansion), the three-acre property features everything one would expect, including a pool, tennis court, 6,000-square-foot movie theater, fitness center, greenhouses and outdoor entertainment spaces.
What sets it apart from its competition though are its many artistic additions, like the "frozen waterfall" chandelier that sits in the middle of the foyer. While some rooms boast a distinct art deco-style design aesthetic, with star burst mirrors and quirky colors, others have a more dramatic appeal (like the dining room, with its blue light installation centerpiece and silver ceiling).
Another favorite feature is the ceiling in one of the living spaces, which is covered in metallic decorations that resemble a tree canopy. Additional ceiling pieces can be found in a different living room (where light bulbs hang individually) and in the kitchen, with large metallic orbs that are suspended over the island counter. It's also important to note that the kitchen has a walk-in refrigerator.
Listing the neat touches in each of the 60 rooms would take far too long, so just take our word for it and snatch the mansion up before another fashion designer does.