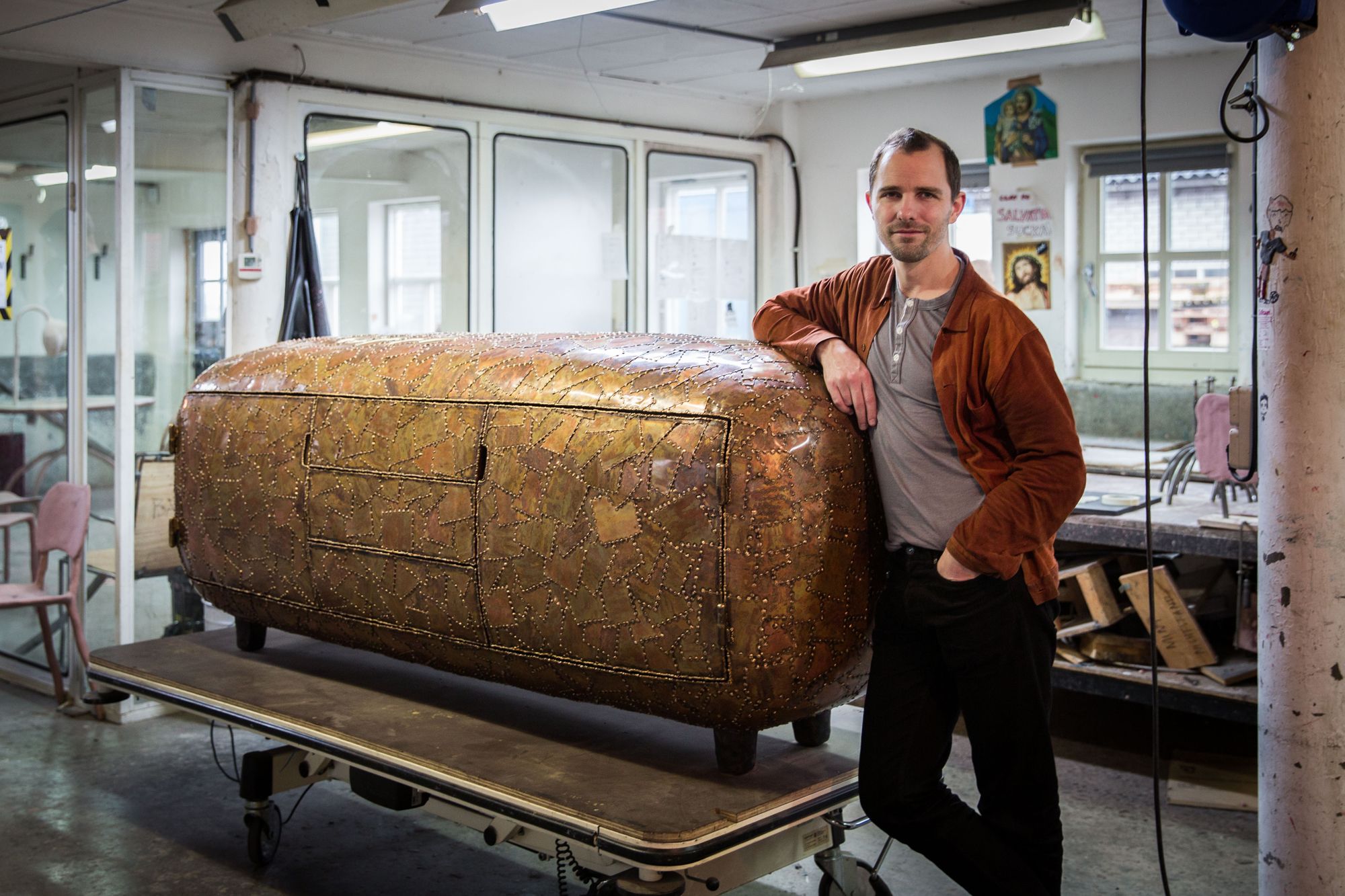 Photo Credit: Carpenters Workshop Gallery
Dutch artist Maarten Baas doesn't just craft furniture, he turns dramatic concepts into a usable reality. A graduate of the Design Academy of Eindhoven, Baas' pieces have been nominated for various awards (including René Smeets award in 2009) and was invited by IKEA to do a week-long workshop in France, after which he was selected for the Design Academy in Tokyo. Since, Baas has been creating unique design pieces for various international shows, some of which have been snatched up by prestigious museums like London's Victoria & Albert Museum and art collectors like Lidewij Edelkoort and Philippe Starck. His newest collection Carapace ran through March at the Carpenters Workshop Gallery, marking his first solo exhibition, which showcased his ever-changing approach to design.
Credit: Guilherme Lessa/Carpenters Workshop Gallery
The word carapace refers to the protective and decorative shell that is found on the back of several animals (like a turtle), which is what inspired the overall lineup. Though he doesn't think he has a certain style, Baas does see each collection as a new challenging experiment that can go into any direction. "A style by which I'm recognized is the sketchy naive style like I had with clay furniture and Sculpt. But they're quite different from the new Carapace series, so it depends very much on where I am in that period of time," he says.
Photo Credit: Carpenters Workshop Gallery
Drawing inspiration from the world around him, Baas used to always begin his designs with a theme so there would be a solid foundation from where the art could grow. "I have a picture in my mind [of] how it should look and then I find out how to make it." Once that idea is there, that's when he begins selecting the materials that can be used. With Carapace though, it was different and he actually started with the material first and let the theme come from there. "The main influence was the technique of making it and to improve that step-by-step. The overall theme was the protective character of such a shell."
Photo Credit: SDK Vastgoed
Not just a furniture designer, Baas dabbled in architecture by co-designing a residential building in De Bakermat plaza in Eindhoven, which won at Dutch Design Week 2015. With the intention to transform the ugliest spot in the Netherlands into something stunning, Baas approached the project with little fear. "I thought, 'If it's the ugliest spot now, I have nothing to lose!'" he explains. "The ugliness is because there's no coherent plan, it's a mixed up location in which nothing would fit nicely. So I thought I might as well make a very eclectic design."
Photo Credit: Mads Mogense
While he enjoyed the process, he divulged that he may be too stubborn, impatient and diplomatic for architectural design, explaining that those characteristics are ingredients that should never be in architecture. Though fields can certainly benefit from an outsider's perspective, there is a lot of red tape and waiting around inherent when working on building design. "One is depending on committees, hundreds of opinions, technical requirements, laws, budgets and so on. The way I work is usually: I like it, so I make it. Anyone who wants to jump on board is welcome, and if not, than I go on by myself. That's simply not possible in architecture."
Photo Credit: Carpenters Workshop Gallery
"I don't like losing my energy on convincing people who think differently, I just want to make it differently and move from there. That's why design works better for me than architecture," he explains. "And all those layers and hurdles that need to be taken, ends up in conservative architecture. It involves a lot of change, in politics, mindset, education and more, in order to change that. So I don't think there's a big future for me in the architecture world…"
Photo Credit: Carpenters Workshop Gallery
Okay, so while you shouldn't wait for him to design a luxury condominium anytime soon, you can still fill your home with his designs. Since his various styles carry on from collection to collection, there is a good chance we will be seeing newer designs that share similar attributes to his past work. "Carapace is … a series that could be extended. I also could imagine to make custom pieces in this style, but that would still be a part of the Carapace series, with Carpenters Workshop Gallery."