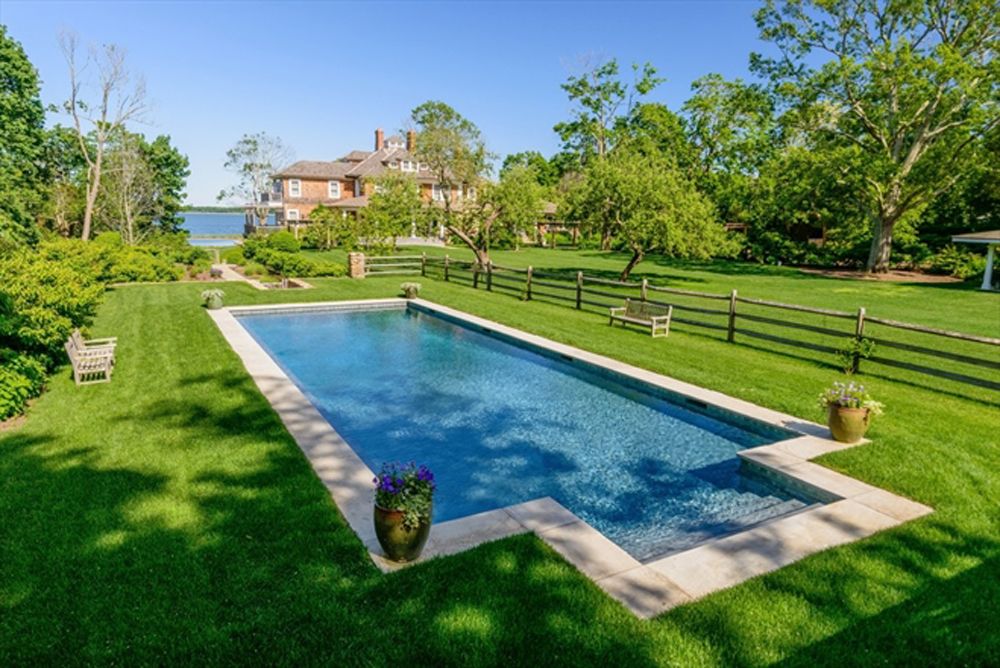 Photo Credit: Corcoran
Things are always on the move in the real estate market, with gorgeous homes being bought and sold all the time. It seems like everyone has the "HGTV bug" these days, so we've rounded up some of the latest real estate deals to give you a peek into the homes some of our favorite people are adding and subtracting from their portfolios. This week's round up comes to you from The Hamptons, where the East Coast is gearing up for its first inaugural weekend of Summer 2016.
Photo Credit: Corcoran
Goldman Sachs CEO Lloyd Blankfein put his south-of-the-highway Sagaponack house on the market way back in 2007, originally for $14 million. Fast forward nine years, to today, and the 6,500 square foot house is finally in contract, though that didn't stop him from acquiring another house in Bridgehampton while he waited. This classic Parsonage Lane property sits on 2.7 acres that feature a pool, spa, pool house, and sunken tennis court and hosts plenty of indoor/outdoor sitting space for entertainment. Inside, the house is rounded out with a media room, gym, family room, formal living room, paneled library, dining room, eat-in gourmet kitchen, and breakfast area.
Photo Credit: Corcoran
Actor Richard Gere slashed the price on his North Haven abode, Strongheart. Originally listed for $65 million in 2013, it's been declining in price and is now being shown at $36.5 million. The stunning estate, which is fittingly on Actors Colony Road, was built in 1902 and has since been renovated and expanded. The compound includes two additional guest houses (for a property grand total of 12 bedrooms), an outdoor fireplace setting, and a tea house, which sits in the middle of the pond, giving stunning views of the Peconic Bay. Other exterior features include a heated waterfront pool, ample lawn and garden space, basketball court, and tennis room.
Photo Credit: Sotheby's
News anchor and journalist George Stephanopolous put his East Hampton home on the market this past week. At the moment, he and his wife Alexandra Wentworth don't have any other property out east, so it's unclear what the couple's future plans are in the area. The 4,800 square foot house is listed for $6.995 million and was built in 2003. It has five bathrooms, six-and-a-half baths, a gunite pool and sunken tennis court. Though it last sold in 2013 for $4.5 million, the house is beautiful and the market so improved that it's likely to sell around asking price.
Photo Credit: Shutterstock
Music mogul and philanthropist David Geffen purchased an oceanfront estate on Lily Pond Lane in East Hampton. At $70 million, the two acre property was purchased from the estate of late fashion CEO Josephine Chaus and includes a classic gambrel-roofed Hamptons-style house, complete with brick terrace and beach-side pool. Also included is a sunken tennis court, small pond, and smaller guest house. There is little else publicly known about the estate, but Geffen's old house, which he sold to make way for this purchase, was a 7,500 square foot main home complemented by a three-bedroom guest house on Georgica Pond.