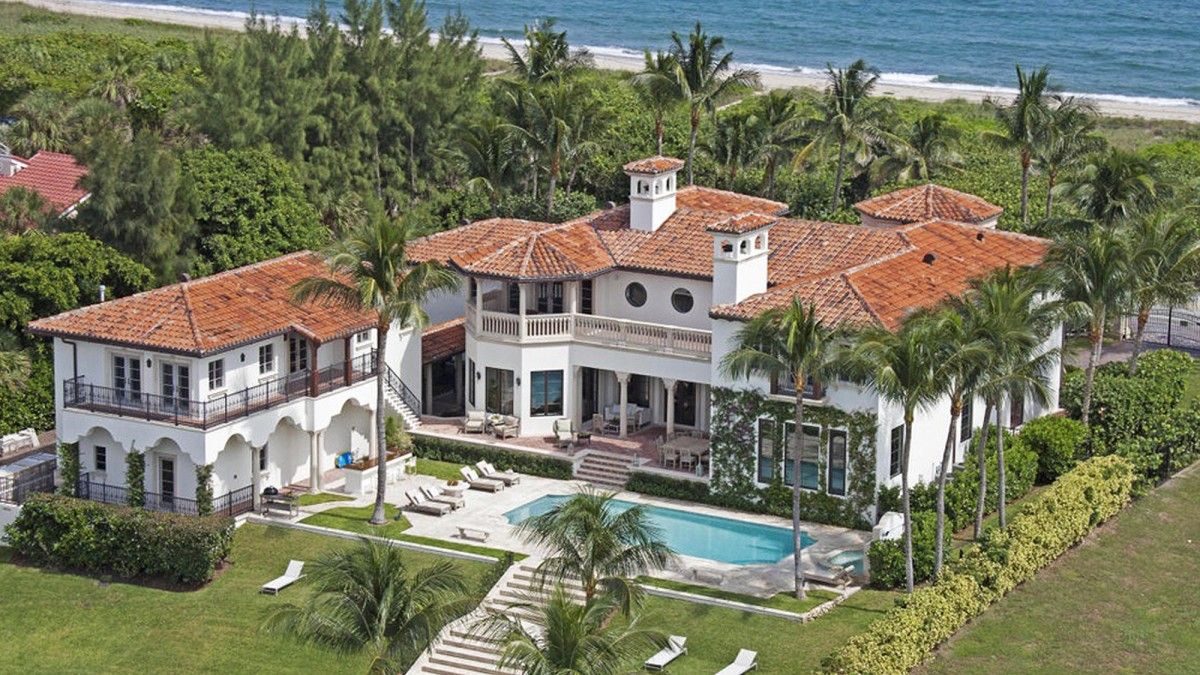 Photo Credit:Jack Elkins
Things are always on the move in the real estate market, with gorgeous homes being bought and sold all the time. It seems like everyone has the "HGTV bug" these days, so we've rounded up some of the latest real estate deals to give you a peek into the homes some of our favorite people are adding and subtracting from their portfolios.
Photo Credit: Bennion Deville
Actor Kirk Douglas' Palm Springs pad just sold over asking price for a total sum of $3.5 million. The house, which was built in 1954, was bought by a Toronto couple who own the apparel company Roots and have had past home renovations featured on HGTV. The home in the Old Las Palmas neighborhood was built by famed Palm Springs modernist Donald Wexler and is shielded from the street by a rock wall. Its external features include a gently-sloping wood roof, floor-to-ceiling windows, pool, outdoor dining area, pool house and tennis court. Inside, there are five bedrooms and seven bathrooms. Neighbors include fellow actor Leonardo DiCaprio.
Photo Credit: Jack Elkins
Billy Joel has listed his stunning oceanfront mansion in Manalapan for $27 Million. This 3.76 acre Florida estate was originally listed last November, but has been re-priced at $2 million less than the original asking price. Nestled in between Boca Raton and Palm Beach, the property at 1940 South Ocean Boulevard has 150 feet of ocean frontage and two parcels of land. The Mediterranean-style house was originally built in 2005 and features a double-height living room that connects to an office, which overlooks the pool.
There are arched walkways throughout the home and the eat-in kitchen features a barrel-vaulted Chicago brick ceiling and a marble-top island with a sink. The master bedroom is the piece de resistance, with wood-vaulted ceilings, a private balcony, back-lit walk-in closet, and master bath with a marble shower and vanity. The outdoor pool is bordered by an elevated dining patio, a custom bar, hot tub, lounge, Jacuzzi, and lawn steps to the beach. Also included is a private dock, cabana bath, guest house, and home theater.
Photo Credit: Coldwell Banker
A rare Frank Lloyd Wright house has gone on the market for the first time in its history, with an asking price of $1.495 million. This one-of-a-kind home in Minneapolis has three bedrooms and clocks in at 2,647 square feet. It was designed by Wright in 1958 and completed in 1960 for Paul C. Olfelt, a radiologist who is selling the house now. The brick house was constructed on a hillside at the end of a cul-de-sac and appears to not have been updated since it was originally built. It has classic details that betray the late designer's involvement, like huge windows, original built-ins, sloping overhangs and as few right angles as possible.
Photo Credit: Handel Architects
Billionaire investor John Grayken has just completed Boston's largest residential sale: a 13,000 square-foot Millennium Tower penthouse, which was listed for $37,500,000. It's expected that Grayken will not actually reside in the Tower full-time, as he renounced his U.S. citizenship years ago for tax purposes, picking up an Irish passport along the way. Because of this, he'll have to carefully keep track of how much time he spends in the sprawling residence near Boston Common. Grayken also owns an island off his hometown of Cohasset, Massachusetts, a London mansion and a country estate in England.