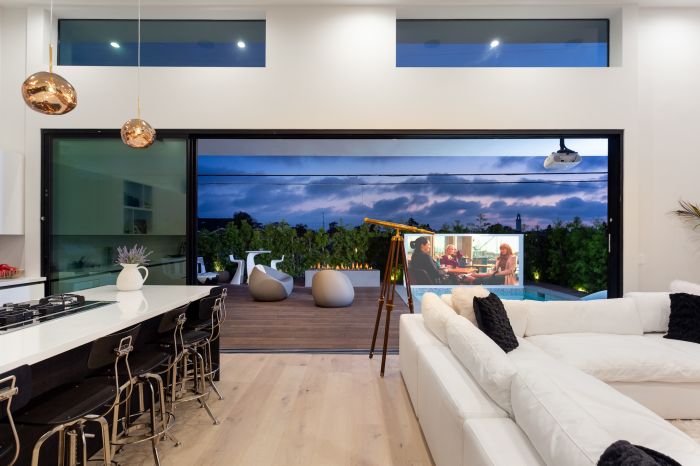 Nils Timm
On the Westside of Los Angeles, many real estate designers are elevating the natural landscapes of homes so that owners can maximize time outdoors during the summer without having to leave their homes. This time of year, the beaches are overcrowded, temperatures are hitting record highs and convenient ways to cool off at home are top of mind. Since most outdoor amenities can be utilized year-round in Southern California, designers are always upgrading backyard entertainment with the latest indoor-outdoor living features, including outdoor home theaters, pools with unique water features, and landscaping that includes private mini golf greens. Here are three Los Angeles homes leading the charge by offering the latest superior outdoor entertainment.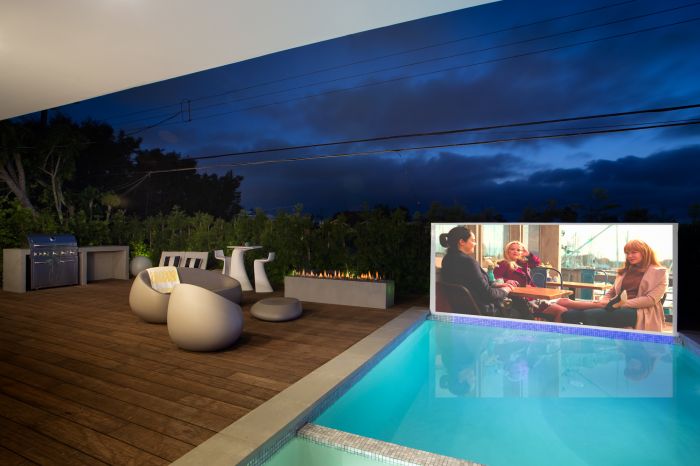 Nils Timm
7547 Westlawn Ave, Los Angeles, CA 90045
Situated in luxurious Silicon Beach, this 4-bedroom and 5-bathroom modern residence boast exquisite views of Playa del Ray and Mar Vista. Complete with high ceilings and ample natural light throughout, this new, contemporary home features state-of-the-art appliances, a Zen garden atrium and a smart home system. An open floor plan creates a seamless flow from the living room to a backyard that's ideal for intimate entertaining – cookouts, an afternoon pool party or a relaxing evening dip while watching a movie on the outdoor screen. A fire pit, spa and massage waterfall complete the backyard, creating a perfect haven away from the hustle and bustle of Silicon Beach that's sleek and modern, with just the right touches to make it a perfect indoor-outdoor residence.
This property is listed for $2,795,000 by Tami Halton Pardee of Halton Pardee and Partners.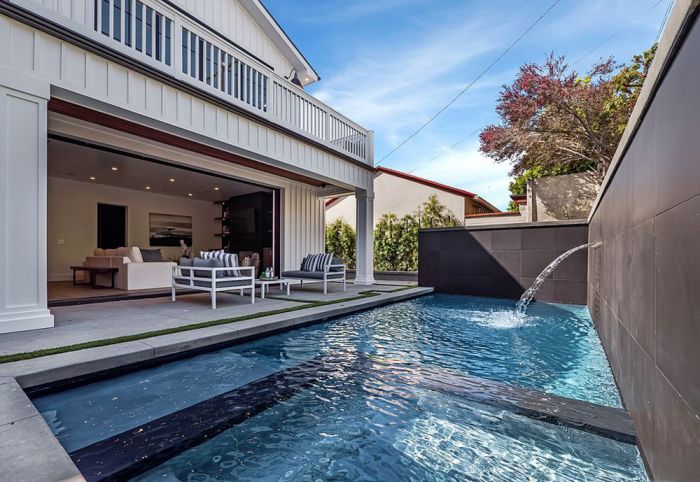 Hilton & Hyland
7500 Stewart Ave, Los Angeles, CA 90045
Situated in the desirable Kentwood area, this 5-bedroom and 6-bathroom lavish masterpiece keeps guests excited about the outdoors all summer long. This home's open floor plan encapsulates entertainment alongside stunning craftsmanship and architectural details including custom fixtures, wood clad windows and hardwood flooring. The European-style high-end kitchen includes top-of-the-line appliances such as subzero fridge, dual sinks and dishwashers, a large center island and an oversized butler's pantry. The opulent kitchen seamlessly opens up to the lounge and the pool allowing owners to leisurely enjoy the dazzling space with ease. The flawless listing showcases the perfect American summer abode with its exquisite backyard inclusive of a built in BBQ bar area and a breathtaking saltwater pool. Ideal for those wishing to relish in outdoor summer entertainment, this oasis is the perfect combination of luxury and comfort.
This property is listed for$2,995,000 by Aneela Zaman of Hilton & Hyland.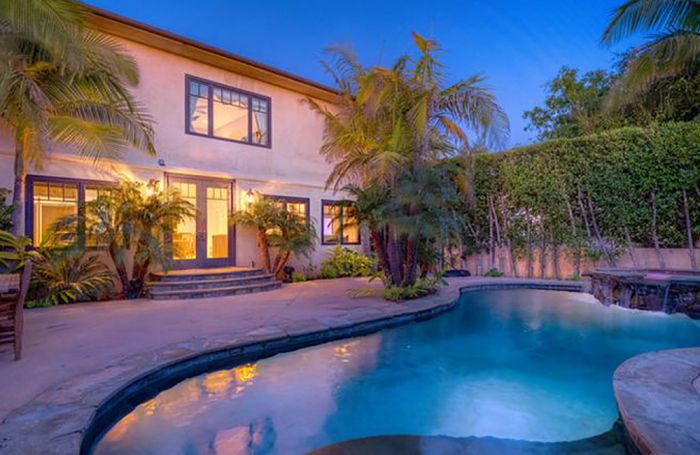 Stephanie Younger
7821 Dunbarton Ave, Los Angeles, CA 90045
Located in coveted Westchester, this striking 5-bedroom and 6-bathroom estate oozes appeal with its hospitable environment. This grand property showcases an expansive decadent kitchen with a large pantry, wine fridge, Viking range/ovens, GE Monogram refrigerator, 2 dishwashers, U-line ice maker, a massive island with two prep sinks and French doors which opens up to a backyard that possesses unparalleled natural beauty. The residence boasts a unique staircase which leads to the subterranean level, flaunting an oversized three car garage. Designed for entertaining, a large game room and home theater allows owners and guests to unwind and relax indoors, while owners can head outdoors to the 4-hole mini golf green with its stunning pool and hot tub.
This property is listed for $2,495,000 by Stephanie Younger from Compass.