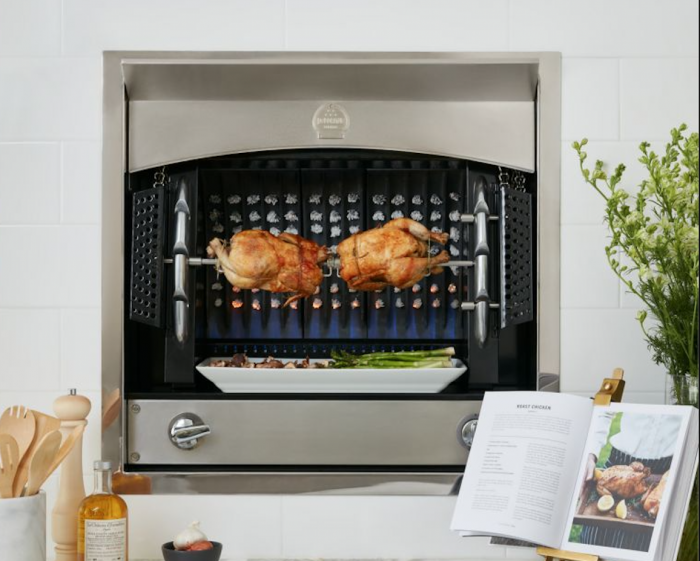 Images Courtesy of La Cornue
Rotisserie is generally mouth-watering. Whether you see it in the window of a Chinese food restaurant or over a fire at your favorite barbeque spot. Meat-eaters generally agree the method of cooking is ideal for a variety of cuts and even meat-free folks can't argue with beautifully cooked skewers of veggies.
For rotisserie at home in your kitchen, the market is full of obnoxious counter-top appliances that take up a ton of counter real estate, are typically ugly and challenging to clean. La Cornue's Flamberge however is an elegant luxury appliance boasting an eye-catching design. It's easy to use and built in, making it accessible and a showpiece that also turns out fantastically cooked fare.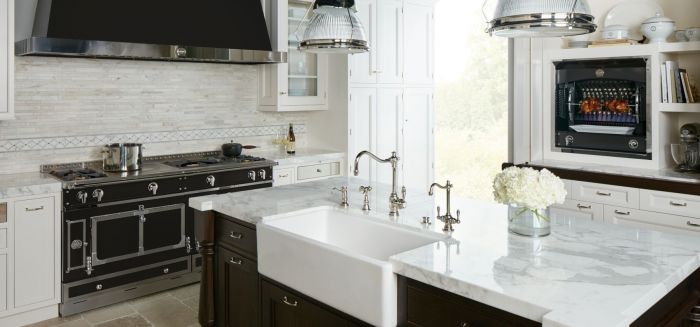 I have seen the Flamberge used for a variety of things, from showy rack of lamb to your standard chicken; La Cornue also recommends recipes for things like bacon-wrapped monkfish. You can really get creative. The aroma that fills the space around it draws people in and creates a homey feeling in the kitchen that feels a bit like a hearth; it's a conversation starter that people like to gather next to.
Beyond its looks and personality, the Flamberge is a pretty straight forward appliance. It consists of a heat source and mechanized spit; it also comes with a tray to catch drippings. Placing vegetables below a roasting hunk of meat will produce an entire meal with little effort. The key here is the movement of the meat, pausing every so often to achieve the best results. While most rotisserie machines will accomplish something along the same lines, anyone who is familiar with La Cornue will know that the craftsmanship of the Flamberge is head and shoulders above anything else out there that's attempting to be similar. Plus, it's pretty much the only rotisserie worthy of being placed in a meticulously designed kitchen.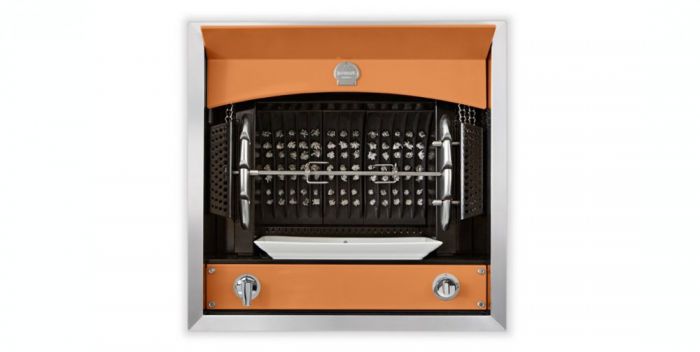 The Flamberge runs around $12,000 depending on the finish. You'll also want to note that since it's handmade in France, just like La Cornue ranges, you can expect a standard 12-week lead time.