Photos Courtesy of The Agency
This Is Your Chance to Live in an Architectural Oasis in Los Angeles
If you love visiting the J. Paul Getty Museum and have a knack for throwing epic parties, we found the luxury home for you. Found at 12255 Sky Lane in Los Angeles, this 16,700-square-foot house was designed by Sanam de Loren of de Loren & Associates and offers beautiful panoramic views of Los Angeles. Because the estate is actually visible from the Getty, the developers (de Loren & Associates and Channel Development) wanted to design it in a way that would serve as an unofficial extension of the museum for guests – meaning that your future home is actually so perfect that it belongs in a museum.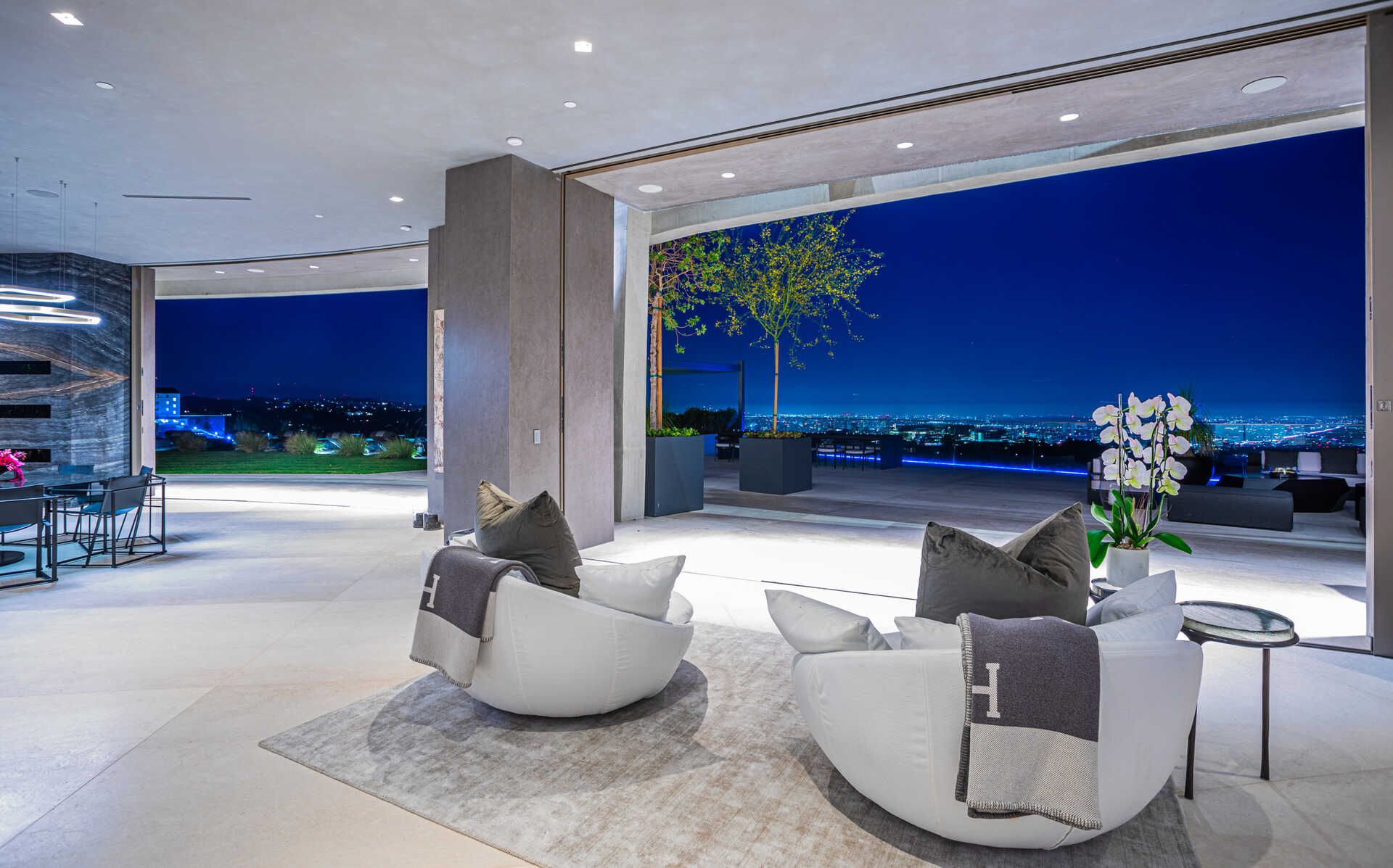 "The notion that architectural spaces are not closed off, limited by geometric and visual boundaries and instead allow effortless mental and/or physiological movement within a creatively engineered interior and exterior spatial structure, is at the core of my design philosophy," noted de Loren. "I therefore envision homes that transcend spatial limitations by offering a true feeling of physical openness and emotional peace. In addition, the careful selection of specific green building materials, the crucial orientation of the structure in regard to the sun and its natural surrounding elements, the key interconnections and locations of all interior spaces, the use of cutting edge wellness technologies are just a few of the fundamental elements that make Sky Lane and other de Loren homes outstanding work of fine architectural design and craftsmanship."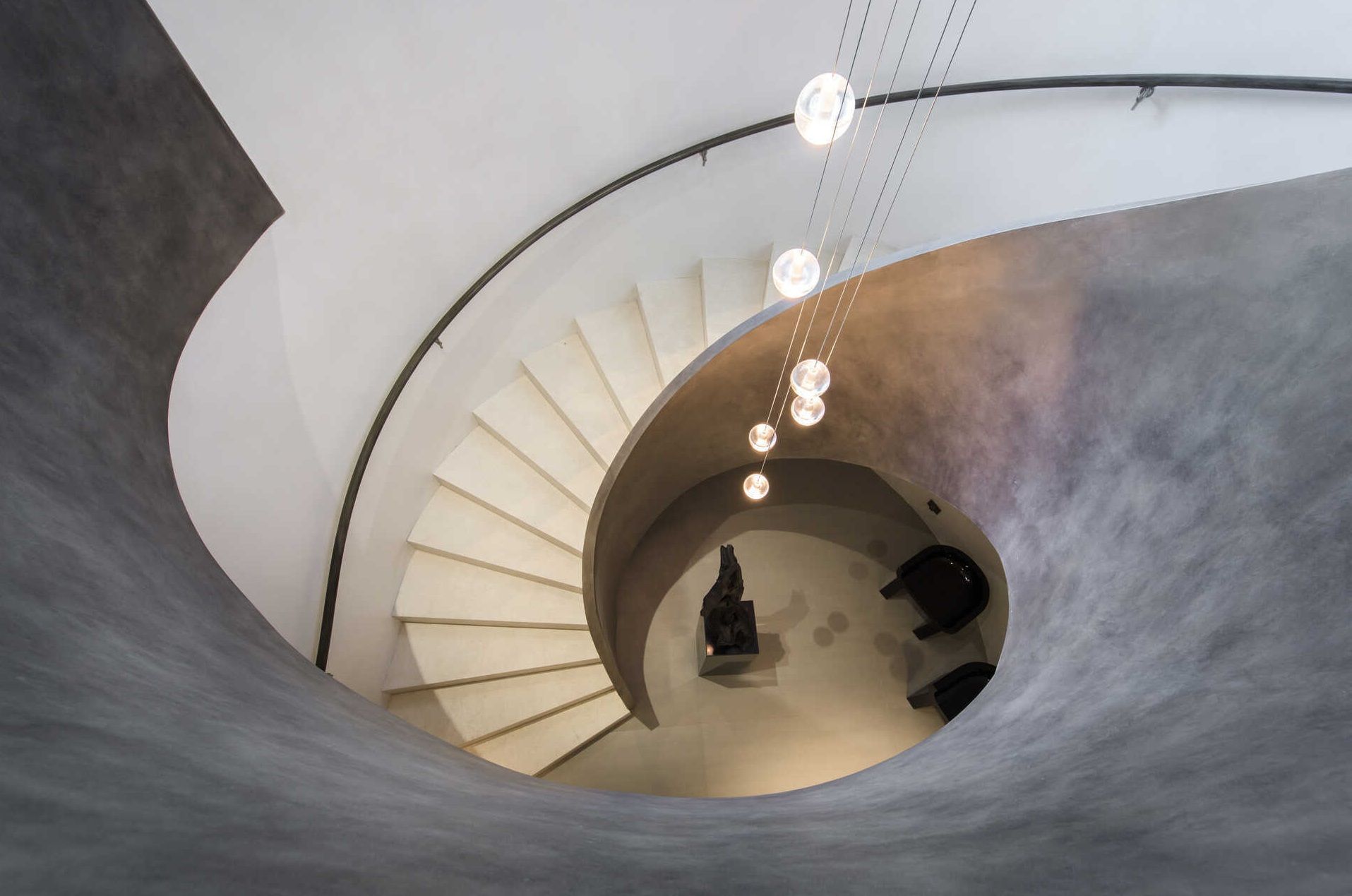 Designed to be a sanctuary where your body and mind can thrive, the home's curving exterior was inspired by the clean lines and spatial layouts of luxury yachts, as well as the undulating motion of ocean waves, wind, and clouds. There are also design elements clearly pulled from mathematical forms found in nature, such as the Fibonacci spiral, which can be seen in the grand driveway, the sprawling 300-fruit tree orchard, and a spiraling staircase within the home.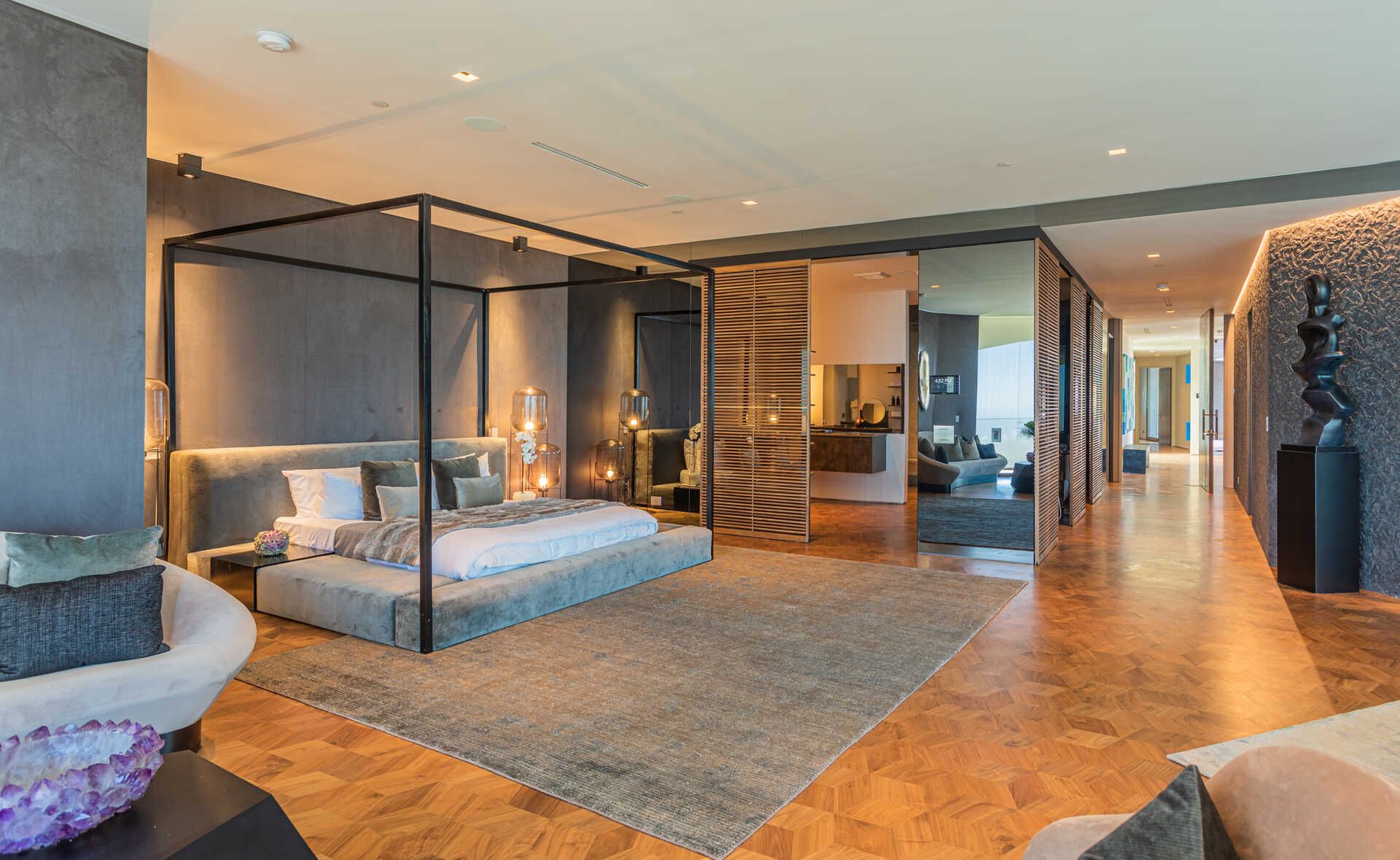 Constructed by Barry Simzar's Channel Development, the three-level Sky Lane estate features seven bedrooms, eight bathrooms, three powder rooms, a spacious wine cellar, glass elevator, movie theater, and gym. To help with indoor entertaining, the home also includes a 300-square-foot living green wall and a lower-level entertainment area with a full bar, and a pool table. Outside you will find a 10,000-square-foot garden that features a 70-foot infinity edge pool with an underwater sound system, a Jacuzzi, a calming 400-square-foot Zen garden, an impressive water wall that was designed by Mario Romano, and of course, plenty of entertaining and dining space. The estate also has an outdoor motor court that can hold more than 15 cars and a three-car garage for those special vehicles you want to hide away.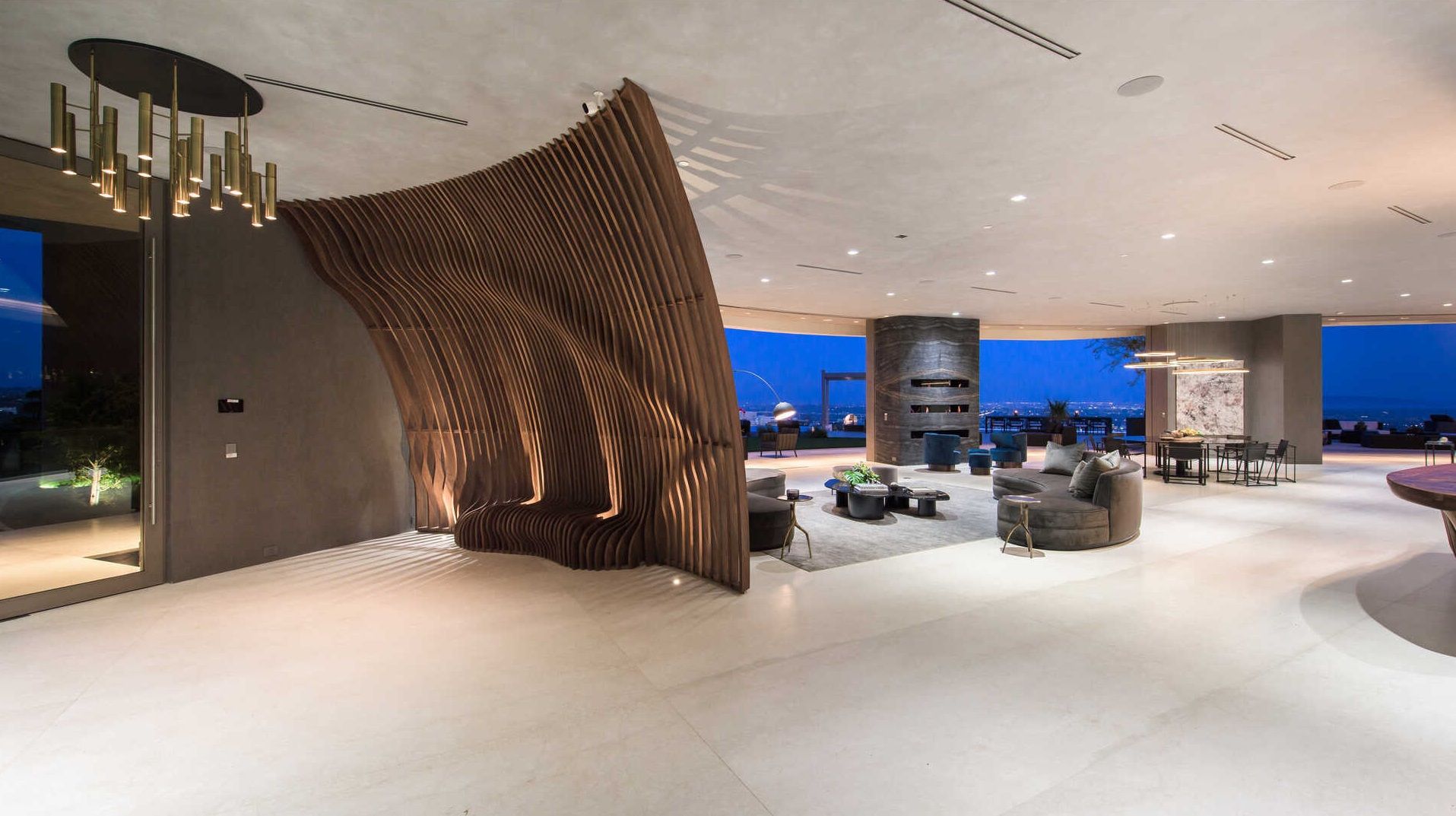 Considered to be its own wellness retreat, Sky Lane actually satisfies the Delos Well Building Certification, which is a performance-based system for recognizing features that impact our overall health and wellbeing. Sky Lane brilliantly incorporates wellness-related features into all aspects of its design and engineering. It also boasts some pretty amazing furnishings, like three custom pieces from renowned Japanese artist Toshi Kawabata, including a walnut bar. You will also find marble elements that were all hand-selected and imported from Italy.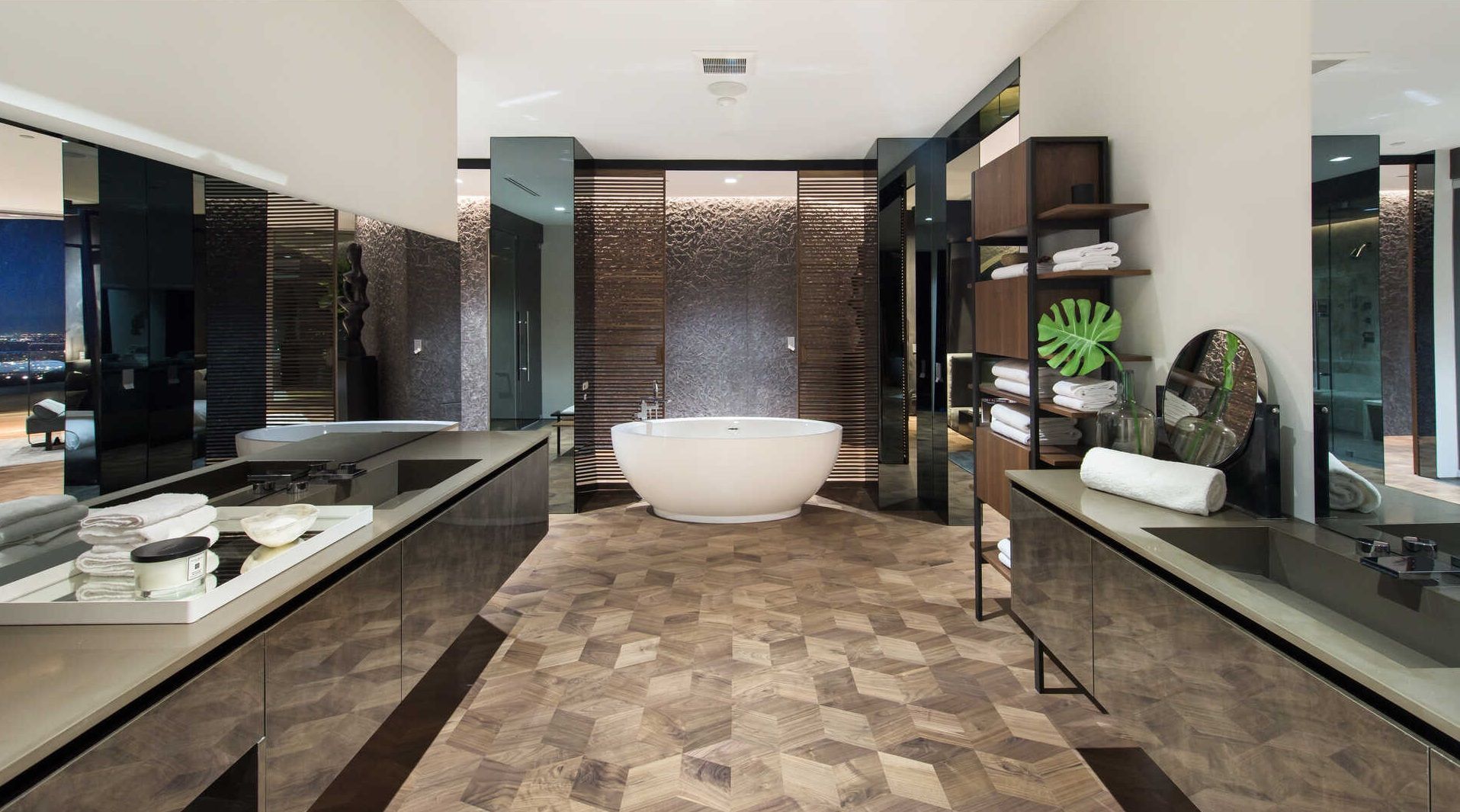 Billion-dollar real estate company The Agency is behind the sale of Sky Lane, with premier brokers Santiago Arana and Mauricio Umansky handling the listing. Sky Lane is currently listed at $36,000,000.
"Sky Lane is a true triumph in design and has been crafted for its residents and guests to live a healthy lifestyle and enjoy special moments throughout the home," said Arana, Managing Partner at The Agency and one of the most distinguished real estate agents in Los Angeles. "It is the most coveted new home to come to market and Mauricio and I are humbled to work with de Loren & Associates and are looking forward to finding the perfect owner for this remarkable property."