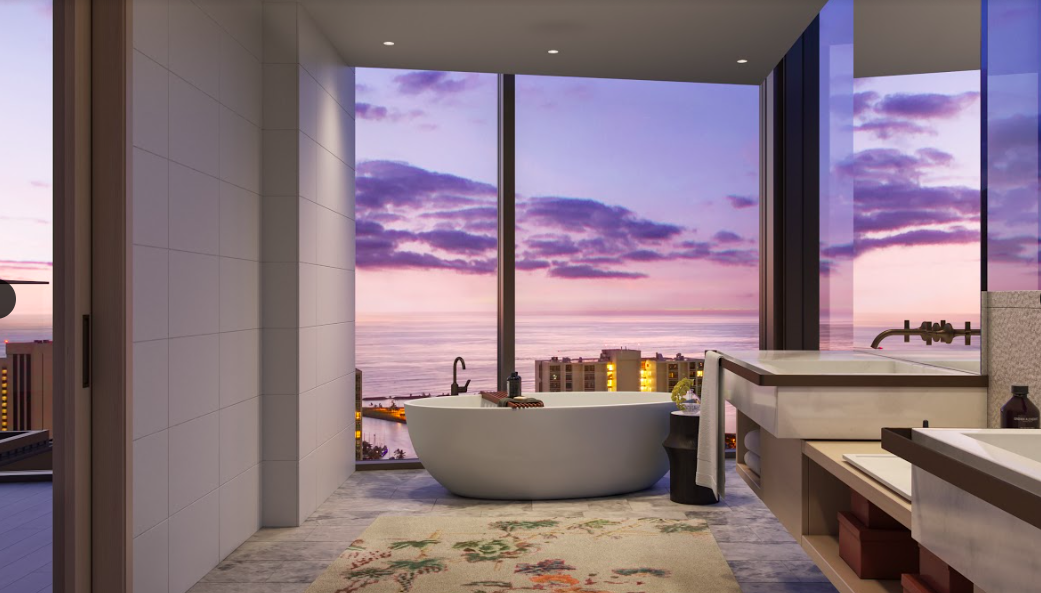 The Residences at the Mandarin Oriental, Honolulu
Mana'olana Partners, the ownership entity of Mandarin Oriental Hotel and Residences, Honolulu established by Los Angeles-based Salem Partners, unveiled today a collaboration with renowned Italian design firm Molteni&C Dada marking the first time the iconic designer will showcase their work on the Hawaiian islands. The exclusive 99 residences are set to feature 100% Italian-made custom kitchens and baths by Milan-based Molteni&C Dada. The development team has unveiled a sneak peek at these striking interiors with the opening of the Residence Gallery where prospective owners can experience the beautifully appointed interiors curated by Dianna Wong and preview what life will be like at Honolulu's most desirable address.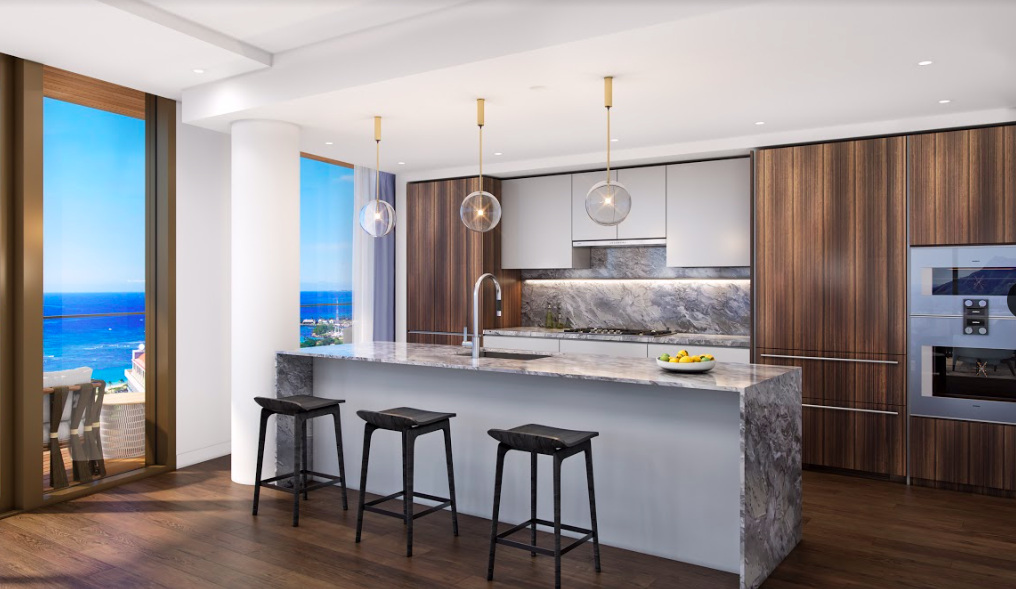 The Residences at the Mandarin Oriental, Honolulu
"As one of the world's most influential tastemakers, Molteni&C|Dada is synonymous with sophistication and class and stands for everything that the Mandarin Oriental brand represents," said James Ratkovich, Co-Managing Partner of Mana'olana Partners. "We are elated to welcome our future Residents to the Residence Gallery to experience the true-to-life Molteni spaces."
Designed by the building's interior architect Dianna Wong, the nearly 3,000-square-foot Residence Gallery located in the heart of Honolulu's Waikiki district features interactive touchscreens that enable users to virtually experience the building by exploring floorplans, renderings, views and fly-through videos, as well as tour vignettes of the Dada, designed kitchens and bathrooms with custom furnishings from the designer. In addition, the team enlisted distinguished art curatorKelly Sueda to select meaningful art pieces for the Residence Gallery.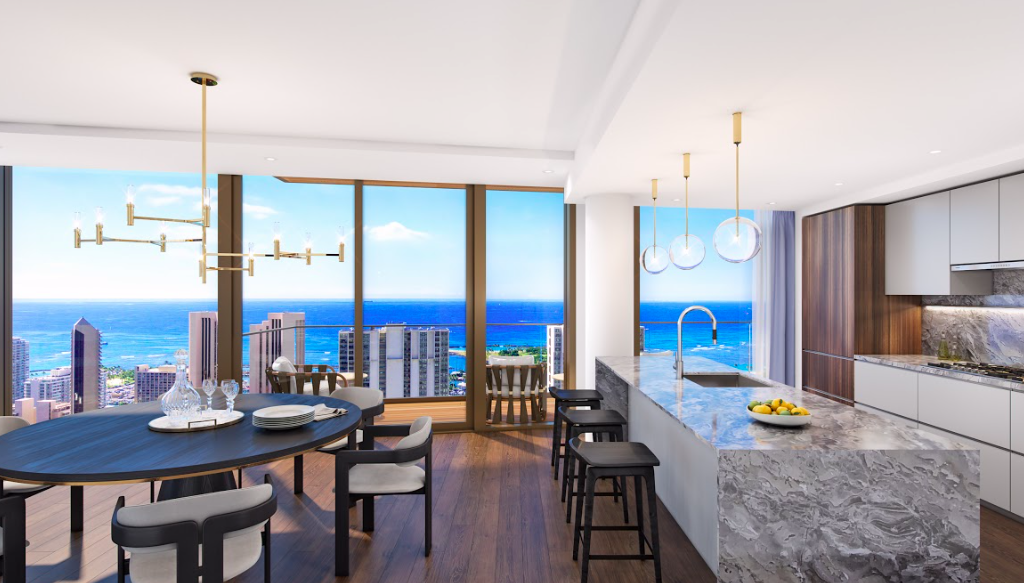 The Residences at the Mandarin Oriental, Honolulu
Featuring custom bathrooms designed by Dianna Wong Architecture and fabricated by Molteni&C|Dada, The Residences present two selections of dramatic color palettes curated by Wong and Molteni&C|Dada—Daybreak Palette, characterized by elements including Dada light oak wood cabinetry, Dada pewter metal trim, Dada Maxxigloss white lacquer cabinetry, White Carrara marble Kitchen counter & backsplash, ADM White European Oak wood flooring; and Nightfall Palette, characterized by elements such as Rhone camel stained Oak wood flooring, Dada Eucalyptus wood kitchen cabinetry, Dada Titan metal trim and Grigio Lido Opaco Marble counter & backsplash. Dada's kitchens are designed to meet the most sophisticated aesthetic demands, and each kitchen is custom-made and produced in house. The Dada kitchens will showcase best-in-class appliances including Sub-Zero refrigerators and wine storage along with Gaggenau cooktops, microwave draws, combo-steam oven, single oven and espresso machine. Molteni&C fabricated vanities will feature a collection of Dornbracht dark brass matte fixtures and Toto Aquia toilets.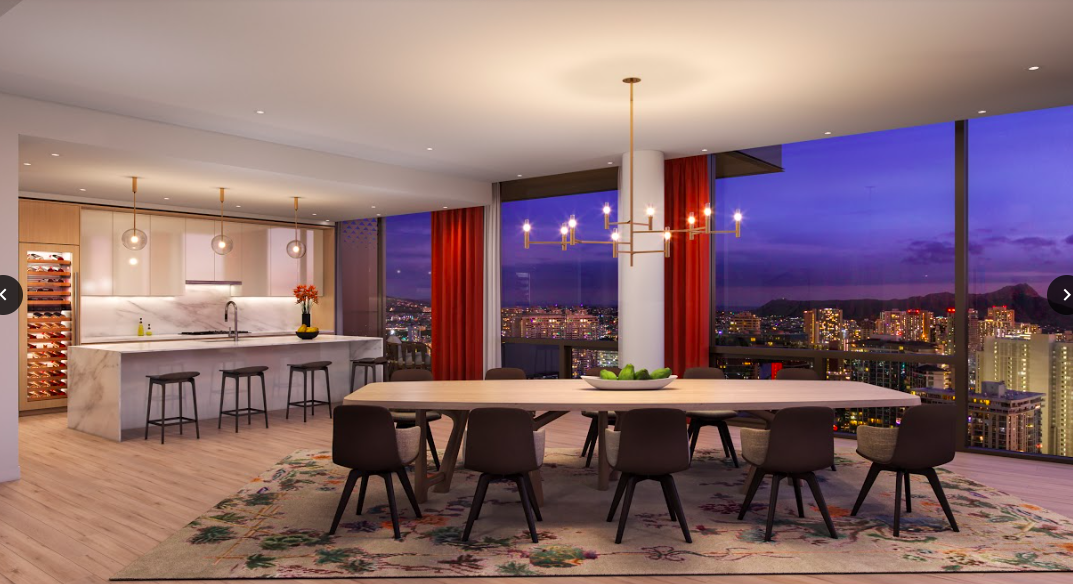 The Residences at the Mandarin Oriental, Honolulu
As part of the Molteni Group, an international brand offering furnishings in more than 90 countries around the world, Dada is a leading arbiter of top-of-the-range modular kitchens. With a rich heritage and magnificent obsession for quality in every detail, Dada Kitchens are characterized by form, geometric color and intrinsic simplicity.
"Mandarin Oriental is revered as the world's foremost ultra-luxury hotel brand and we have long admired their dedication to exquisite design, five-star guest experiences and wellness amenities," said at Carlo Molteni, Molteni Group President. "Honolulu is quickly becoming a world-class metropolitan city and we could not think of a more fitting location to mark our foray into Hawaii. We are looking forward to working closely withMana'olana Partners, Mandarin Oriental and the remarkable design team to usher in a new era for high-end living in this renowned city."
Residents will have premier access to a private residents-only amenity level comprised of a luxury pool and lounge area with sun cabanas, Peloton room, chef's kitchen with a dining room, golf simulation room, outdoor lounge space complete with cabanas and fire pits, as well as a karaoke room and state-of-the-art Theater. Residents will have privileged usage of an exhibition kitchen on a separate floor. For Residents and hotel guests alike, the Retail Salon will offer a bespoke shopping experience of the finest merchandise from couture fashion and accessories to jewelry and luxury timepieces. Mandarin Oriental, Honolulu will include an expansive indoor-outdoor terrace surrounded by curated gathering spaces for celebrations, and a 20,000-square-foot signature Mandarin Oriental Spa – poised to be the largest and most lavish spa on O'ahu.
A groundbreaking ceremony was held for The Mandarin Oriental Hotel and Residences, Honolulu in February 2020 with completion estimated in mid-2023. Pricing for select residences starts in the low $2 millions. The Residence Gallery is located at Luxury Row at 2100 Kalakaua Avenue and is open by appointment only. To schedule an appointment, please contact 808-208-8800 or info@moresidenceshonolulu.com.