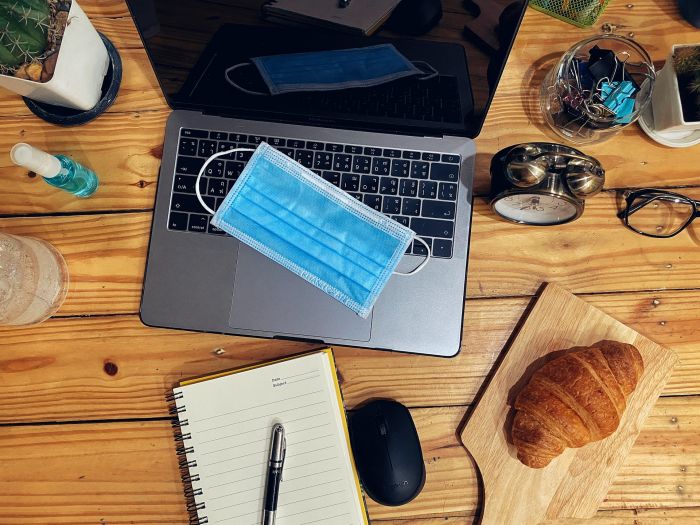 (credit: Junjira Konsang from Pixbay)
While people are practicing safer at home measures and adjusting to the "new normal", it means more and more people are staying at home and trying to keep things as sanitary as possible. Many Americans are being forced to make small changes to their everyday lives in order to stay safe and reduce the odds of the virus impacting them or their loved ones. From spending more time in the kitchen with new high-tech kitchen gadgets, to gadgets that are best for cleaning to just all-around cool things in the house, here are some must-have home and kitchen gadgets.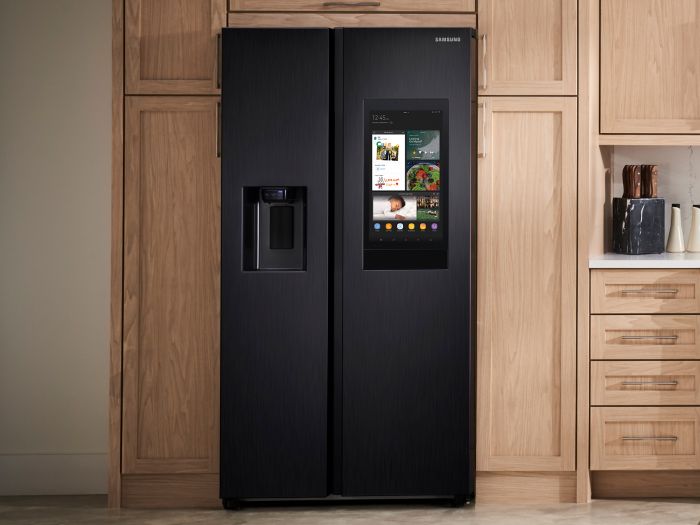 (credit: Samsung)
Samsung's Family Hub™ refrigerator ($1,999-$5,199) allows all members of the family to be more connected all without leaving your kitchen. Whether the side-by-side, three-door, four-door French door or four-door Flex™, this smart refrigerator will become the hub of all food goodness. Apps are abundant and grouped into four categories Food, Family, Fun and Your Home. Apps in each include: Food – view inside the fridge, create shopping list, order with Instacart, Family – manage calendars, leave memos, order an Uber, Fun – browse the internet, mirror Samsung devices, stream Spotify and Your Home – order from Amazon Dash, Ring capabilities and so much more. Make Family Hub™ your home base and stay connected to the people and things you love, even connect it to other smart devices like a gas range, dishwasher, microwave and more.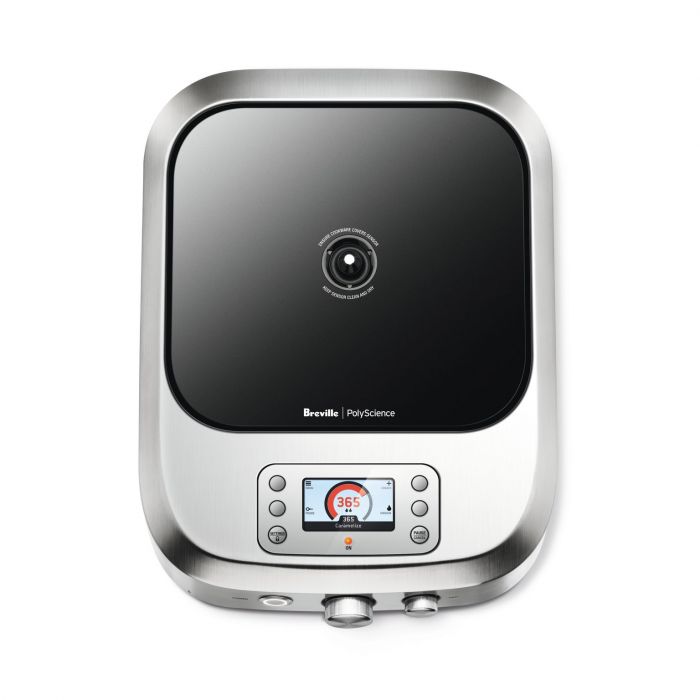 (credit: Breville)
Cook like a top chef with the Control °Freak® $1,499.95, a commercial-grade precision cooktop. The Control °Freak® is the first commercial-grade cooker that can precisely set and hold any cooking temperature from 77°F/25°C to 482°F/250°C and provides a multitude of functions to make any home chef feel elite. It checks temperature 20 times per second ensuring precise temperature control due to its through-the-glass sensor utilizing PID technology. Its Intensity Control allows you to adjust the heat intensity while keeping the temperature constant to ensure that foods don't catch to the cookware. Another unique feature is its Probe Control™ Technology which controls, not monitors, the temperature of soups, sauces, stocks, and other liquids within your pan or pot. Precise temperature setting means you can replicate sublime dishes to exact standards night after night, especially important during Covid where you're eating all your meals in.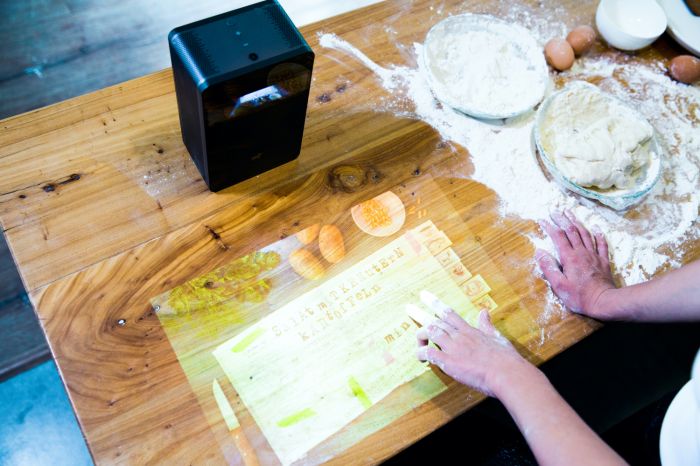 (credit: Beijing Puppy Robotics)
With moms and dads having to be more inventive in the kitchen lately, kids want to be part of the action. The Puppy Cube ($859.00), an industry-first portable projector that turns any flat surface into an interactive touchscreen, is a great gadget for browsing online recipes and video tutorials on kitchen countertops, accessing YouTube videos and much more on any flat surface. The device features a built-in OS, 5 MP camera, dual 5W speakers, microphone and 10-point AnyTouch technology. With an HD picture of up to 100 inches, placed as short as only 20 inches from a wall, don't miss a beat from kitchen lessons with kids, dance videos, video conference calls with friends and family. Enjoy unlimited possibilities of all your favorite apps with its AnyTouch technology which provides a leading responsive and capacitive display. The Puppy Cube is available worldwide on Amazon and HachiSmart.com.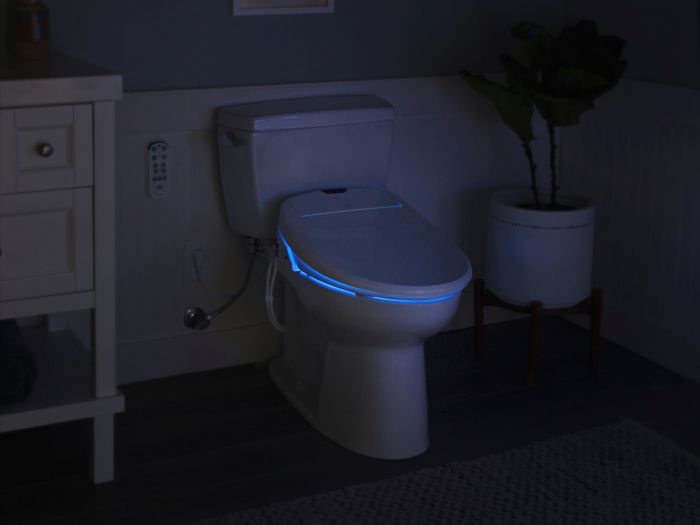 (credit: Omigo)
As the pandemic has caused massive disruptions to life everywhere, especially when it comes to toilet paper shortages, Omigo ($649), the modern and aesthetically pleasing U.S. bidet maker, aims to solve this issue. Packed with tech for a better wash and happier bottom, the Japanese-inspired electronic bidet seat is a luxury toilet seat replacement. Not only does this bidet get you cleaner, it is environmentally friendly and can cut toilet paper usage 75-100%. Omigo replaces your existing toilet seat while introducing a superior level of comfort and hygiene to your restroom routine with a heated seat, warm air dryer, customizable warm water washes and a nightlight. It also features an intuitive one-touch remote allowing users to customize water pressure, temperature and position, three heated seat settings and more to provide a touch-free experience. Freshen up your bathroom routine to a more comfortable, healthier, and smarter routine with Omigo, available for purchase here.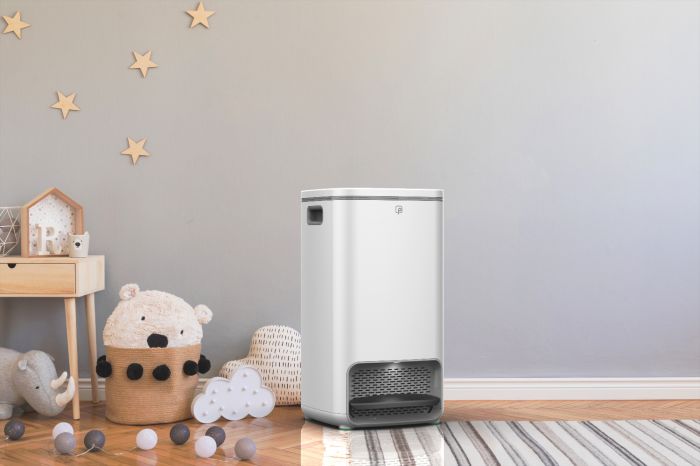 (credit: Scott Henderson)
Equally effective in two domains, the kitchen and nursery. Petal (beginning at $199 plus shipping and taxes), is the world's first zero-odor, germ-freezing waste bin and the only disposal device on the market that naturally stops rot, eliminates stink, and halts the spread of germs. Homeowners and bottom wipers can draw comfort knowing that harmful germs will no longer fester and spread as this technically unique appliance freezes organic waste solid to 0°F in under 35 minutes. Eliminating the need for landfill-clogging, single-use plastic liners, Petal makes disposal easier, safer and better for the environment. Giving users peace of mind that comes with odor- and germ-free disposal, particularly as society adjusts to the post-pandemic's "new normal", Petal uses zero masking chemicals or deodorizers and it can be used bagless. Invented by two rocket scientists, its patent-pending, waste-freezing technology eliminates stink, removes the 'ick-factor' and provides a germ-free environment for nurseries and kitchens. Zero degrees. Zero odor. Petal will be available for pre-sale late-August/early-September.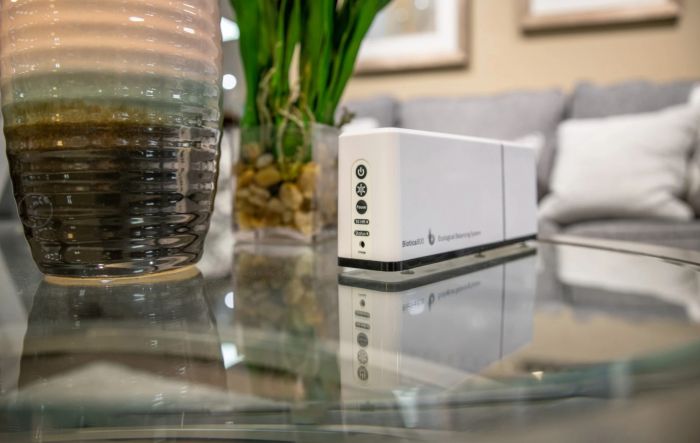 (credit: Betterair)
As more people are staying at home, whether working, spending time with family, cooking or any fun other adventures, the quality of air is critical to health. Betterair's Biotica800 ($299.99) is a probiotic air and surface purifier that works to eliminate bacteria pathogens and viruses in your house in a 100% natural and organic way. As the world's only probiotic air and surface purifier Biotica800 creates the healthiest indoor environment possible. Unlike all existing air purifiers, it uses no chemicals, no filters, no UV lights, no ozone, no antibiotics, nothing artificial and nothing unnatural, instead uses a proprietary blend of probiotics called Enviro-Biotics to re-populate your indoor environment. Its ultra-fine mist continuously releases billions of probiotics into the air infiltrating every corner where irritants thrive from all surfaces, fabrics and more. Your immune system will become stronger as it is no longer being attacked by harmful germs and pathogens yet at the same time, so you truly can be safer at home.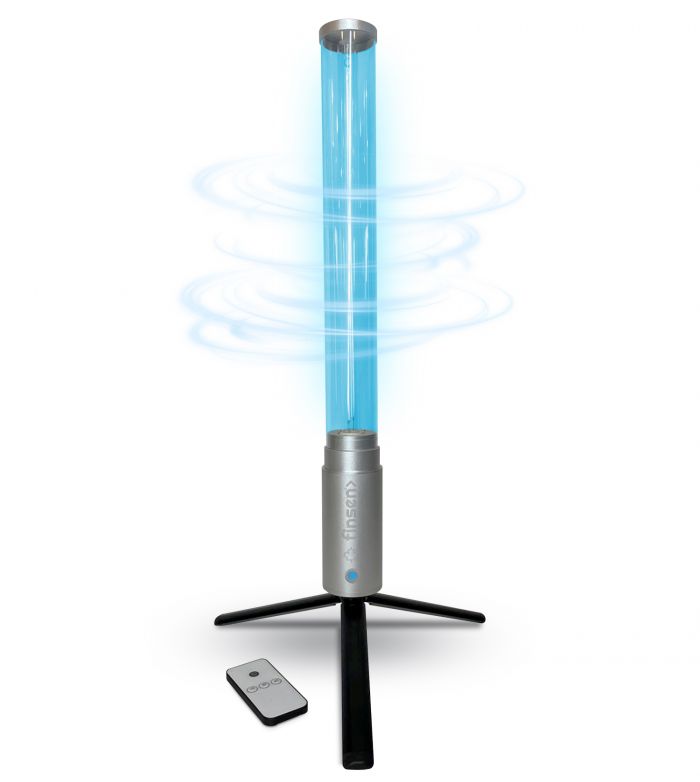 (credit: Finsen Light)
Released earlier this year, Finsen Light's largest ultraviolet (UV) light JAEGAR ($249.99) is a stylish and ideal solution for keeping your business and home clean. Launched in March of 2020, amidst a global pandemic, Finsen Light has risen to one of the most trusted sources for COVID-19 sterilization by hospitals, hotels, property management groups, janitorial services, dentists, and more across the country. Designed with the highest quality Phillips Germicidal UVC bulbs to disinfect up to 100 square feet using our powerful, 360-degree, germicidal light system. The JAEGAR is easy to use, lightweight, and is 100% automated. Finsen Light integrated the most reliable UVC technologies to maximize performance and safety. The JAEGER can be used up to 8,000 hours and includes a 30-second power start delay and 360 motion sensor shutdown. Finsen Light specializes in anti-viral and germicidal UV light sterilization technologies to assist in deactivating potentially harmful pathogens from surfaces and the air in both commercial and residential areas. This portable device is perfect for any business or room in the house.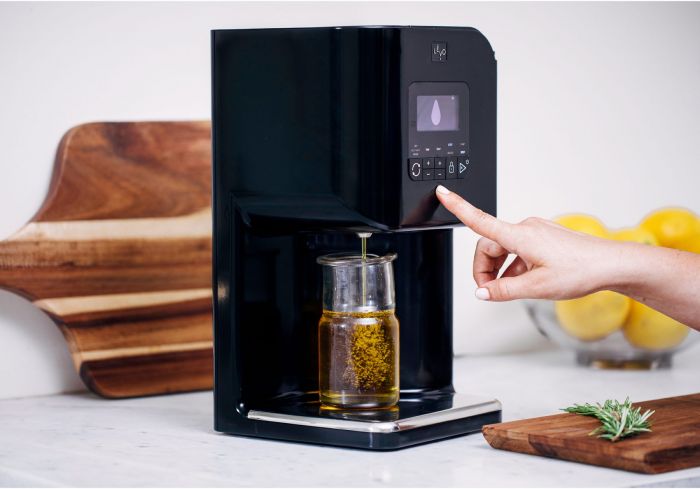 (credit: LEVO)
Staying safer at home doesn't need to mean having the same boring items being prepared in the kitchen daily. With LEVO II ($249.99), the innovative kitchen device that simplifies the process of herbal infusion from start to finish, users can home-infuse ingredients to add a bit of flavor, zest and spice to everyday dishes. With endless benefits for the mind and body, LEVO infusions are mess-free and pre-filtered, eliminating the need for cheesecloth and other filtration methods. From essential oils infused with lavender, to garlic butter and even homemade cinnamon honey, LEVO simplifies and improves the traditional infusing method. With precise time and temperature controls, herb pod and gentle magnetic stirring along with its patented gravity dispenser, the shelf life of your infusion is extended and flavor intensified. LEVO II, the newest model, is WiFi connected and features two cycle options before infusing: dry and activate which provides a more depth of flavor to any item. LEVO II is available on LevoOil.com and Amazon.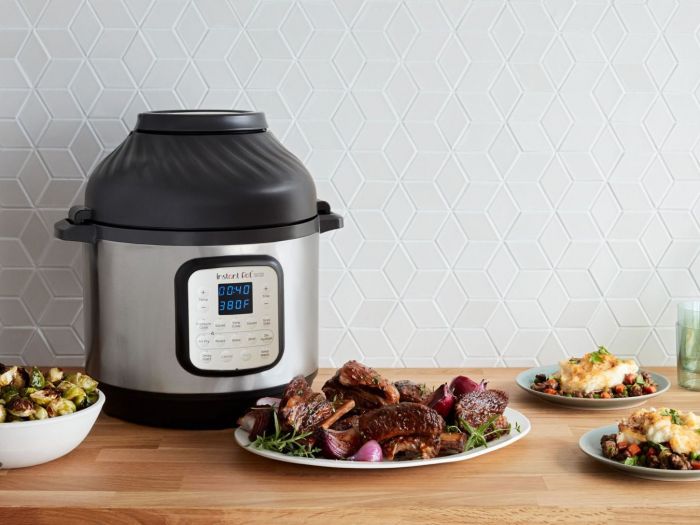 (credit: Instant Brands)
As the latest and greatest product in the family of kitchen appliances from Instant Brands™, the Instant Pot® Duo™ Crisp + Air Fryer ($179.95) helps make home chefs' lives easier in the kitchen. Not only is this kitchen must-have a time-saver, but it is also easy to use with just the touch of a button and clean-up is easy too with sleek surfaces wiping clean and all other pieces being dishwasher safe. With 11-in-1 functionality with the pressure cooker lid offering six wet cooking functions – pressure cook, sauté, steam, slow cook, sous vide and warm – the air fryer lid offers five crisp cooking functions – air fry, roast, bake, boil and dehydrate. Another unique feature is its Smart Programs which allows any home cook to be a top chef in no time with customizations of time and temperature selects for total control. This new device offers a game-changing set of cooking techniques to help you save time and cook healthy meals.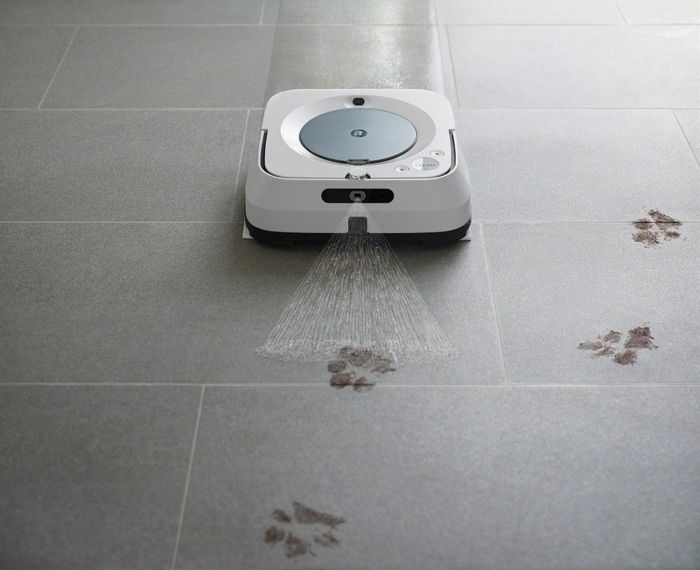 (credit: iRobot®)
With people staying at home, cleaning has not only become a higher priority, but it is also needed to be done more and more often. The iRobot Braava jet m6 robot mop ($499.99) delivers clean floors throughout your home, tackling a variety of dirty areas on hard floors, like sticky messes or grease. Its equipped with iAdapt® 3.0 Navigation with vSLAM® technology and Imprint™ Smart Mapping, which allows the Braava jet m6 to intelligently navigate your home, learning and remembering your floorplan. Designed with multiple rooms and large spaces in mind, set up and use is simple. All you have to do is attach the wet mopping pad or dry sweeping pad and let the Precision Jet Spray helps prep dirty areas, while the attached Braava jet pads remove unwanted debris from your floors. Have control from anywhere with the iRobot HOME App, which allows you to schedule, customize and select the rooms you want cleaned, while Wi-Fi connectivity enables you to use your robot with smart home assistants, like Google Assistant or Alexa.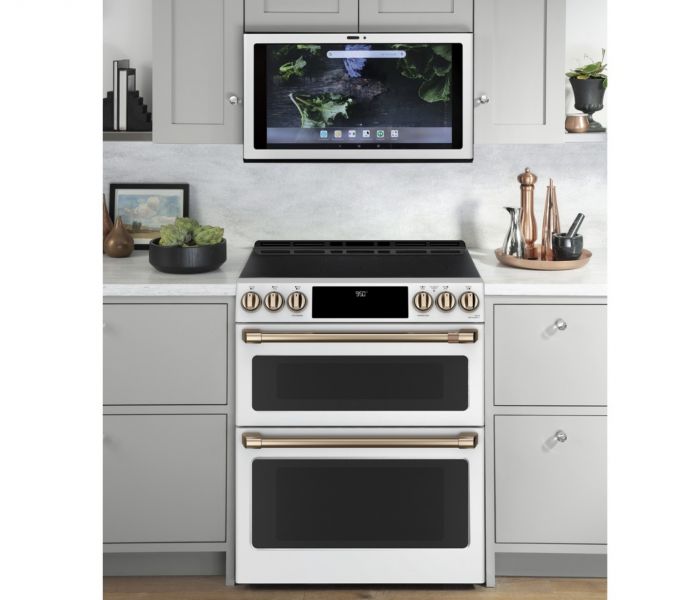 (credit: GE.com)
GE recently introduced Kitchen Hub™ ($999-$1,399), the first-of-its-kind 27-inch integrated smart-touch screen and ventilation combo, making the kitchen the center of your home. As people are spending more time in the kitchen, replacing take out with a homemade meal, it has a library of over 5000 recipes with step-by-step instructions in their Flavorly™ app powered by SideChef™. The Kitchen Hub even allows you to manage your smart home thanks to U+Connect, so you can brew a cup of coffee, change lighting and more all on the touchscreen monitor or just with your voice with Google Assistant built in. Liven up kitchen chores or a detailed recipe with entertainment apps on the screen or video chat and share the moment with loved ones with its two built-in cameras, one showing face-to-face interaction and the other pointed down to show off your culinary creation.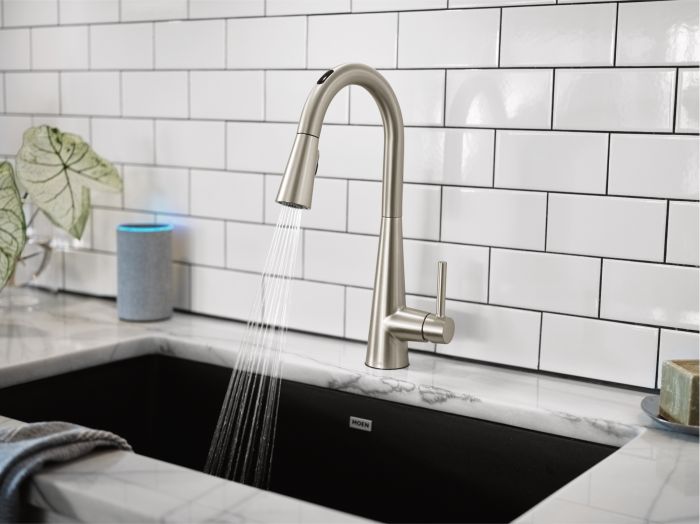 (credit: Moen)
The U by Moen™ Smart Faucet (price starts at $450) offers beautiful style and high-tech functionality for your kitchen, giving users the ultimate control over their water. Available in nine different faucet styles and several finishes, the faucet works in four ways: traditional handle, voice activation, wave sensor and the Moen smartphone app. In response to the global pandemic, Moen recently added a "wash hands" command to help ensure users are properly washing their hands for the recommended 20 seconds. The smart faucet also offers many other features that are helpful to streamline everyday tasks and even can dispense precise temperatures and measurements. Users can set presets for repeated tasks, like filling the coffee pot or water glass, and can dispense from one tablespoon up to 15 gallons and even combine measurements and temperatures of water all by voice command.