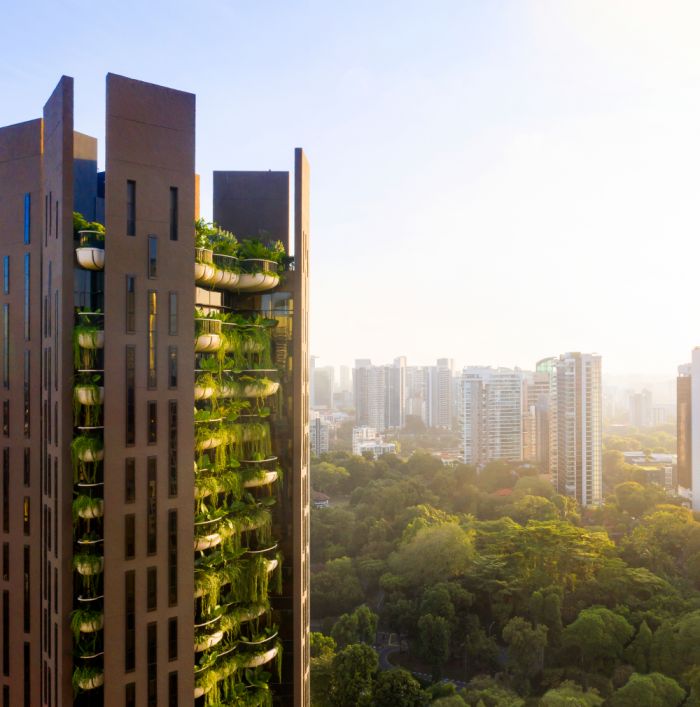 (credit: Hufton + Crow)
Eden is a new ultra-luxury residence in the heart of Singapore's prime Ardmore/Draycott area, in prestigious District 10. Developed by Swire Properties, a company globally renowned for its impressive portfolio of luxury properties across mainland China, Hong Kong as well as in Miami, they collaborated with highly acclaimed and award-winning designer Thomas Heatherwick for this bespoke residence.
A landmark for both Swire Properties and Heatherwick, the 22-story, ultra-luxury residential building, Eden, is the first completed residential project in Singapore for both. At the forefront of design and functionality, Eden exudes a unique aura of abundance and unspoiled beauty all while presenting a sensuous gift of nature. Biophilia, which means love of nature, is truly evident throughout the whole design process all the way through the materials selected and sustainability measures (so much so that it earned a Green Mark Platinum rating which is a very rare achievement for a new residential property).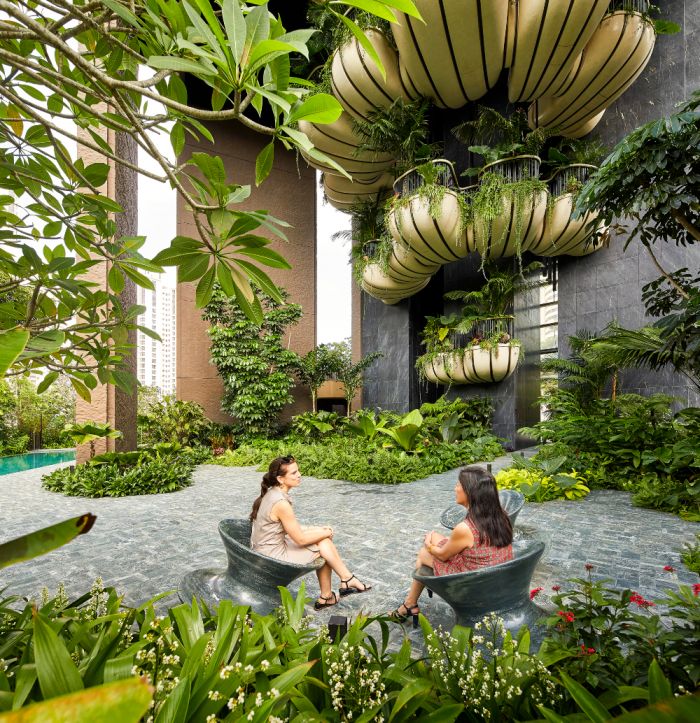 (credit: Hufton + Crow)
"Eden's principal design and driving forces is the scientific principle that demonstrates a strong correlation between physiological and psychological wellbeing for man when nature is ever-present in urban living environments," says Heatherwick. "This new architectural landmark is not only set to become one of the iconic buildings of our time, its core design principles will inspire a longer and more meaningful life."
Located at 2 Draycott Park, Eden is surrounded by some of the city's most exclusive properties and was inspired by the vision of the city as a "City in a Garden", combining nature with an aesthetically pleasing design. Amplified by the world's shift towards the benefits of living with nature, Eden successfully marries wellness-inspired architectural biophilia and opulent urban living. The property is home to 20 freehold apartments, each over 3,000 sq-ft and occupying one full-floor, while some have en-suite bedrooms while others have stunning hanging garden balconies.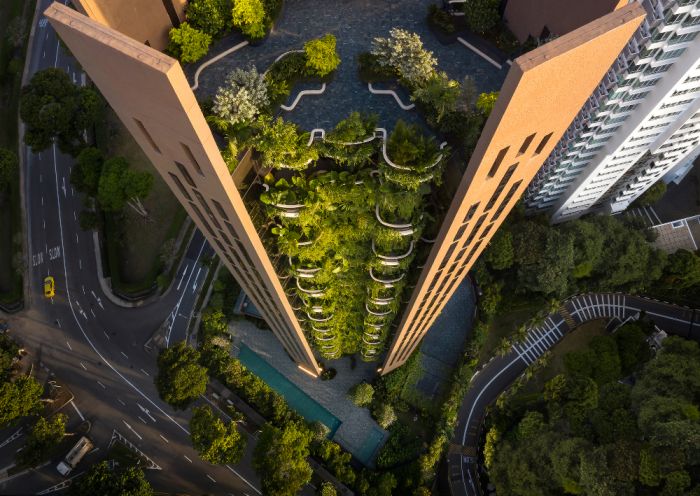 (credit: Hufton + Crow)
Marking Heatherwick's second completed project, but first completed residential project in Singapore, Eden is immediately recognizable as the stark juxtaposition to the other nearby steel and glass luxury towers reaching up towards the sky in the highly desirable District 10 area. As such, this ultra-luxury high-rise stands as a towering achievement with a truly imaginative design. Upending the traditional floorplan found in most towers, the floor plan of each unit sees the four en-suite bedrooms, as well as the service areas, on the perimeter- allowing for a spacious, light-filled central living area that brings the verdant greenery inside.
Designed to ensure its residents will live well in a tropical climate, the south-facing apartments, "recreate the verdant garden access once ubiquitous in the city's homes, extending the landscape of Singapore from ground level through the building via hanging gardens," says Heatherwick. Furthermore, the use of rich natural materials through the residences including oak wood floor from the UK, a whole piece of rare Italian marble as the countertop in the dry kitchen, bathroom walls and floors are lined with 180-million-year-old cross-cut Jura limestone from Germany and much more, the richness of tactility and texture enhance the experience living in Eden.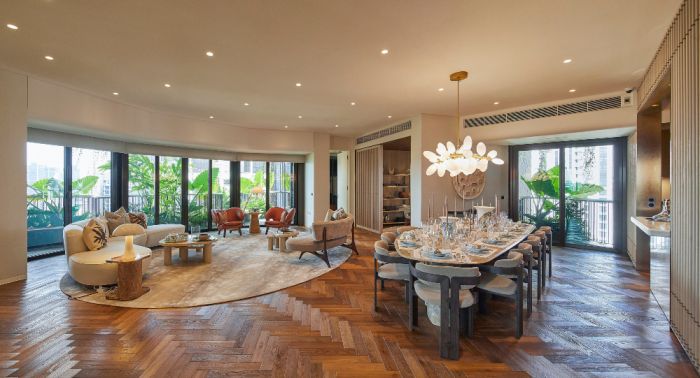 (credit: Hufton + Crow)
Creating a balance and connection with nature was key for Heatherwick and this could be seen through a few benefits residents are provided. The stunning cantilevered balconies that seem to hang in mid-air are scaled to maximize solar shading and significantly temper the ambient tropical heat all while absorbing rainwater and filtering pollutants. Its concrete faced walls are celebrated by molding the actual contours of Singapore into its surface and functionally blocks warm air and aids in natural cooling. Last but not least, the windows which provide 270-degree views across the exquisite garden balconies maximizes light transmission and act as cross ventilation.
Eden completed in November 2019 and apartments are now available for purchase.