Blue Heron. Lake Las Vegas
Five U.S. Homes Fit for Stargazing Enthusiasts
Stargazing sessions are on the rise as people look to relieve stress, connect with nature and gain perspective heading into a new year. On a clear night, stargazers are able to see 2.5 million light-years away with just the naked eye. Locations offering unobstructed views and little light pollution produce optimal stargazing opportunities. These five U.S. homes offer buyers access toiconic nearby national parks, natural areas and an idyllic setting to marvel at the night sky.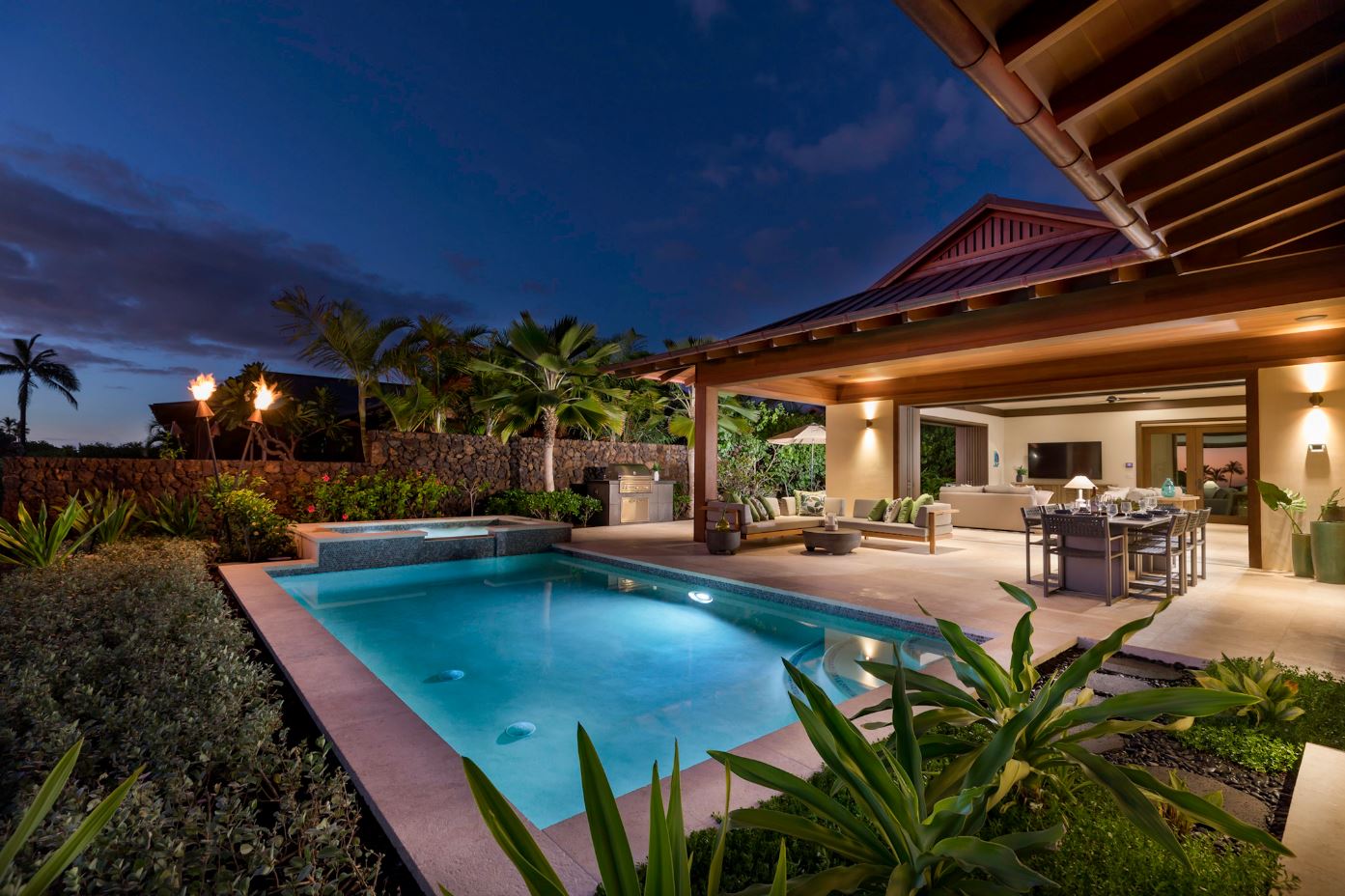 Kohanaiki
Kona, Hawai'i Island Home | $3.85M, 3 Bed, 3.5 Bath, 3,849 Square Feet
Nestled on the Big Island of Hawai'i at a location along the Kona Coast once home to ancient Hawaiian royalty, the 'Alani Residence 3, on the market for $3.85 million, was designed for indoor-outdoor living with the Hawaiian breeze by day and the full starry sky by night. The spacious 3 bed, 3.5 bath home designed by Glazier Le Architects lies on the remote, large volcanic island of Hawai'i, nestled within the expansive private residential community of Kohanaiki. The exterior of 'Alani 3 features a distinctive copper roof and stucco walls accented with sliding mahogany doors.
Step inside to an open-concept great room and well-equipped kitchen connected to spacious bedrooms and guest suites. Slide open the great room's pocket doors to enjoy beautiful views of a palm-tree-studded landscape and feel the refreshing breeze on your lanai. Cool off in the pool or enjoy a relaxing dip in the spa after a day in the sun. Situated between the 7th and 8th holes of the members-only Rees Jones golf course, this home offers stunning golf course views. Future owners of this home have access to all of Kohanaiki's community amenities – including an expansive lap pool, onsite micro-brewery, beachside restaurant, sushi chophouse, wine tasting room, bowling alley, spa, tennis, water sport adventures, private beach and more.
Did you know, Hawai'i is the only U.S. state where you can see both the North Star and the Southern Cross? From the remote destination of Hawai'i, residents can see over 80% of all the stars viewable from Earth.
The Terraces/etco Homes
Pasadena, California City Home | $3.68M, 3 Bed, 5 Bath, 2 Half Bath, 3,947 Square Feet
Located 20 minutes from the Griffith Observatory and only 12 minutes from the Angeles National Forest (home of Templin Highway, a stargazing area that has long been a popular spot among amateur astronomers), Pasadena has long been a special place for astronomy for more than 100 years. Many significant discoveries in Astronomy including magnetic fields in sunspots, the expansion of the universe, and the first evidence of the dark matter have been made by Pasadena astronomers. With its rich history in astronomy, Pasadena has become a nurturing ground for innovations and producing a series of cutting-edge discoveries.
The Terraces at the Ambassador Gardens by etco Homes boasts a collection of 60 contemporary flats and townhomes located in the historic Ambassador Gardens. Featuring interiors by Los Angeles-based designers Casa Stilo and Meredith Baer and priced from the mid $2 millions, residences range from approximately 3,040 to 4,430 square feet and offer three- and four-bedroom floorplans and up to three baths and two powder rooms.
Residents enjoy a dedicated concierge and security features with each tri-level townhome featuring private elevators, butler's pantries, personal four-car garages, rooftop terraces and more. The Terraces is located within walking distance to the fashionable and landmark Old-Town Pasadena area offering residents a unique variety of historical, cultural, shopping and food destinations. The sales gallery is now open by appointment for private showings or via virtual tour.
Whitetail Club
McCall, Idaho Mountain Home | $4.75M, 4 Bed, 5.5 Bath, 5,325 Square Feet
Idaho's night skies have been named the gold standard for stargazing. The state is home to the nation's first and only International Dark Sky Reserve holding Gold Tier status designation from the International Dark Sky Association reserved for the darkest skies. Just a few hours away sits the town of McCall, Idaho.
This gorgeous mountain modern home sits within the prestigious gates of private residential community, Whitetail Club as is listed on the market for $4.75 million. The 4 bed, 5.5 bath custom home is finished to the highest level: including wide plank cedar, metal siding and roof, radiant heat in all floors including garages. Beautiful custom slab counters, Pella wood windows and LED lighting, low voltage premium sound system and electronic blinds. Incredible landscaping and exterior lighting set the scene with amazing views of the Salmon River Mountains.
Spanning 5,325 square feet the home also includes a state-of-the-art recreation room with outdoor terrace, full sized office and part of the master wing and one-bedroom guest house. Five car epoxy finished garages and water featured fire pit make this home a visual dream from every aspect.
Whitetail Club is McCall's premier 1,300-acre private real estate community offering a four-season sanctuary in the Salmon River Mountains. Ideal for a second, third or primary home, Whitetail Club offers custom homesites, townhouses and cottages listed for up to $5M. Top amenities include a 7,200 yard Andy North-designed 18-hole golf course named one of Golfweek's "Best Courses In the Nation," private biking/ cross-country ski trails, saltwater pool and fishing trout pond beach, ice-skating rink, indoor tennis and fitness center, a full-service 36-slip marina, lake Clubhouse complete private beach/lake access, private restaurant/bar and spaces dedicated to teens/children, as well as unparalleled club programming with curated only-here outdoor excursions, private shuttles to two nearby ski mountains, dining and musical events for the whole family.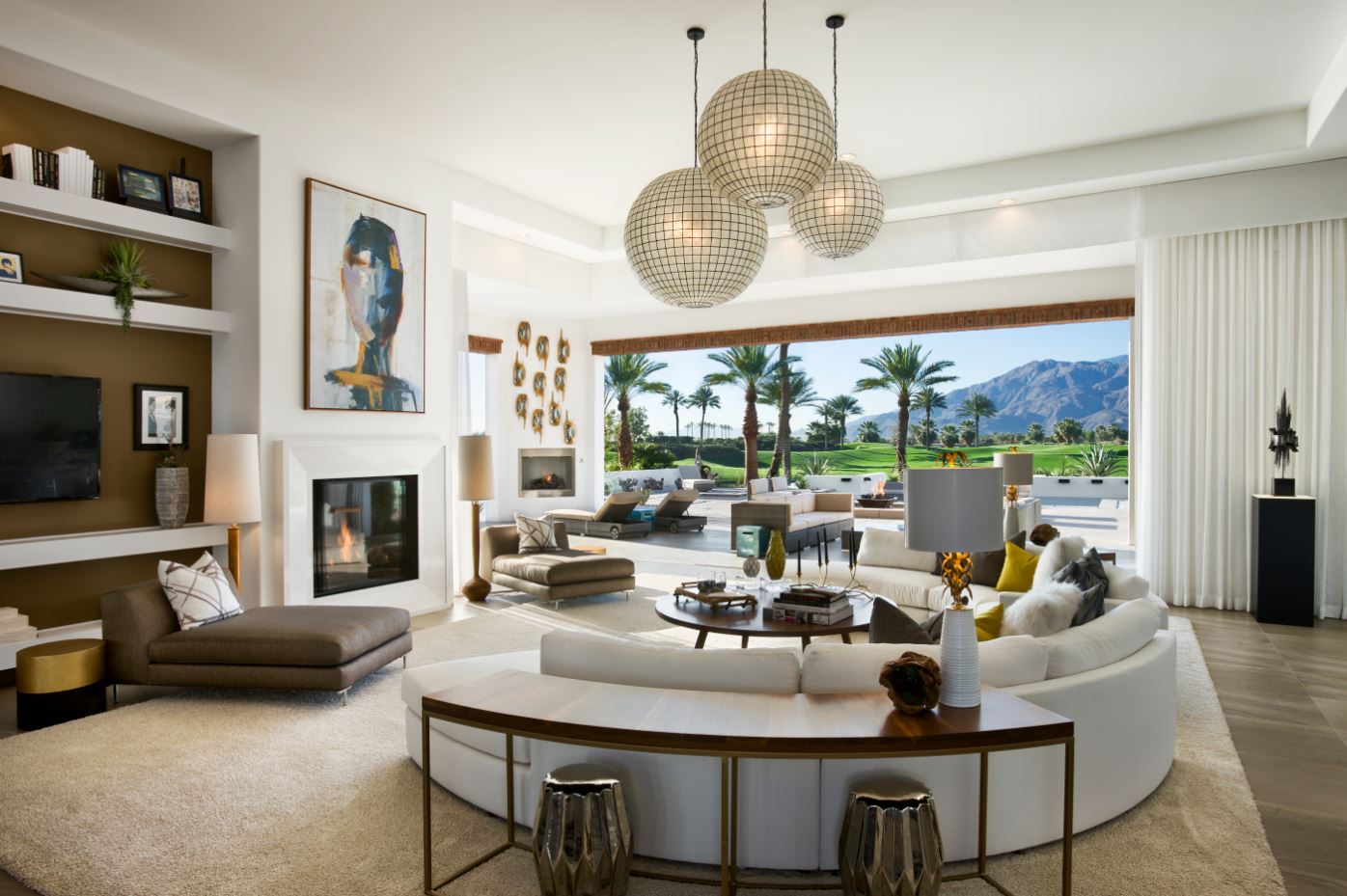 Anadalusia Country Club
Coachella Valley, California Desert Home | $2.25M, 4 Bed, 4.5 Bath, 5,131 Square Feet
Since the 1920s, Coachella Valley has been a favorite escape for some of Hollywood's biggest stars, but it's also a stellar setting for stargazing of another kind. Two International Dark Sky Parks (Joshua Tree National Park and Borrego Springs) are located within an hour's drive from La Quinta and offer unbelievably beautiful views of the night sky.
With 15-foot ceilings, contemporary finishes and ample natural light, this quintessential Coachella Valley listing contains all the glamour of festival season coupled with enviable resort vibes. Exteriors of this Andalusia home are influenced by the romantic Spanish style of the club's namesake, boasting spacious design and modern interiors. Enter through a gated portico leading to an expansive interior courtyard. Inside, you'll find four bedrooms, 4.5 baths, home office, scenic dining and attached casita including a guest suite and office all its own, accessed by a separate entrance. A 5,000 square-foot enclave, Residence 426 features disappearing floor-to-ceiling pocket doors that open onto stunning views of the Coral and Santa Rosa Mountains and an outdoor entertainment space fit for the whole family. The home is currently priced at $2.25 million.
Set among stunning views of the Santa Rosa and Coral Mountains, Andalusia Country Club is the premier resort community in La Quinta, boasting superb desert homes with spacious design and modern interiors, with exteriors influenced by the romantic Spanish style reminiscent of its namesake. Outside the gates, Andalusia lies at the threshold of one of California's most remarkable hiking and biking trail systems in the Santa Rosa Mountains.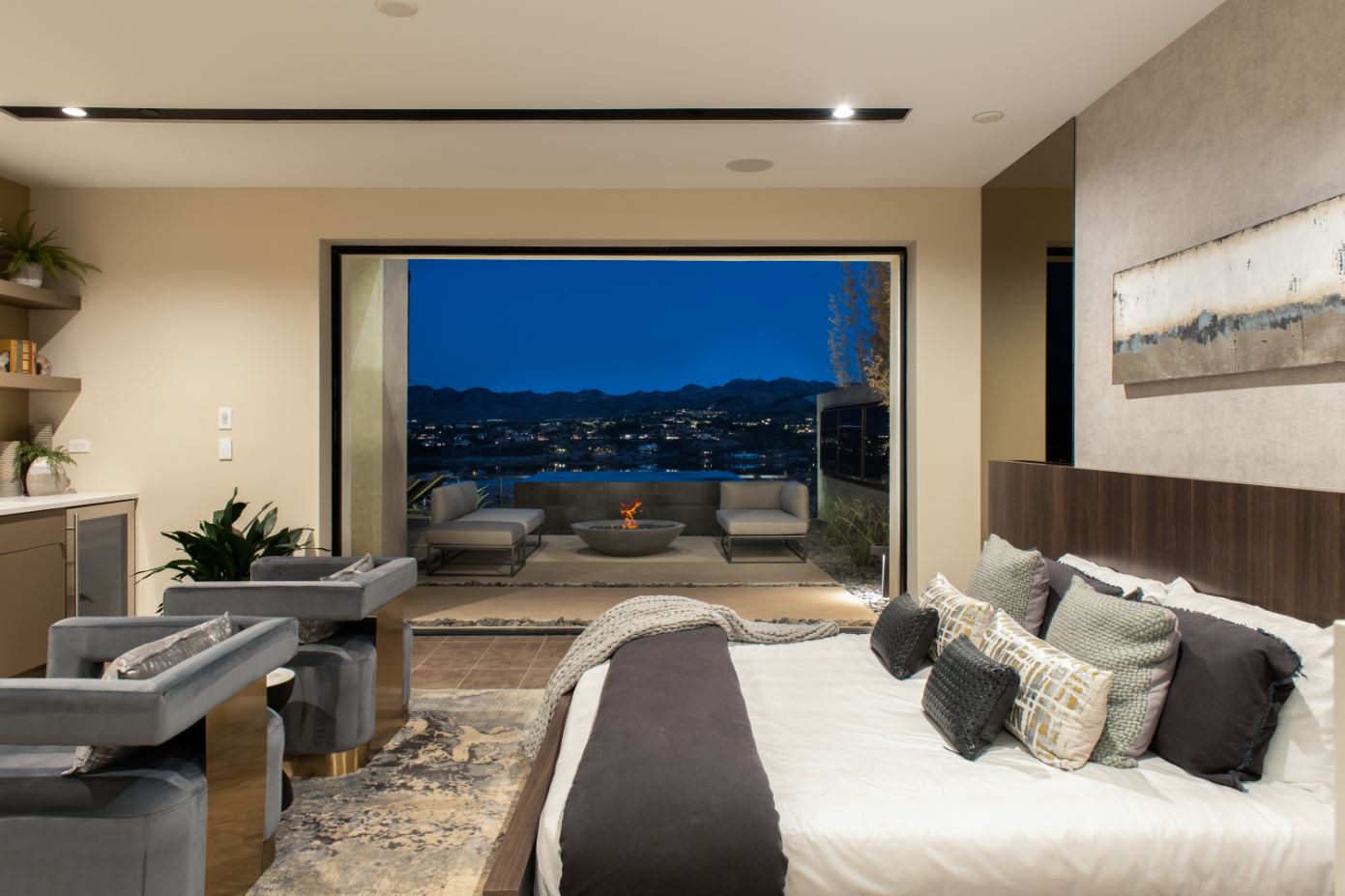 Blue Heron. Lake Las Vegas
Las Vegas, Nevada Desert Home | $4M, 3 Bed, 3.5 Bath, 4,707 Square Feet
With so much neon magic in the air, it's easy to forget that there are actual stars in the sky above Las Vegas. Las Vegas offers easy access to so much wilderness, including national and state parks, national monuments, wildlife refuges, conservation areas and recreation areas.
The Trace home, on the market for $4 million, is located on a bluff overlooking Lake Las Vegas featuring a dramatic entry and living spaces that sprawl in multiple directions to allow for expansive desert landscape views. The 4,707 square foot 3 bed, 3.5 bath home harmoniously invites the outdoors in with expansive sliding glass doors that make the characteristic desert landscaping part of the décor. Vantage homes are designed with the design philosophy that is the vision of Blue Heron, with sleek textures that pay tribute to the desert terrain and generous natural stone elements of the outdoors.
Vantage by Blue Heron, a design-led development firm, is a luxury gated community of 37 unique homes with boundary-pushing elevations and modern detailing starting at $1.9 million. Blue Heron's design philosophy stands out in each of Vantage's three flexible floor plans, ranging from 2,800 to 4,700 square feet.