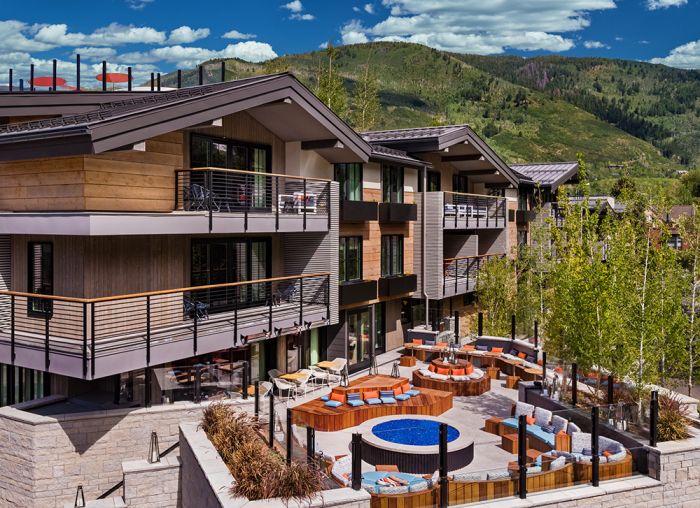 Courtesy of W Aspen
Centuries of colorful history pepper Aspen's past—almost as vibrant as the mural found in the main lobby of the new hotel. Joining the fabric of community that is Aspen, W Aspen + The Sky Residences at W Aspen is a modern-day stay in the Rocky Mountains of Colorado.
Nods to the history of the area can be felt throughout the property; mineshaft elements down a hall, a large silver "nugget" suspended in the lobby and even details such as canary art sculptures in the room harken to a bygone era of Wild West silver mining. Now, contemporary artwork and sleek designs intertwine for a unique mountain experience. Upon entering the lobby, a stepped design element announces that guests are in for a distinctive stay. On closer inspection, the carpeting itself is a topographical map and a 2nd-floor living room boasts dining space, nugget-design-element-turned-DJ-booth, and an outdoor terrace with cozy fireplaces. A ski-in-ski-out property, the mountain is steps from the terrace and an excellent place to hang out summer and winter.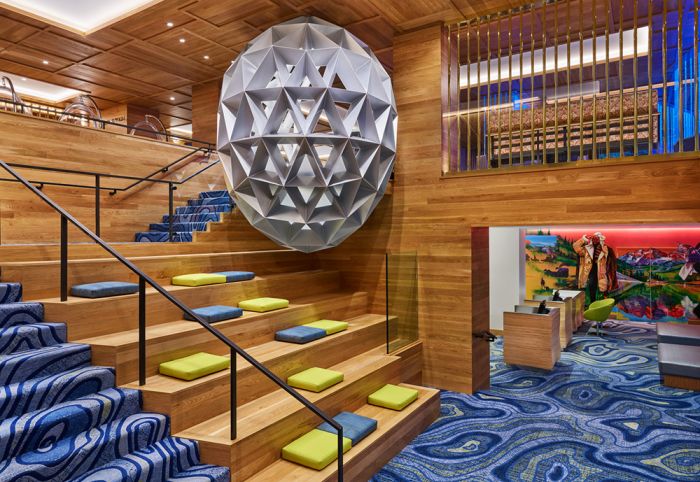 Tiered lobby entrance with silver 'nugget' that doubles as a DJ booth. 
11 luxury residences are in 2- and 3-bedroom floorplans. Want a private chef to cook dinner for you and your guests in the beautiful open kitchen? No problem. Want to sprawl out in the 70s era inspired living room? Go ahead. Special to the Sky Residences is an Owners Deck on the roof, away from the hotel pool. Complete with its own hot tub, grill and firepit, the quiet escape is only available to owners and renters of the Sky Residences.
Living Room dining area on the 2nd floor. 
Wet Deck is one of the most popular spots on property, with a pool overlooking the mountains and valley, hot tub, bar, lounge areas and fire pits, guests and the public are able to enjoy the experience. Sipping on my Watermule cocktail—made from Absolut Vodka, fresh watermelon and ginger beer, I watch as a hummingbird buzzes by some flowers in the planter. The Colorado sunshine and light mountain breeze are a perfect combo for a rooftop pool area. Bites are available all day and include salads, a seafood cocktail, burger, chicken salad wrap and grilled cheese sandwich. Don't forget the truffle fries or ranch potato chips as a snack to go with your craft beers or specialty cocktail.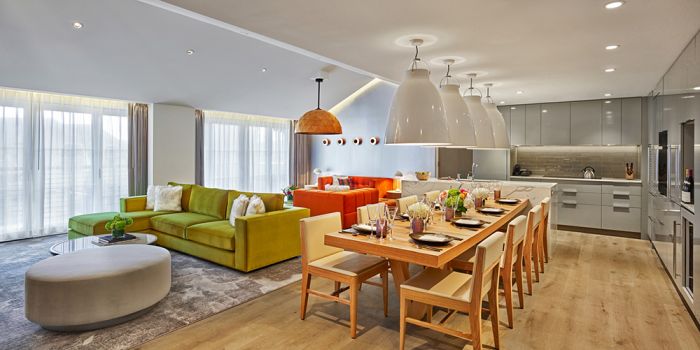 Courtesy of W Aspen
The rooms at W Aspen continue the mining and mountain motif in thoughtful and clever ways. Artwork and textures speak to the area, and a bar disguised as an old wood burning stove allow for mischievous yet elegant design elements. Centrally located, the W Aspen is in the heart of everything you'd want to do in town. Walking or biking to nearly all of Aspen's best-of-the-best are minutes from your room. Or, conversely, stay in and enjoy the most comfortable and well-lit mineshaft ever introduced to Aspen.
For rates and reservations, visit www.marriott.com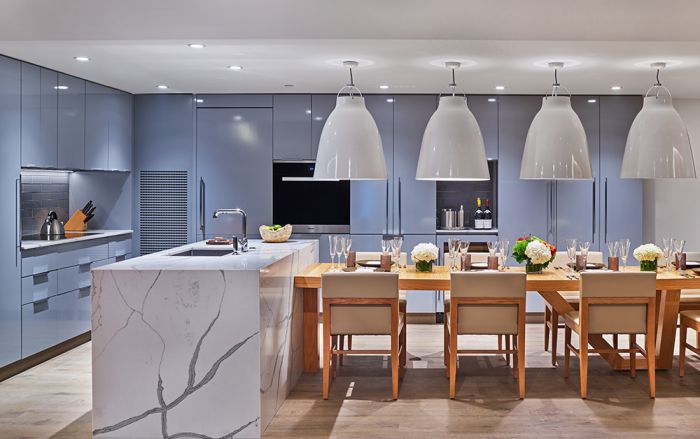 Courtesy of W Aspen
Stunning kitchen space at the Sky Residences.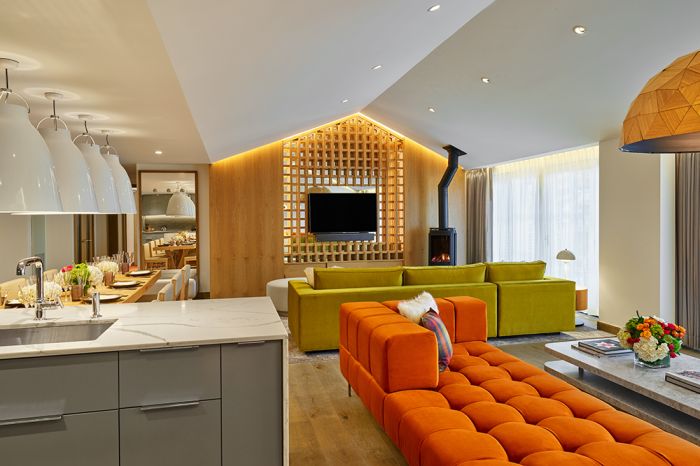 Courtesy of W Aspen
70s inspired decor and finishes at the Sky Residences.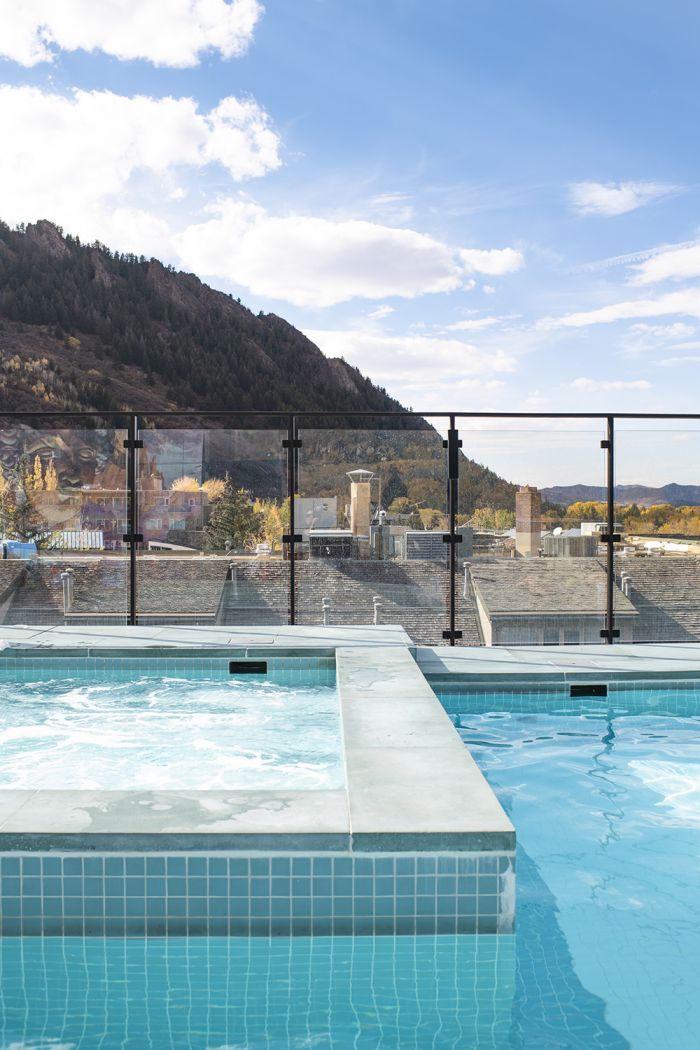 Courtesy of W Aspen
Wet Deck pool and hot tub.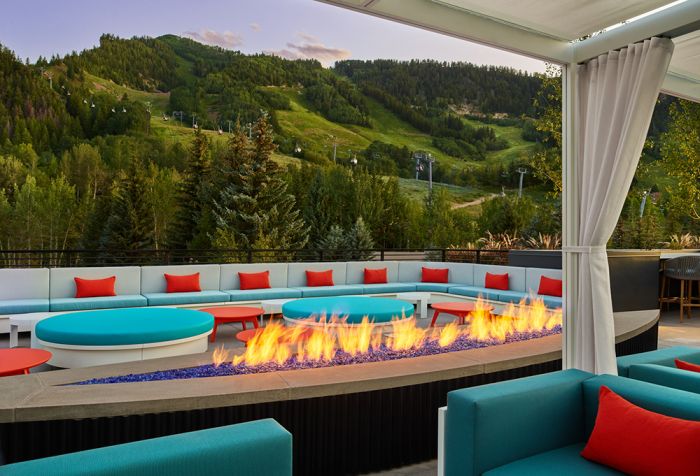 Courtesy of W Aspen
Views of the mountains from Wet Deck.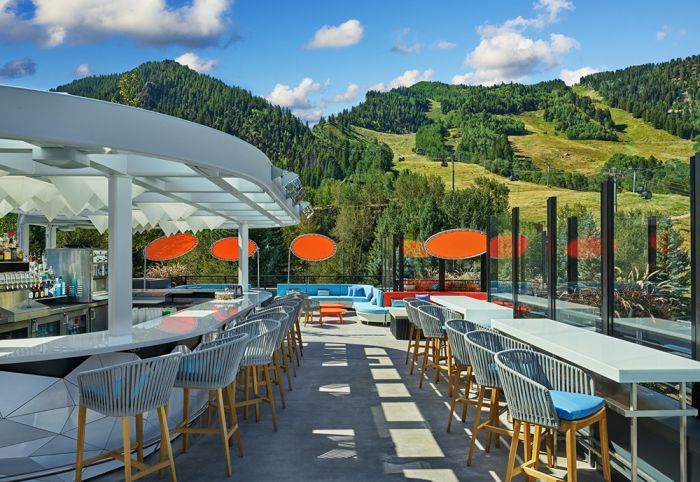 Courtesy of W Aspen
Wet Deck bar and lounge areas at W Aspen.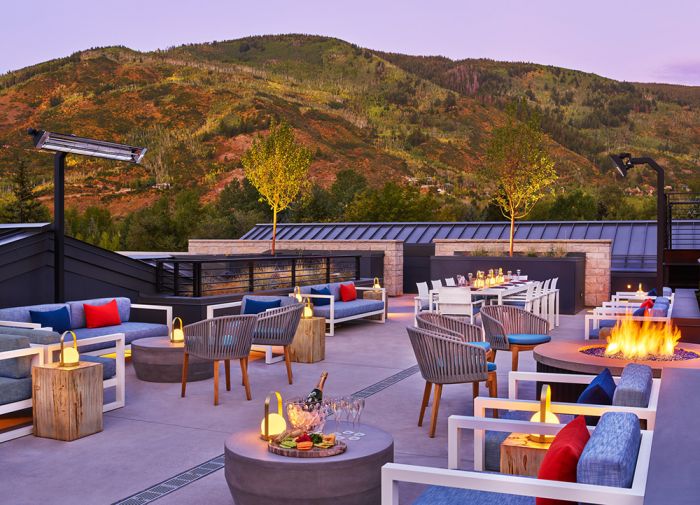 Courtesy of W Aspen
Enjoy the mountain views and cozy ambiance found at W Aspen.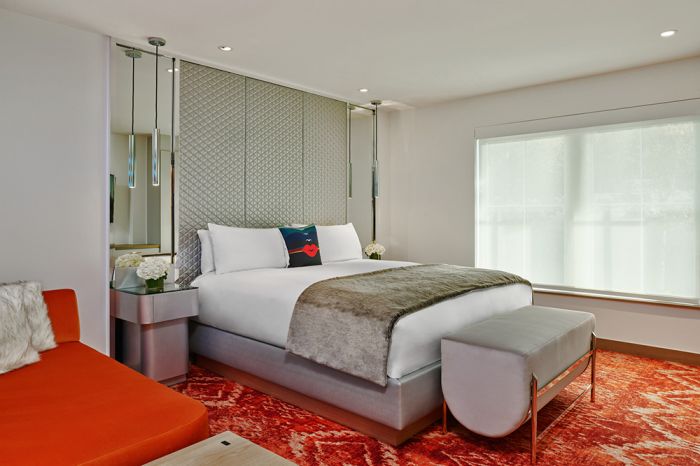 Courtesy of W Aspen
Contemporary rooms with thoughtful design elements.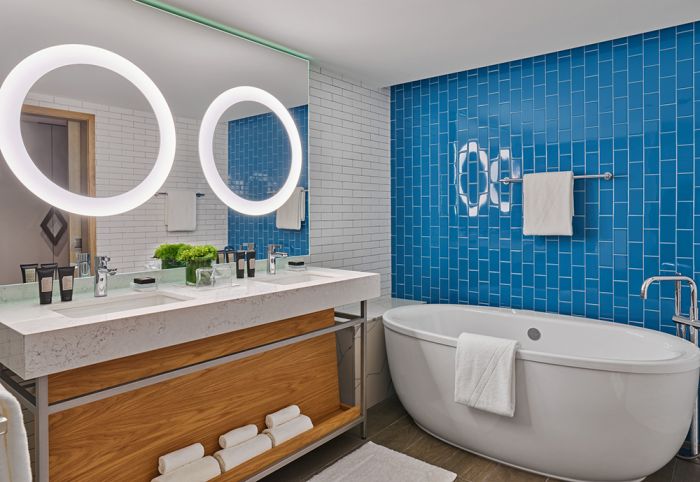 Courtesy of W Aspen
Sleek bathrooms at W Aspen + The Sky Residences at W Aspen.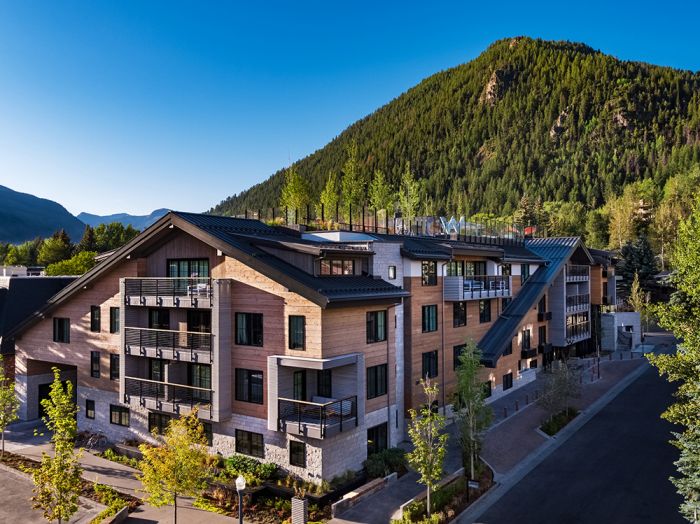 Courtesy of W Aspen
Nestled up against the foot of the mountain, W Aspen + The Sky Residences at W Aspen is a prime location and stay in Colorado.