Photos Courtesy of Tanveer Badal Photography
California's First Zero Carbon Home: Just The Beginning
Aug. 10th, 2021 | Updated Nov. 1st, 2021
California's first-ever Zero Carbon ready home, as certified by the International Living Future Institute (ILFI), the world's most rigorous green building standard, has just come on the market for $32M. The six-bedroom, 14,429-square-foot, nine-bathroom ultra-luxury home is part of the MariSol Malibu Zero Series, a collection of four Zero Carbon homes located in Malibu, between the Santa Monica mountains and the white-sand beach. When complete, each has been designed to meet the exacting standards of the Paris Agreement and Kigali Accords.
Led by California-based development firm, Crown Pointe Estates, and developer Scott Morris, the MariSol Zero Series is being created by experts in architectural design, structural engineering, and energy/carbon planning, to deliver luxury homes that isolate carbon at all possible points, providing a blueprint for sustainable home building practice. Aptly named "Zero One" this is the first home within the collection to be completed and represents a prime example of the team's commitment to balancing sustainability with luxury design.
The Zero One home uses green power, 100% renewable, from the electric grid in Ventura County; the Zero Series homes will use no fossil fuels; the timber for the homes was handpicked, to ensure sustainability, Wood was used wherever possible to offset carbon emissions; and recycled steel, selected with the greatest recycled content available, is made in electric-arc furnaces, with no direct emissions. In addition, the Swiss Zehnder ventilation system filters fresh air throughout the home, allowing the owners to breathe fresh air consistently.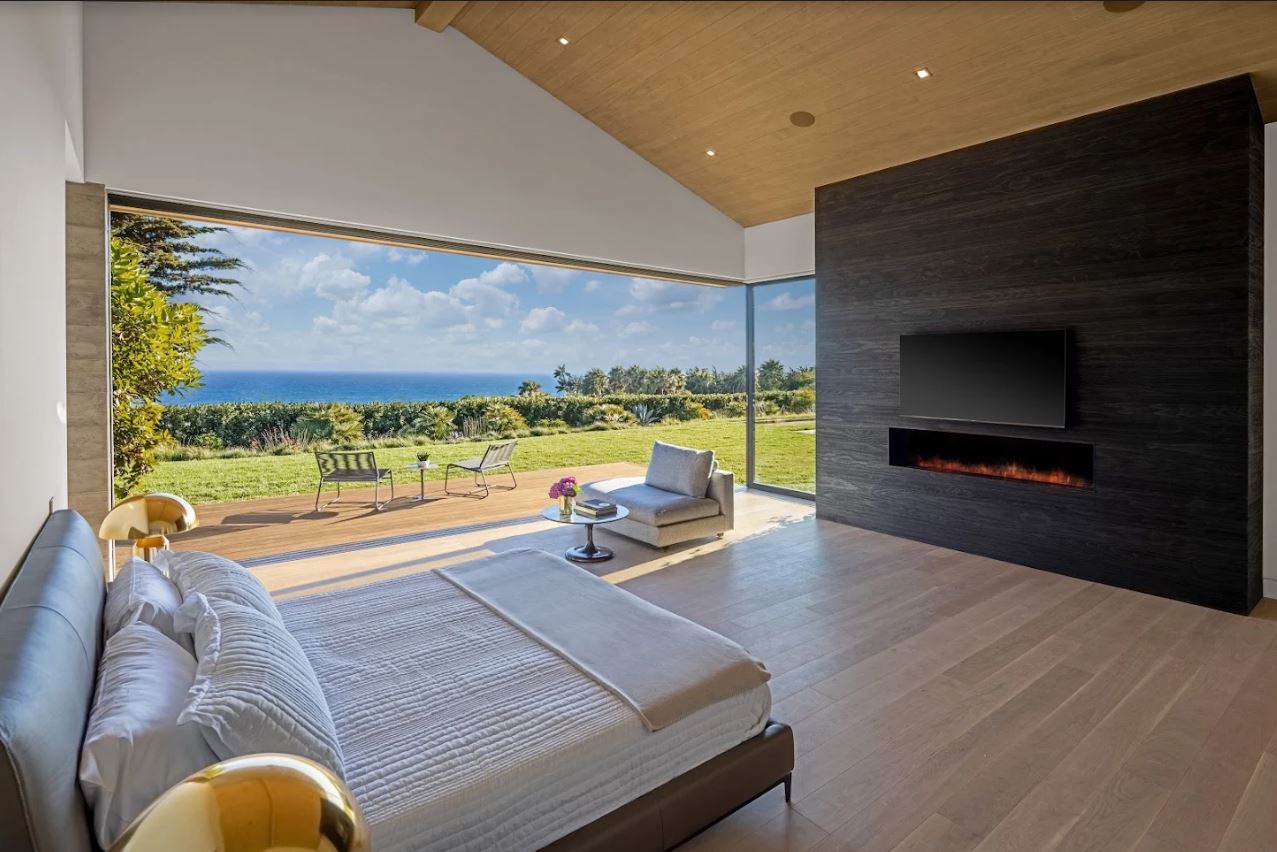 As regards landscaping, the property was revegetated with 317 mature trees, all California-sourced, including specimen native coastal oaks, Monterey cypress, pines and 15 other species. The natural habitats of the Zero One properties have been restored with native fauna, including hummingbirds, butterflies, bees, owls, deer, bobcats and many other species of native wildlife.
JustLuxe spoke with Scott Morris, the Zero Series developer and project manager for Zero 1, as he discussed the vision and operationalization of the first Zero home in Malibu, and plans for three more sustainable homes in the Malibu area.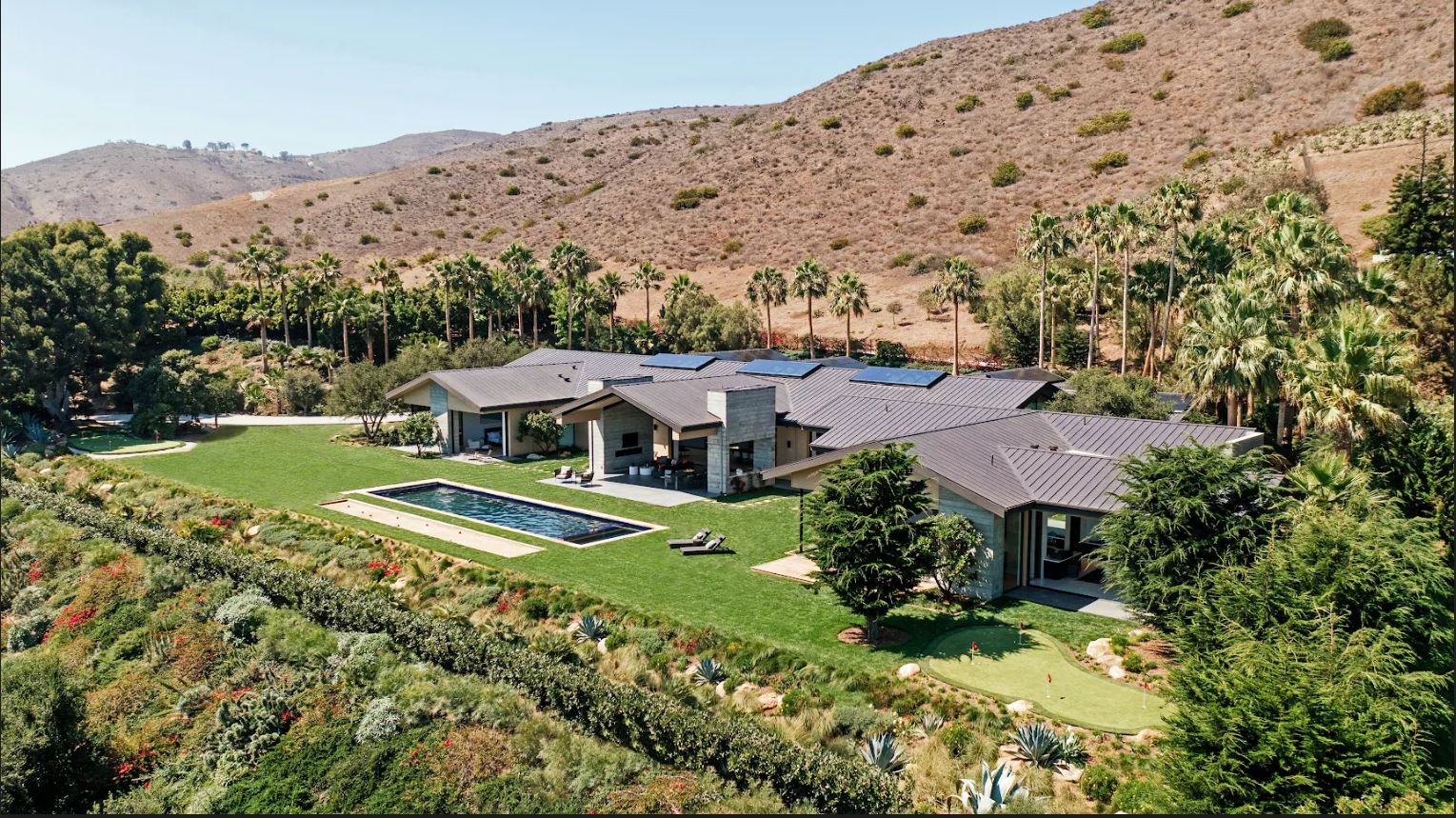 JustLuxe: Your company has built the first Zero Carbon home in California. Congratulations! And you will be building three more in coming years. What are some of the challenges and solutions you have faced, being essentially first in the field?
Mr. Morris: We start with a clean slate, good paint and then insulation. Our insulation does not contain formaldehyde. It is 100% cellulose, it is a full circle product. There is no formaldehyde off-gassing in our insulation. We are also using recycled cement – it is a very important building material, and not yet in the private sector code. But it is required in the Buy Clean California Act for state infrastructure projects. We always want to stay a step ahead – with solar, with recycled materials, with non-toxic insulation.
JustLuxe: It seems you are symbolic of a trend in real estate now called wellness real estate, much of this deals with sustainable, green design. Do you see your Zero Carbon project this way?
Mr. Morris: Yes., certainly. With all we do, we have a home and will have others, that provide greater wellness from both inside and outside. As we are 100% electric, we have Tesla batteries and solar panels incorporated as backup energy in the rare event of a power outage. We have a water vapor fireplace, electric BBQ and, an Induction cooktop. We are deeply committed to Zero Carbon emissions in living spaces right now. In fact, our motto is Zero Can't Wait.
What we hope to do is allow other developers to see how we work, what we do, and how we do it, so they too can start in the creation of Zero Carbon homes. We believe, and especially now with climate change, we need to accelerate the advent and the continuation of a new Zero Carbon Construction ideal, one that will be the rule, rather than the exception for future building projects, not only in the US, but throughout the world. We are just beginning.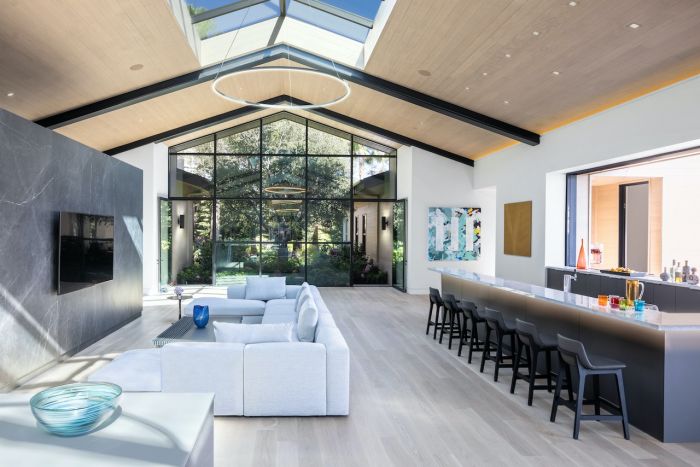 Photos Courtesy of Tanveer Badal Photography
Gathering Area, Zero Carbon Home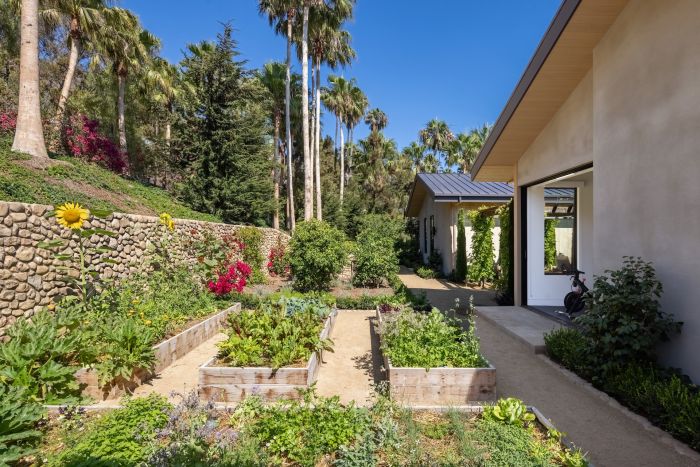 Tanveer Badal Photography
Outdoor Garden Space With Raised Vegetable Beds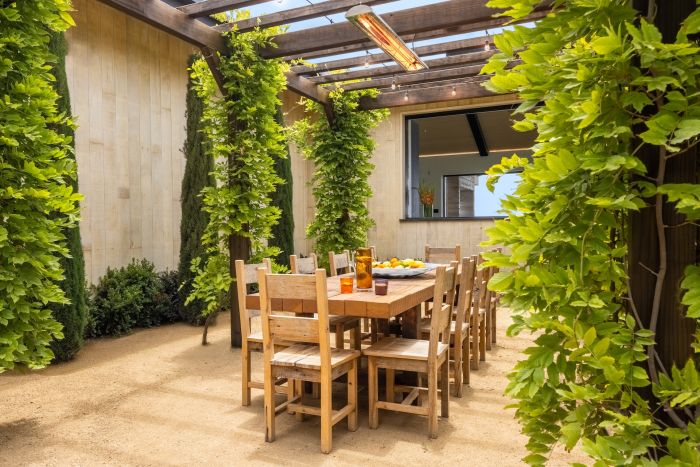 Tanveer Badal Photography
Infrmal Breakfast area, With Twisting Wisteria Vines Making a Living Wall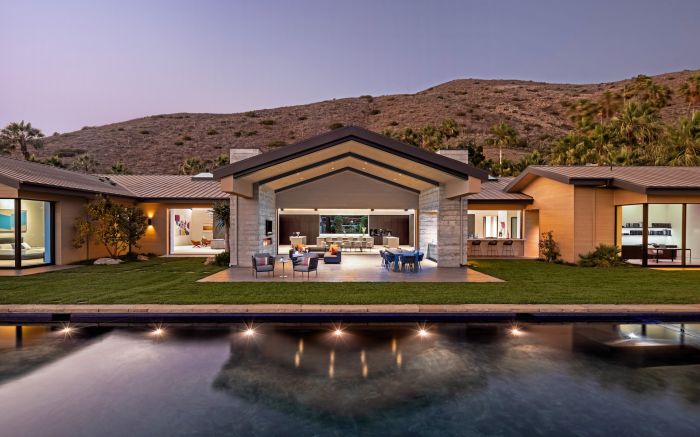 Tanveer Badal Photography
Exterior Front Zero Carbon Home at Sunset.