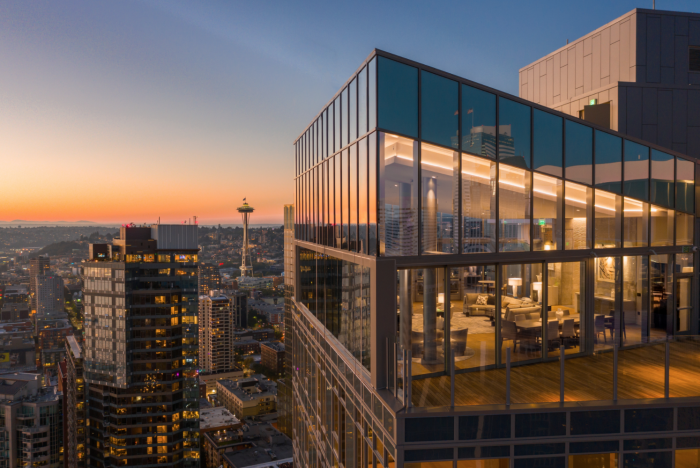 Cory Holland, Clarity NW
A luxury high rise tower on downtown's reimagined waterfront has reached a new sales milestone. Following a successful first half of 2021, The Emerald has surpassed a total of $50M in sales in the first two quarters of this year alone. Driven by the continued demand for high-rise downtown living on Seattle's reimagined waterfront, The Emerald's continued transaction velocity confirms its position as the city's fastest-selling and most attractive downtown residential high-rise available to buyers in today's current market.
The building opened in late 2020 and has since offered an elevated level of high-rise condominium living to its homeowners through unrivaled amenities and unobstructed views of the Puget Sound while bringing Seattle's natural shape and environment through its modern design.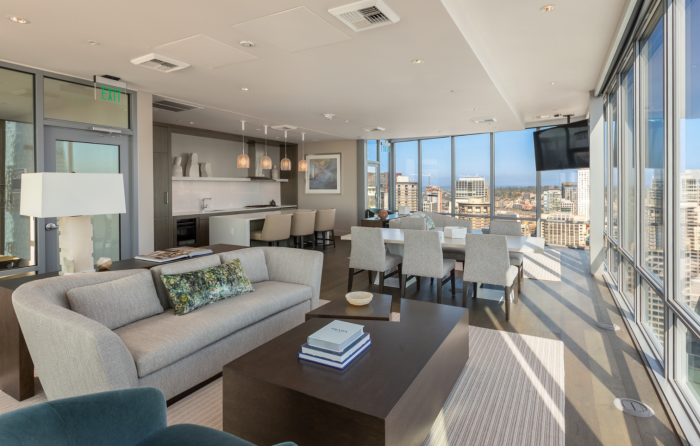 Cory Holland, Clarity NW
Developed by Create World Seattle and a world-renowned Seattle-based design team, Julia Nagele of Hewitt Architects and Susan Marinello Interiors, The Emerald's remaining private residences comprise a variety of floor plans including studios-, one-,two- and one-bedrooms with dens starting from $434,000. Featuring the finest finishes, residences offer wide-plank European White Oak hardwood flooring, custom wood cabinetry with integrated lighting, and quartz counter tops. Residences also include spacious walk-in closets, Latch touchless and keyless entry technology for seamless and secure access, and floor-to-ceiling glass window allowing abundant natural light and incredible views.
The Emerald's success in the Seattle market is in part to the beautiful surrounding landscape which informed the overarching design theme. Nagele and her team used the project's site dimensions as opportunities for clear straightforward architectural expressions. As a result, the massing of the building reflects the various angles of Seattle's grid with the materials mirroring the natural landscape surrounding both the Puget Sound and the grit of the city.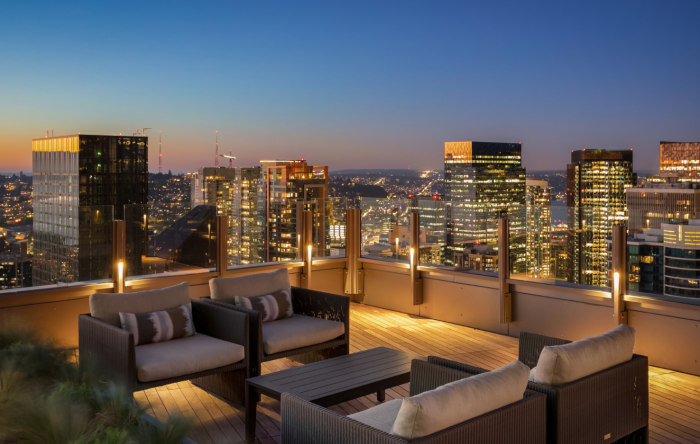 Cory Holland, Clarity NW
The Emerald's central location has also provided easy access to homeowners to a vibrant mix of fresh markets, top-rated restaurants and bars, world-class museums, galleries and more. Showing the best of what Seattle has to offer, The Emerald buyers are planting their roots within one block of the waterfront's future redevelopment, which will include the future overlook walk, the Seattle Aquarium Ocean Pavilion and various plazas and parks along the boardwalk.
The Emerald is now selling and move-in ready. Contact the sales team today for the latest availability and to schedule a tour of the building.