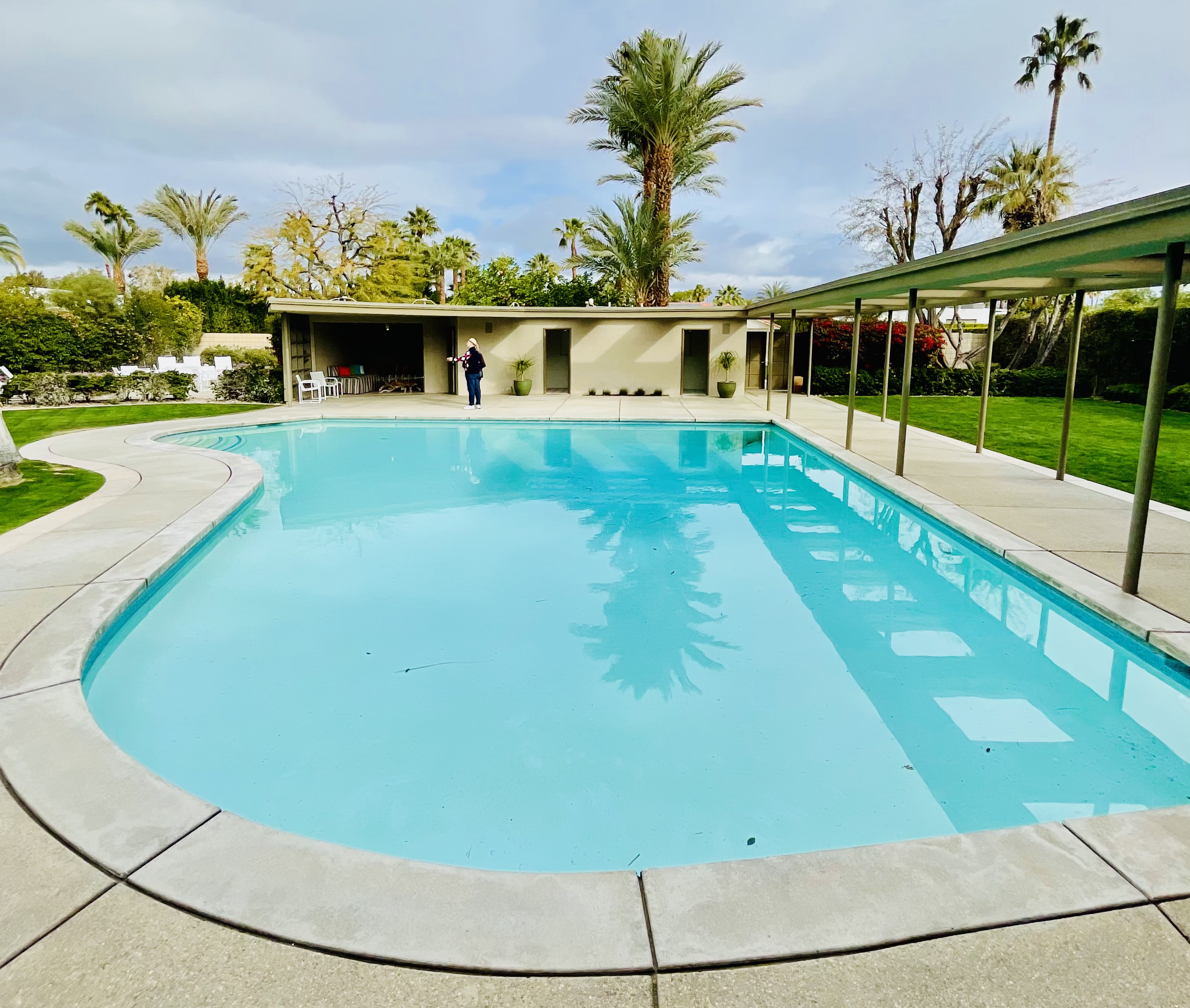 Jill Weinlein
When Hollywood Studios created a "Two-Hour Rule" where actors under studio contract could only travel within a two-hour drive, in case they were needed back at the studio, Palm Springs became the ideal destination for some fun in the sun.
Legendary crooner Frank Sinatra and his Rat Pack friends made Palm Springs their second home in the late 1940s. Ol' Blue Eyes commissioned the most sought after architect of the day, E. Stewart Williams to build a mid-century style home with a piano shape swimming pool.
The entertaining 4,500 square feet compound in the Movie Colony area of Palm Springs, was the famous crooner's primary residence from 1948 to 1957. It became a desert playground for his celebrity friends seeking an escape from the pressure of show business. Others who lived nearby included actor Cary Grant, comedian Jack Benny and singer and comedian Al Jolson.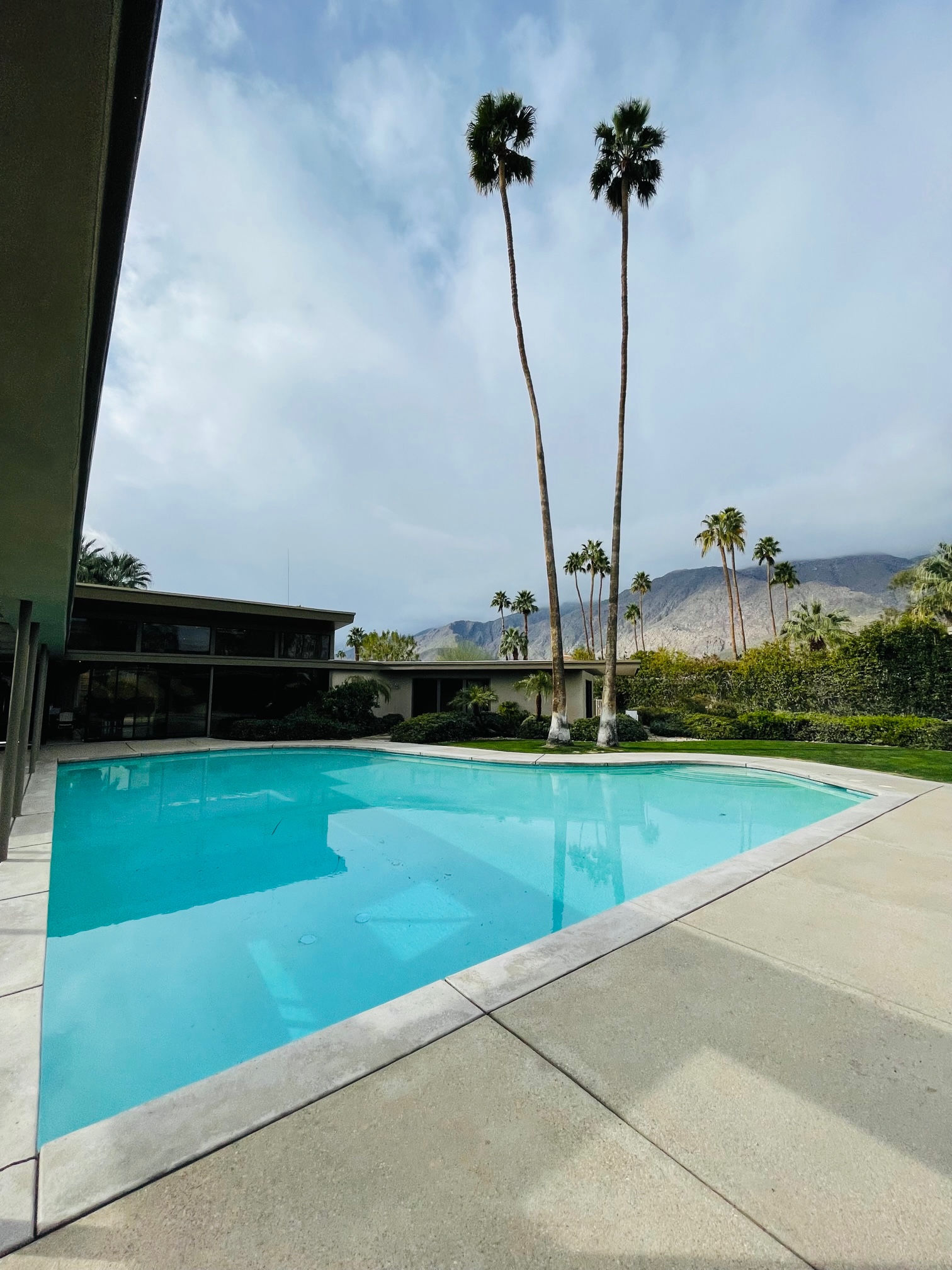 Open to the public during Modernism Week in February, ticket holders learn about 'Swoonatra's' life in the desert as they tour his home. 'Everyone who knew Frank knew his favorite drink was Jack Daniels,' said a docent welcoming groups at the entrance. 'He raised a Jack Daniels emblem flag on a flag pole between the two palm trees to invite his neighbors and friends over for cocktails, music and fun.'
Off the iconic shape pool at Twin Palms is a pool house with a kitchenette, and his-and-hers cabana-style bathrooms.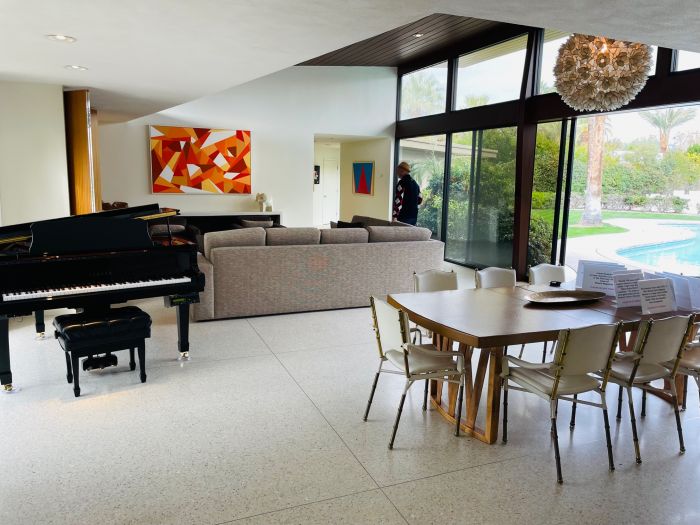 Jill Weinlein
The four bedroom home has seven bathrooms and a fireplace in every room 'for heat, since there was no central heat' said the docent. 'Furniture is low to the ground, and Terrazo tile flooring were both in style at the time.'
This Frank Lloyd Wright inspired floor plan allows the outdoors to blend with the interior, especially when the clear floor-to-ceiling sliding glass doors open onto an expansive pool deck for easy entertaining.
Jill Weinlein
It's a step back in time with beautifully restored period furnishings, and the original recording studio installed by Valentino Electronics in Hollywood displayed in the living room. One can picture Sinatra at the beautiful black grand piano singing 'Come Fly With Me'.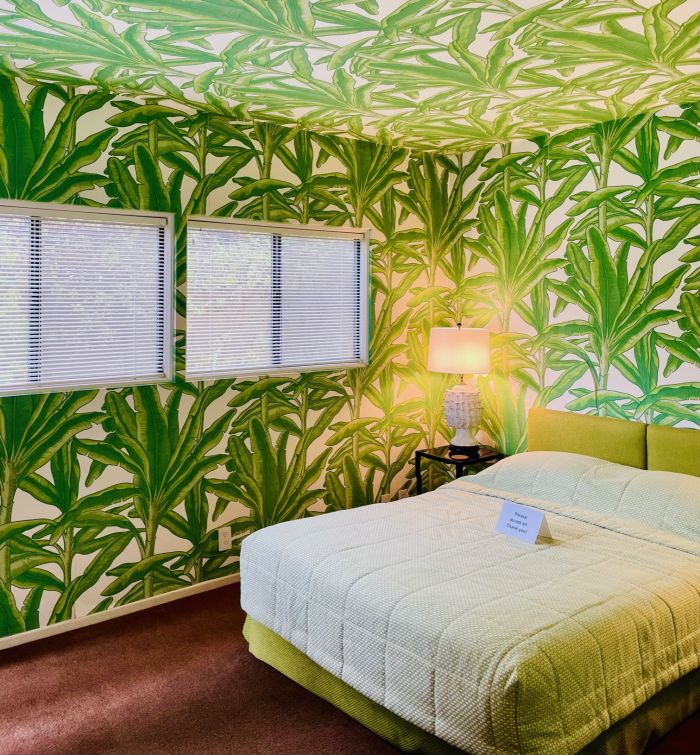 Jill Weinlein
Wallpaper also reflects a sign of the times. According to production notes, the 1950 Joan Crawford movie, 'The Damned Don't Cry' was filmed in this house. Each bedroom has its own ensuite and is uniquely decorated.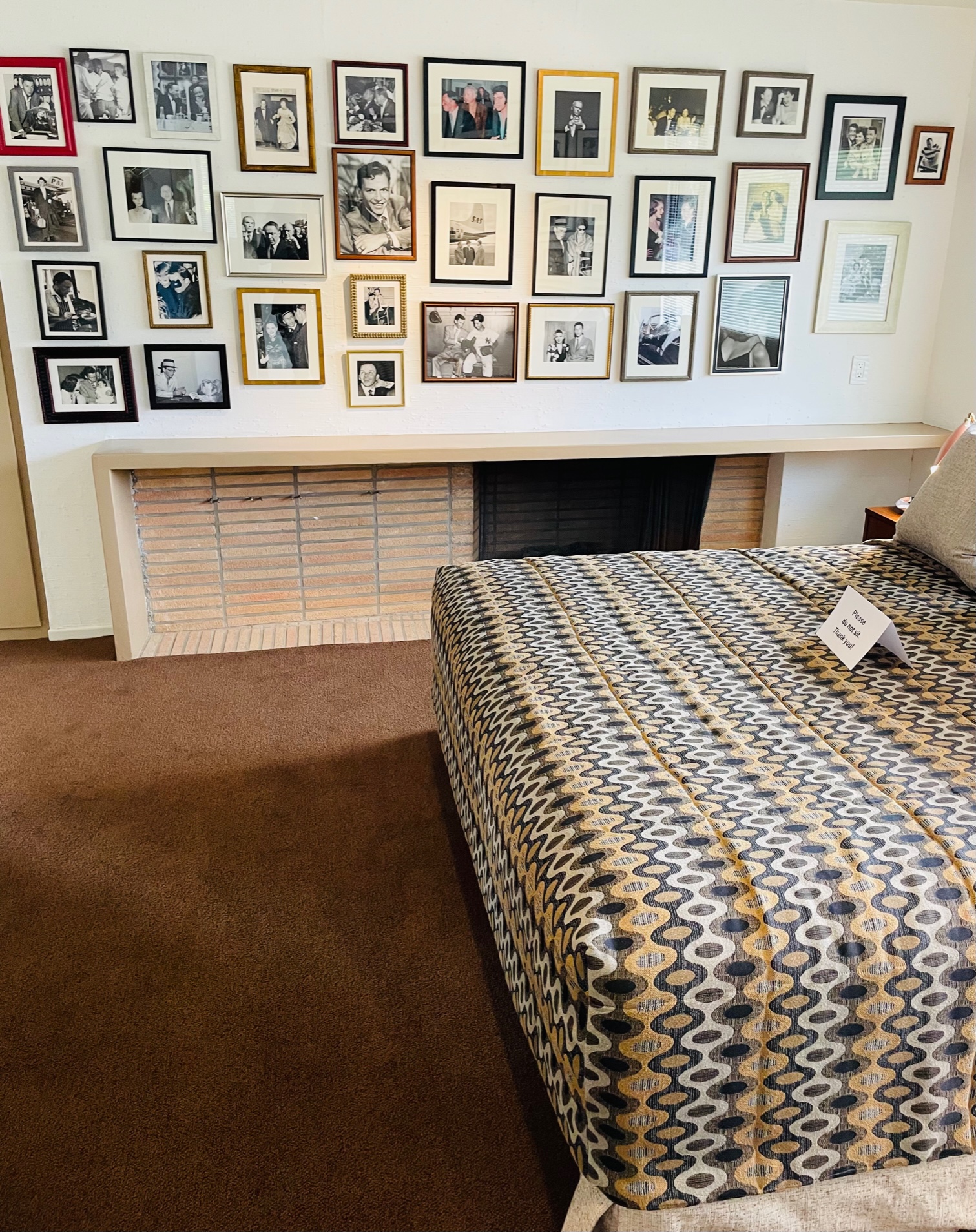 Jill Weinlein
Sinatra photos and personal paintings are displayed on walls in every room and hallway.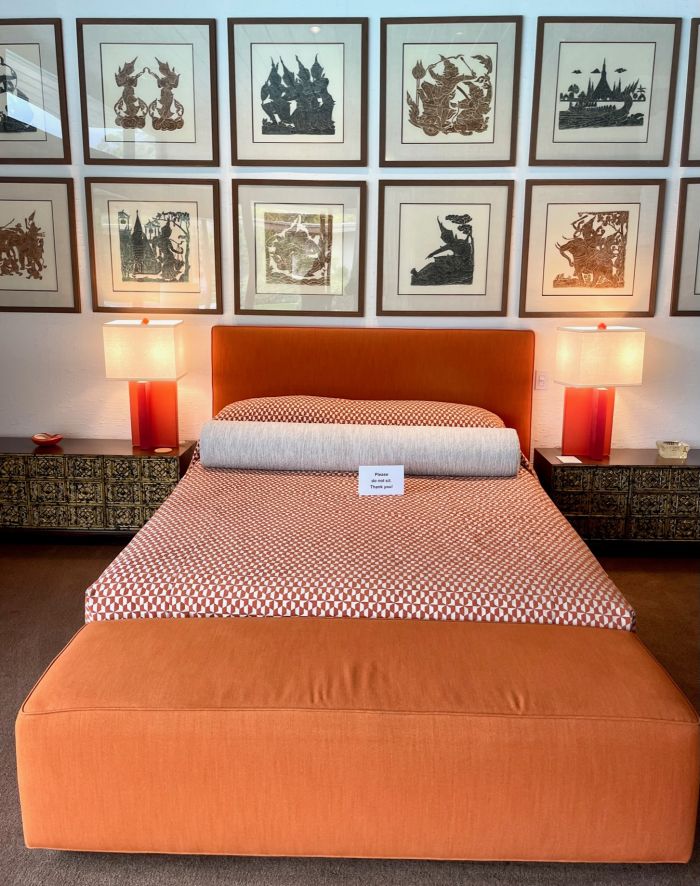 Jill Weinlein
Walking into the master suite, a torrid tale about a possible cheating scandal was illuminated by the docent. 'Sinatra came home one day and became extremely upset with his second wife Ava Gardner.' These two were married from 1951 to 1957, and according to the docent, 'They loved hard, but also quarreled and endured stormy bursts of jealous rage.' The docent shared how Sinatra 'took her clothes and some possessions out onto the street and set them on fire for all to see.'
Jill Weinlein
Walking into the Pepto Bismol pink colored master bathroom, a very popular color of the time period, the docent pointed to a crack and chip in one of the bathroom stand alone sinks. 'It's rumored that Frank threw or slammed a champagne bottle into this sink during a heated argument with Gardner.'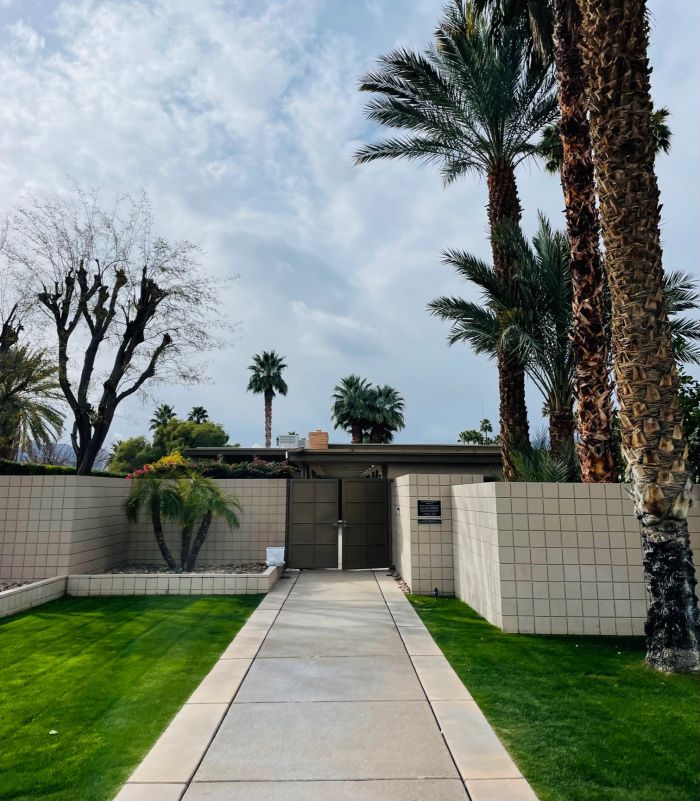 Jill Weinlein
The legendary Twin Palms is available for private tours for 20 or more people, as well as a vacation rental, wedding site, dinner party venue, corporate retreats, commercial photo and media shoots. Contact Natural Retreats for seasonal rental price information.
To learn more about Modernism Week, go to Visit Greater Palm Springs.