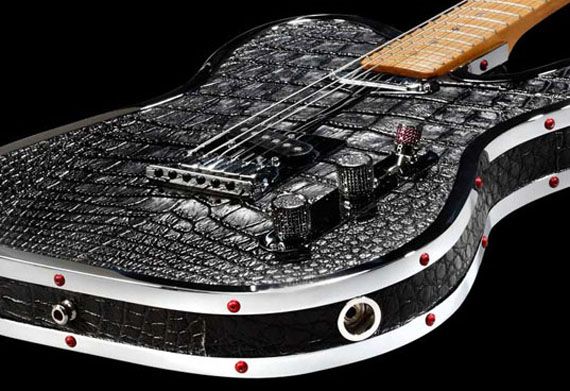 Rock Royalty, a new Nashville-based luxury design house that manufactures one-of-a-kind, custom guitars, is offering the ultimate in rock star decadence: an $85,000 custom alligator skin, diamond and sterling silver
Fender
Telecaster.
The eye-popping instrument comes wrapped in exquisite natural black alligator skin from Louisiana. It contains Rock Royalty's patent-pending steel cage with chrome finish and red aluminum screws. It also features black diamond and sterling silver volume knobs, a selector switch set with rubies, and six handmade diamond tuning keys set in sterling silver, finished with black ruthenium.

Though undoubtedly the most exotic, it's not in fact the most expensive of Rock Royalty's offerings; that would be the custom Gibson Les Paul for $125,000, set with almost 50 carats of black and white diamonds. While fully functional, the company also caters to guitar collectors and jewelry aficionados who wish to enjoy them as objects d'art.

They promise never to duplicate a design so that each piece remains totally unique. The Telecaster and Les Paul are two of nine original designs created for the brand's debut; other models come wrapped in stingray skin and various other exotic finishes.