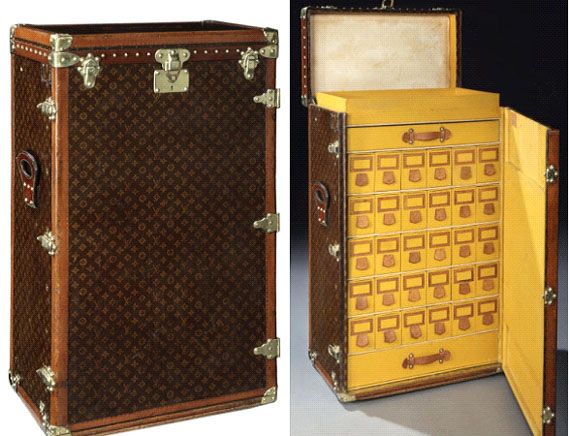 Photo Courtesy of Pullman Gallery
A rare and highly sought-after piece of vintage
Louis Vuitton luggage
, the renowned "Malle Chaussures" shoe trunk from the 1920s, is being offered for sale by London's Pullman Gallery for $68,500 in the wake of a recently published landmark work on Vuitton trunks.
The trunk embodies the glamour and sophistication of a more elegant era, when such items were de rigeur for wealthy travelers. Featuring the iconic LV monogram on its canvas-upholstered frame, the trunk is fully outfitted to facilitate the most meticulous fashion plate. It contains compartments for 30 pairs of shoes in individual shoe boxes with ancillary drawers and trays for a shoe-cleaning kit.

Each of the padded drawers features a leather pull tab and nameplate. At the time Vogue and Harper's Bazaar declared the "Malle Chaussures" to be the ultimate symbol of Parisian chic and a requisite travel accessory of every truly stylish woman.

Meanwhile Abrams has just published an impressive book on Vuitton's work, showcasing exclusive items such as this. Louis Vuitton: 100 Legendary Trunks by Pierre Leonforte and Eric Pujalet-Plaa features over 600 images of these incredible creations. The trunk on offer from Pullman's easily rivals the examples to be found in Vuitton's own collection.

Visit www.pullmangallery.com to learn more.