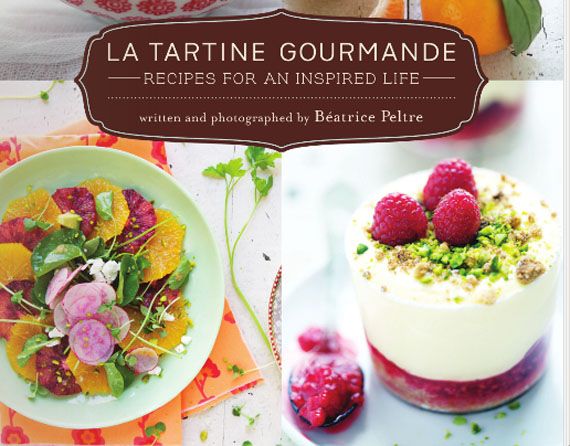 Photo Courtesy of Shambala Books
It's hard not to be envious of Beatrice Peltre and her food-centered life. Peltre has blogged for years on La Tartine Gourmande, gathering fans of her French rustic cooking style and her
beautiful photography
and gaining a career as a food stylist, recipe developer and food writer.
Her book is rich in photos and stories, a culmination of years of cooking and eating. Fitting today's trend of the moment, the recipes are gluten-free and feature a wide variety of flours. She also gives instructions on using these new ingredients in concert to make baked goods that can stand toe-to-toe with wheat-based products.
Peltre isn't reinventing the wheel here. She's a gentle artisan, taking what already exists and tweaking it a bit, making the old favorites newly delightful. Her French food is the food of the farmer and the worker. The recipes are basic, accessible and satisfying. You will find crepes and a savory twist on tarte tatin but also soups and many different types of tartine, the open-faced sandwich that gave the blog and the book their name.
Some ideas are particularly inspired such as the thin omelets studded with sliced nori and used as crepe-like wrappers for vegetable filling. It's her use of specific details that makes the ordinary soar, for example, her potato salad calls for quail eggs and pink radishes. Peltre excels at taking a traditional recipe and adding modern ingredients to take classic to the next level such as her sponge cake enlivened by grated Tonka bean.
The photography in the book is both realistic and lush but definitely more geared toward aesthetics than instruction. They help set the mood that this book is both a cookbook and an experience. The images and recipes are meant to inspire deviation and Peltre gives ways to swap out certain ingredients depending on the situation. The book serves as a lovely primer for the enjoyment of both food and life; it is a delight to be savored. Although the book is not out until February you can order through a dedicated website,
LaTartineGourmandeBook.com
, and get it without having to wait until the new year.