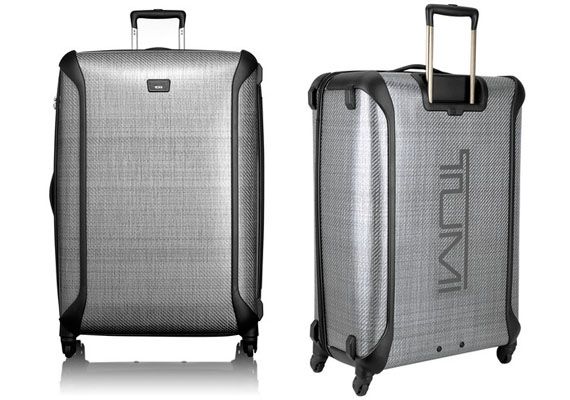 Photo Courtesy of Tumi
These
luggage
and traveling accessories by Tumi demonstrate that electronic gadgetry is not the only place where smarter technology is making better products. The same company that in the 1980s introduced carrying cases for travelers made of ballistic-nylon, presents its latest innovation with the Tegra-Lite collection.
These lightweight and rugged traveling cases are made of a trademarked, polypropylene-thermoplastic composite called Tegris. This material produces luggage that would be capable of enduring just about anything that rough-handling airport personnel or scurrying hotel staffers could toss its way. 
The same material used in the making of vital lifesaving armor and protective gear that both NFL players and NASCAR drivers wear can be found in the Tegra-Lite pieces. This composite provides up to 15 times the impact resistance of other thermoplastics composites and maintains such consistency at temperatures as low as -40 degrees Fahrenheit or Celsius.
According to Tumi, Tegris weighs less than typical thermoplastic composites due to it being 100-percent polypropylene, making it less dense than other glass-filled composites. The company worked for years with Milliken, the chemical company that created Tegris, in bringing the Tegra-Lite collection to market. Tumi has worldwide exclusive rights on using Tegris for travel and accessory products.
The Tegra-Lite collection, which is priced from $595 to $795, will be available at Tumi locations nationwide this spring. For more information, visit
Tumi.com
.