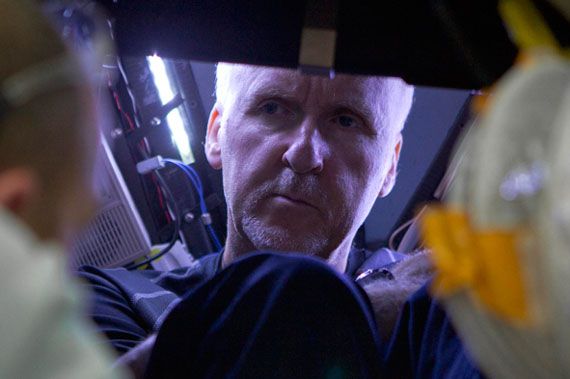 Photo Courtesy of Deepsea Challenge/National Geographic
Filmmaker James Cameron will attempt to reach the world's deepest point beneath the ocean?s surface with the launching of the
Deepsea Challenge
. The dive will take place about 200 miles southwest of Guam in the Pacific Ocean.
The
Deepsea Challenge
is a collaborative scientific research project by James Cameron, Rolex, and the National Geographic Society. The mission is to conduct deep-sea, scientific research at Mariana Trench, which is the world?s deepest point beneath the ocean?s surface at approximately 6.8 miles. This will be the first extensive exploration by a manned vehicle to Mariana Trench, the Challenger Deep.
Cameron will make the historic dive in his own specially designed submersible, the
Deepsea Challenger
. He is planning to spend six hours at the bottom of the Pacific Ocean collecting samples for research in marine biology, microbiology, astrobiology, marine geology, and geophysics.
"The deep trenches are the last unexplored frontier on our planet, with scientific riches enough to fill a hundred years of exploration," said Cameron. "National Geographic, which has been exploring the world for nearly 125 years, is the ideal partner to help usher in a new era of deep-ocean research and exploration that supports leading scientific institutions in answering questions about the deepest, unexplored parts of the Earth. Our goal is to build a scientific legacy for generations to come. It's also to inspire people across the globe to celebrate exploration and to explore with us online and through the media we produce."
The Challenger Deep has been reached only once previously in a manned descent. It occurred on January 23, 1960. U.S. Navy Lt. Don Walsh and Swiss oceanographer Jacques Piccard spent 20 minutes on the ocean?s floor in the bathyscaphe, the Trieste. In 1960, an experimental Rolex Deepsea Special watch was attached to the hull of the Trieste and emerged in perfect working order. The 
Deepsea Challenger
will carry a new experimental wristwatch, the Rolex
Deepsea Challenge
, strapped to its manipulator arm.
"Our affinity with the deep also extends to active and sustained support of renowned marine researchers, supporting excellence and innovation in the advancement of human knowledge," said Gian Riccardo Marini, CEO of Rolex SA. "I am convinced that James Cameron is bringing us to the threshold of a long-delayed revival in marine exploration. We are proud to have such a passionate and longstanding admirer of Rolex, and to return to the Challenger Deep on this historic venture to help unravel the secrets of the ocean's deepest places." For more information on the exploration, visit
DeepseaChallenge.com
.
{start-jlvideo}493{end-jlvideo}