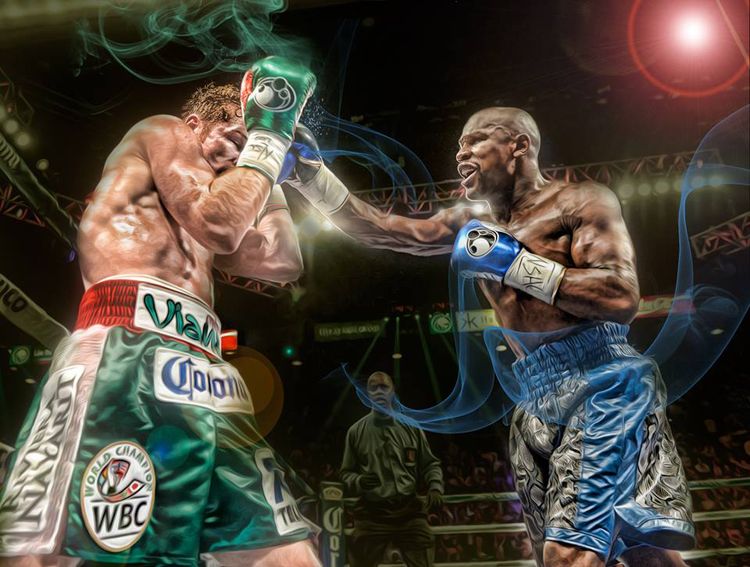 Photos Courtesy of Floyd Mayweather Jr. Facebook
The days leading up to the
Floyd Mayweather Jr.
vs Saul "Canelo" Alvarez fight were filled with speculation as to the winner and the resulting overall profits. Taking place in Las Vegas at the
MGM Grand
on Saturday, the boxing match reached a level of hype usually seen reserved for the Super Bowl. Although known for his quick feet and expert dodging movement, Mayweather wasn't necessarily the top choice to win AT 36-years-old, but in the end Canelo's powerful punches didn't stand a chance. Not only did Mayweather blow his opponent out of the ring, this fight raked in record-beating profits from all corners.
Mayweather took control of the fight the moment the opening bell rang, pounding and dismantling the heavier Canelo. Favored 117-111 and 116-112 on two ringside scorecards, with a third reading 114-114, the champion remains unbeaten in 45 fights. Though he already had a guaranteed paycheck of $41.5M regardless of the outcome (Alvarez was guaranteed $6M), Mayweather could stand to pull in as much as $100M once his portion of the pay-per-view receipts are tallied, according to Mayweather Promotions chief Leonard Ellerbe.
Forbes
thinks that even if he ends up netting less, let's say $70M, Mayweather's career earnings will still be estimated at around $350M. As the richest athlete around today, Mayweather will only get wealthier after his next four fights, which will be the last of his six-fight deal with Showtime — probably pulling in over $150M from those alone.