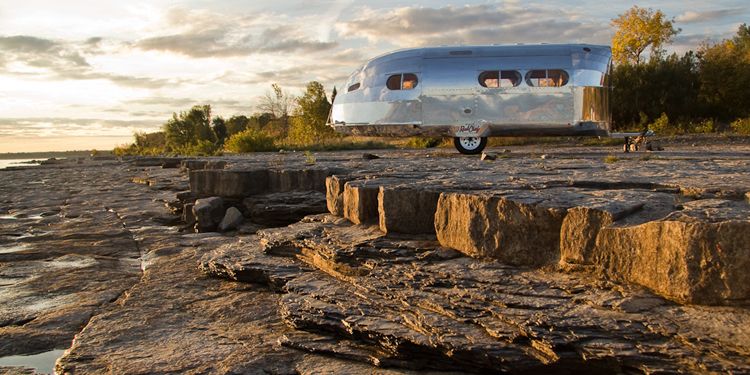 Photos Courtesy of Bowlus Road Chief
The Bowlus Road Chief, which originally launched in the 1930s, was one of the lightest and most aerodynamic travel trailers ever built. Made by Hawley Bowlus, the designer of Charles Lindbergh's Spirit of St. Louis, it was the first all-aluminum riveted travel trailer and established a precedence that set the standard for all American trailers it preceded. Businessman John Long, who calls himself a serial entrepreneur, redesigned and re-launched the classic Road Chief for the modern era.
The new Bowlus Road Chief stays true to its pedigree with a lightweight, aircraft-grade aluminum construction and a teardrop shape. Otherwise, it has been fully updated to suit the 21st century traveler. The modern Road Chief is larger, with 76 inches of headroom, yet it weighs less than 2,000 pounds and is small enough to fit in a standard garage. The company claims that the trailer is light enough that it can even be towed by a Fiat 500.
It comes with an expandable full bathroom, a cook's kitchen, birch flooring and paneling, stainless steel countertops, wireless antennas, power ports and LED lighting. It also has polystyrene-insulated walls to keep the heat out in the summer and trapped inside during winter. John Long's unique design features a showerhead that can be passed through the emergency exit for outdoor use, and it maximizes natural light through the windows and skylights, which eliminates the need to use electric lighting during the day.
Owners have the choice of other premium options, such as a mirror-shine or satin exterior, and the ability to personalize their Road Chief by naming it and having that name imprinted on the camper's fender skirt. It sells for $100K.