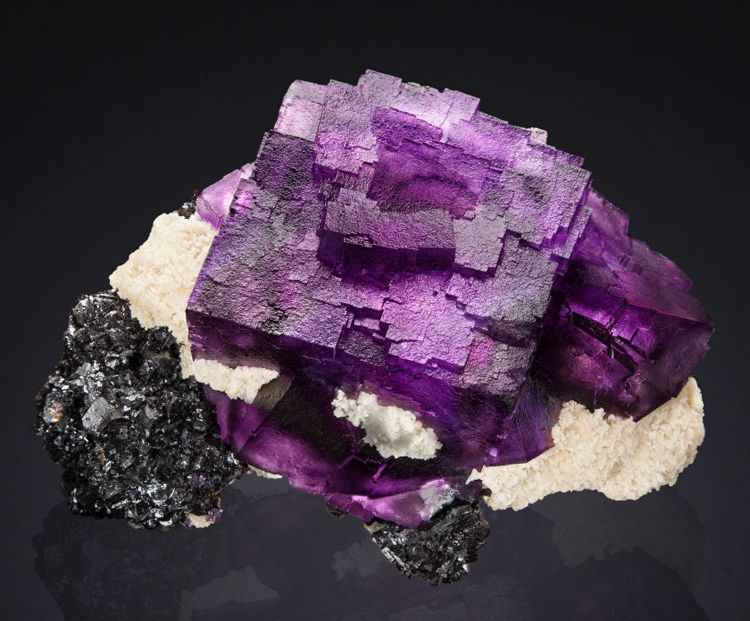 Photos Courtesy of Heritage Auctions
The term "rock stars" is redefined as these mineral specimens netted more than $2M at Heritage Auctions' Nature & Science auction on October 19-20 in Dallas, Texas. A purple fluorite specimen that measures out to a five-inch square of barite, sphalerite, and calcite crystal accents that sold for $125k was the highest-priced lot of the two-day event.
"Now is the time to consider consigning high-grade examples of fine minerals," said James Walker, director of nature and science at Heritage. "Established collectors are looking for unique items for their collections and we're seeing a whole new community of collectors getting ever more comfortable purchasing exotic varieties through [Heritage Auctions]."
A legrandite specimen uncovered in Mexico sold for $93,750 and a tourmaline spray found in Brazil went for $81,250. Other highlights included a specimen of yellow sulfur sitting on a block of dark calcite, mined in Sicily, which sold for $68,750. A rose quartz on quartz from the private collection of scientist and author Fred Pough sold for $37,500. A seven-inch translucent crystal from the Brazilian aquamarine fetched $35k, and a Marra Mamba tiger's-eye sphere from Western Australia tapped out at $22,500.
Fossils and natural history specimens also were sold in addition to the fine mineral specimens. A gem ammonite in matrix, estimated to be 70 million years old was the leader in this category and sold for $40,625. Additionally, a rare ichthyosaur fossil unearthed in Germany transacted for $35k. An egg from an extinct elephant bird (an animal that inhabited the island of Madagascar) sold for $31,250, and a wall-size plate containing the preserved fossils of 10 fish representing two different genera realized $23,750.
Rare meteorites also were included in the lots, including the heralded Sikhote-Alin meteorite from Russia, which was part of the largest meteor shower known in the history of mankind history, which fetched $13,750. A Gibeon meteorite that was found in Namibia and a large Odessa meteorite both slotted in the sold for $23,750 and $21,250, respectively.