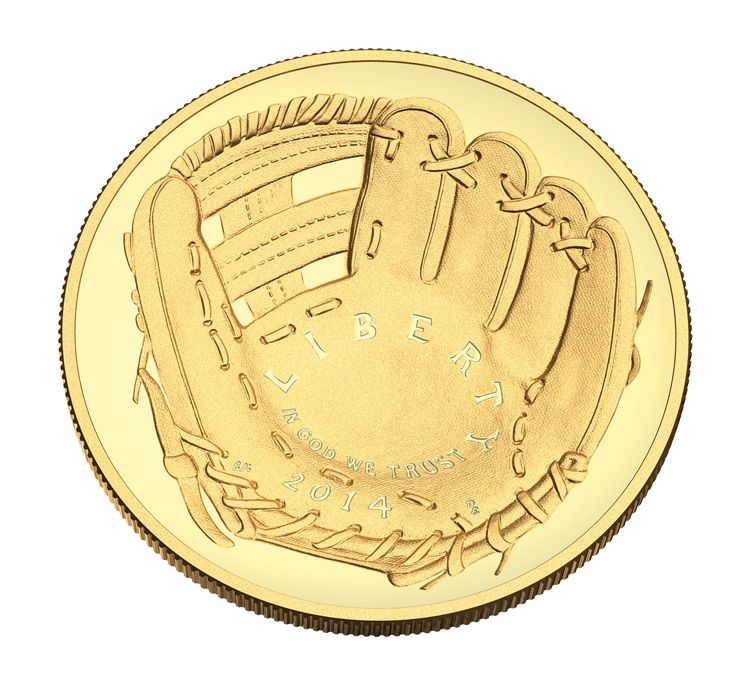 Photos Courtesy of United States Mint
For years baseball has been regarded as America's favorite pastime and has long since attracted die-hard fans. The sport that introduced us to the curve ball will soon have matching curved coins, sure to be an immediate collector's item. According to the U.S. Mint, a series of curved coins will be available in 2014. Though a curved gold medal was produced in 1973 to honor Roberto Walker Clemente, a member of the Pittsburgh Pirates and the National Baseball Hall of Fame, this will be the first time ever in U.S. history that a coin produced by the mint will have a curvature built into it.
The coins will be issued this year to commemorate the 75th anniversary of baseball's Hall of Fame. The designer of the new-shaped baseball-centric coin, Cassie McFarland, won a nationwide competition that was held to determine the winning design in early September. The common obverse, also know as "heads," will feature a baseball glove and the common reverse (tails) depicts a baseball reminiscent of a major league ball. The head side is concave and the tails side is convex.
There will be a $5 gold coin, a $1 silver coin, and a half-dollar clad coin — which is a mix of 92 percent copper and 8 percent nickel. The half-dollar coin will have the highest mintage limit, producing 750,000 across all options. According to the U.S. Mint, 400,000 of the silver-dollar coin will be minted and only 50,000 of the $5 gold piece will be made.
The silver dollar is 90 percent silver and 10 percent copper; while the $5-gold coin is 90 percent gold and 10 percent alloy. The gold coin is the lightest, weighing 8.359 grams, while the silver coin is the heaviest at 26.73 grams and the half-dollar weighs 11.34 grams. Surcharges for each coin sold will be paid to the National Baseball Hall of Fame, an independent not-for-profit educational institution, to help fund its operations. Surcharges per coin are $35 for gold, $10 for silver, and $5 for each half-dollar.