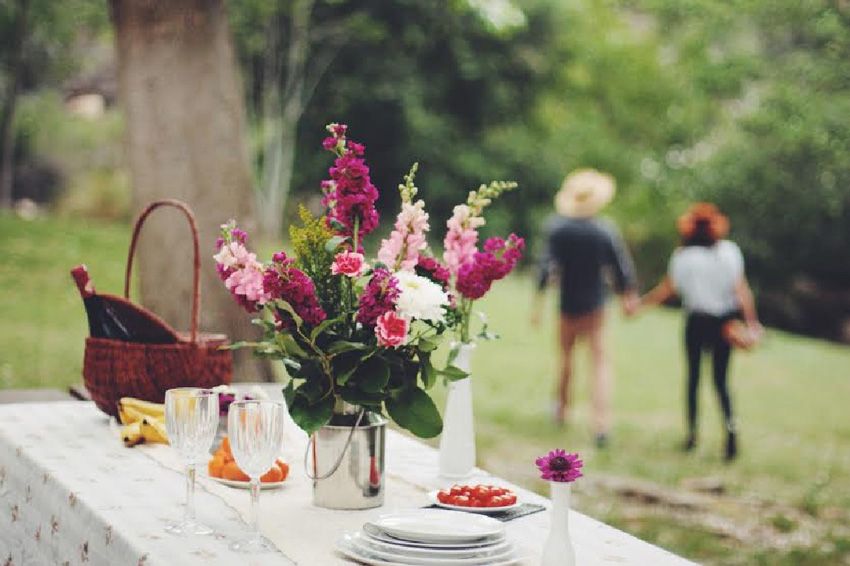 Photo Courtesy of Rust & Thistle
There's a scene in the BBC miniseries Parade's End, where a group of upper class people (including Benedict Cumberbatch, of course) have a lavish picnic in the English countryside, surrounded by picturesque rolling hills. Unlike the picnics you may remember as a child, where your parents laid out a blanket and pulled simply prepared snacks from a wicker basket, this picnic involved a full dining room table with chairs and place settings. Though far more lavish than most would set up, with attendees waiting to be of service, the scene did make us want to immediately plan a luxury picnic for our friends and family.
There's something to be said for eating out in the open air, whether you lay a spread out under your favorite tree in the middle of a field or set it up on your back deck. You can go all out and use a table or keep it simple with some excellently placed flower arrangements if you want a more naturalistic vibe. Regardless of the look you're going for, we've found some excellent ways to bump your next picnic up from dull to memorable!
Photo Courtesy of Rust & Thistle
Flower Arrangements
Just because you're outside, doesn't mean your picnic doesn't need flowers. Flowers are the quickest way to glam a meal up, and one of our favorite companies where JustLuxe is headquarted here in San Diego is Rust & Thistle. Utilizing everything from natural wildflowers to peonies and arranging them in things like standard crystal vases, unconventional bottles and vintage sugar bowls, their rustic arrangements can be customized however you want. Plus, they offer styling packages should you want your picnic to be something really memorable, like a marriage proposal or engagement photo shoot.
If you're not sure what you want, we recommend going for several bouquets of varying heights, or maybe even flower crowns, to give your setting some diversity. If you don't happen to be in San Diego, search for a florist in your area that showcases a unique personality or maybe has access to some unique flowers to really elevate the environment.
Photo Courtesy of Anorak
Kissing Robins Picnic Hamper from Anorak
We wouldn't be surprised if Zooey Deschanel has this Kissing Robins Picnic Hamper from Anorak ($156) in her home, just waiting for a whimsical picnic full of bubbles and full skirts. The wicker basket has a white cotton lining inside with a cute blue bird pattern and blue leatherette straps to hold the platting in place. It comes with settings for four people, including cutlery, plates, kissing robins napkins, and salt and pepper shakers.
Photo Courtesy of Satara
Satara Wine Bottle Holder
You're going to need something to keep your wine or bubbly chilled and we love the vintage wicker look of this Y560 Willow bottle holder ($44) from Satara. Not only does it come with a bottle opener (because that's the one thing people tend to forget and few things are quite so frustrating), it has full thermal insulation to maintain cooler temperatures and a carry strap to sling over your shoulder.
Photo Courtesy of Boska
Boska Outdoor Fondue Set
Fondue isn't just an inside treat anymore thanks to this Outdoor Fondue set from Boska ($80). You can use it as an appetizer for a much more lavish meal or the main event at a more minimal picnic. Made up of a large 1.8-liter pan, a flame distributer, fondue burner, steel frame and solid stainless steel handles, this model can hold enough delicious melted cheese to please four people at least (it also comes with stainless steel forks with mahogany handles).
Photo Courtesy of Tipplesworth
Tipplesworth Cocktail Case
If you're the type who has a record player in your living room or a straight razor in your bathroom, you may want to check out this Old Fashioned Cocktail Case from Tipplesworth ($305). This gentleman's suitcase-inspired trunk holds everything you need to create an Old Fashioned cocktail, from the whiskey and bitters to a y-shaped peeler and tumbler glasses. You may not want to plan your picnic in a super public place, like a crowded beach that may have drinking restrictions, but this would be great for more private locations.
Photo Courtesy of Amara Living
Flamant Picnic Basket
In an homage to traditional styles, this woven wood picnic basket from Flamant Home Interiors not only looks fantastic, but seems like it can hold quite a bit in its depths. With leather straps keeping everything in place, the basket comes with ceramic plates, glasses, a corkscrew and cutlery. Priced at $140, you can find it at Amara Living. If you don't like the plain plates that come with it, we love the mismatched look of different settings, so maybe check out some antique stores or estate sales to put together an eclectic picnic collection.
Photo Courtesy of Selki-Asema
Selki-Asema Cityboy Picnic Grill
If you want to do some actual cooking during your picnic, this Cityboy Picnic Grill ($219) from Selki-Asema is super sleek and minimal. The little white powder-coated steel grill can be carried around easily — or even hung off a bicycle grip — thanks to the oak handle and looks to have enough space to cook up a couple burgers or veggie skewers. Operating with small gas cartridges, this one-dial grill looks simple enough for anyone to figure out.
Photo Courtesy of Gourmet Trotter
The Gourmet Trotter
For bigger parties, you may want to forgo the more traditional basket and go with this luxury hamper called the Gourmet Trotter (around $658). Made up of three separate pod-like cylinders, which look a little like miniature hat boxes, you can fit everything from wine glasses and silverware to bottles and food stuffs. You can either carry them separately or use the accompanying golf trolley, where strong magnets and straps keep them stacked together. Once all of your supplies are laid out, you can even use the little trunks as tables (with a lace cloth draped over them, of course) for wine glasses and cheese trays.
Photo Courtesy of Oscar de la Renta
Kent Teak Cheese Board from Oscar de la Renta
No luxury picnic is complete without a board full of an array of tasty cheeses and fruits, and this Teak Cheese Board from Oscar de la Renta has a great classic look. We especially love the rope-like handles, bringing in a little nautical drama, perfect if you're planning on setting your spread up on the beach or heck, even on a luxury yacht. Just don't forget to pair some wines with your spread.
Photo Courtesy of Open Air Cinema
Open Air Cinema Outdoor Projector
Sometimes picnicking in your very own backyard is the best possible idea, especially when you hook up a movie projector for your very own midnight madness screenings. Open Air Cinema has several projector options, but we like their CineBox Lite Outdoor Theater System ($1,999), because it even comes with a screen that's super easy to set up.
Photo Courtesy of Restoration Hardware
Luxe Faux Fur Throw from Restoration Hardware
Of course, you can't have a picnic without a blanket! Sure, you can always roll up a really cool rug to take with you, but we still like the classic blanket look. Plus, it's going to be a lot more comfortable to sit on if you choose to forgo chairs. Restoration Hardware has plenty of throws and blankets to choose from, but we really love their Luxe Faux Fur Throws — especially the darker Coyote color ($79). Woven from finely spun strands of a combination of modacrylic, acrylic, and polyester, the company promises that this fake fur has the natural weight, color, and softness of the real stuff. Even though it is machine washable, try not to spill anything on it anyway. We recommend getting a couple so you have something to snuggle up with when it gets chilly.