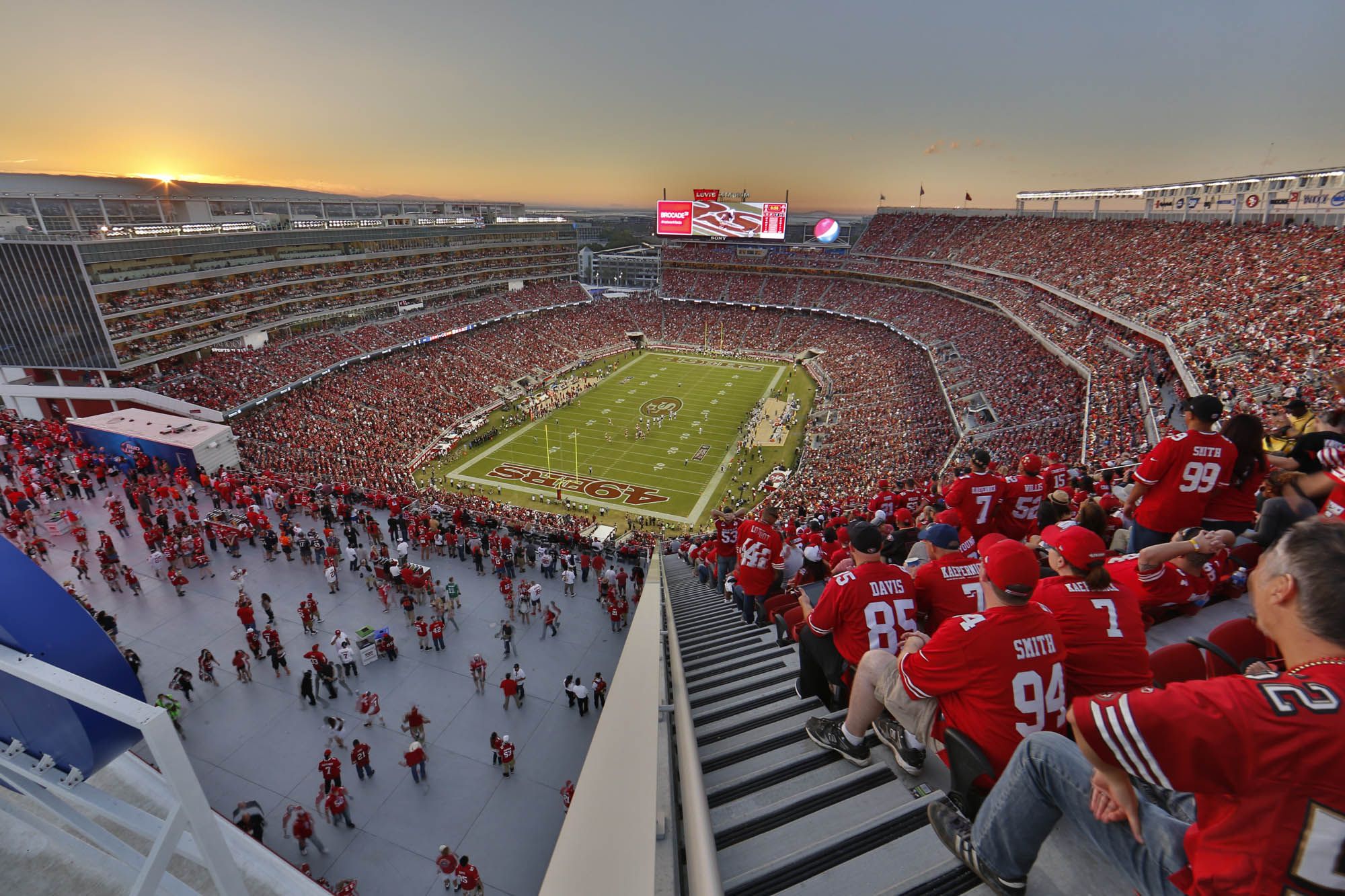 Photos Credit: Levi's Stadium
Home to the San Francisco 49ers, Levi's Stadium in Santa Clara, CA is always awash with a sea of red from fans showing their support of the team. The best way to get the full effect is to be way up high in a private box, especially if you will be attending Super Bowl 50 there. But that's getting ahead of ourselves, because the big game isn't until next year after all. If you're impatient though, Levi's Stadium does offer several tour experiences to get you in the "go team!" spirit, including a private group tour that takes you into the locker room.
Offered for groups of 20 or more (meaning it would be great for a company outing), the private stadium tour takes you behind-the-scenes of the state-of-the-art venue that opened just last year. You will get to check out the SAP Tower, premium club spaces, the field, the Verizon press level, NRG solar terrace, the 49ers museum and team store, and of course, the locker room (which probably won't be full of players; sorry).
Once you know the grounds like the back of your hand, you should definitely check out the special Super Bowl tours, like the VIP Experience Tour. While this includes nearly everything the above tour does, it also includes a meal at Michael Mina's Bourbon Steak and Pub—which is alone, worth it. Of course, though there is a beautiful dining area, the restaurant also has rooms hidden away from view that can be reserved. The Rice Luxury Loft costs $900 minimum for lunch and $1,800 minimum for dinner, while the Montana Luxury Loft starts at $1,500/lunch and $3,000/dinner. Other offerings include tours centered on the stadium's technology and art, a youth-driven offering, and birthday parties.
Tour prices depend on what exactly you're looking for, so contact Levi's Stadium Account Executive Parker Christian directly at Parker.Christian@49ers-smc.com or call 408-579-4419.