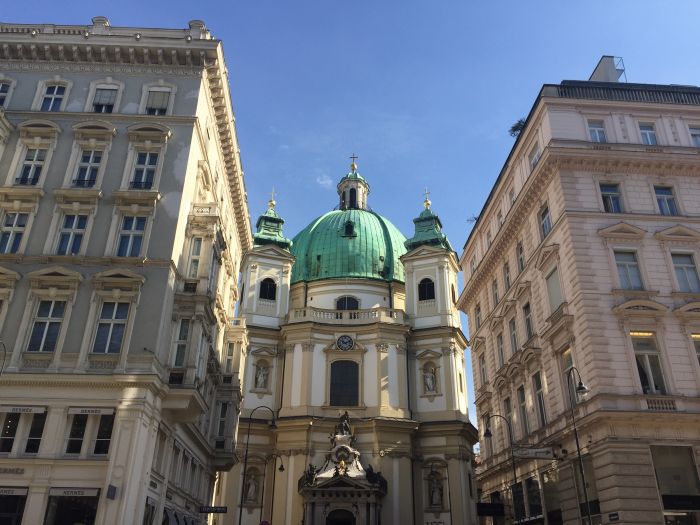 Cynthia Dial
Known as the land of imperial traditions, grand architecture, renowned composers, rolling countrysides and cobbled town squares, Austria is also a land of delicious food fare.
So, let's start in Vienna and visit a portion of this European nation – city by city, sip by sip and bite by bite. A nation bordered by eight countries and with a population of eight million, Austria's cuisine is influenced by its many neighbors, with Vienna no exception. Though uncommon to have a city-inspired cuisine, Vienna is a legendary exemption.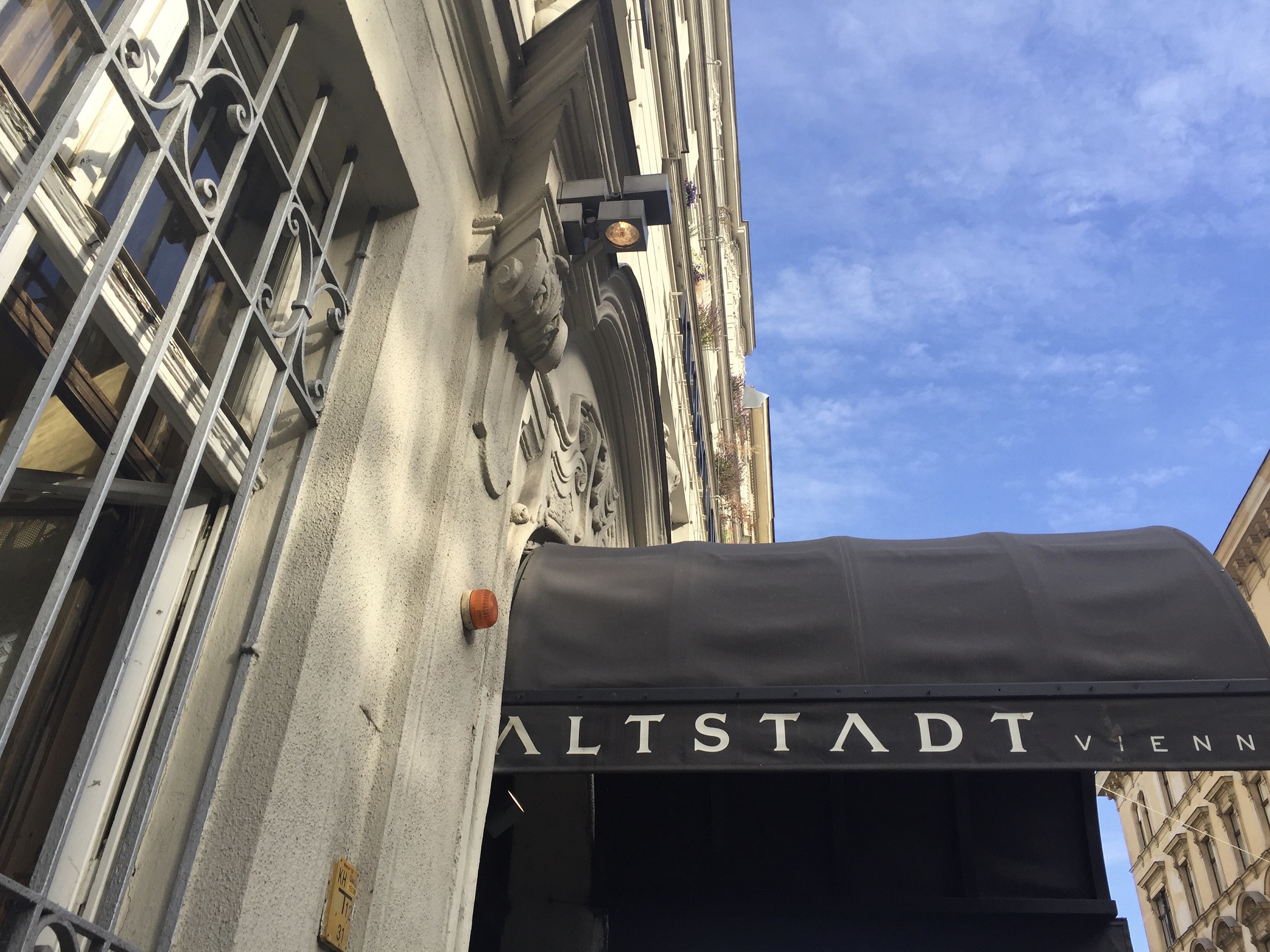 Cynthia Dial
With Altstadt Vienna as home base, a stay in this 27-year-old distinctively different hotel, known for its 50-plus uniquely designed rooms, is akin to an overnight in a museum. From its one-of-a-kind, original art to its colorful walls to its unexpected decorative touches, this centrally located boutique find represents all that embodies the Austria Hotel Collection – a family of hand-picked curated hotels offering the best of Austrian hospitality (and representing the hotels of this stay).
Cynthia Dial
Imagine this setting and you've imagined Vienna. Located on the Danube with vineyards surrounding the city, the historic city center is anchored at its exact heart by St. Stephen's Cathedral (Vienna's best-known landmark) and rounded by 22 districts which encircle this first and oldest district. The city overflows with such historical markers as 27 palaces, more than 150 imperial residences and 163 gardens. Among its many musical offerings are daily concerts at Schönbrunn Orangerie where Mozart once played, an array of year-round operas and performances by the 520-year-old Vienna Boys' Choir.
Among its more than 100 museums is the Belvedere Museum (home to the world's largest collection of Gustav Klimt paintings, including The Kiss), the Sisi Museum (original apartments and offices of Emperor Franz Joseph and Empress Elisabeth), the Imperial Carriage Museum, the Sigmund Freud Museum and the Old Vienna Schnapps Museum, offering the intoxicating opportunity to try assorted brandies and liqueurs.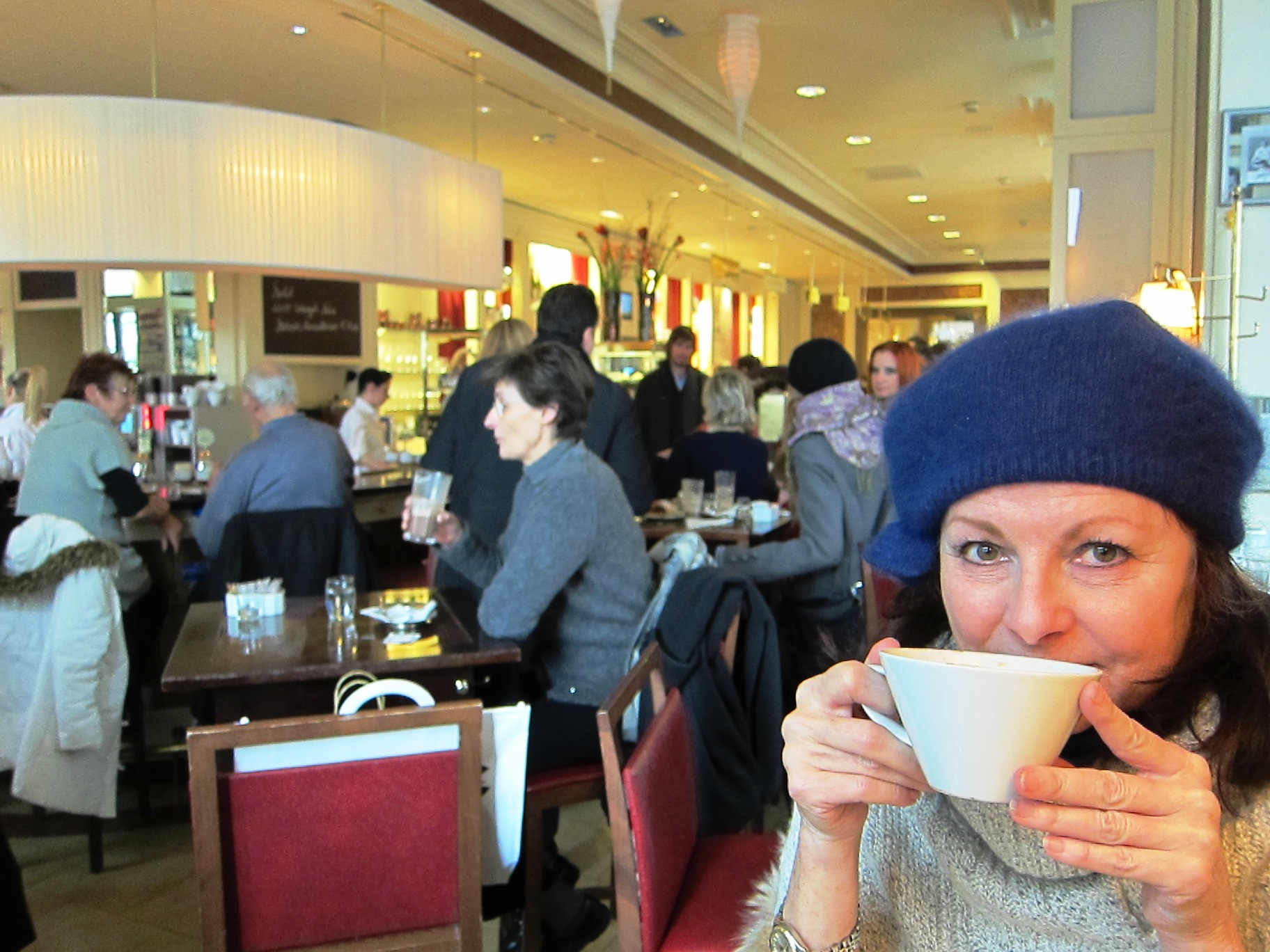 Erin Dial Peters
Of particular interest to its F&B enthusiasts, Vienna's rich coffee culture is anchored by more than 300 coffee houses, aloof baristas and a city of coffee evangelists. According to local food entertainer and chef Bianca Gusenbauer: "This is serious. Here, coffee means life." One of its noted establishments is Café Sperl, a former "coffee house of the year" where housemade sweets include apricot cake, apple strudel and Sacher torte (a chocolate cake, apricot jam and chocolate glaze recipe). A tip to blend into this cultivated culture is to order a mélange (a cappuccino-like drink with a thicker foam milk topping).
Vienna, like Austria, showcases food selections representing the very best traditions of Bohemia, Hungary, Italy and the Balkans. Among its most famous foods are wiener schnitzel (a veal cutlet coated in breadcrumbs, pan-fried in butter and typically served with potato salad), Tafelspitz (an everyday favorite of Emperor Franz Joseph, which is slow-boiled beef served with such sides as creamed spinach, chive sour cream and apple horseradish) and quark dumplings filled with apricot or plum jam. And complementing the food scene is that Austria has the highest percentage of organic winemakers on the continent.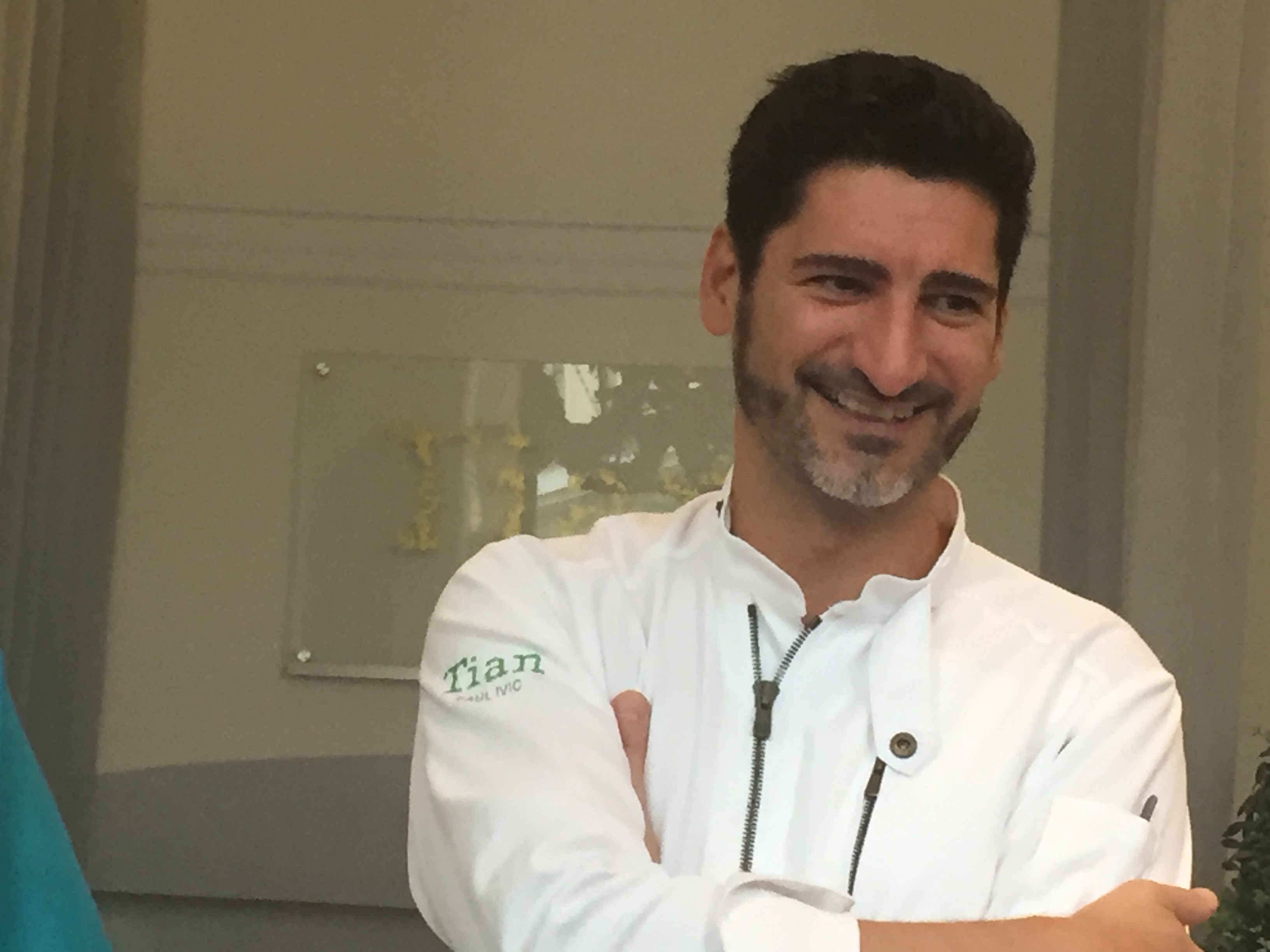 Cynthia Dial
Leading the way in 2017, Vienna was home to 10 Michelin starred restaurants and recognized by 116 Gault & Millau points. One such eatery is Tian, Austria's only Michelin-recognized vegetarian restaurant. Chef Paul Ivic explains his award-winning ingenuity: "I am very creative. I don't want to copy anyone."
The Steirereck in Stadtpark consistently ranks among the world's top 10 restaurants. Restaurant Umar, a seafood eatery in Naschmarkt (the city's largest and best-known market) showcases fresh fish because, though landlocked, this is a country of Alpine lakes, pristine rivers and unspoiled streams. For the less formal, approximately 70 sausage stands (the Viennese "Würstelstand") are scattered about the city. And if lucky enough to be in Austria during three select weeks in September and October (varies according to harvest), it's the season for Sturm –partially fermented wine. If timing is successful, such signage as "Sturm has arrived" will provide confirmation.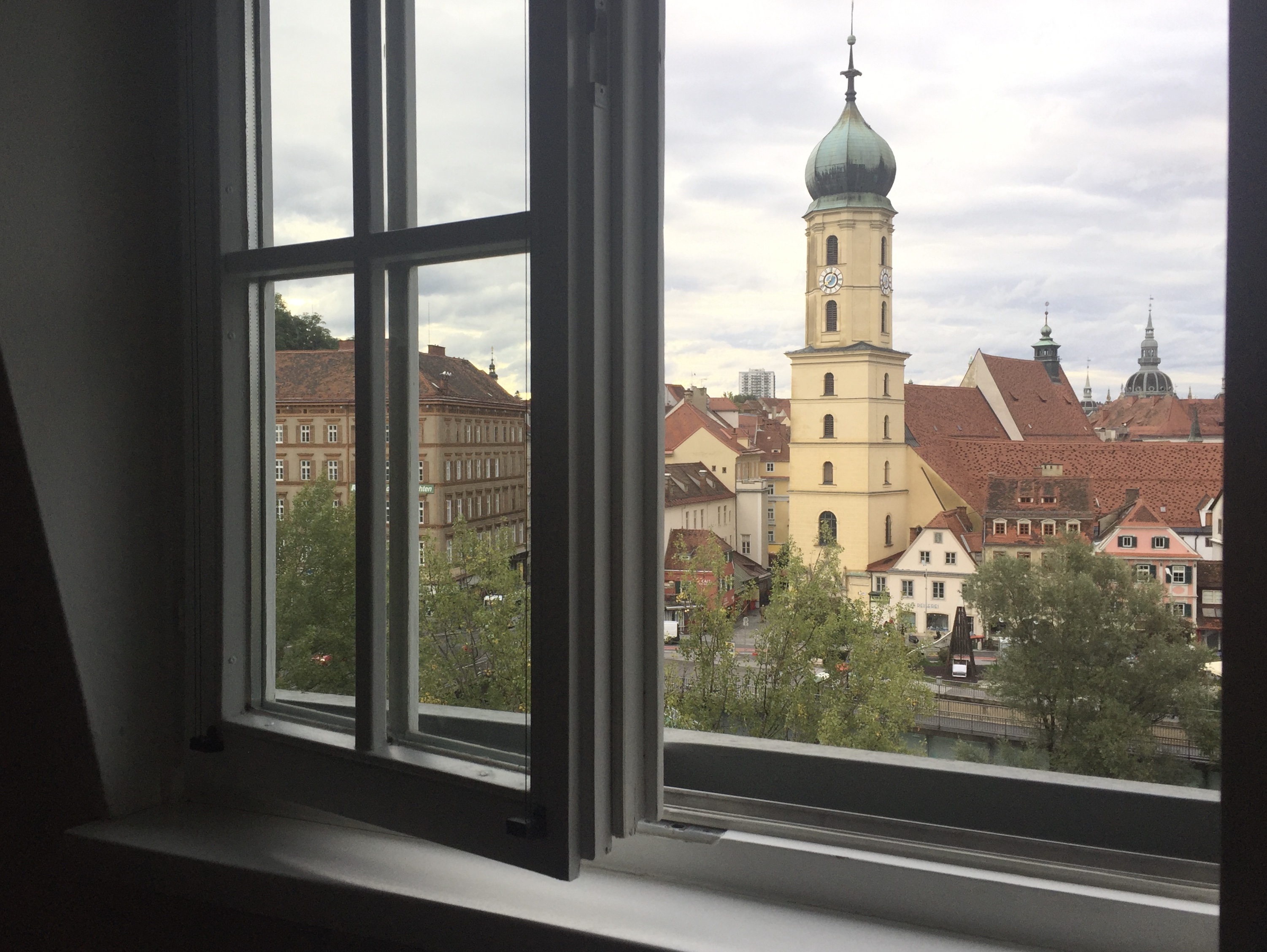 Cynthia Dial
Located at the end of the Alps and recognized by many titles – "Capital of Delight," "Cultural Capital of Europe" and "City of Design" – is Graz. The country's second largest township and hometown of Arnold (as in Schwarzenegger), it is also known for its rich memoire. Said succinctly by a seasoned tour guide: "Every house, every corner, every step has history."
Situated in the province of Styria with a Tuscan landscape feel, the Mur river divides the city and its most noted landmark is the Schlossberg, a large rock hill that is the site of a historically impenetrable fortress and Uhrturm, a clock tower that has struck precisely on the hour since 1712.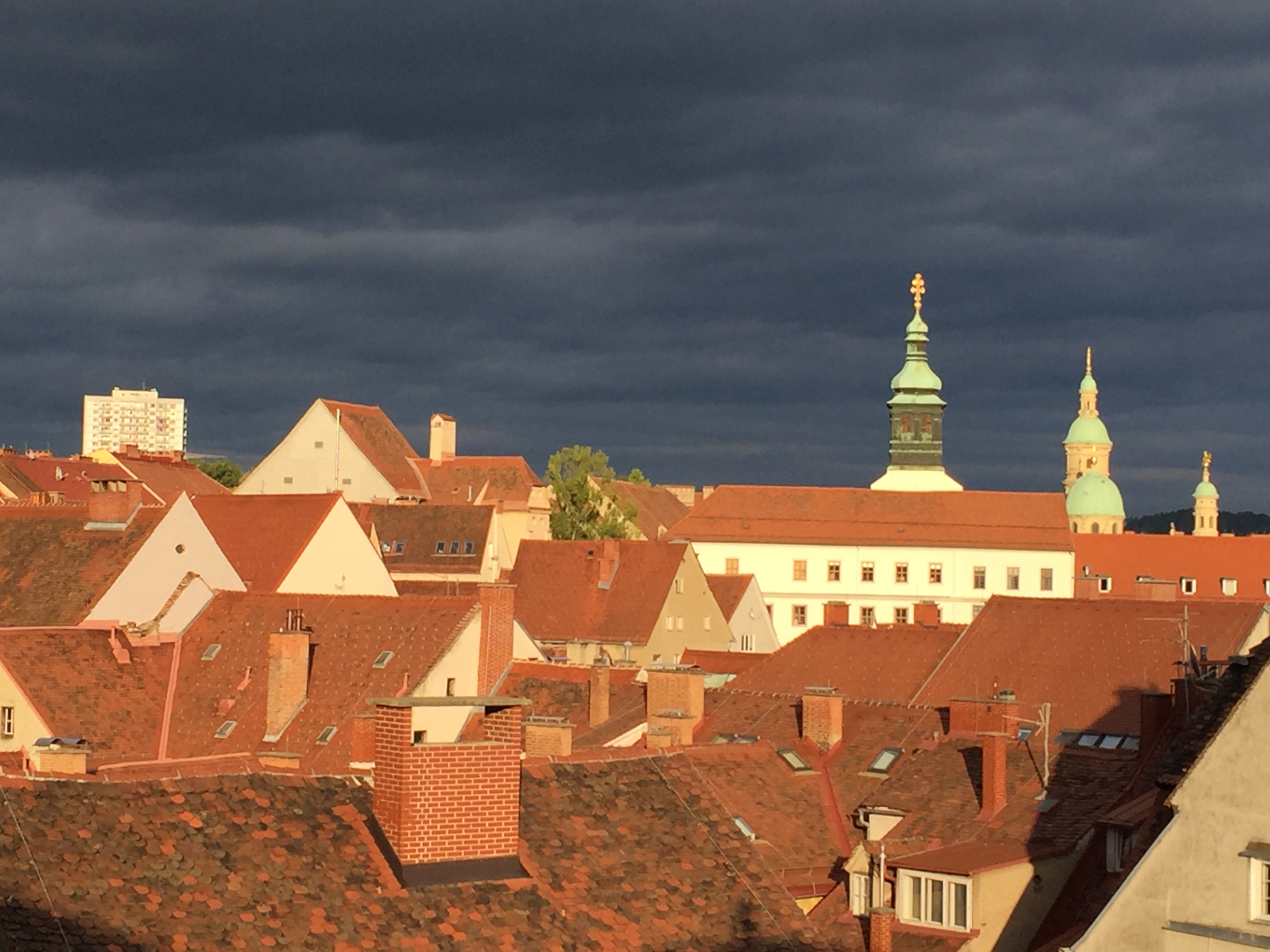 Cynthia Dial
Hotel Wiesler is the place to stay – such notables as Mick Jagger, the Dalai Lama and Arnold agree. Once a five-star hotel, it repositioned itself in 2010 to no longer be confined by the designation's restrictions. Today it is an unrated, unconventional and playful place to stay, with such signage as "Smoke here and pay some very angry firemen to join you."
Though Graz's annual tribute to food is its outdoor Long Table dinner for 700 held each August in the town square, a delectable introduction to the fall food scene is a pumpkin oil tasting. Called "black gold," samplings can be conducted by Theresia Fastian at Gasthaus Stainzerbauer and followed by a Styrian-style dinner.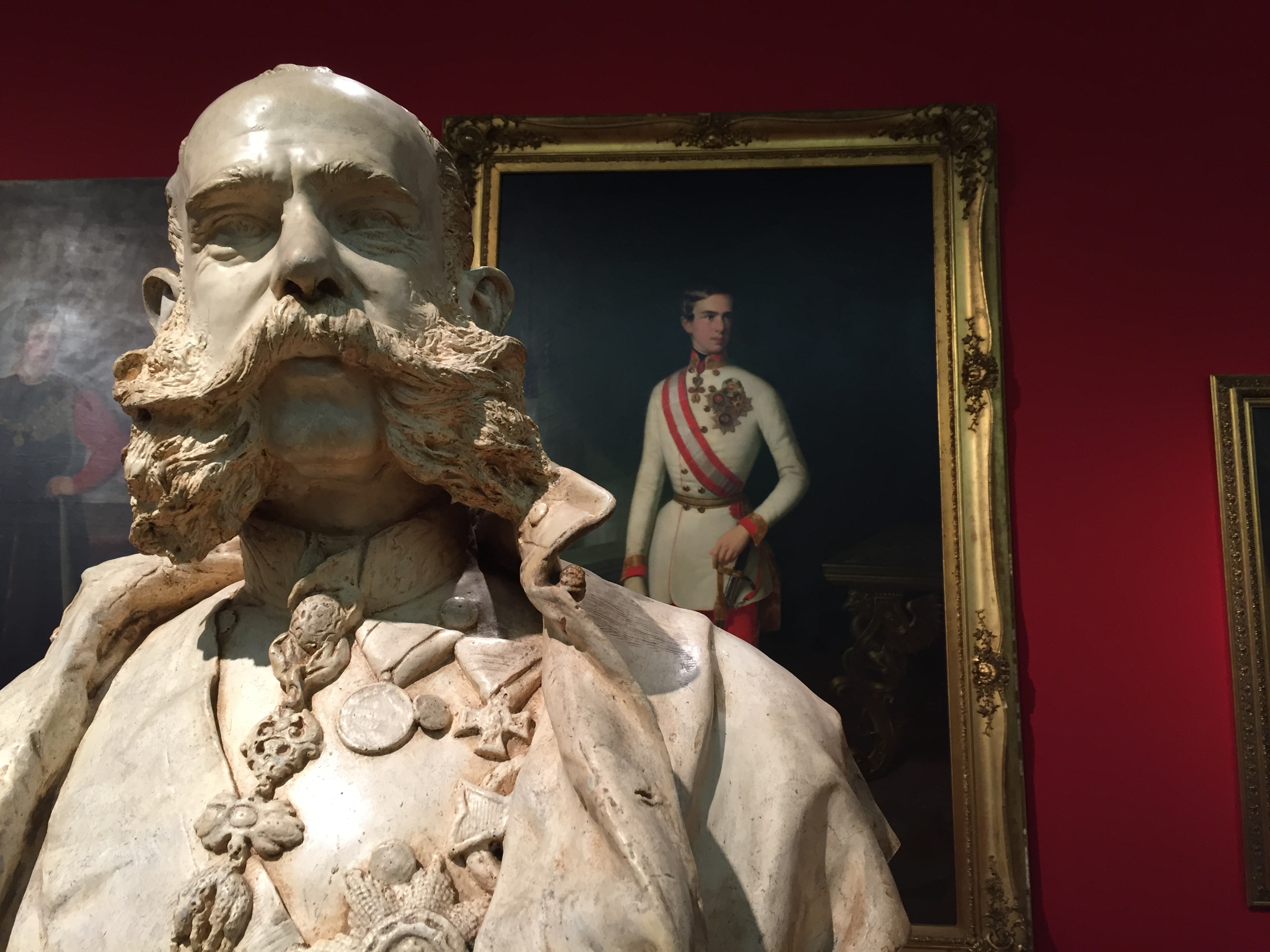 Cynthia Dial
Strict adherence to the region's "fresh" policy is straightforwardly described by a local: "Here in Styria we only eat food when it's in season. If there's no lettuce in December, we don't serve salad." Sleek, modern and popular with opera-goers, Restaurant carl is a great stop for trout (Austria's favorite fish) with cream, herbs and beets. Landhauskeller Restaurant and Bar is known for its Styrian fried chicken and salad. Starcke Haus, a quaint, romantic restaurant located cliffside on the Schlossberg is celebrated for its four-course candlelight dinners. And for a snack, beverage and 360-degree view of Graz's red-tile roofscape, there's the sixth-floor terrace atop Kastner & Öhler department store.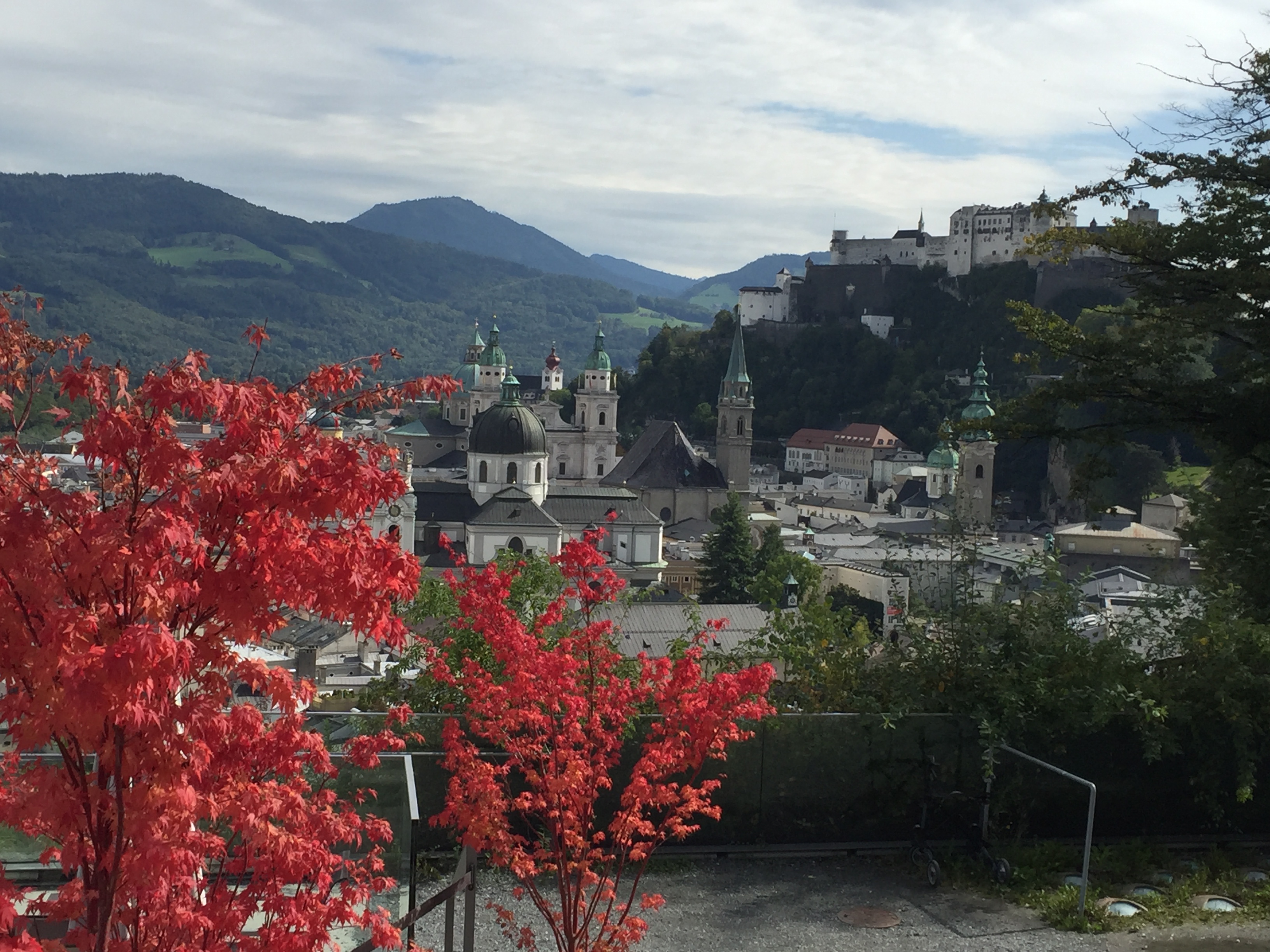 Cynthia Dial
Defined by an old town dense with church towers and baroque architecture, Salzburg is renowned as a purveyor of salt ("white gold"), the setting of The Sound of Music, the birthplace of Mozart (street address is Getreidegasse 9) and for such traditional attire as dirndls and lederhosen.
Snuggled into the surrounding landscape is the chateau-like Hotel Gmachl. Managed by the 23rd generation of the founding family, it is Austria's oldest family-run business. Though only three miles from the city center, a visit to its top-of-the-hotel Horizon Spa and its window-lined pool whose edge disappears into its mountain setting seems a world from the energy of Salzburg.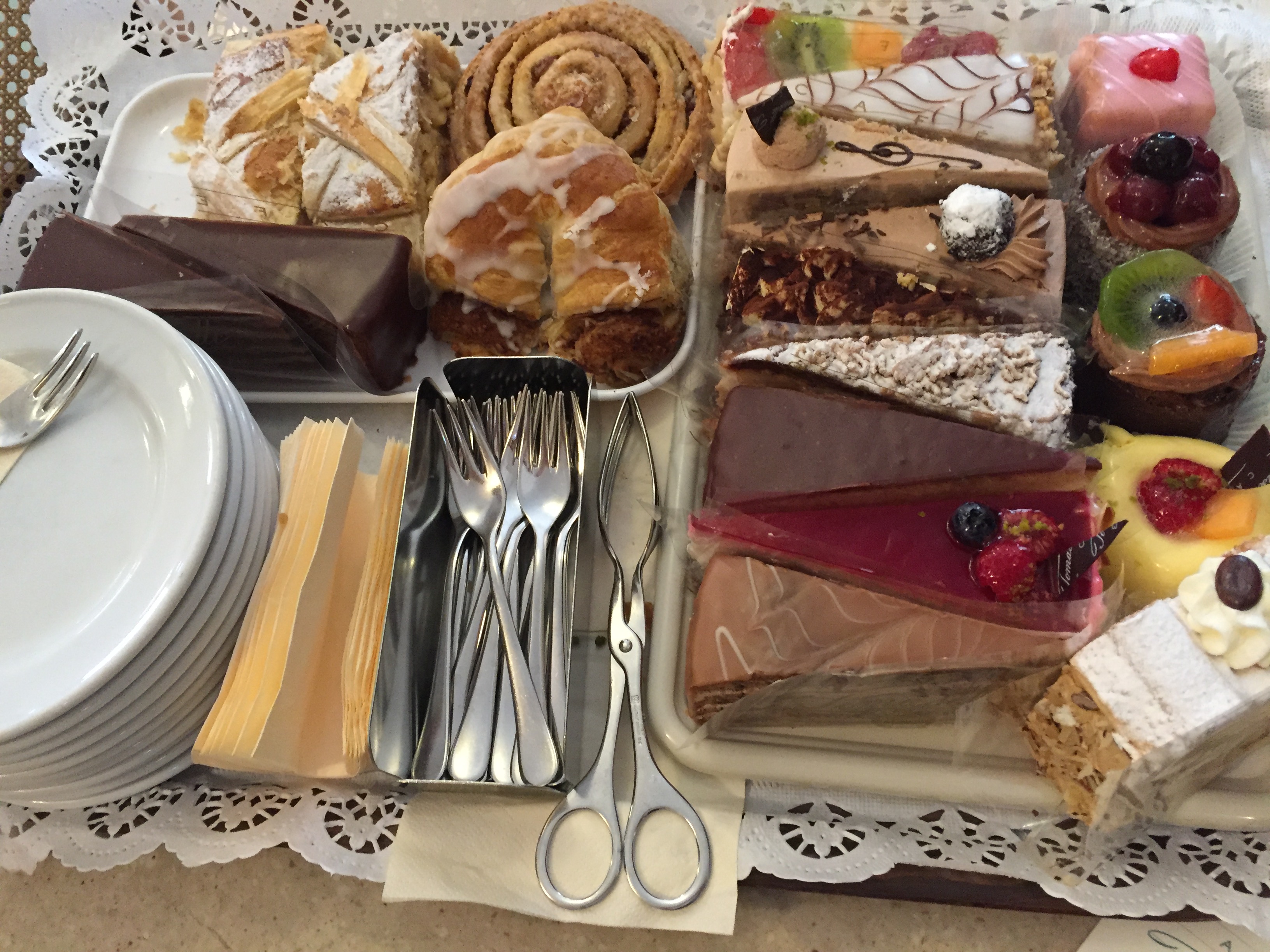 Cynthia Dial
Typical Alpine-style foods of the region include calf's liver with onion and bacon, osso bucco of deer and blueberry dumplings. Famous for beer, not wine, Salzburg's Stiegl Brewery is the country's largest privately-owned brewery. With black attire and white-aproned servers carrying 20- to 30-pound trays of sweet offerings, Tomaselli is the café to visit. And the Museum of Modern Art's M32 restaurant serves up the city's best view and such regional specialties as Barbarie duck with celery.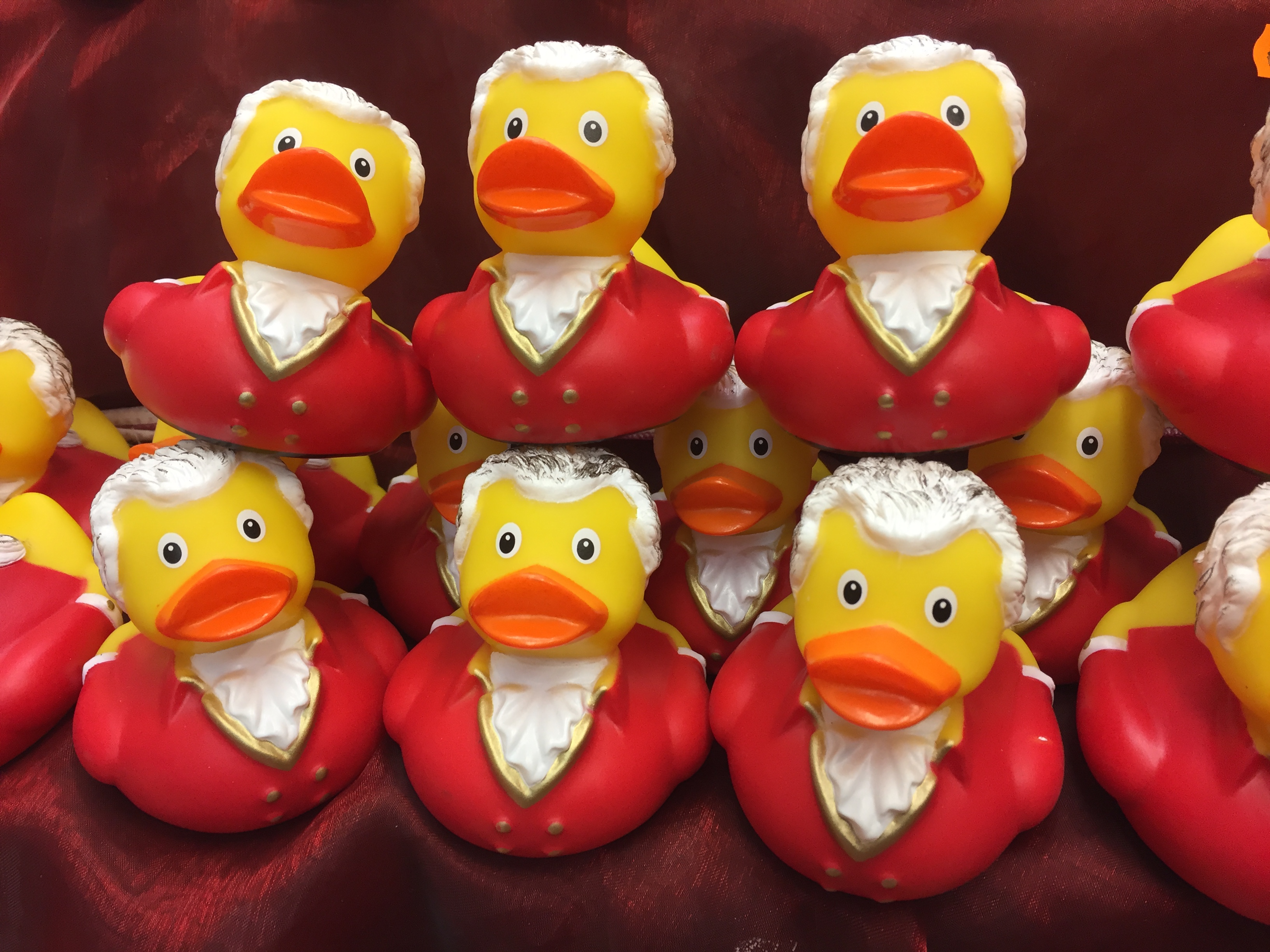 Cynthia Dial
Whether it's glühwein(hot mulled wine) for winter, chanterelles in summer or chestnuts each fall, it's always a tasty time in Austria – the place to eat, drink and be merry.