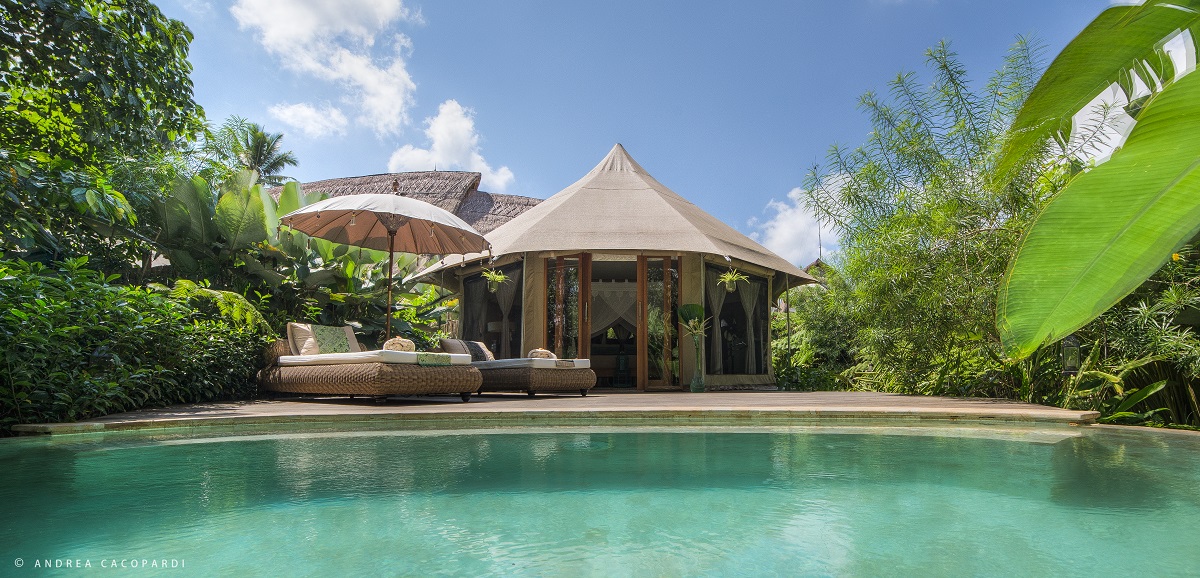 Images Credit Sandat Glamping Camp
For those who have been to Bali, they know that it is a special place. There's something about it where a sense of tranquility, well-being and a tangible feeling of good energy is palatable. Bali is not just one destination; like other islands, it has cities and villages with different characteristics. Seminiak which is an active city with shopping, clubs and nightlife, others are known for their surfing, while others are known for their beaches. Ubud is in the central part of the island known as its spiritual and cultural center. It lies away from the beaches and the maddening crowds among the mountains and is surrounded by dense tropical forests, miles of rice fields and friendly and warm people. Ubud is where weary souls journey for spiritual healing and rejuvenation from the well of Bali's good energy. A wonderful way to experience all that this area has to offer is a stay in Ubud's Sandat Glamping Tents.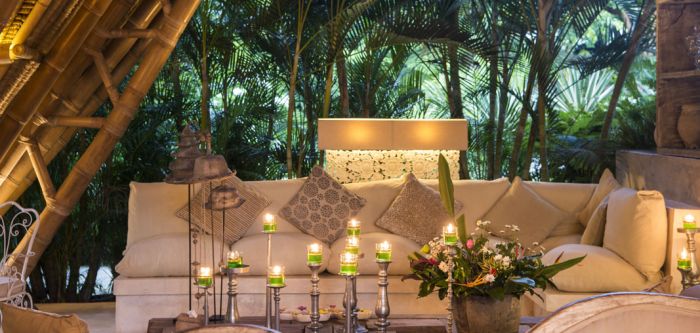 When we think of camping, we think of sleeping bags, leaky tents and roasting marshmallows over a campfire. This experience could not be any further away. This is a boutique luxury jungle retreat in the heart of Ubud's verdant forests, mountains and valleys. Just on the outskirts of town, past the acres and acres of emerald green rice patty fields is the resort. Beyond the towering wall of palm trees that hides the resort from view lies a path into the resort through a manicured tropical garden of fragrant jasmine, frangipani, and bougainvillea bushes bursting with color.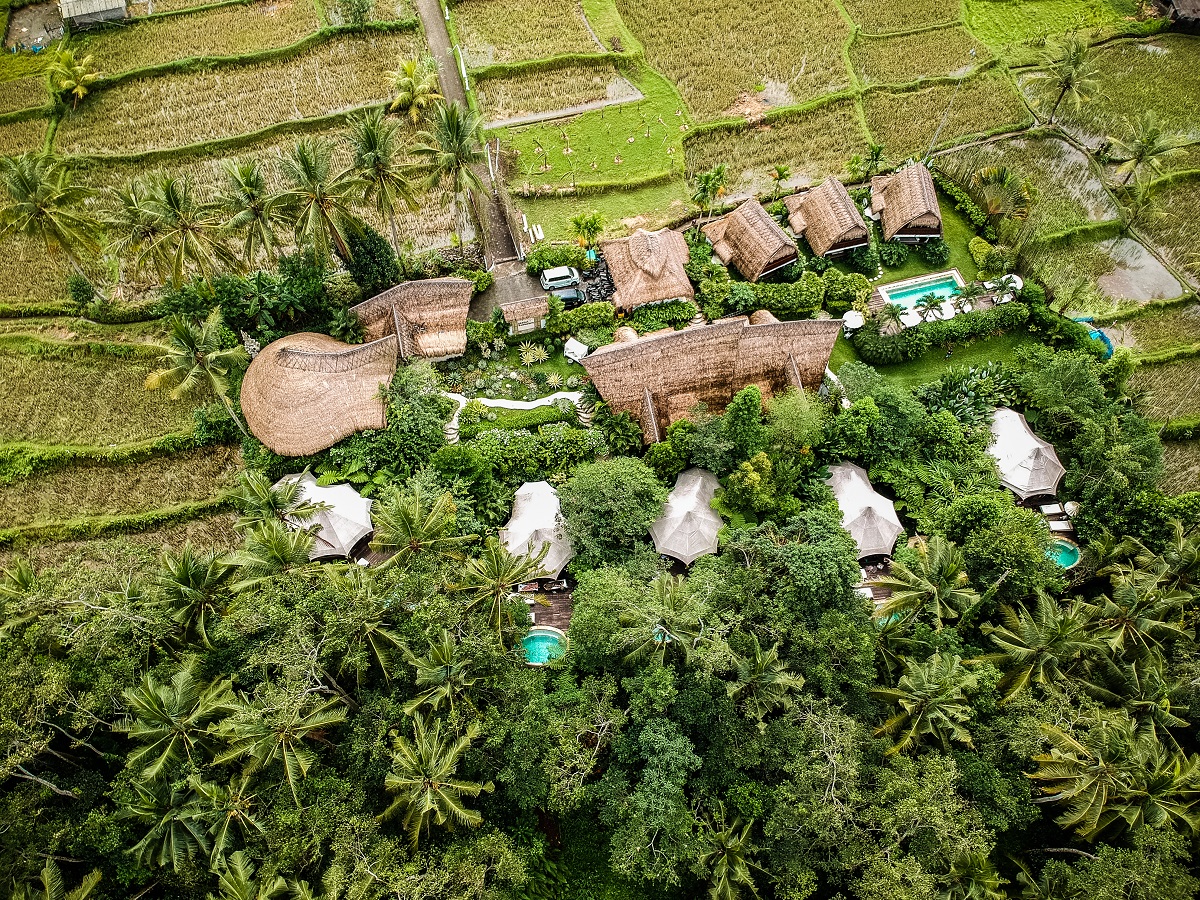 The Sandat Glamping Tents are an exclusive jungle retreat of only five tented suites and three eco-cabins offering a bespoke Balinese vacation experience. The design of the hotel is European chic and contemporary filled with exquisite details, calming color palette of light blues, whites and natural wood finishing. The décor is comfortable and stylish with both European and traditional Balinese furnishings.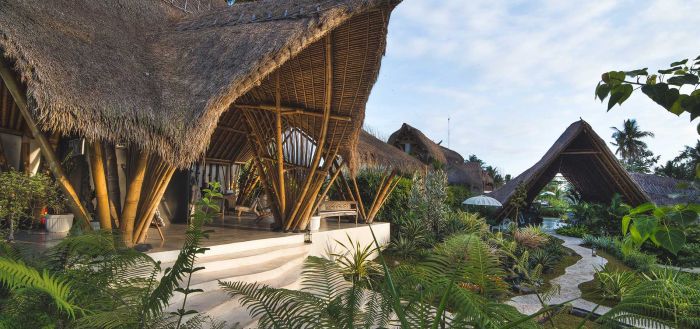 The central area of the resort is a stunning traditional Balinese style bamboo cathedral structure that soars eight meters high. Inside is where the day's meals are served as well as a gathering place for guests. It has an ultra-chic design, white-washed color palette with a lovely mix of Italian cosmopolitan décor with whimsical curios that make it all the more endearing. One such unique feature is the large white concrete wall that dominates the space and is filled with 101 unique mirrors collected over the years by the resort's proprietors. The bar is a dominating feature as well, carved out of a large lava rock on the second level. Just beyond the central area is the hotels' main pool which is as beautiful as the manicured gardens that surround it. The spacious infinity edged pool overlooks the terraced rice fields below and is so striking that it was once featured as "one of the most stunning swimming pools in the world' by Condé Nast Traveller's.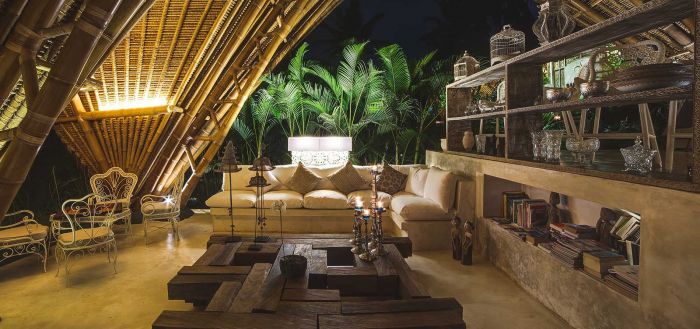 The retreat's style, bespoke services and a feeling of warmth, emanates from its proprietors as well as the retreat's genuinely kind-hearted staff. Emanuela Padoan and Federico Carrer are the charismatic Italian owners and Sandat is their labor of love. They came to Bali to create something that was never done before.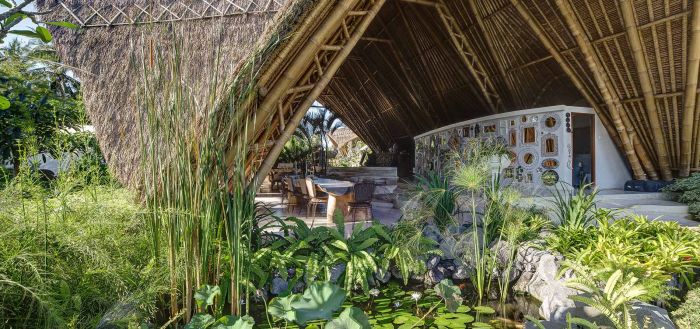 The proprietors thoughtfully created spaces with a focus on sustainability and with minimal disruption of the land. The cabins or rice barns are created from reclaimed material as are many of the design elements that you'll see around the property. The structures are created from sustainable bamboo using traditional techniques of tying vs using nails. Padoan and Carrer have achieved a harmony of an eco-friendly and sustainable resort that offers a refined and luxurious holiday experience. In creating this unique environment, the retreat allows guests to get as close to nature as possible where they share space with butterflies, birds and geckos. At night the frogs and other critters join in as you'll hear the jungle noises around you.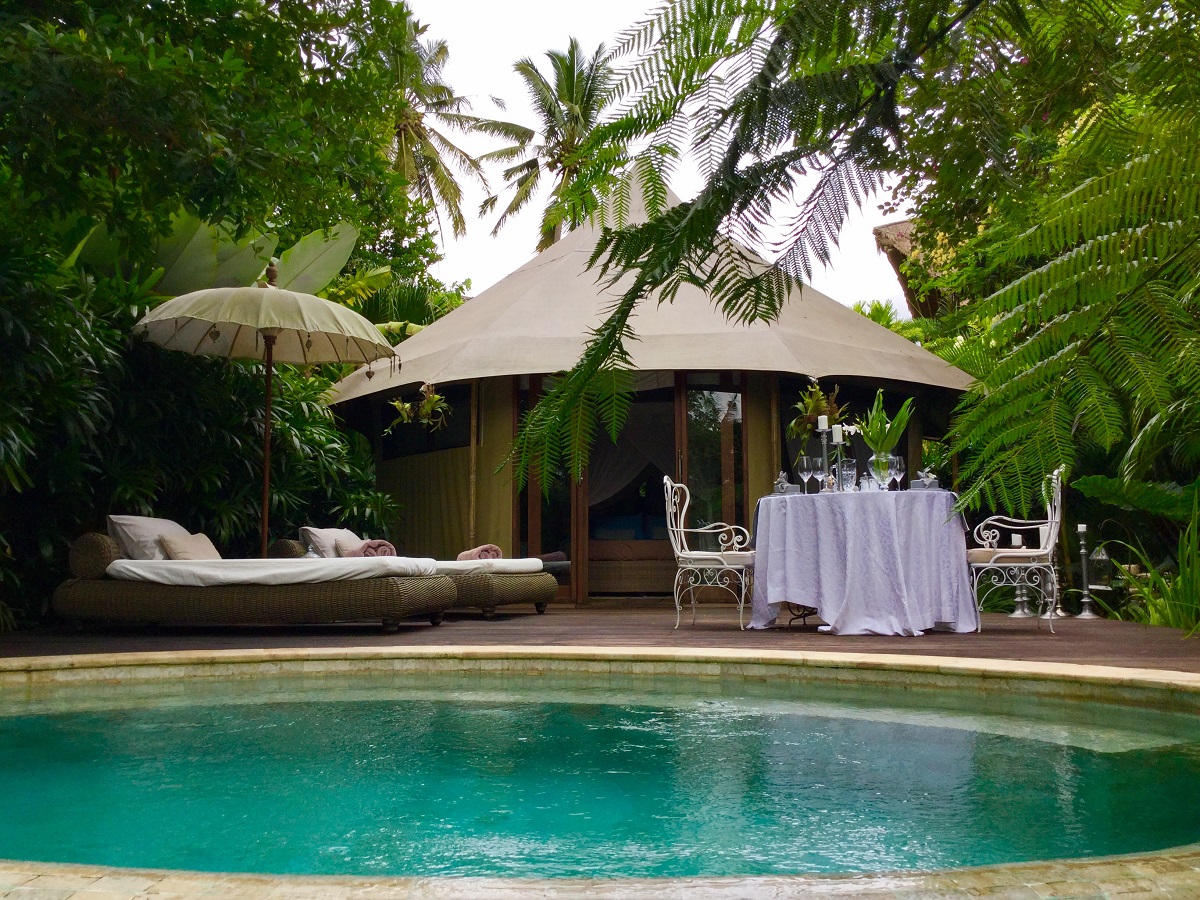 This exclusive resort is the first of its kind in Bali and created for the select few and not the masses. There are only five ultra-chic African safari-style tents and three eco-luxe traditional cabins. One can hardly call them tents as they are as large as any hotel suite with all of the mod cons expected by today's well-heeled traveler. You'll find each tent to be well-appointed with handpicked artisan furniture, barefoot ready wood floors, four-poster beds with gossamer netting as a gorgeous décor of unique objects d'art, curious and design details. Thankfully there is not a television in sight, but the units are fully air-conditioned with iPod dock, internal phone, wifi, minbar and spectacular indoor bathroom. Outdoors is where guests will laze the day away on their lounge chairs on the wide open wooden deck or in their infinity edge pool overlooking the dense jungle. The outdoor areas are secluded and perfectly private situated away from other tents as well as being surrounded by coconut trees, bamboo screens and dense foliage to ensure privacy. The views are exquisite as well overlooking the lush jungle below the forest of the area. At night the sounds of the nature lull one to sleep as the frog's croak and the breezes rustle the palm fronds.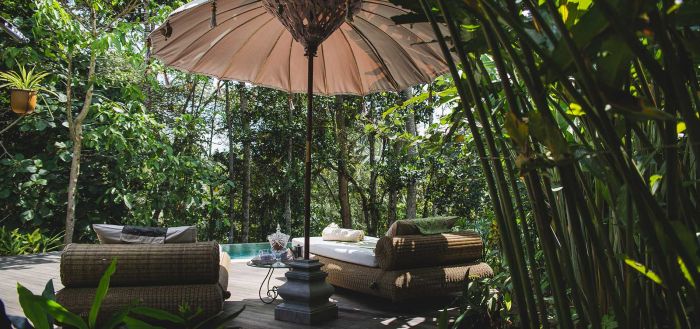 Sandat offers another type of accommodation in their three traditional Balinese style cabins. The spacious two-story eco structures were created from the design of the local rice storage barns or Lumbung and are constructed of coconut wood with a thatched roof. The ground floor is an open-air living space with sitting area and handpicked antiques, curios and comfortable furnishings. The bedroom on the second floor is well appointed with tasteful décor, air-conditioned, a romantic outdoor shower and sweeping views of the terraced rice paddies.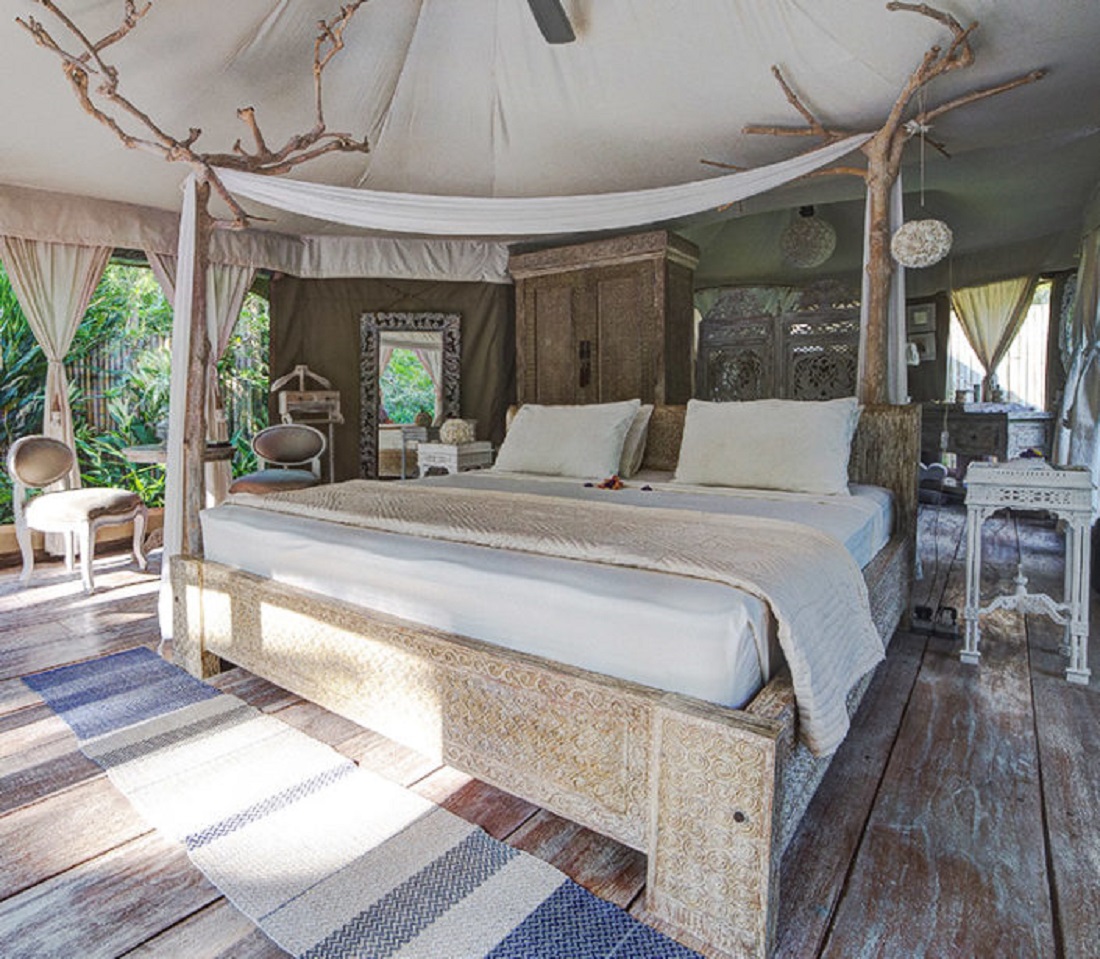 Sandat is a place of solitude and seclusion created as a discrete environment to share special moments with a loved one and the ideal place for honeymooners or couples looking to escape and reconnect.
The luxurious experience does not end there. The resort offers a scrumptious dining experience in their bamboo cathedral main lodge. An eight-meter-long table is in the center of the room where resort guests meet and chat sharing stories of travels past. There are also tables for two where couples dine over candlelight and speak in hushed tones. Yet other couples decide on a romantic candlelit dinner at their private terrace poolside overlooking the jungle.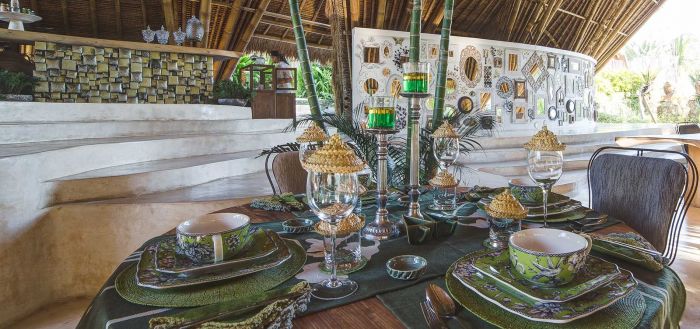 Most will start the day with a breakfast of fresh French croissants, tropical fruits, and eggs cooked to order. With only eight units, you can forget your typical resort's long line cuing for omelets or a buffet of warmed over bland food. At any time of day, the meals are exceptionally prepared by talented chefs merging Italian cuisine with Balinese specialties. Dinner is exquisite as well with an offering of haute cuisine prepared by talented chefs.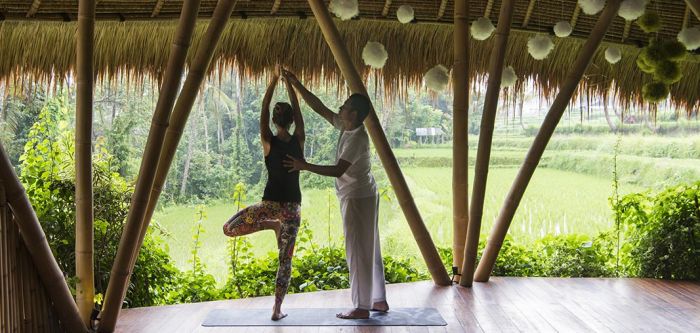 There is plenty to do around the resort. The day can be spent lazing around the accommodation or more active pursuits. The hotel offers yoga classes at their bamboo pavilion as well as meditation classes. Spa treatments are also offered with a wide range of massages and beauty treatments.
The staff is more than willing to create a full itinerary as well from taking in Bali's active pursuits from mountain biking to white water rafting. Others may choose to explore the town, via the hotels complimentary shuttle, for shopping at the fashion boutiques, for artisan silver jewelry and art galleries. Others will opt to sample a meal from Ubud's thriving culinary scene. There are countless sightseeing and other adventures to pursue in the area which the helpful staff can suggest.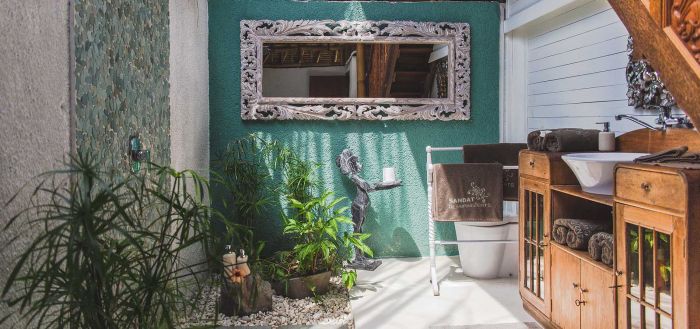 When we travel, we look for special experiences to take back home and to savor long after the luggage has been unpacked. The Sandat Glamping Tents offers such and experience. One that will last for years as its guests reflect back on their exclusive holiday, immersed in the natural beauty of Ubud with all the creature comforts offered by this exclusive resort. They will remember these things as well as the time shared with their loved one in this unforgettable island retreat.