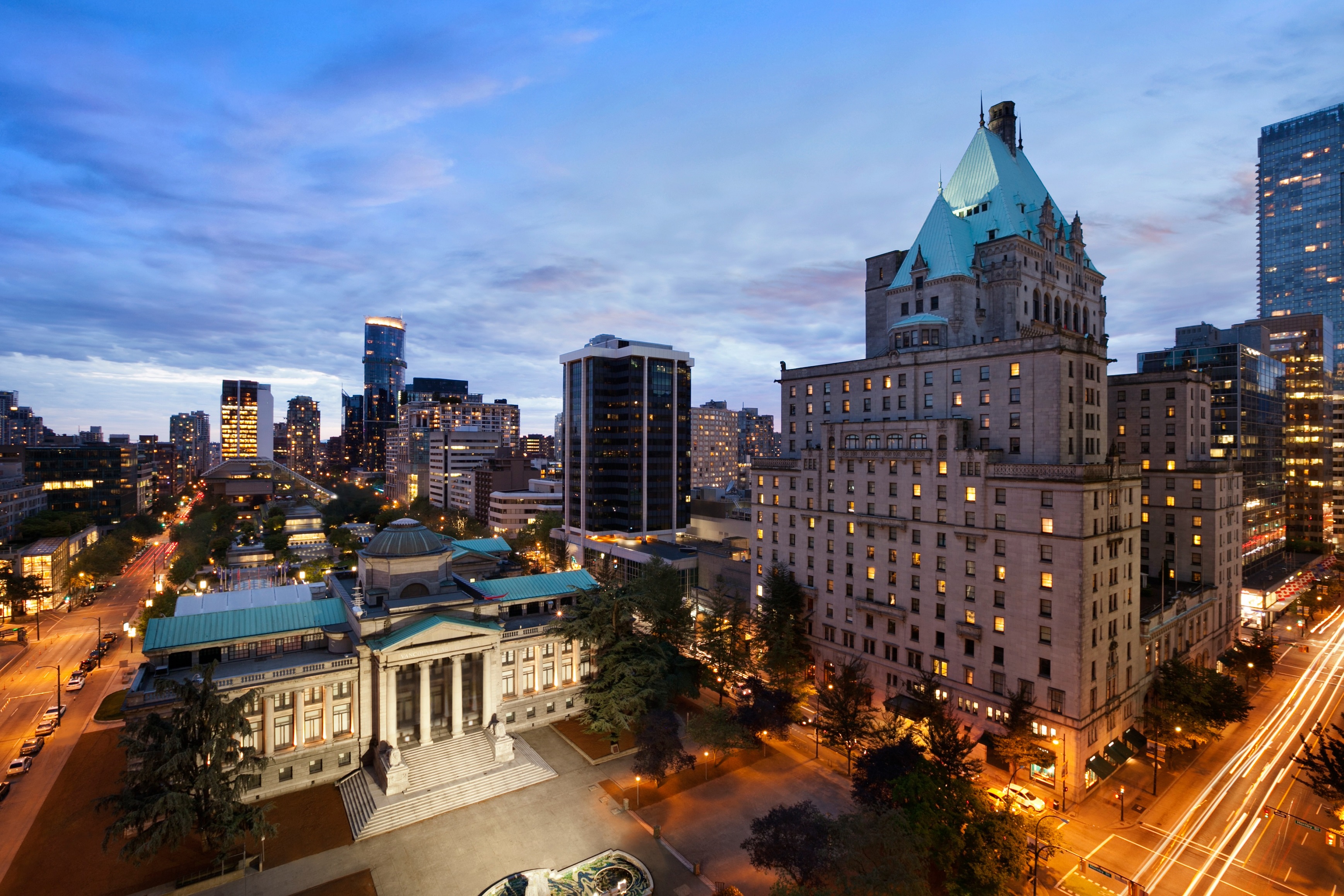 Fairmont Hotel Vancouver
At this time of year noted for family, fun and festivities, what better way to revel in the season than a weekend in a city where celebration is effortless? Having hosted such world-renowned fetes as the 2010 Winter Olympics, Vancouver is no stranger to entertaining guests, so pack your bags and head to this chilly Canadian metropolis for a pre-holiday warm-up. Long known as the "Castle on the Hill," Fairmont Hotel Vancouver seems the epicenter of activity. Follow me for a short but seasonal kickoff that starts in the city's center at the hotel's North Georgia Street address and continues beyond.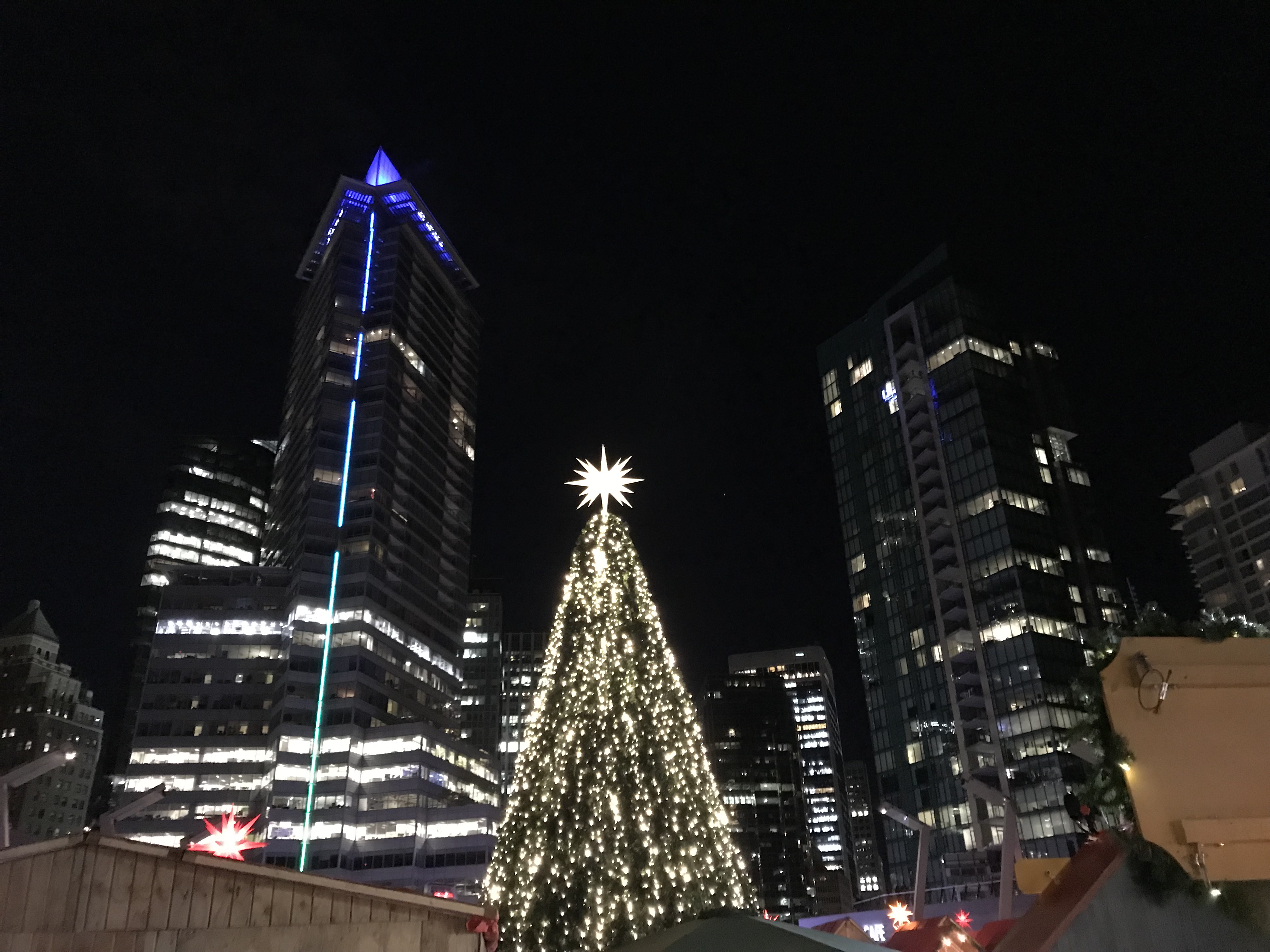 Cynthia Dial
Welcoming surprises begin upon check-in, especially for the smallest of guests and dog lovers (of any size), when greeted by one of the hotel's resident canine ambassadors – Ella, a yellow lab, and Ellie, a black lab. Continuing with such amenities as a white-terry toddler robe, cookies and milk delivered at bedtime and a miniature stuffed dog named Ella and the hearts of Fairmont's youngest guests are forever captured.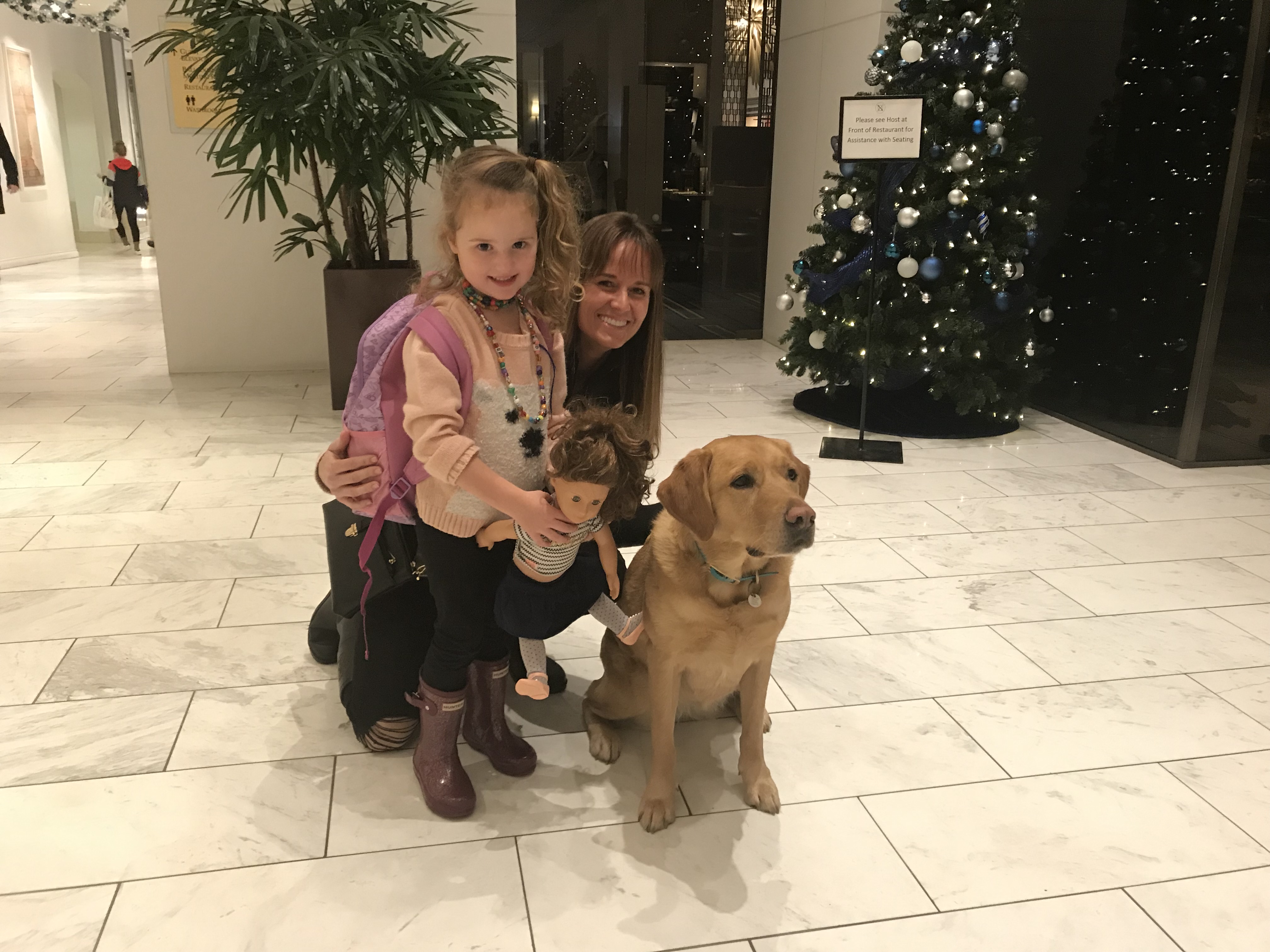 Cynthia Dial
An old-fashioned locomotive engine marks the entrance to the hotel's fine dining restaurant, Notch8, complete with a steam blast, a train whistle and decked out with holiday items for purchase. So named for the train term, "notch-8" translates to the final notch at which a train can travel (basically the highest speed) – a level that can only be attained when all systems are running perfectly – a name underscoring the restaurant's goal of perfection.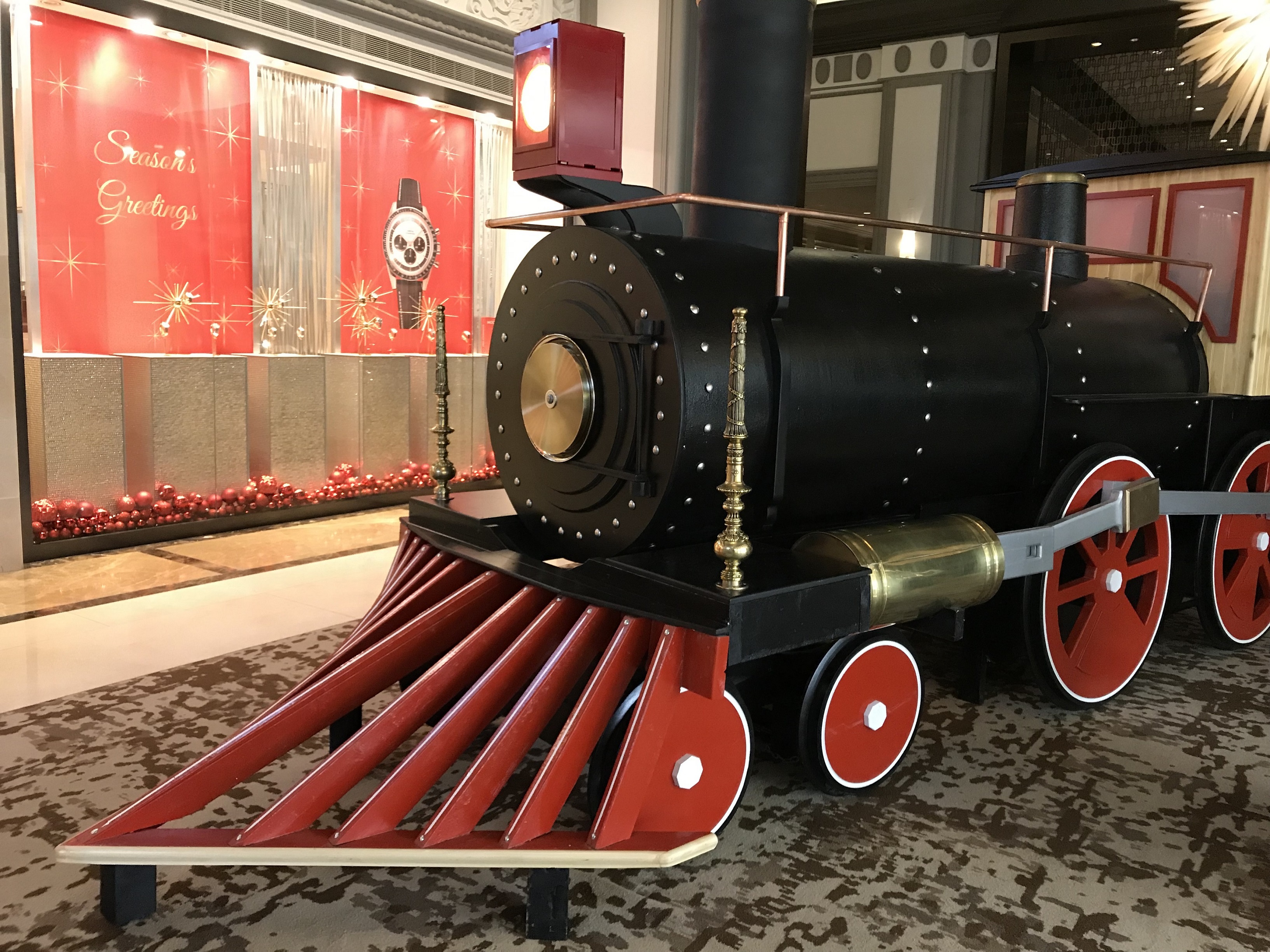 Cynthia Dial
Famous for its ever-changing themed teas throughout the year – from the Great British Tea Party to the Enchanted Tea Menu – Winter Wonderful Afternoon Tea marks this time of year with such inclusions as fromage frais 'penguins' and Battenberg biscuits (a festive green, white and pink dessert), as well as a children's tea menu. Served in a cozy library-style room within Notch8, the setting is very British, very authentic.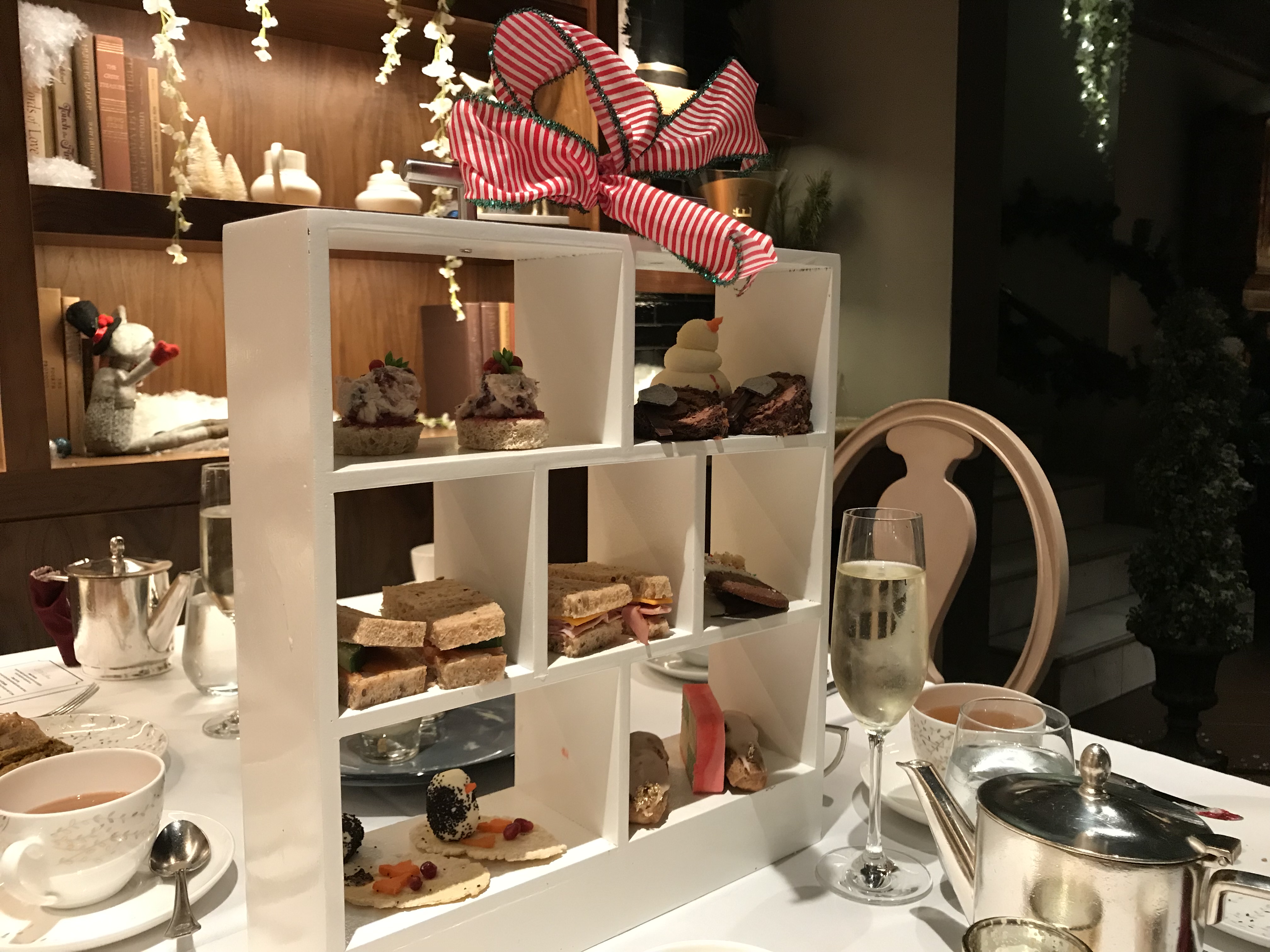 Cynthia Dial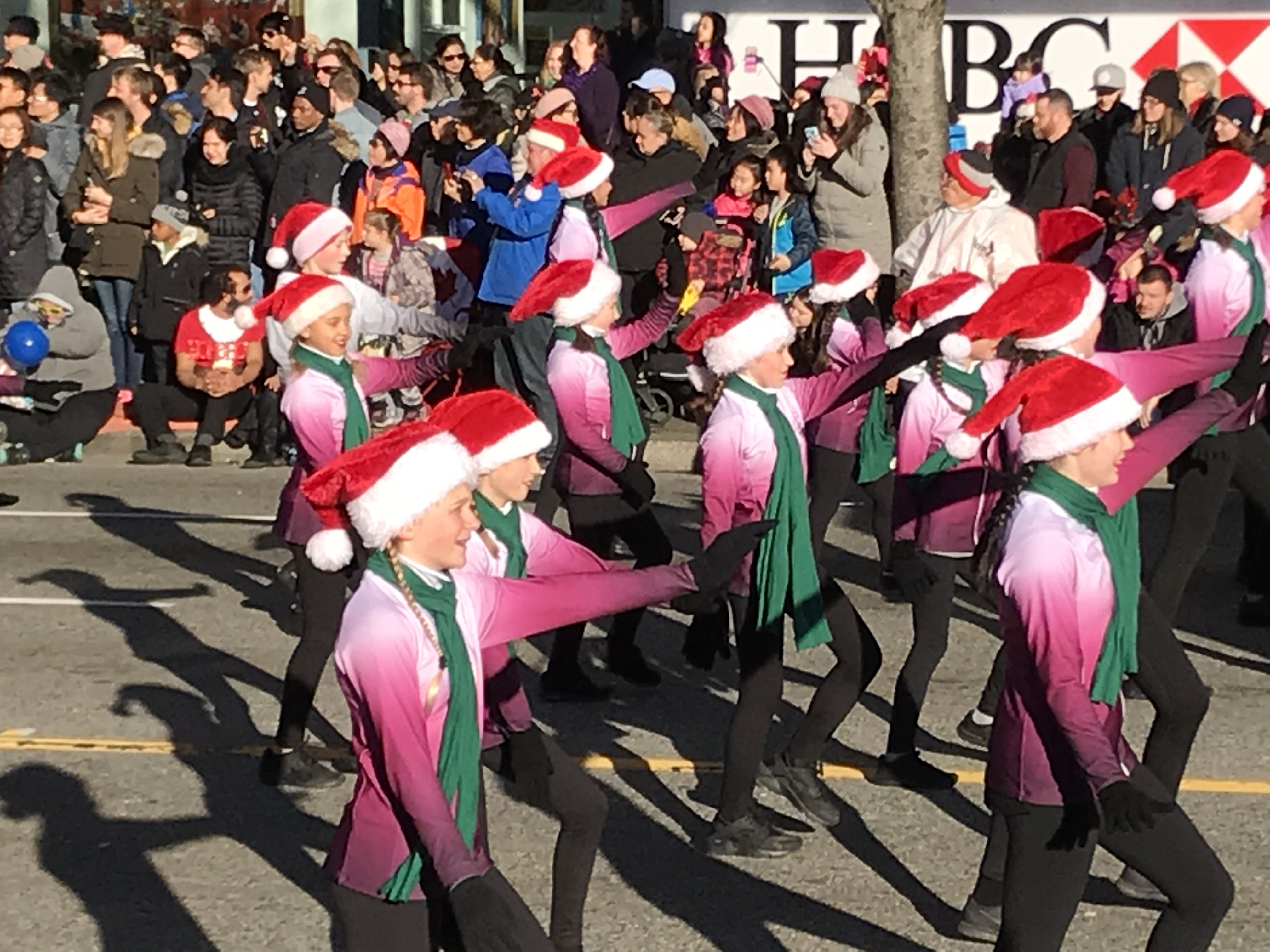 Cynthia Dial
Christmas decorations are everywhere, from the blue-themed Christmas trees in the lobby to the red-and-green decorated trees in the Pacific Ballroom – the setting of the annual Santa Claus Breakfast, a morning treat complete with egg entrees, fresh waffle and hot chocolate stations, a cookie decorating table and, of course, a one-on-one with Santa. Followed by the Santa Claus Parade (it's Western Canada's largest) which travels a route fronting the hotel, this once-a-year breakfast/parade duo – always the first Sunday in December – is the official kickoff to a full calendar of across-the-city activities.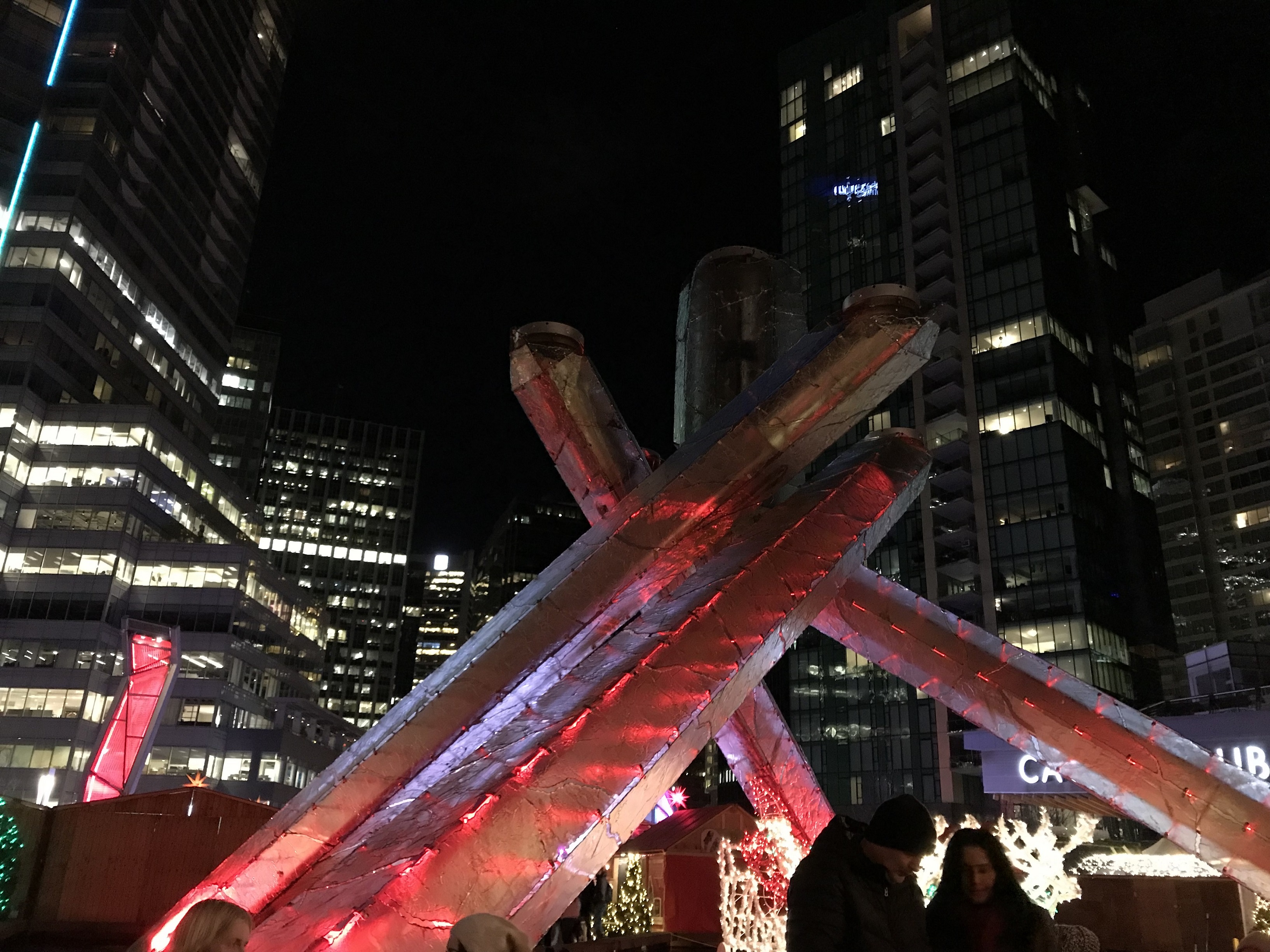 Cynthia Dial
Set harborside at the home of the Olympic Cauldron lit in holiday red and a background of city lights is the Vancouver Christmas Market with such enticements as a walk-in Christmas tree; a Christmas store featuring shelf after shelf of ornaments; 80 huts of authentic German sweets, treats and treasures; a Glühwein hut serving mulled wine and a Christmas carousel. Described as "the transformation of Concord Pacific Place into a magical winter wonderful," Aurora Winter Festival has animated sculptures, dazzling light displays and ice skating on a frozen river. A complimentary shuttle bus takes revelers from downtown's Hyatt Hotel (located one block from Fairmont Hotel Vancouver) to view Canyon Lights at Capilano Suspension Bridge. Here, the suspension bridge, rainforest, canyon and Cliffwalk are transformed by innumerable lights as are the seven suspension bridges of Treetops Adventure. Connected by viewing platforms, the eight 250-year-old Douglas-firs reaching up to 110 feet above the forest floor are the world's eight tallest Christmas trees.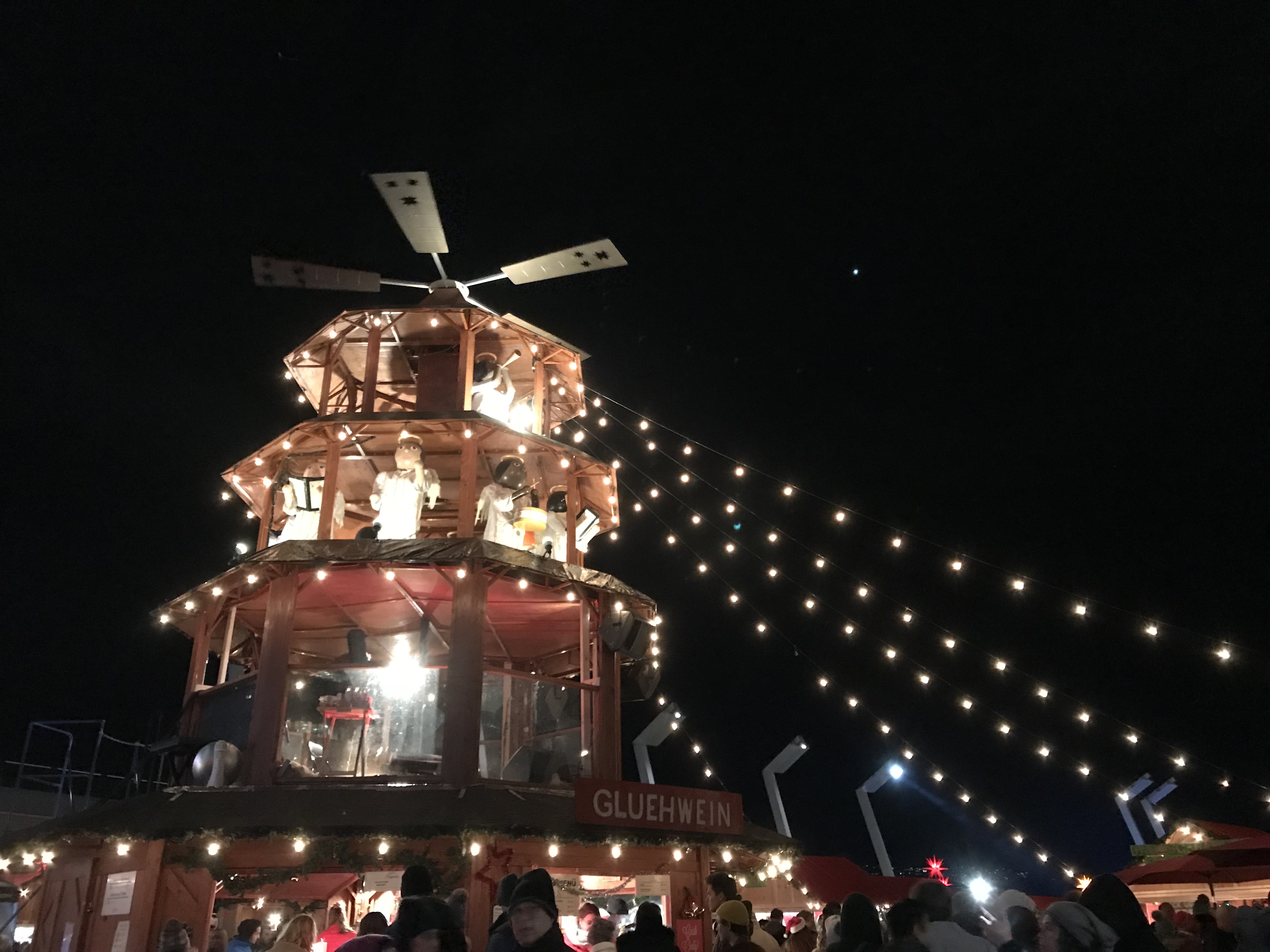 Cynthia Dial
Not to be outdone, Stanley Park's attractions are equally appealing. Vancouver Aquarium, the country's largest, offers a holiday tree powered by an electric eel, a jellyfish snow globe, Scuba Claus dives where Santa swims with the fish and the screening of Rudolph the Red-Nosed Reindeer: A 4-D Experience. The price of a donation buys a ticket to Bright Nights in Stanley Park, a fundraiser for the BC Professional Fire Fighters' Burn Fund, where holiday music plays and the Bright Lights Christmas Train and Stanley Park Train Plaza are decorated with approximately three million lights. If there's interest in the VanDusen Botanical Garden's Festival of Lights in addition to Bright Nights, the Karaoke Christmas Lights Trolley Tour on festively decorated trolleys equipped with karaoke machines travels to both.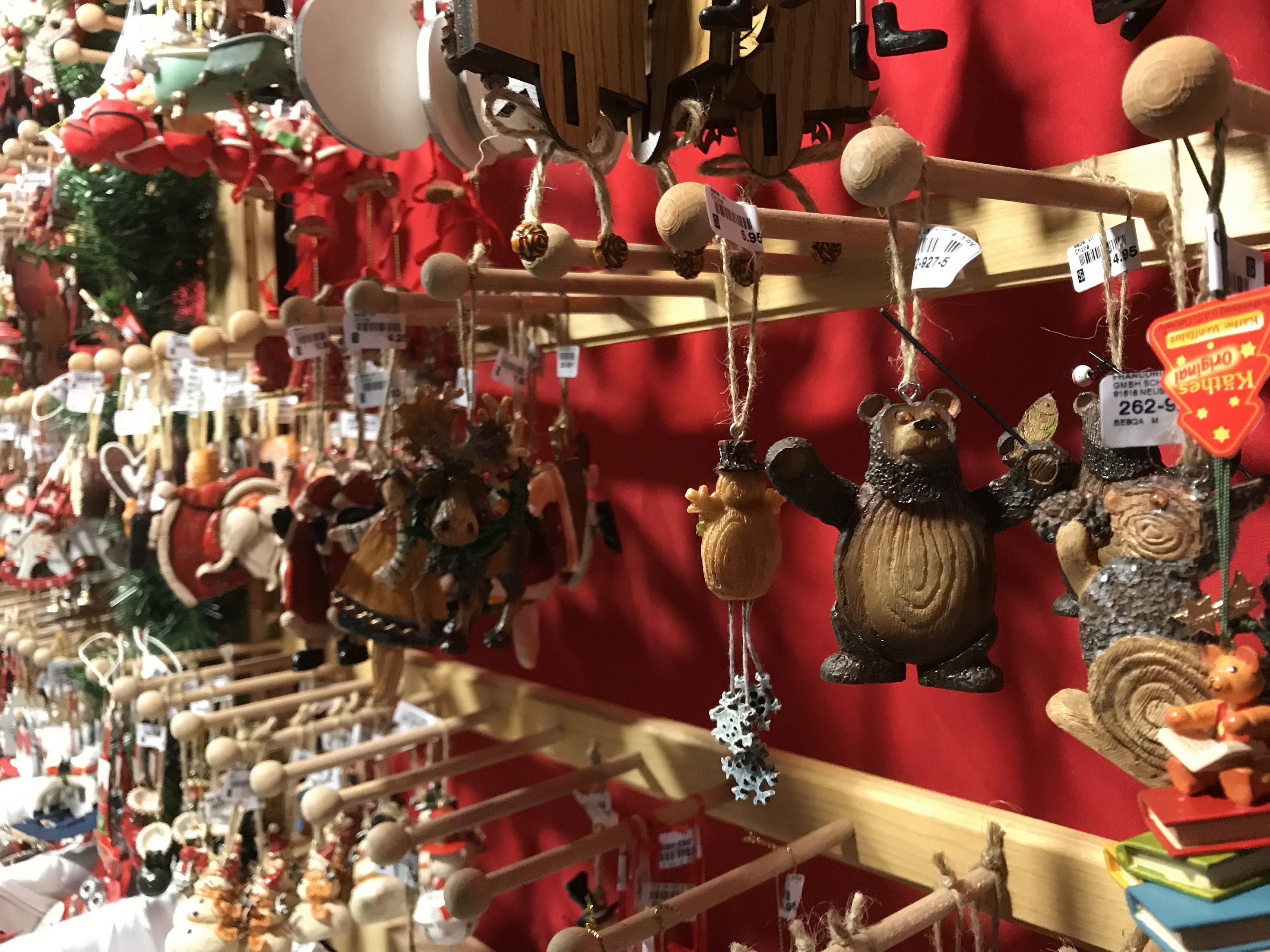 Cynthia Dial
For those additionally interested in the stage, skating and shopping, there's more. A Charlie Brown Christmas plays at the Waterfront Theatre. On one of the city's most recognized shopping streets, Robson, is free skating at the Robson Square Ice Rink and Plaza. Shopping can include such fun purchases as ornaments from the Vancouver Christmas Market, the I Saw Santa in Vancouver children's book which is available at local bookstores, as well as a Naughty, Nice and I Did My Best decorative pillow found at Indigo, Vancouver's flagship bookstore found on Robson.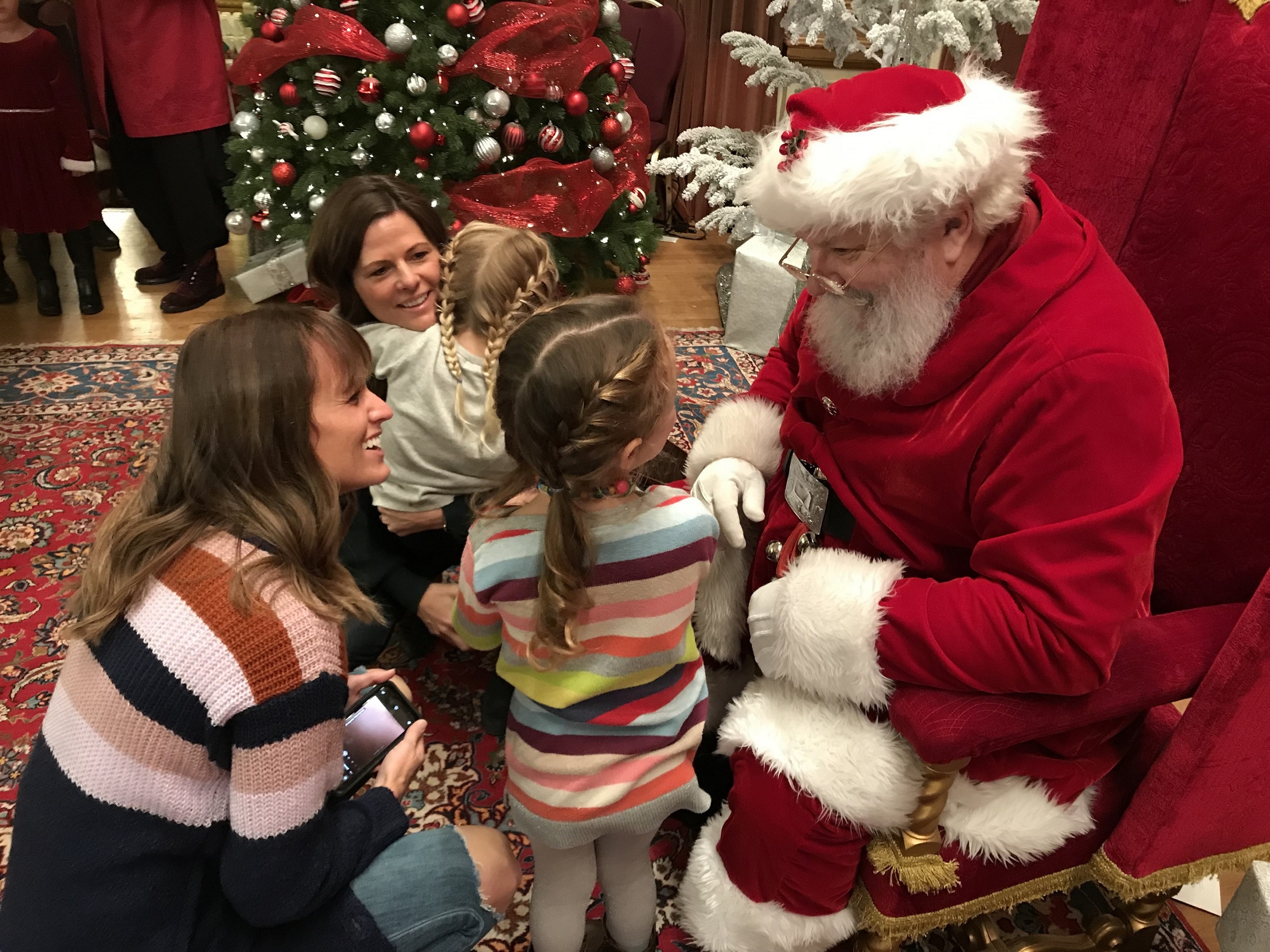 Cynthia Dial
Indeed, Vancouver's holiday season offers something for everyone, something for every age – especially Fairmont guests and cousins, three-year-old Reagan Marie and four-year-old Laney London. Upon meeting Santa, Reagan was shy, but Laney took the opportunity to ask for a bike. After hearing her request, Saint Nick responded with a safety-oriented query: "And what will you always wear if I bring you a bike?" When she looked puzzled, he pointed to his head. And without hesitation, she answered, "A Santa hat."