Susan Kime
A Luxury Journalist Goes To Antarctica, Part 1
I recently took a two-week Expedition Cruise to Antarctica on the Hurtigruten Midnatsol. It was quite different from any cruise I have ever been on. It was not exactly a luxury cruise, but nowadays, the concept of unique adventure has become a lively dimension on the luxury spectrum, so on this cruise, there were still dimensions of traditional luxury -- great cuisine, with interviews of the executive chef and sous chef to be covered in part two of this article, the exceptional wine and spirits list, the Norwegian design simplicity of the Explorer Suites, as well as the open beauty of Deck 6, where pictures could be taken of the massive blue glaciers, the Wandering Albatrosses, and waving flukes of passing whales.
Being a luxury travel journalist, this vision of a cold, distant Antarctica had not been a major travel objective. My work, for many years, dealt with gentler aspects of cultural, hotel, and residential environments: great wine, food, soft bed linens, all defining profound and accommodating combinations of high-end sense and sensuality.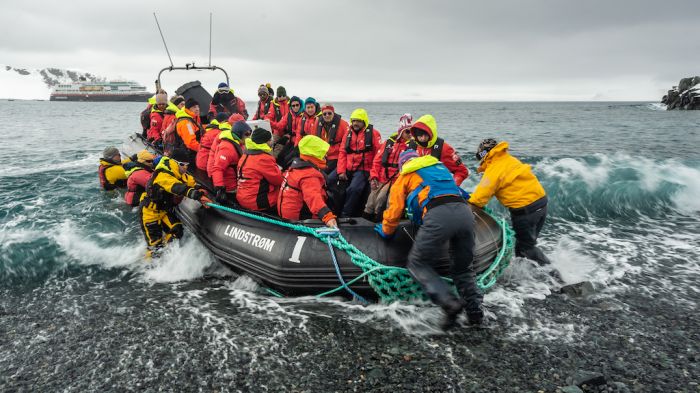 Photo Credit: Karsten Bidstrup
But then, I was asked to travel to Antarctica, and on Hurtigruten. I had never taken a cruise like this, and I never considered myself an explorer. But, this was a challenge: a two week Hurtigruten Expedition Cruise, November 2018. I would miss Thanksgiving, my Swiss relatives, and our wedding anniversary. But my husband said," Go. GO! It's Antarctica. Go for all of us who can't go." So true. Mission accepted.
An Expedition Cruise is different from others because as the name implies, it is exploratory and adventure cruising to distant lands and oceans. That said, though, and like owning a precious blue diamond or a red Lamborghini Avendator, being part of a great experience has a similar feel of the extraordinary, of enjoying the luxury of multi-dimensional moments with which others are not so blessed: in this case, no diamonds, cars, or other objects of exquisite consumption, but the anticipation of Antarctic moments, of hopefully similar rarity and joy. Go for all of us who can't go. And so it began.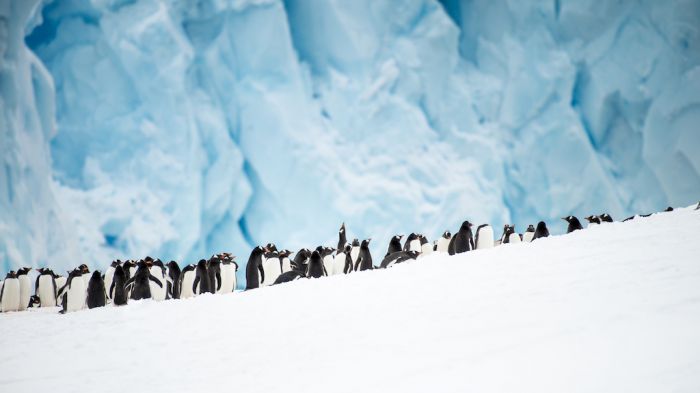 Photo Credit: Stefan Dall
A colony of Gentoo Penguins, a group of curious humans, observing each other on CUVERVILLE Island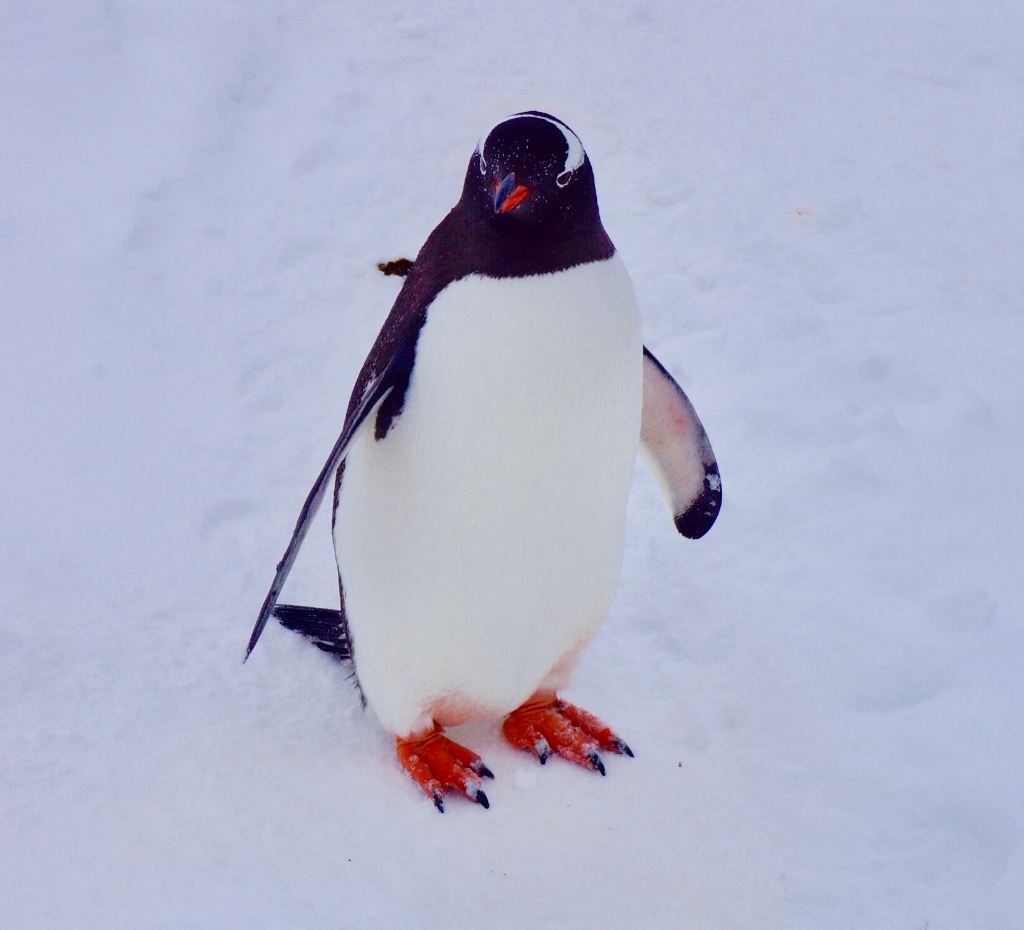 My first impression, based on all that I had heard, was that the Antarctic experience was full of contrast. Yes, it is an inhospitable land to humans. It's said that no human lives there permanently, but, in contrast, it is coming more alive with tourism than ever before. More than 45,000 people from all over the world, traveled to Antarctica in 2016-2017. On our cruise alone, there were 21 different nationalities. Scientists and researchers come to Antarctica also, and many were on our ship, studying changes in climate, ocean temperature, and animal populations. BUT, again in contrast, devoid of permanent human life, there are vast amounts of animal life. It is said that over 30 million penguins live on the White Continent– Adélies, Gentoos, Kings, and Chinstraps. The sea also abounds with whales: Blue, Fin, Humpback, Minka, Orca and Sei, and seals of multiple species, with other birds in addition to penguins. almost everywhere.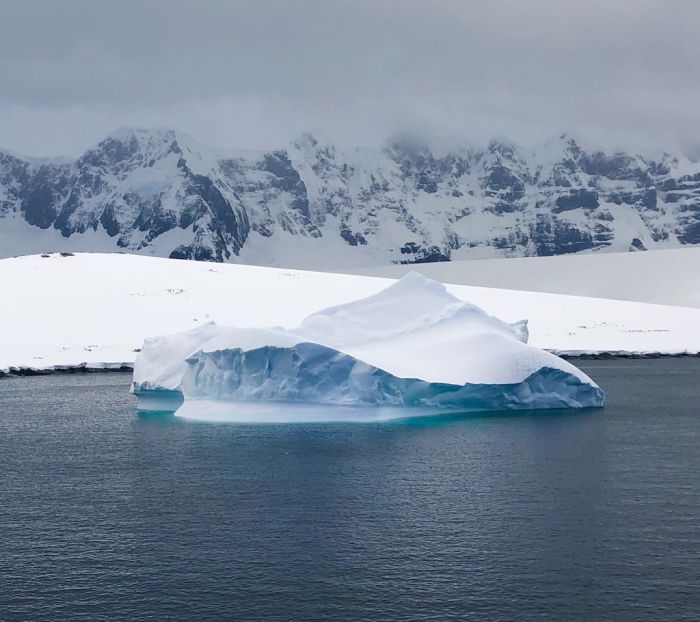 Photo Credit:Susan Kime
But such animal magnitude was yet to be experienced, as the first phase of our Antarctic sailing was a test of human endurance: crossing the 600 mile Drake Passage, the world's roughest body of water that separates South America from the Antarctic peninsula. Martin Iversen, Captain of the Hurtigruten Midnatsol, said the Passage had nicknames denoting whether it was calm or NOT: the Drake Lake or the Drake Shake. It was where the Atlantic and Pacific meet and often, turbulence ensued..
On our voyage in both directions, we encountered the Drake Shake: twice for a day and a half, the ship was pummeled with high waves on both sides. I and many others quickly, and in survival mode, acquired our sea legs – especially if we wanted to use the bathroom or eat in the dining room. And I learned a few lessons: walk with determination, yet slowly, with your legs apart; eat dry rolls with butter to help with stomach upset; lie down when necessary. The rocking and rolling began quickly one day, and, and ended quickly the next. Then we were on smooth, ice blue glacier-laden water, both arriving to and returning from The White South.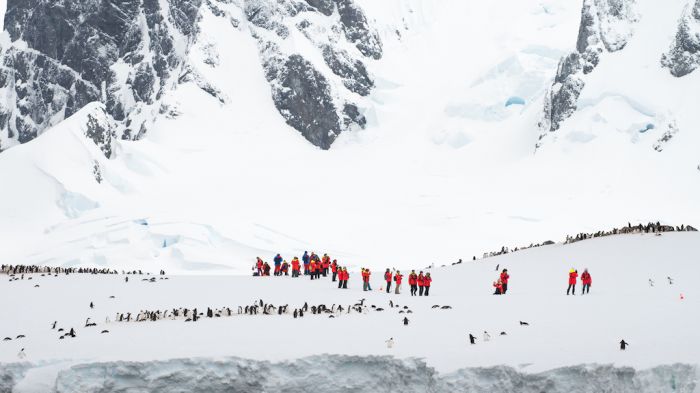 Photo Credit:Stefan Dall
The first place visited -- in our RIB, rubber inflatable, boats, and wearing our new (provided by Hurtigruten) fire-engine red Helly Hansen Jackets with black lifejackets hooked on the outside -- was an island literally created and still smoldering from conjoining fire and ice.
Deception Island defines the meaning of contrast: it is an active volcano in the South Shetland Islands, off the Antarctic Peninsula. Its landscape comprises barren volcanic slopes, black steaming beaches and ash and snow-layered glaciers. It is one of the only places in the world where ships can sail directly into and out of the center of a restless volcano. Onshore is an abandoned British Antarctic survey base and rusted boilers from a Norwegian whaling operation. And it was the first place I ever saw vast numbers of Gentoo Penguins.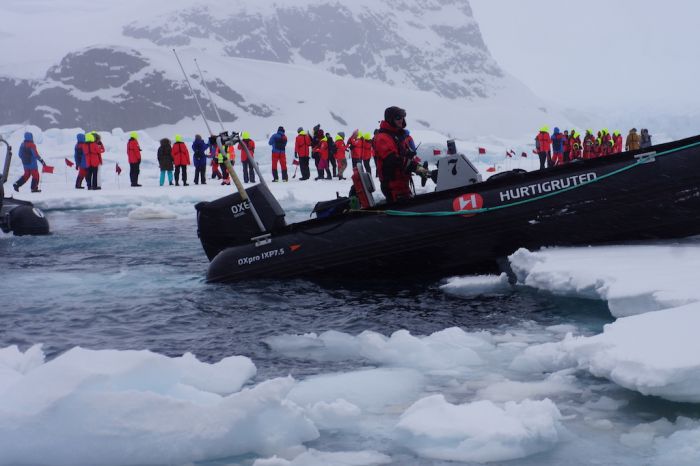 Photo Credit:Susan Kime
In our RIB boat, we landed on the black sand beach and stepped into the steamy water with our borrowed Hurtigruten rubber boots. So these first impressions were unique: the steaming black beach, the rusted buildings, a little fur seal sleeping next to them, and down the beach, near the Hurtigruten kayaks, was a colony of squawking Gentoo penguins, enjoying themselves as they swam, or walked, or and just looked out to sea. Or at us.
That was our first encounter with penguins. We had many others on different islands, and with different species. Half Moon Island, a crescent moon-shaped South Shetland island, is home to a large Chinstrap penguin colony, as well as nesting Antarctic terns, kelp gulls, snowy sheathbills, and Wilson's storm petrels. Though I had seen many bird species, these were new, and even though not a Birder, all were thrilling to see for the first time.
Photo Credit:Stefan Dall
On all our snowshoe hikes, treks, kayaking, and RIB boat adventures, we were consistently astonished by vistas we had never seen anywhere else: kayaking near the Lemaire Channel around cathedral-sized blue glaciers, seeing whales swim nearby; another day at Wilhemina Bay, encountering a partially sunken rusted-out whaling boat, the Governoren, in the same place since January 27, 1915, when the vessel caught fire.
Thus far, however, we visited islands, bays, and harbors, all historic in their own ways, but actually stepping on the continent of Antarctica was another, singular experience. This was where inveterate, unconquerable explorers – Shackleton, Perry, Byrd, Scott, Amundsen, and many others, walked at one time or another --- and where we now walked. We were struck with a sense of gravitas laced with gratitude, as we knew we were now beyond the end of the world, now on the continent of nascent beginnings, where we were meant to be. We walked up an incline, only to see – not the spirits of the great explorers-- but a colony of unimpressed penguins, who looked up at us, then went back to squawking among themselves. They had seen people like us, before. No big deal to them, but a big deal to us.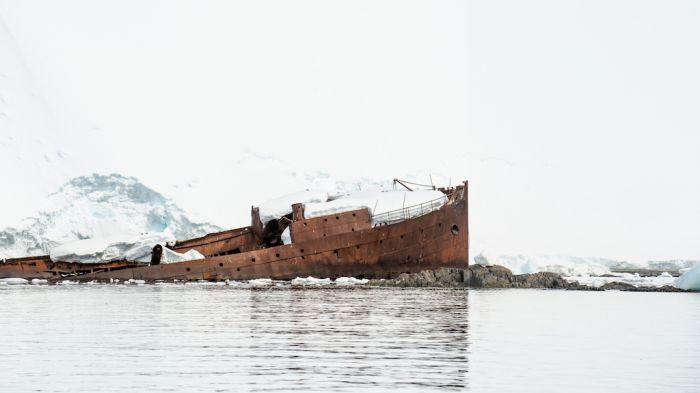 Photo Credit:Susan Kime
The Governoren, an abandoned whaling ship that has been in the Antarctic at Wilhemina Bay, since January, 1915. Such an unexpected sight.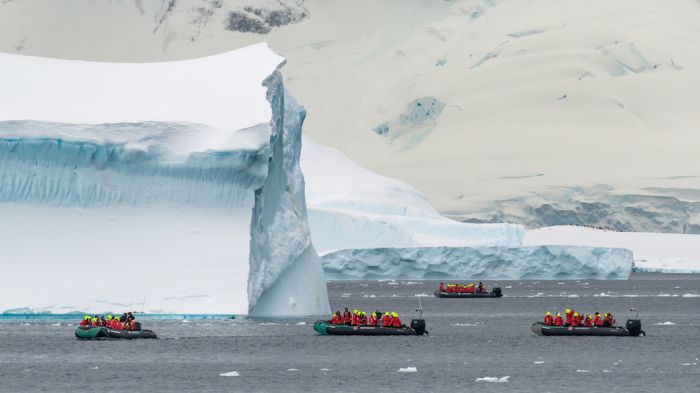 Photo Credit:Karsten Bidstrup
Toward the end of our cruise, standing on Deck 6, taking images with my trusty Hasselblad Lunar camera, I began to wonder about the evolution of luxury. Years ago and to many still, luxury relates to cost, and, in reality, the Antarctic cruises are very expensive. Yet, luxury also relates to worth, and those on this cruise I talked to were true adventurers, joyous with what they experienced. There were two sisters who had just spent a month in a Monastery in Katmandu, and had always felt Antarctica was next on their "Worthiness List." There was a retired university professor from Southern California who had "finally heeded the call of the wild" and was traveling to places she always wanted to see. Others shared similar stories, all helping me validate not only the call of the wild but the call of the unknown, what it meant to be risk-tolerant, open and ready to learn more about this rarely visited part of our living planet.
With their help, and with the help of the many on the Hurtigruten team, I came to understand the palpable, seductive call – not only of the wild, but of the unknown, of the risk-tolerant adventure -- as dimensions of what luxury, to many, is now – and what it may become to eager populations, as the unique adventure/ exploration experience naturally evolves.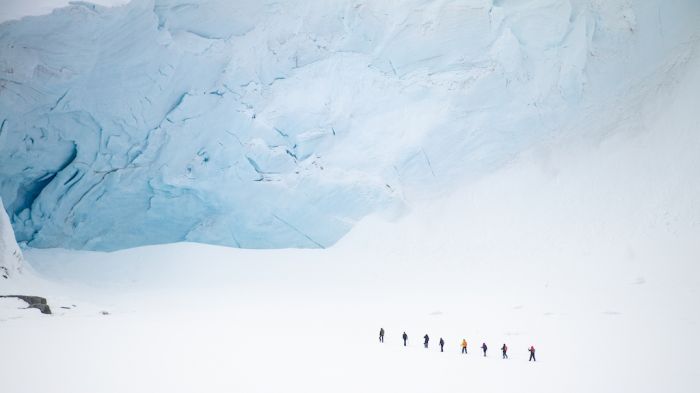 Photo Credit:Stefan Dall
Trekking Toward The Glacier, Damoy Point.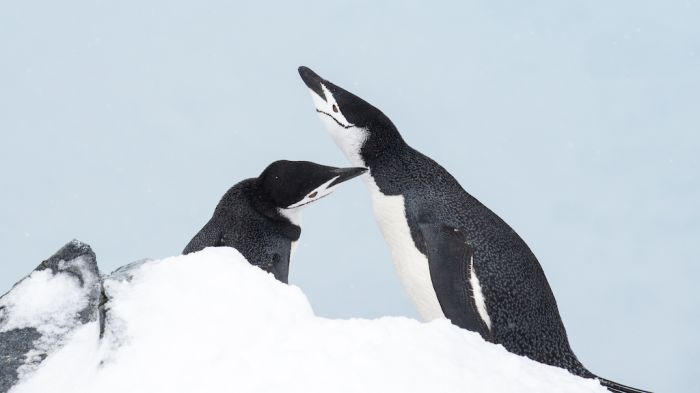 Photo Credit:Stefan Dall
Orne Harbor, Chinstrap Penguins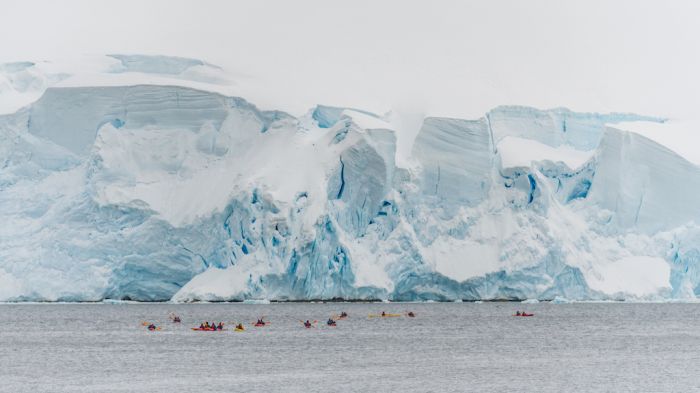 Photo Credit:Karsten Bidstrup
Kayaking near Orne Harbor, Antarctica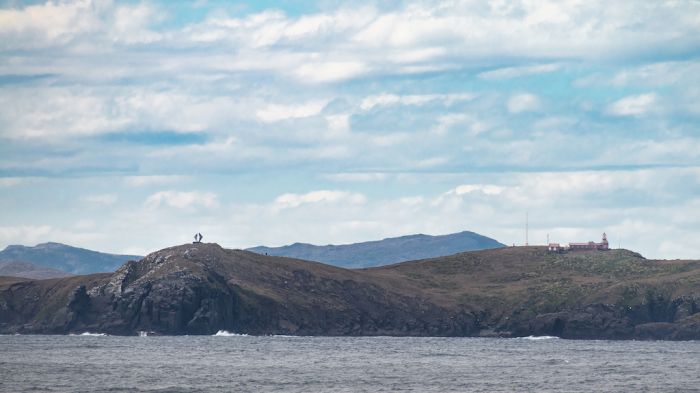 Photo Credit:Stefan Dall
Rounding Cape Horn, toward home, the Albatross Monument on the right.