Credit Villa Russiz
Discovering The Wine-Rich Collio Region: Italy's Best Kept Secret
The saying goes that one could travel for their entire life and never see all of Italy's beautiful destinations. That saying rings true, yet most travelers stay on the beaten path visiting Florence, Rome, Venice or perhaps one of Italy's many islands. Lovers of wine usually pick Tuscany, whose roads in summer months quickly fill with wine hungry tourists buzzing around on their Vespas. In the northeast part of Italy is where the tourism road seems to end after an imaginary line at Venice. But those who choose to explore a bit more beyond will find an entirely new set of unforgettable experiences in the wine rich terroir of Collio.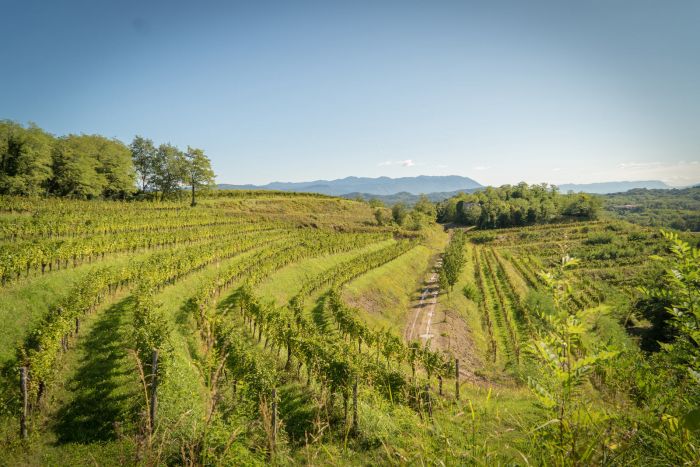 Credit Villa Russiz
Collio is Italian for hills and the 'Strada del Vino' or wine road weaves through gorgeous undulating landscapes dotted with medieval villages, verdant plains and stone farmhouses. The region lies in the northeast along the Slovenian border. It is completely Italian but also shares generations of mixed heritage with Austrians, Germans and Slovenians creating a subculture that is as much Mitteleuropa as it is Mediterranean. This is a stunning region with a rich and wonderful culture, epicurean experience, and accommodations; it baffles the mind that it remains relatively unknown to tourists.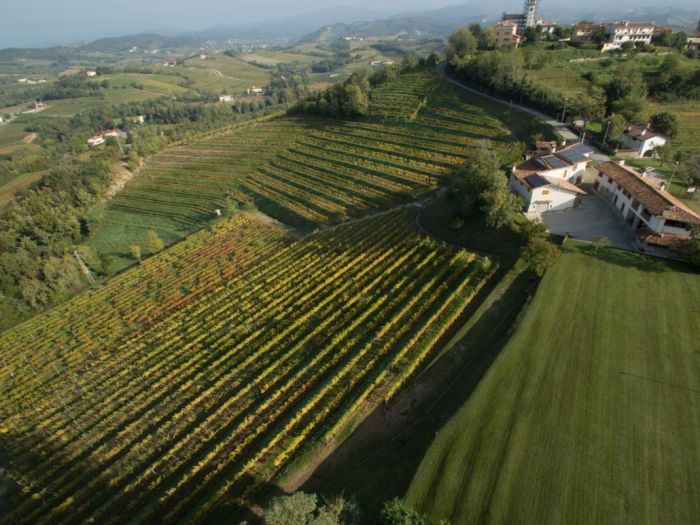 Credit Vini Pascolo
Collio is known to produce some of Italy's best white wines due to its ideal growing conditions of long sunny days and mineral-rich soil. The backdrop is the prestigious Julian Alps yet 15 miles away is the Adriatic Sea creating a microclimate ideal for the indigenous varieties of wine for which the region is known. The Collio DOC or Denominazione di Origine Controllata (which signifies that the wine comes from this region), spans over 3500 acres and produces red and sparkling wines but its most well-known for its white wines.
The region produces unique and indigenous wine cultivars such as Friulano, Malvasia Istriana, and the Ribolla Gialla. In addition, the Collio region produces some of Italy's top Chardonnay, Sauvignon, Pinot Grigio and Pinot Bianco whites as well as red wines, including Cabernet Franc, Cabernet Sauvignon, Pinot Nero and Merlot.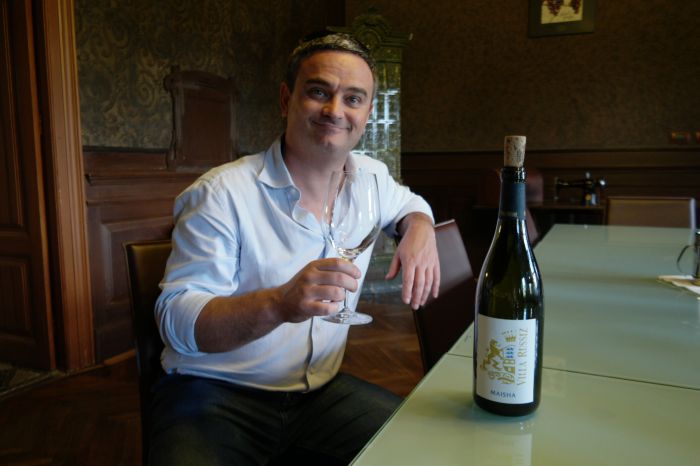 Collio Wine Exporter, Andrea Collenz
Friulano wine is the indigenous varietal derived from Sauvignon Vert and known for their fruity aromas of apricot, gooseberry and citrus. Ribolla Gialla is often excessively tart and salty yet with its high acidity makes it an ideal option for sparkling wines with notes of apricot, pear, and tamarind. Malvasia is less widely produced but is known for its intense aromas and floral notes. Because of the distinct and complementary characteristics of these varietals, many of local producers are creating wonderful Collio Bianco blends which are an excellent option when pairing with a savory dish. Other varietals to seek out from the region are the Ramad0lo and Picolit sweet wines which are an excellent option to pair with dessert.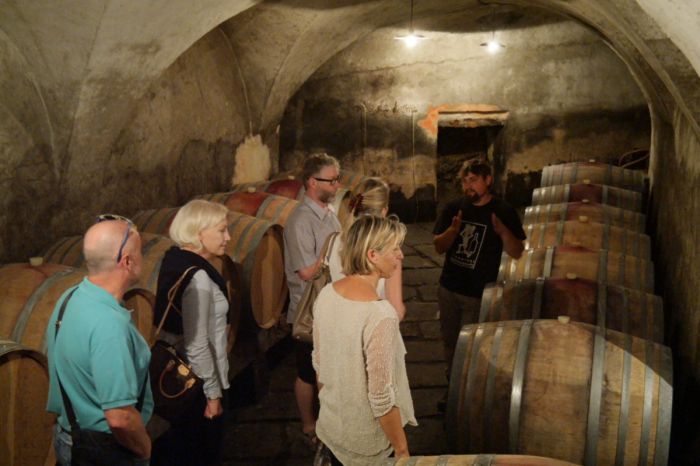 One fabulous way to see Collio and its winemakers are with a bespoke vacation itinerary from Visit Collio who are at the ready to set up a most memorable and worry-free adventure. Spring, summer, and fall are all ideal times to visit with warm sunny days, puttering along the winding Strada del Vino on a bright yellow Vespa through the scenic countryside. The roads are never crowded as guests navigate through 400-year-old villages, bucolic landscapes to a welcoming winemaker at the ready to show you his life's work in his vineyards and an exclusive tour of his steel tanks, the barrel rooms and the cellar.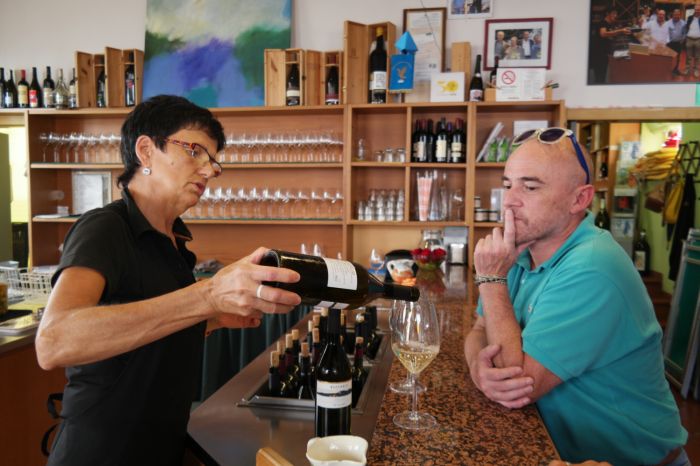 Enoteca di Cormons
In the heart of the wine region is the town of Cormons. This is the wine capital of the region and in the town's main piazza is where you'll find Enoteca di Cormòns which is a cooperative where the 35 of the area's winemakers work together to create a regional brand and promote the Collio DOC.
Behind a terrace of sun yellow canvas umbrellas and wine barrels that double as tables lie Enoteca di Cormons which is both a wine shop, wine bar, tasting room and bistro. Their tasting room is where guests can talk to the knowledgeable staff while sampling some of 300 vintages which are by the glass for around two euro. It's truly a wonderful one-stop tasting experience where you can try the wines along with local artisan Montasio cheese and hand-sliced prosciutto. The Enoteca di Cormòns is run by the affable Elena Orzan whose passion for wines and Collio is infectious and she is more than happy to recommend or arrange a visit to the wineries as well as the places to nosh along the way.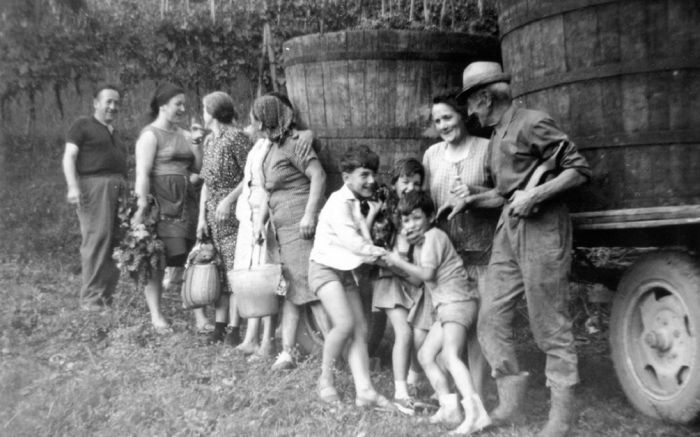 Credit Roncus
There's something about visiting the small family winery that you won't get from a visit to the large commercial wine estate. This is wine 1.0 where lovers of wine can embrace the winemaking tradition by talking with the winemakers who literally put their blood sweat and tears into every harvest. Their firm and calloused handshakes mean that they've tilled the land, driven the tractors and lifted the harvest baskets. This is exactly what you can expect with a visit to these fascinating family wineries that dot the Collio region. Here are just a few that are more than worthy of your visit.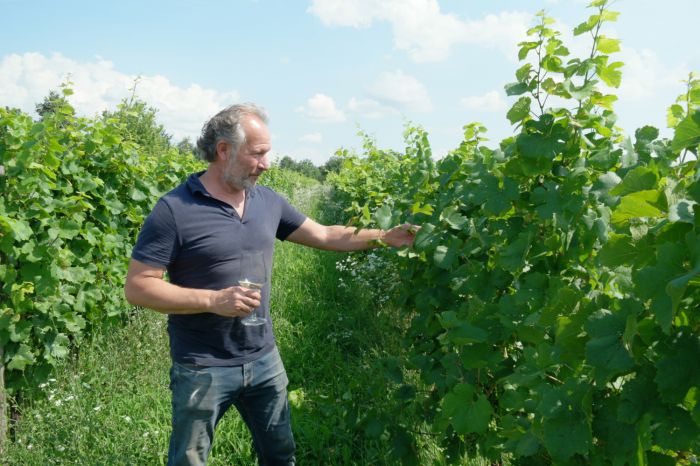 Marco Perco of Roncus Wines
Roncus is helmed by Marco Perco where he and his family live in the same home that his forefathers did. There's not a lot of intervention here, the grapes are grown organically without a long list of chemicals used to treat the grapes and heaven forbid, watering. The philosophy is that the grapes and harvest are what God gives that year and that is just fine for them.
Although the production is relatively small with 25 acres under vine., Marco Perco is considered one of the top white wine producers in all of Italy. One sip and you'll see why. Roncus produces Ribolla, Malvasia, Pinot Bianco, and Merlot. One bottle that you'll want to take home is the Friulano Collio which is a lovely blend of Friulano, Pinot Bianco, and Sauvignon grapes. It is deliciously crisp with a good level of minerality and balanced with notes of citrus and stone fruit. Friulano is the quintessential light, crisp white wine for which the region is known and a must have during your stay.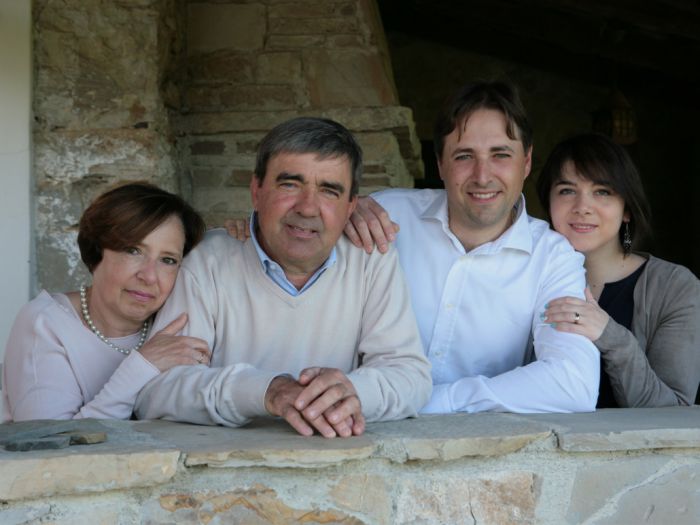 Vini Pascolo
In a scenic hamlet of this area is where you'll find he small family winery, Pascolo. Pascolo produces a well-regarded range of whites, reds, and sparkling wines. They personally handle the wine production on their 17-acre estate in all aspects from pruning the vines, harvesting and even bottling. Here you'll again want to again indulge in their Friulano and Malvasia as well as Sauvignon and Merlot are a bottle worthy of a trip back home as well.
Sandro Princic of Doro Princic
Doro Princic is another small winemaker producing mainly white wines on 25 acres. The owner, Alessandro (Sandro) Princic, is a wonderfully colorful man and a real salt of the earth type of fellow. In his late sixties, he inherited the family estate from his father who began winemaking before World War II. He lives in the same home and tends these same vines just as his father did before him.
You'll want to do a thorough tasting here to fully appreciate the finesse of each wine be it their Sauvignon, Friulano, Pinot Bianco, Malvasia, as well as a well-rounded Merlot. One wine that stands out amongst his range is the Doro Princic Collio Ribolla Gialla which is known for its crisp and refreshing taste and is ideal as an aperitif or for pairing with seafood.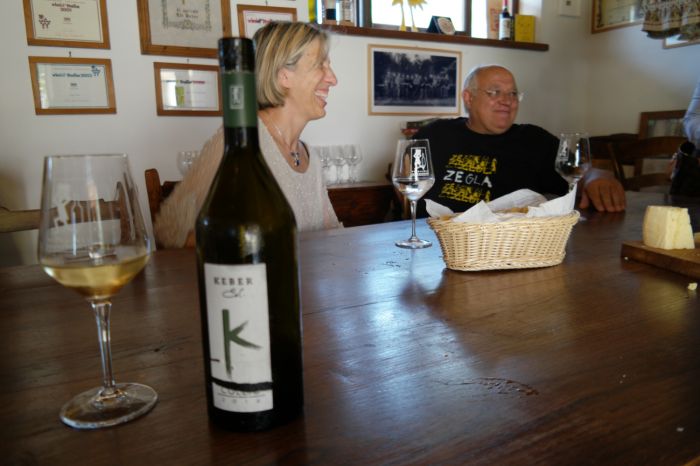 Edi Keber and Elena Orzan of Enoteca di Cormons
Edi Keber is boisterous and larger than life type of guy who happens to be one of Collio's more prominent producers and most ardent advocates. His family's lovely winery and vineyard is spread over 30 acres and is a stone's throw from the Slovenian border. Edi and his enologist son, Kristian, have garnered international recognition for their organically produced white wine which is made from the indigenous grapes of the appellation such as the Friulano, Malvasia Istriana and Ribolla Gialla cultivars. They name it simply Collio Bianco and one can expect wines smooth, rich in texture, and layered notes of citrus, gooseberry and spice herbs.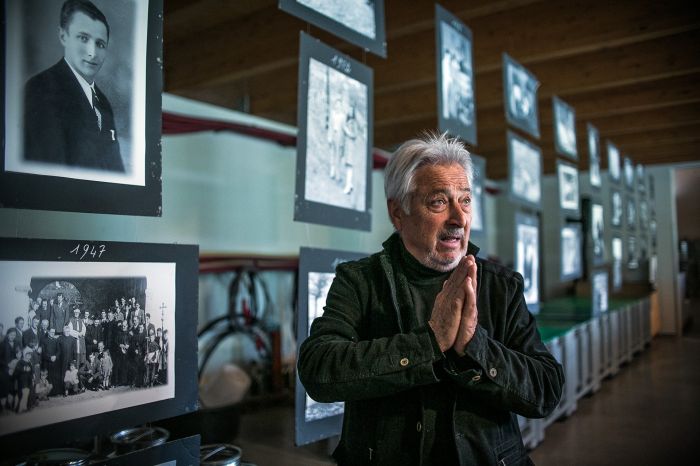 Giovanni Dri of Il Roncat
Another indigenous grape is Ramandolo from the greater Friuli region which is a sweet and smooth dessert wine from Verduzzo varietal. One of its heralded producers is Il Roncat lead by Giovanni Dri and his daughter Stefania who is positioned to take over the helm. Their stand out is there Ramandolo dessert wines that are golden yellow in color with an intense fruity bouquet. It is not overly sweet, is slightly tannic, and pairs well with fermented cheese, pastry or by themselves at the end of a meal. Additionally, they produce local varieties Picolit, Refosco, Pignolo as well as Merlot, Sauvignon, and Cabernet. They have a lovely cellar door and tasting room where in-the-know wine connoisseurs from Austria, Germany or other parts of Italy, make the trek there take home a case or two to augment their wine cellars.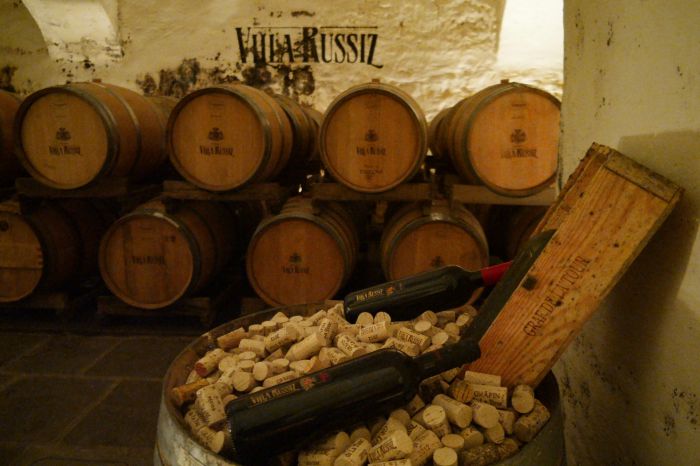 Villa Russiz is a wine estate with a rich 300-year history. Today they make exceptional organic wines on over 100 acres in their vineyard set between steep terraces and rolling hills. The organic wines use minimal intervention and include a range of Friulano, Malvasia, Ribolla Gialla, sparking Cru and Grappa.
The grounds are extensive with the vineyards, winery and wine cellars, the "Casa Elvine" Group Home, Mausoleum and the German Neo-Gothic style. It's an ideal place to spend the afternoon sampling wines, taking a tour and visiting the preserved heritage building. As shared, Villa Russiz is a winery with a purpose in that it is part of a history to take care of disadvantaged minors. You'll buy the wine because it tastes good, but you'll also feel good to know that it also goes to a good cause.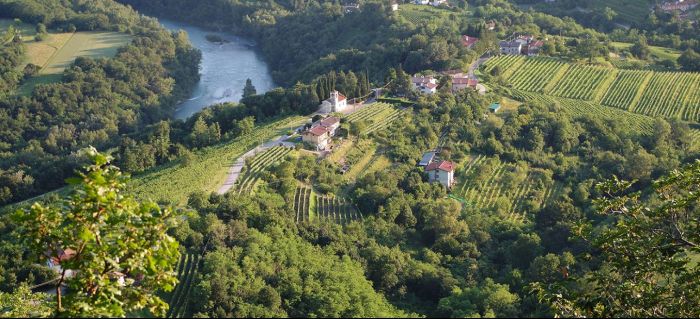 Collio is an astonishing destination holding endless treasures for oenophiles to explore. Wine-loving travelers to Italy will obviously visit Tuscany, but the true connoisseur seeking to get off the beaten wine trail will head north to Collio. Be that as it may, coming to a region such as Collio can be somewhat intimidating to the novice. Here many speak broken English and knowing where to go, what to do, or how to get there can be a challenge. Enter Visit Collio, this group of travel professionals has put together a number of tours and can arrange everything for guests to get the most out of their visit to this fascinating region. They are also able to tailor what guests would like to do into a package of day tours or the end to end including meals and accommodations.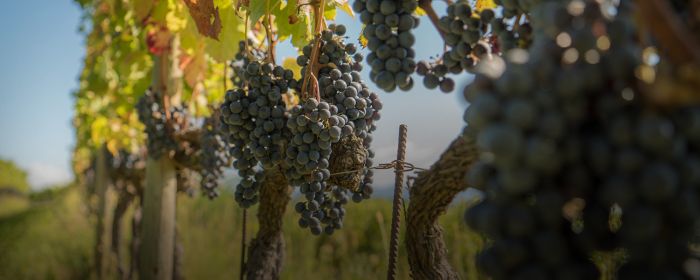 For your next visit to a wine-centric vacation consider Collio in northern Italy. Its that type of place that not everyone has already been to and offers a delicious experience with amazing wines, winery experiences as well as offers a rich culture, culinary experiences and great places to stay. Your visit to Collio is sure to leave guests with fantastic memories that will long be cherished after the luggage has been unpacked back home.