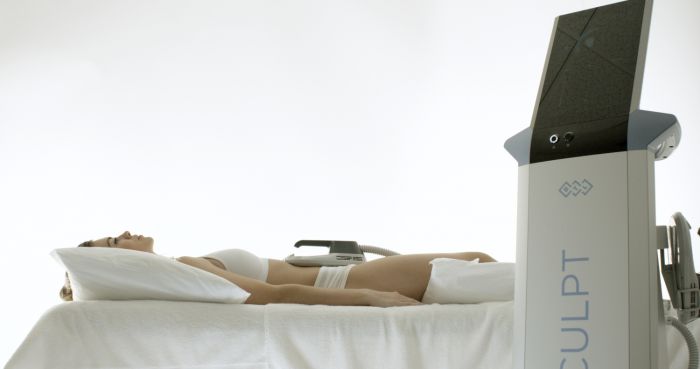 (credit: BTL Aesthetics)
With than 53 offices around the globe, BTL Aesthetics has been focusing on the merge between medical and aesthetics for over 25 years. Since their humble beginnings in 1993, BTL has grown to become one of the world's major manufacturers of medical and aesthetic equipment and a leader in non-invasive aesthetics. Through their research and innovative procedures, they have revolutionized the way to offer the most advanced non-invasive solutions for body shaping, skin tightening and other medical aesthetic treatment.
Introduced first in 2018, BTL EMSCULPT became the world's only non-invasive body shaping procedure to simultaneously build muscle and burn fat. Going beyond simple waistline reduction and the elimination of fat cells for a non-invasive procedure, it also strengthens your core muscles. As the only technology that strengthens and defines hard to target areas including the abdominals and buttocks, it induces approximately 20,000 supramaximal muscle contractions per 30-minute session.
In March 2019, also announced the launch of EMSCULPT's new small applicator, which is FDA-cleared for the arms, calves and thighs.
"As the first and only non-invasive body shaping procedure to address both muscle and fat, we have revolutionized body sculpting and raised the bar in the aesthetics industry by improving patient satisfaction and overall outcomes," says John Ferris, Vice President of US Marketing at BTL Aesthetics. "Beyond that consumers and media have also taken note with EMSCULPT receiving editorial awards from NewBeauty and Harper's Bazaar, as well as the distinction of a "Most Worth It" procedure of 2019 as recognized by RealSelf consumer satisfaction data."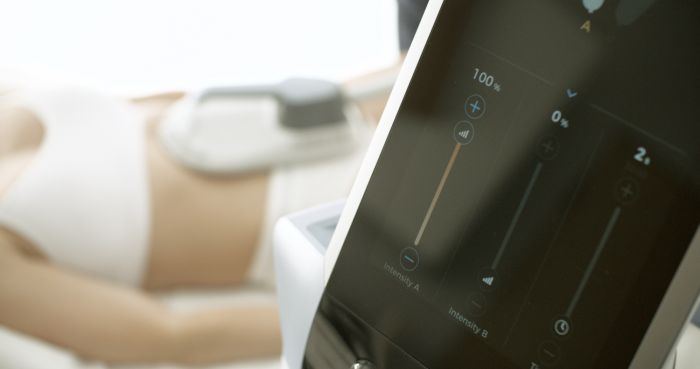 (credit: BTL Aesthetics)
Relying on HIFEM® energy to induce powerful muscle contractions and kill fat cells, EMSCULPT was cleared by the FDA in 2017 to help patients achieve next-level contouring results. Instead of achieving results of fat cell death via freezing or other energy-based modalities, EMSCULPT uses a powerful electromagnetic field to penetrate through the skin to fat and muscle tissues. The highly effective procedure goes all the way into the deep layers, while the skin remains unaffected.
In the heart of Beverly Hills in the famed Golden Triangle, Dr. Raj Kanodia has been the plastic surgeon that A-listers have turned to for over three decades. Dubbed 'the KING of the Hollywood nose job', Dr. Raj has entrusted (with his oversight) his registered nurse Karla to perform EMSCULPT procedures on patients, "Since purchasing this new piece of technology in December 2018 our patients have raved about how quickly results are seen," said Dr. Raj. "From performing artists, fashion models, lead executives to other patients, they have all quickly seen how effective this treatment is for them to tighten and tone with no negative externalities."
While all other existing treatments only address fat, EMSCULPT is the first of its kind using a magnetic field to also target muscle growth. Fat cells in the treated area then serve as a natural source of energy for these powerful muscle contractions. These contractions result in muscle strengthening, muscle growth and intensive lipolysis (the breakdown of fats). Over the course of four sessions, results in clinical studies show that clients built muscle mass by 16% and decreased fat by 19%.
Founder of Bella Skin Institute located in Calabasas, California, Anna Guanche, MD FAAD, has been offering the BTL EMSCULPT to patients since December 2018. Constantly striving to be ahead of the curve in her specialty and a proponent for growth in the field,Dr. Guanche has seen first-hand the benefits of this treatment. "Ideal for those who want a more toned and sculpted abdomen and a firm and lifted buttock, BTL EMsculpt has received an extremely positive reception with patients continually being pleased with their new physique and interested in continuing a maintenance program."
Ideal for patients who live a healthy and active lifestyle but looking to strengthen and define hard to target areas including the abdominals and buttocks, the full BTL EMSCULPT treatment takes four 30-minute sessions over a two-week span. Best results will be seen at the three-month mark and continued improvement up to six months following treatment. With costs varying depending on the clinic offering the treatment, guests can expect to pay $3,000 to $4,000 for a full treatment.